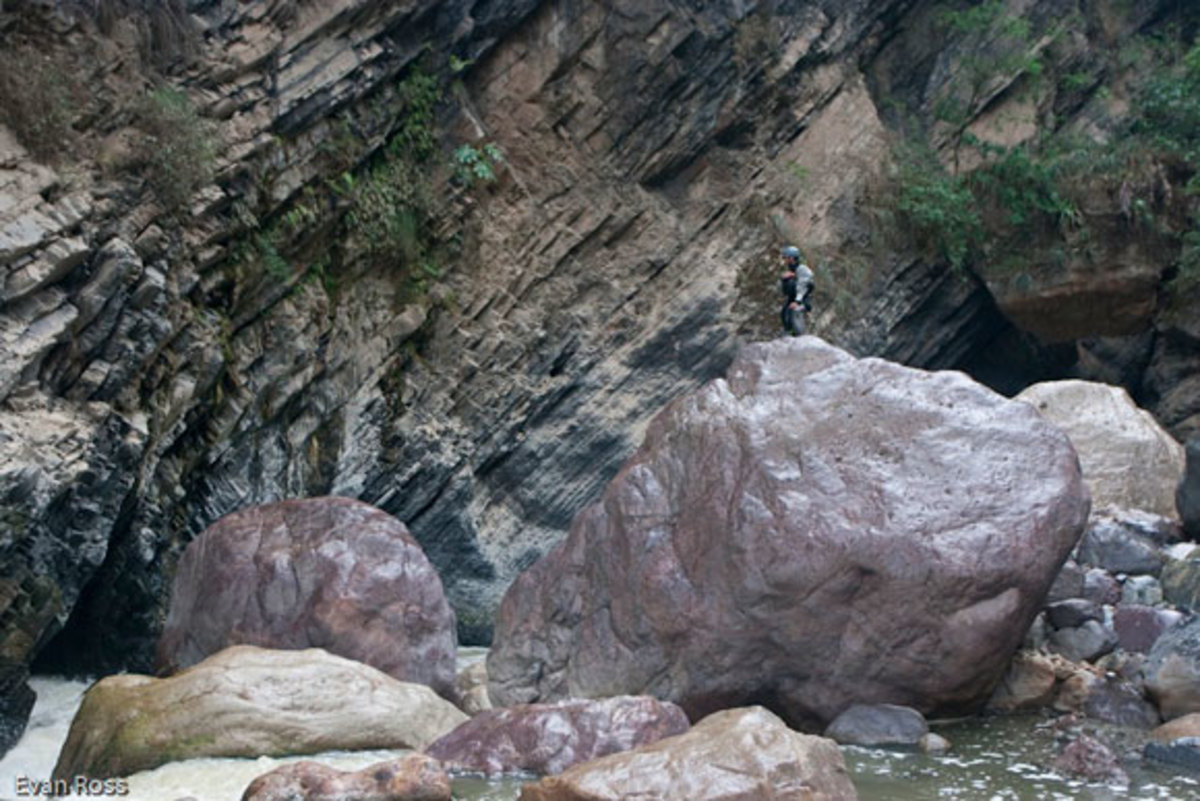 "I mean, it wasn't like a bullet-proof plan. But it was good enough." — Matt Wilson
Of the major tributaries that flow from the Andes into the Amazon River, only one section of one of them—The Great Bend of Rio Huallaga, in central Peru—could be classified as unknown at the beginning of 2010.
Much of what was known of the mysterious Huallaga (pronounced why-ya-ga) comes by way of two separate failed expeditions, in 1999 and 2007. Both expeditions, foursomes of accomplished whitewater kayakers, aborted their attempts upstream of further unexplored gorges below. After making a harrowing climb out of Huallaga, Kurt Casey, leader of the '99 team, called it "the last great-unknown canyon in Peru."
An alluring mystique, to be sure, and it captivated 33-year-old Matt Wilson, the owner of the Telluride Kayak School and a Telluride ski patroller by winter. A student of South American rivers since his first trip, in 2003, Wilson recently rallied five of his buddies—Ryan Casey, 33, of Ketchum, Idaho; brothers Nate and Matt Klema, 21 and 26, respectively, of Durango, Colo.; Evan Ross, 26, of Salida, Colo.; and Ben Luck, 21, of Durango by way of Alaska—for a six-week Peruvian paddling adventure.
The self-sponsored "Team Beer" left the States on Sept. 21. Their first goal, naturally, was the Great Bend of the Huallaga. And after a week in Lima spent wrangling their boats out of customs, they completed its first descent. In an exclusive interview with C&K, Wilson goes deep in the telling of an awesome tale. —Tim Mutrie
C&K: Dude!?
Matt Wilson: "Huallaga was sort of our mission No. 1, so we went straight there right away. Because we wanted to get there with all our gear, because if something happened on another river—well, we needed all of our gear and we needed to be healthy."
"The Huallaga is a main tributary to the Amazon, and pretty much all the rivers on the eastern slope of the Andes flow north. Over the years, starting in 1977 with the first descent of the Apurimac—that was the first big descent on that side of the mountains—people have just been knocking them off over the years. Around the same time a Polish group did the first descent of the Colca. And since then different groups have gotten the rest of them; Paucartambo…"
Except for this section? "This was the last tributary that hadn't been fully explored. We were the third group to attempt it." (Posting about it on Mountainbuzz.com, Wilson humbly noted: "The success of this expedition was due to the leg work of both previous groups. Without their efforts this would have never happened.")
And at some point you'd become something of a historian on these rivers and canyons? "I first started going down there in 2003 and I was working on the Futaleufu. I decided to meet up with Russell Kelley and Damon Miller—they've both passed on—and that first trip kinda blew my mind. I hadn't been on a lot of expeditions, overnight boating, and I kinda got hooked. I was super intrigued by the place."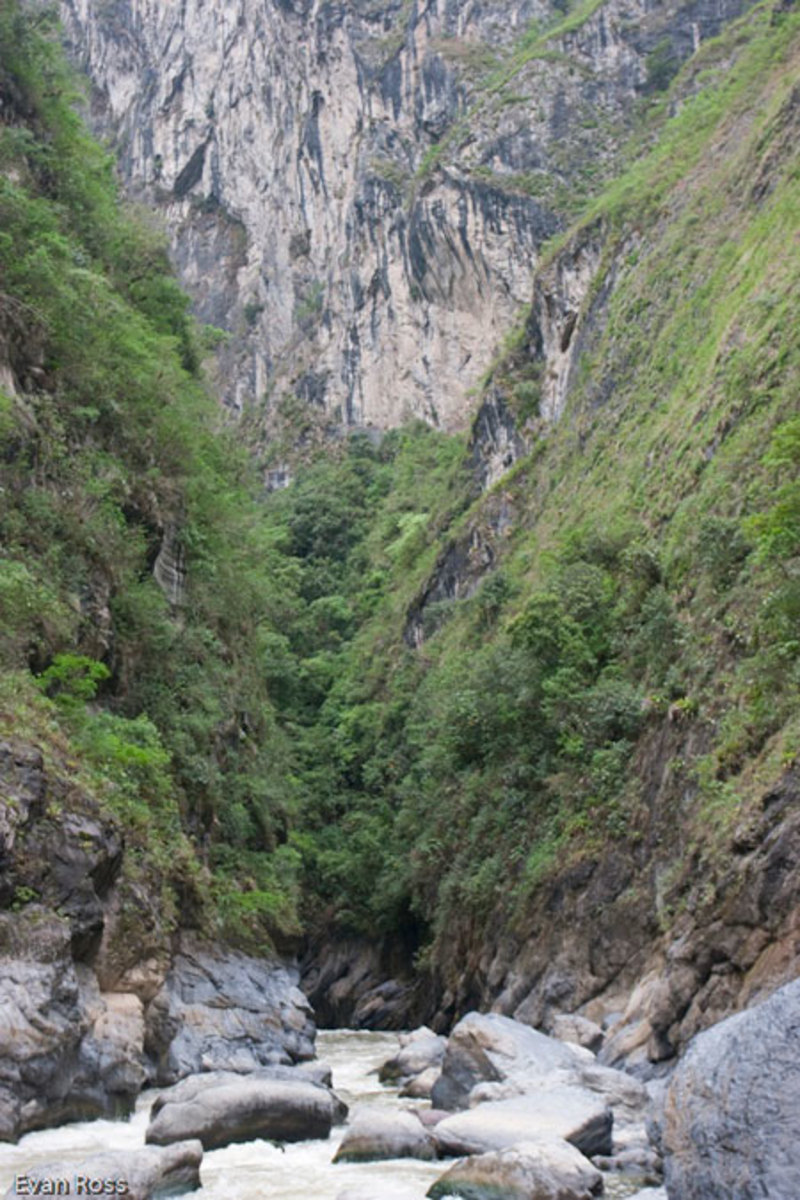 How familiar were you with the two earlier expeditions? "In 2007, lots of things happened. It was their first time in Peru and they actually spent a week at the put-in waiting for a Peruvian local kayaker. They got four days into it and got to an unscoutable, unportageable gorge; it turns into a vertical-walled gorge for about 20 kilometers. There's no way to look down in and scout it before you commit yourself to it. So they decided to abort their mission there. Also, they were four days into it and they had eight days worth of food; they hiked out, you know, they had bigger picture concerns."
"But I can't even imagine trying to hike out of there. It's a 7,000-foot canyon. The gradient and topography of the mountains is huge scaled; at least 7,000 feet."
What about the 1999 attempt? "Kurt Casey's group started way up high, sort of where it was still roadside, and then they got into it and then one of their team members got sick and then the water came up on them, and they pulled the plug as well; ended up hiking out."
Were you in touch with guys from either of these trips? "I got a hold of Kurt and asked him when it would be low-ass water in there and he said he didn't really know. But we'd already come up with our time frame for when we wanted to do it. And I'd already gotten the blow-by-blow from my Peruvian friend who was with them. And that second attempt [2007] was really well documented. I mean, they made a movie; we knew what they did."
Was it low water when you showed up? "Oh yeah, it was as low as it'll ever get. It was good planning, the end of dry season, so it had all summer long to get low, then lower, and then we kept watching it on the radar, seeing what kinds of weather systems were getting in there. But, yes, there was also some luck involved there because it was the end of the dry season going into the rainy season. But, I mean, there was nothing [water] coming in other than residual ground water flow."
The plan was…? "We had 12 days of food. That's something we learned from the other teams, as well. They didn't have enough food and that was part of their decision to hike out."
"What kind of held the other team back is they were taking video and pictures at every rapid. So we just blazed it—in a day—to where they hiked out. That's about 38 kilometers from the put-in to the Chock Stone. I think we dropped about 600 meters, rapids the whole way; sweet Class V, totally-runnable Class V."
Twelve days of food and gear in creekboats. How's that work? "We just stuffed it all in there. We had a bunch of freeze-dried meals we brought from the States, took the back pillars out and got stuff up in front of the bulkhead."
Tents? Sleeping bags? "No tents. I had a bivy sack. Those kids, though, man they just slept in the dirt. … One group tarp. And we had sleeping bags but we didn't really need 'em. Just a bivy sack would've been fine."
High value sponsors? "Not really. We had a little help with gear, Kokatat and Immersion Research, but no money."
You were the trip leader, or what? "It was my obsession, so yes. I convinced everybody to come along, but obviously on the river I wasn't calling the shots or whatever."
So Chock Stone Gorge. There you are. "The river gets about 12 feet wide and then it actually goes through almost like a tunnel, where rock has fallen in, lodging into the canyon."
Point of no return—so clich. "Once we got there, you know, we all felt like we had a good flow, we had about 200 feet of rope, team rope, to work with, and the idea was we were going to never commit the entire group into the gorge before we saw an immediate way out—not out out, but the inner gorge. So we'd get four people in there and then signal up: 'OK, we're through the Chock Stone, there's a little ravine that we could work our way out of if we had to.'"
"I mean, it wasn't like a bullet-proof plan. But it was good enough, considering what we had and the group we had. And then it turned out it was just totally good to go."

Still listening. "We had three of these canyons that just sent shivers up our spines. These big lead-in rapids and then the river would just make a hard left into a vertical-walled gorge. So we'd run the rapids and inch our way in and then signals would come back that it was good to go. So we actually didn't get out of our boats and go into the jungle to look around. That's pretty worthless anyway. You're in the jungle so maybe you can see a five foot stretch of river, but you just end up wasting a bunch of time doing that."
Radios, whistles—how were you signaling to each other? "Just hand signals, line of sight."
Did you carry a sat phone? "Yeah, I had one."
Portage anything? "No, not in there. We did a couple of portages on the upper canyons, above the Chock Stone, that were obviously not runnable. But once we got in that inner gorge it was all runnable. It was a series of limestone gorges, so pretty much the rapids are all in between the gorges. The walls were so tight in the gorges that rocks couldn't even get in them to make rapids."
"Within the gorges it was pretty much flat, conveyor-belt moving water, Class II; slow moving flat water."
That's what I figured. "What really concerned us: We saw on our topo map that two of the gorges didn't have any topo lines crossing them. But then the third one had three topo lines crossing the river in the gorge. So we were expecting a 100 foot waterfall or something. But that didn't exist. And that was another reason why the second team [2007] decided to hike out."
Only the penitent man shall pass. "[Laughter]. There was a little bit of that, for sure. But we just sent all those young kids in first and they'd tell us it was good to go."

Describe the experience and skill level of your crew. Certified hair boaters? "We're not like the big time meat hucker, but yeah, Ryan and myself, we've done the Stikine River up in Canada. I don't think we were over our heads; we had all the right things going our way as far as experience level."
So did you stop and savor the experience; how long were you in there? "We were on a mission to get through as fast as we could because we just thought we'd get to a point that might take us as long as eight days to get around. So we took a few photos, a little video. Then we got through the Chock Stone but we had that last gorge that we were scared about. But then it was flat. And that was day three. So no, we didn't quite get to enjoy the place quite like we would've liked to. But maybe next time."
Three days, first descent and speed record, nice. Total distance and drop? "100 kilometers. That's what we got from our GPS reading. About 900 meters drop; 1,862 meters at the put-in to 900 at Chinchavito, take-out."
So now you have to go back, right? "I'd like to, yeah, definitely. And they're in the midst of putting a dam right at the end of it, so that whole gorge is gonna be flooded by 2013. On our way out we ran into a whole crew of guys in hard hats and lots of machinery, looking like they were just getting ready to dam it."
What did the workers make of Team Beer? "They were further away… But when you're out there like that, there is some sketchiness with the whole drug trade, especially on the Huallaga; coca does come from there so there is drug trade activity. But they did start whistling at us. They'd been out there for who knows how long and then they see a bunch of kayaks float by. I'm sure we caught 'em by surprise. … With other locals, at first it's like a shock, deer-in-headlights kind of thing. And then they realize what you're doing—kids'll swim out there and try and get on your boat. You know, you do a roll for them and they get all fired up. We've had experiences in Madagascar where you're portaging with all your gear and people would just run. They just didn't know what we were."
And this was only the first leg of your Peru trip. What else? "We did five total; Huallaga, Pachachaca, Urubamba, Abysmo section of the Rio Apurimac and Paucartambo… They're all quintessential multi-day Class V rivers. And that's what sort of sets Peru apart from other paddling destinations: the overall size of the canyons, the size of the endeavor, the scale of the mountains, the difficulty of the kayaking."
The article was originally published on Canoe & Kayak
For access to exclusive gear videos, celebrity interviews, and more, subscribe on YouTube!