As my campers gather poplar and spruce to fuel our blackened stewpot, I watch a chaotic tango of furious water rushing through canyon walls. I have to shout to be heard over The Fours, a 15-kilometer-long Class VI set of rapids on the Rupert River, in northern Quebec. So I lean in toward Eric Cheezo, our Cree guide on this 35-day descent.
"How long do you think before it's gone?"
"I don't know," he answers gruffly. "Maybe a few more years. Maybe five."
With that he storms off to sulk on a distant rock, unable to speak about the loss of his home. I'll have to wait for him to calm before I can approach, so I sit in awe of the river. The spray soaks me, and the pulsating rapids shoot tremors through the ancient bedrock I stand on.
We are taking lunch during the long portage around The Fours. It's day 25 of our expedition with Camp Keewaydin, a tradition-rich summer camp based in Vermont, and the 10 of us—eight teenagers, Eric, and me—have only seen a handful of other humans since the put-in. Even on paper, the Rupert is impressive. From its source in giant Lake Mistassini, it drops 3,000 feet in 400 miles of uninterrupted wilderness. Sixty-five sets of rapids lie between the lake and James Bay. Wolves and northern lights appear at night. Each day, unique challenges present themselves: a long carry, a massive rapid, or just getting the fire going in a torrential downpour. Today, after devouring the last bits of soup and wilderness bread, the 10 of us lift our loads to negotiate the muddy tracks around the un-runnable rapids.
Keewaydin campers have been running the Rupert since 1935. Many of these kids' fathers and grandfathers might have had soup on this same granite bench, dulling the same deep hunger that only a string of 40-mile days can produce. Like us, their leather tumplines carved canyons into their foreheads as they carried heavy loads in wooden wannigan boxes. Just as we had, they felt the elation of northern lights dancing across a seemingly invincible wilderness. Back then, roads came nowhere near the Rupert, so trips started in the headwaters lakes, and ended when they met a ship in James Bay. None of those campers could have imagined that a river this wild and remote could one day be caged and de-watered in order to send electricity to the United States.
---
"Paddle stroke start from the heart," he offered. "Imagine the paddle as a feather. When you wave the feather, you feel the air. The air on the feather is the water on your paddle."
---
Hydro-Quebec, the provincially owned energy giant, is beginning construction on the Eastmain 1-A project, which will divert the Rupert into what is already the largest hydroelectric complex in the world; a massive system of dams and reservoirs that was once the Eastmain and LaGrande rivers. To achieve this, Hydro-Quebec will build four large dams, 70 smaller dams or weirs, a giant spillway to reverse the river's flow, 75 dikes, three kilometers of tunnel, and 12 kilometers of canals. The diversion is expected to create another 888 megawatts of power to sell to Quebec, Ontario, and the northeastern United States. Four hundred square miles of forest will be flooded. Thousands of miles of power lines, hundreds of roads, and temporary cities for workers will be built in the pristine wilderness. The diversion is to be completed by 2011.
American environmental groups announced their support for Canadian environmental groups and three Cree Indian communities fighting Hydro-Quebec's most recent assault on the James Bay wilderness in Quebec, Canada. read the story
Several of my campers have returned nine summers in a row to run this river. This trip means more to them than any prom, sporting event, or party. When one camper has to be evacuated because of an ulcer, we all feel his sorrow. "I'm just sad because I know this could my last chance to see this place," he said. For the rest of us the mood is bittersweet. The imminent destruction of the natural wonders around us dulls our elation of being here. Yet, at the same time, it makes each moment feel all the more precious.
Eric has taught us many things about being in the wilderness, from how to snare rabbits to carrying a bear on your back with nothing but a leather tump strap. He portages like a masochist, paddles serenely through terrible rapids, starts fires as if with lightning bolts from his fingertips. But at moments like this, it's apparent that his wisdom goes far deeper than woodcraft—a quality that I attribute to his growing up in this place. When I asked Eric how many times he's run the river, he merely looked at me until I realized the stupidity of my question and changed the subject.
After days of struggling, and failing, to match Eric's seemingly effortless pace, one of the boys confronted him. "Why do you paddle so freakin' fast, and leave us so freakin' far behind all the time?" he griped.
"Hmph," Eric answered. "Have to keep up with canoe." After more prodding, we dragged a quick tutorial out of him. "Paddle stroke start from the heart," he offered. "Imagine the paddle as a feather. When you wave the feather, you feel the air. The air on the feather is the water on your paddle." He made the motion of waving a feather, then switched to a perfectly pantomimed paddle stroke.
"Work on it," he said, paddling away at about 15 miles per hour.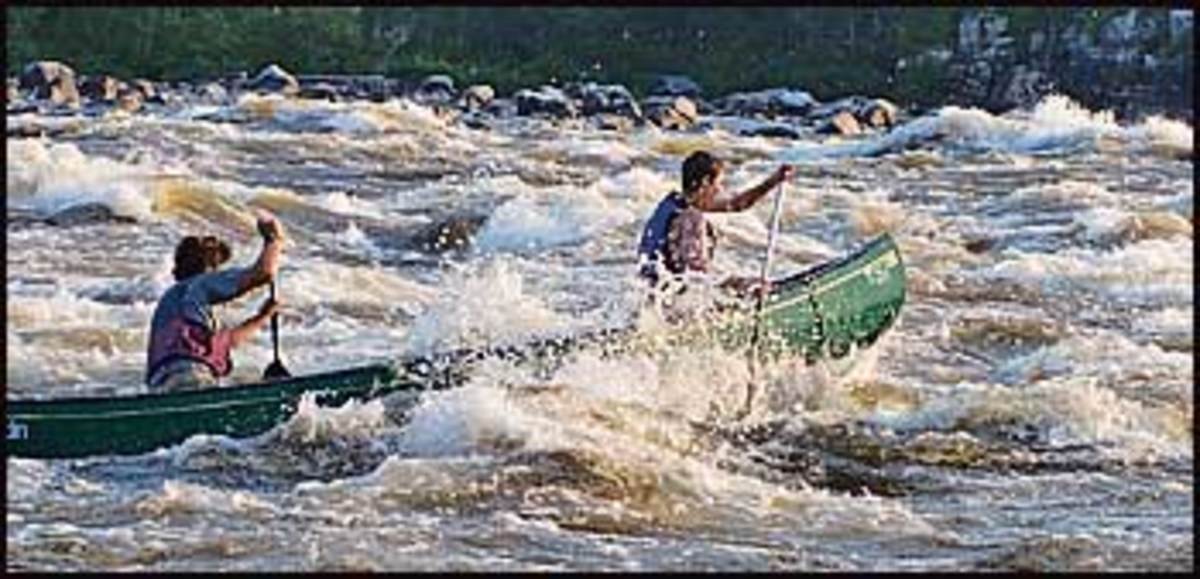 We may never truly understand how a paddle stroke can begin from the heart. And as much as the Rupert means to us and to Keewaydin, we will never understand how much more it means to Eric and the Cree people. Eric learned from his father how to set traps, hunt, and fish for survival along this river. Now, his guiding career depends on it. He has relatives who still live in "the bush," hunting and trapping for the majority of their food along the Rupert. Other relatives are buried along these same majestic shores.
But Eric does not represent all Cree. In 2001, a majority of Cree voted in favor of the Paix des Braves treaty with Quebec, a document guaranteeing limited Cree autonomy, while also authorizing Hydro-Quebec to dam the Rupert. The vote was doubtlessly influenced by the promise of high-paying jobs and $3.5 billion to be paid to the Cree nation over the 50-year term of the treaty, as compensation for the loss of the river that is their lifeblood.
The article was originally published on Canoe & Kayak
For access to exclusive gear videos, celebrity interviews, and more, subscribe on YouTube!