By Conor Mihell
The perils of social media caught up with sea kayaker Russell Henry on the night of May 29. While he tossed and turned in bed and fretted about his upcoming expedition around the 750-mile perimeter of Vancouver Island, Russell admits he started to "freak out." The 21-year-old had promised his friends and followers on Facebook that he would begin his attempt to set a new speed record for paddling around the island at noon the next day. Trouble was, the forecast was for "really strong northwesterlies"—killer headwinds if he were to stick to his original plan and launch from his hometown of Victoria, B.C., on the island's southeast corner, and head north up the inside passage.
Russell's father, west coast sea kayaking pioneer Brian Henry, the founder of Current Designs kayaks, comes from a generation less enslaved to social media. His solution was simple. "My dad suggested starting from the top of the island," says Russell. And so Henry the Younger loaded his Stellar kayak atop his 1985 Ford Ranger pickup, stopped at the beach to apprise a television crew and well-wishing friends of the change in plans, and made tracks to Winter Harbour, a village on Vancouver Island's northwestern tip. He launched his kayak on the morning of May 31.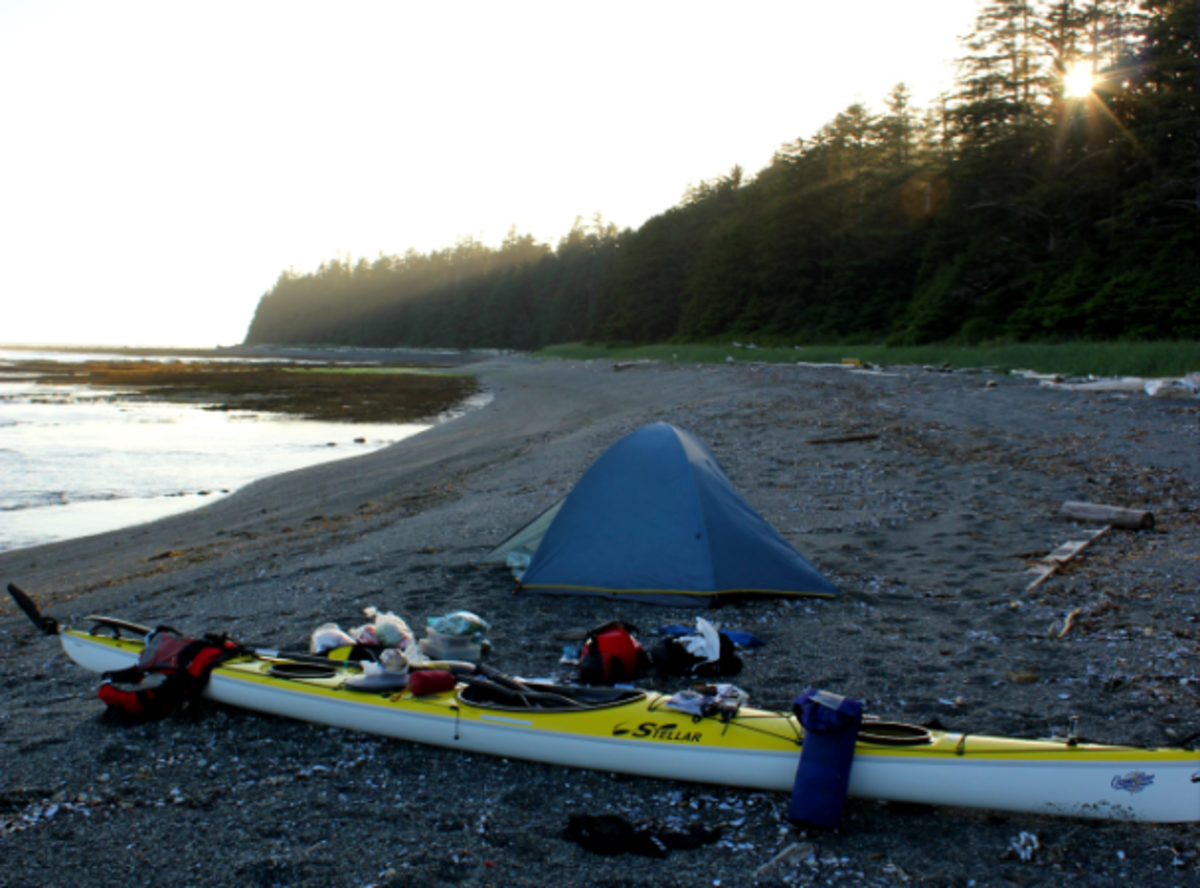 Fresh off a 4,000-mile trans-Caribbean epic with his brother, Graham, Russell endeavored to paddle 45- to 50 miles per day. His goal was to make the trip in less than 15.5 days, a record set by Canadian rower Colin Angus in 2011. Fellow Canadian Joe O'Blenis set the sea kayak record of 16.5 days in 2010.
Cruising with 30-knot tailwinds, Russell made good time early on, blasting around the Brooks Peninsula, the trip's first "big water crux." Still, on his first solo trip, he had moments of doubt. "On Day Two I did a lot of questioning of what I was doing out there," says Russell. "I was making great time but I was wondering why I was doing it. It wasn't like the Caribbean where I had my brother to talk to. My body felt fine, but I'd hit a mental wall."
Things improved on his 22nd birthday, June 2. By then the winds were lighter and Russell was in the zone, hitting the water at sunrise, logging 12-hour days and nearing the southern end of the island's open coast. He crashed near his hometown on June 5 before beginning the journey north on the Inside Passage. Now, Russell switched to a 24-hour clock, waking in the wee hours of the morning and paddling late to take advantage of the tides. Again, the emotional rollercoaster kicked in. "There were no thoughts of turning back, but it was mentally exhausting," he says. "I was up and on the water at 2 AM to hit the tides. I'd paddle six hours in the dark, then the morning headwinds would kick in. The currents would change and I would get of the water, have a nap and then be back on the water by late afternoon."
The physical struggles of traveling alone were also getting to Russell. At one point, he stopped for a break and, instead of his usual routine of methodically unloading his boat and carrying it above the high water mark, he dragged it over the rocks. Back on the water, his boat paddled sluggishly. He discovered an 18-inch tear in his boat, which had filled the stern hatch with water. A quick fix with tape and putty staunched the leak in the short term, and he did a proper fiberglass patch before rounding Cape Scott at Vancouver Island's north end, the final obstacle of his journey.
By this point, there was no doubt Russell would claim the new record. It was his desire to end the suffering that allowed him to annihilate the previous mark. He completed his circle to Winter Harbour on June 13, with a time of 12 days, 23 hours and 45 minutes. His Facebook page flooded with congratulations from O'Blenis and previous sea kayak record-holder Sean Morley, who wrote, "To break the record in such a dominating fashion shows that you were perfectly physically and mentally prepared, had got the planning spot on and had a little luck with the weather…You have set the bar so high now I doubt anyone can beat it."
At a barbecue this weekend, Colin Angus will present Russell with a homemade speed record trophy he crafted with O'Blenis—which Russell says he will happily hand over to anyone who can beat his record. "When I was on the trip, I thought, 'No way in hell am I doing it again,'" he says. "It was hard going solo, but now I think maybe I would do it again with a friend."
The article was originally published on Canoe & Kayak
For access to exclusive gear videos, celebrity interviews, and more, subscribe on YouTube!