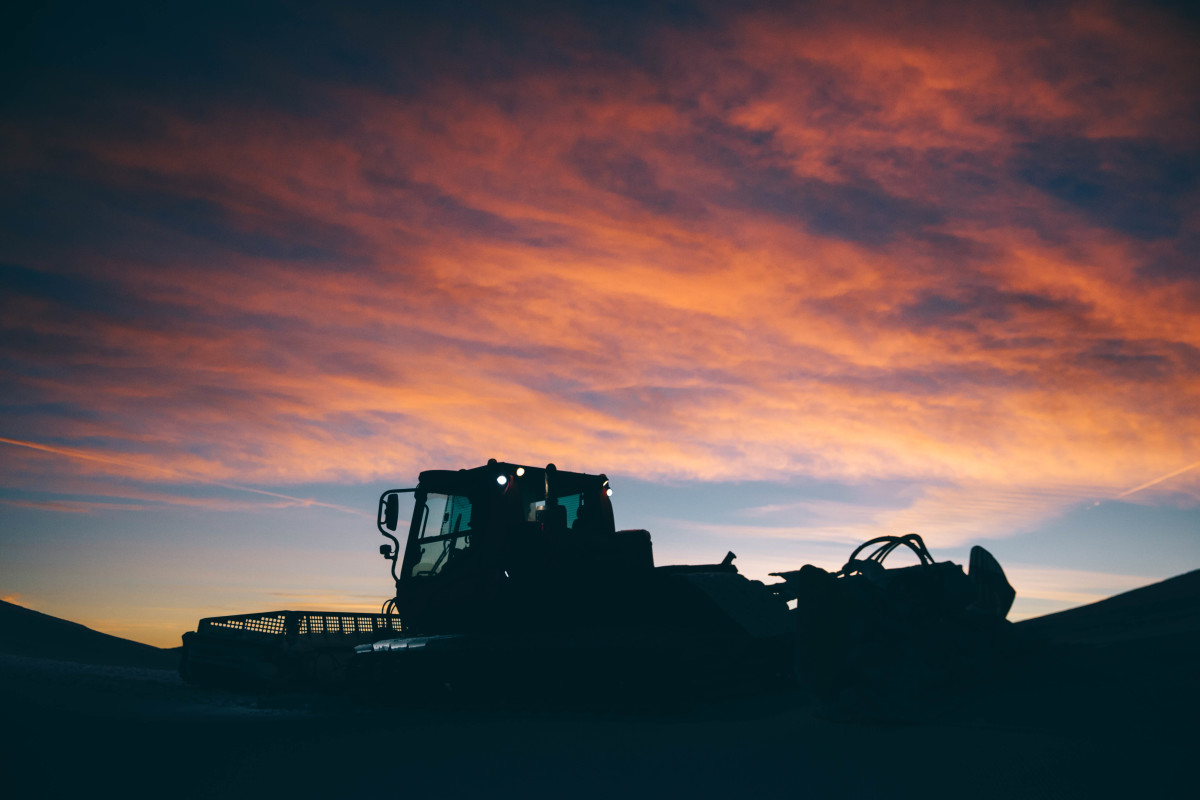 Late November in the "Land of Ice and Snow," Minnesota. The radio, mounted on the quad next to me, screams alive. A second of static, then a voice breaks through "throw 'em wide open!" At 16 degrees (Fahrenheit) and overcast, the shift leader was calling for more snow. That is, man-made snow. A little after 6 p.m., the resort has closed for the day. With empty ski runs and nearly perfect conditions, the snowmaking crews get to work.
The snowmaking operation at Lutsen Mountains is a complex web of pipelines, pumps, hoses and snow guns, spread across four mountains. As the largest ski resort in the Midwest – with 195 acres across 96 runs and eight ski lifts – Lutsen employs a fleet of snow guns and two dozen full-time snowmakers to cover all of it with man-made snow. This network helps cover hundreds of skiable acres with snow every winter – nearly 90 percent of the resort in total. Crews here work around the clock for a couple months to stockpile enough snow for a full season, which runs until May. It's the perfect place to get a behind-the-scenes look at the science of making snow.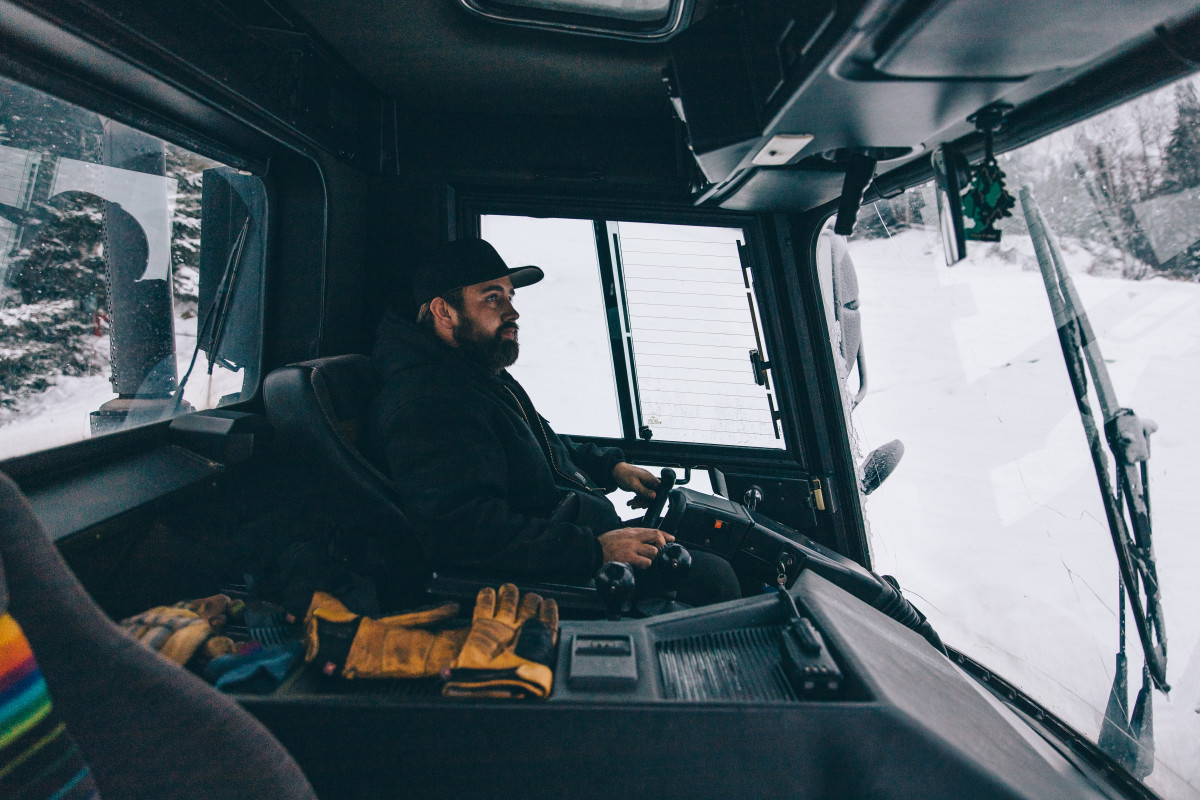 Following orders, we walked up to the nearest Polecat snow gun, which resembles a gigantic cannon. Lutsen has 75 such guns, each capable of spraying 100 gallons per minute of snow across the slopes. These guns are massive – a two-foot diameter barrel, 15 horsepower fan, a compressor capable of 500 PSI, and 30 nozzles to spread out the water droplets. They can be mounted high on towers or kept mobile on wheels, and are able to rotate 360 degrees, enabling them to adapt for wind. In total, Lutsen can create 10.8 million gallons worth of snow each day.
It took only seconds for Mark (my tour guide for the evening and longtime snowmaker at Lutsen) to open the remaining three rows of nozzles and crank the Polecat higher into the sky. With more airtime, the snow quality greatly improves by allowing the pressurized water droplets to freeze as they float to the ground. We waited for a minute, watching the wind to make sure the gun wasn't blowing back on itself. Confident in our due diligence, we headed to the next gun, and repeated the process.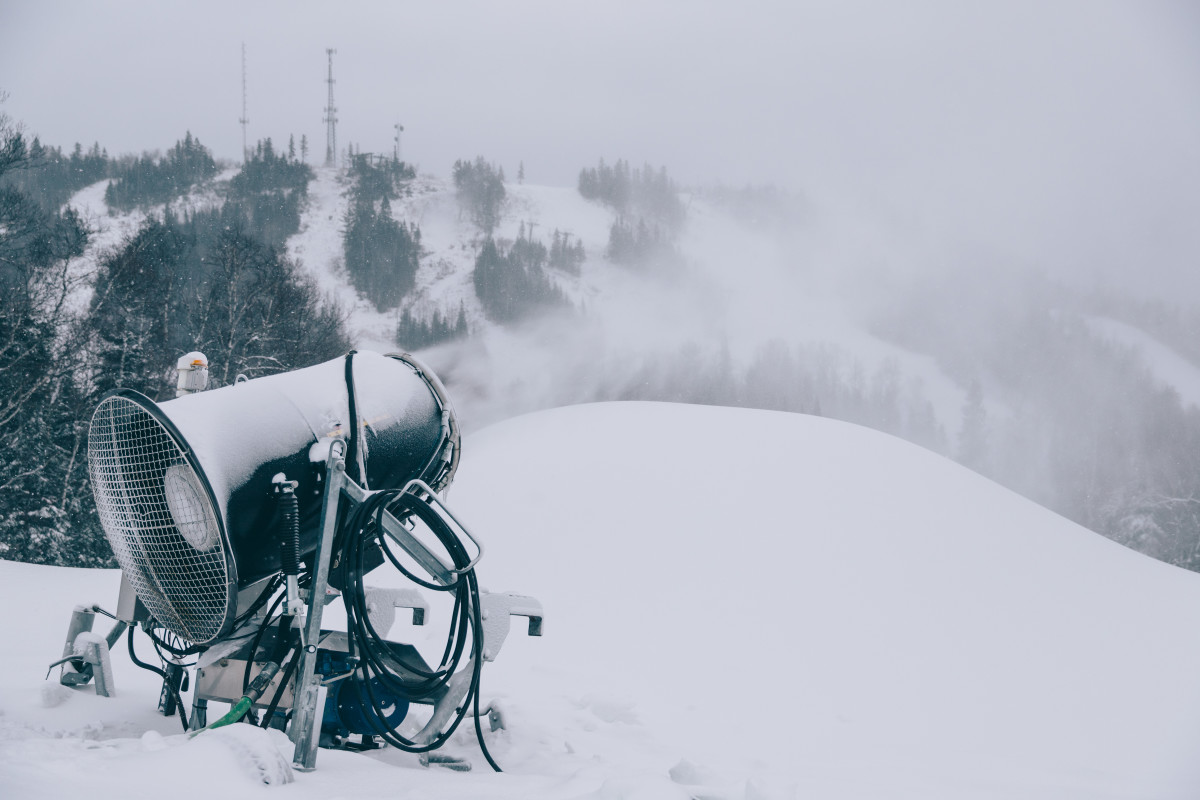 Lutsen has invested millions in its snowmaking infrastructure, including a 2.5 mile pipeline that draws water from Lake Superior, to three large pump houses, eight PistenBully snowcats, and an array of new snow guns. The result t is an artificial snowpack that is better for grooming and lasts longer. By some estimates, one acre of snow, one foot deep, can cost north of $1,000 – and most ski runs at Lutsen have 5 feet or more. Yet, as the insurance policy for the resort, it's a necessary expense. Snowmaking helps keep the entire mountain in business, including all the nearby restaurants and hotels.
Due to weather changes in the last few decades, snowmaking has become a necessity at Lutsen, and many other resorts across the country. Invented in the 1950s, man-made snow didn't grow to widespread popularity until the 80s. The initial product was icy and discolored, and slowly improved as more resorts invested more money and research in the process. Today, snowmaking helps mitigate major losses that bad snow years often cause – often by helping Lutsen stay open longer in the spring.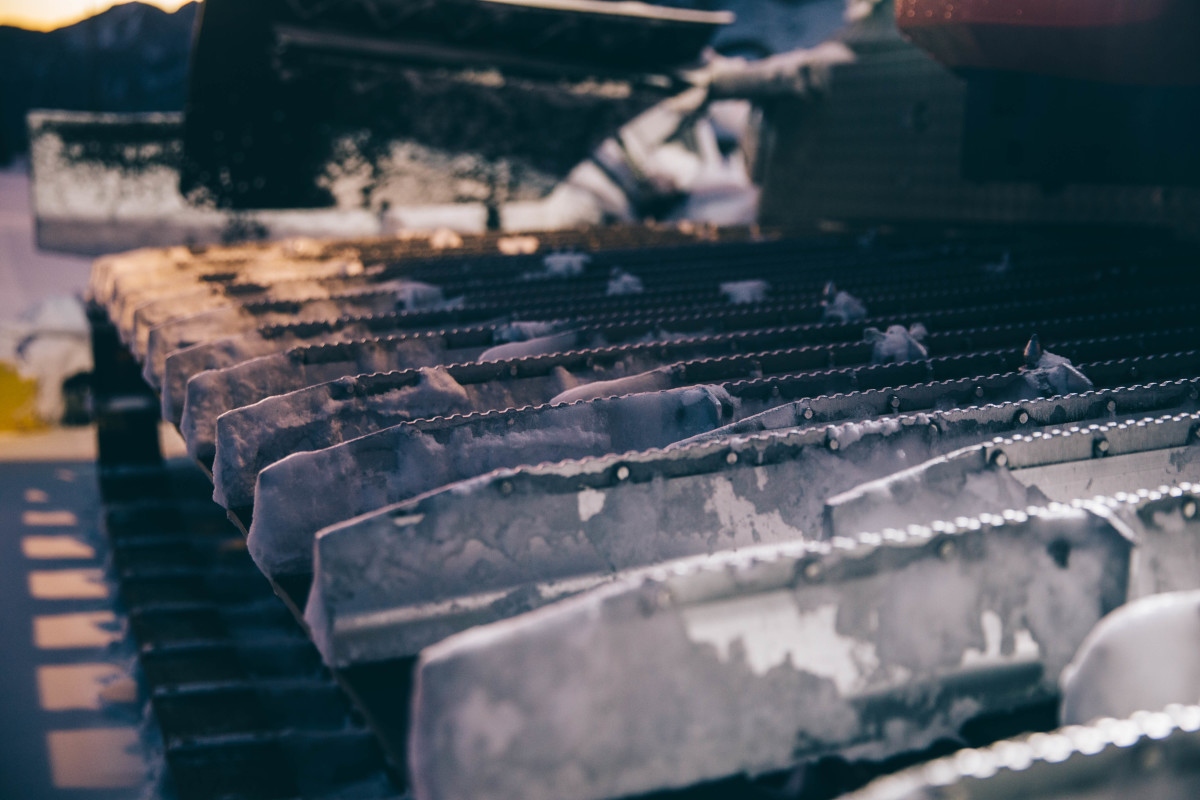 By drawing water from Lake Superior, Lutsen has the largest reservoir in the world, containing 2,900 cubic miles of water. The water that comes from Superior is very clear and clean, often heralded by regional micro-breweries and distilleries that proudly advertise that they use lake water. The resort has found that this water also makes better man-made snow. Because the water is so clean, the snow made from it is pure white, forms smaller particles, and it melts slower – all big advantages for the crew here.
Yet, despite such a large effort, the snowmaking operation is almost invisible. (And this is by design.) In fact, most skiers across the country have never seen a snowmaking operation in action, despite the fact that nearly all resorts rely on them. The miles of pipelines that run all over the four mountains at Lutsen are surprisingly hard to notice, even while riding the lifts. The pump houses are disguised as small sheds on the side of runs. The whole operation is designed to be unobtrusive. Without knowing better, skiers would never guess that the majority of the snow base is completely man-made.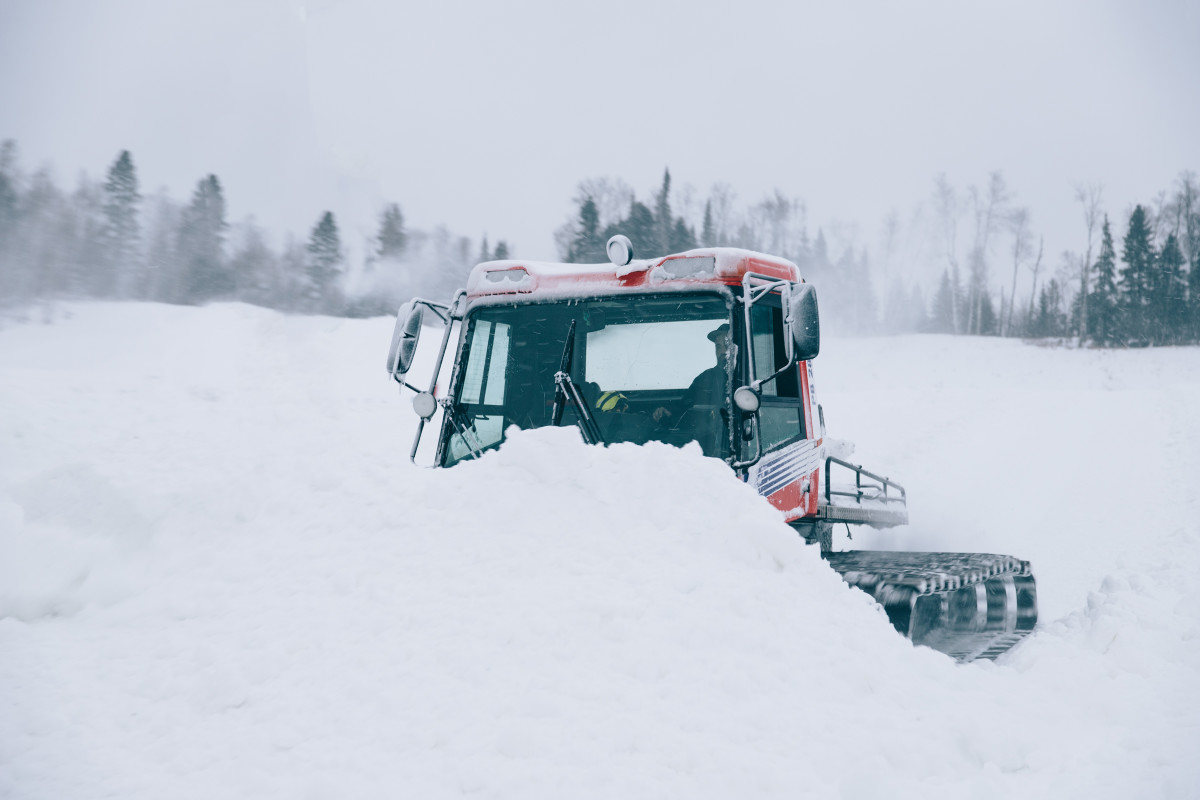 Mark, along with the snowmaking shift leaders, plans out each day by mapping the gun locations and best routes between them. An automated system monitors the pump pressure, water levels in sumps, temperature, and water flow, but sometimes manual overrides are necessary. Shifts run for 12 hours, around the clock. Teams are split by different areas on the mountain, communicate mostly by radio, and travel quickly on quads or snowmobiles. Mark estimated that on busy shifts he drives 30 miles or more.
But snowmaking isn't just driving fast around a ski hill. Most of the crew's time is spent shoveling, moving guns, replacing frozen hoses, and fixing problems. It's physical, fast-paced, and rarely perfect. A slight shift in the wind can bury guns within minutes and the only fix is to shovel them out. And, while snowguns are able to run at 28 degrees (Fahrenheit), they make the best snow around zero degrees and with little to no wind. Any temp in the 20s will make for wet snow – and wet snowmakers.
On the surface snowmaking might appear easy to many people. Anyone can turn on a gun and make snow. But it takes a seasoned expert to manage the system in adverse weather.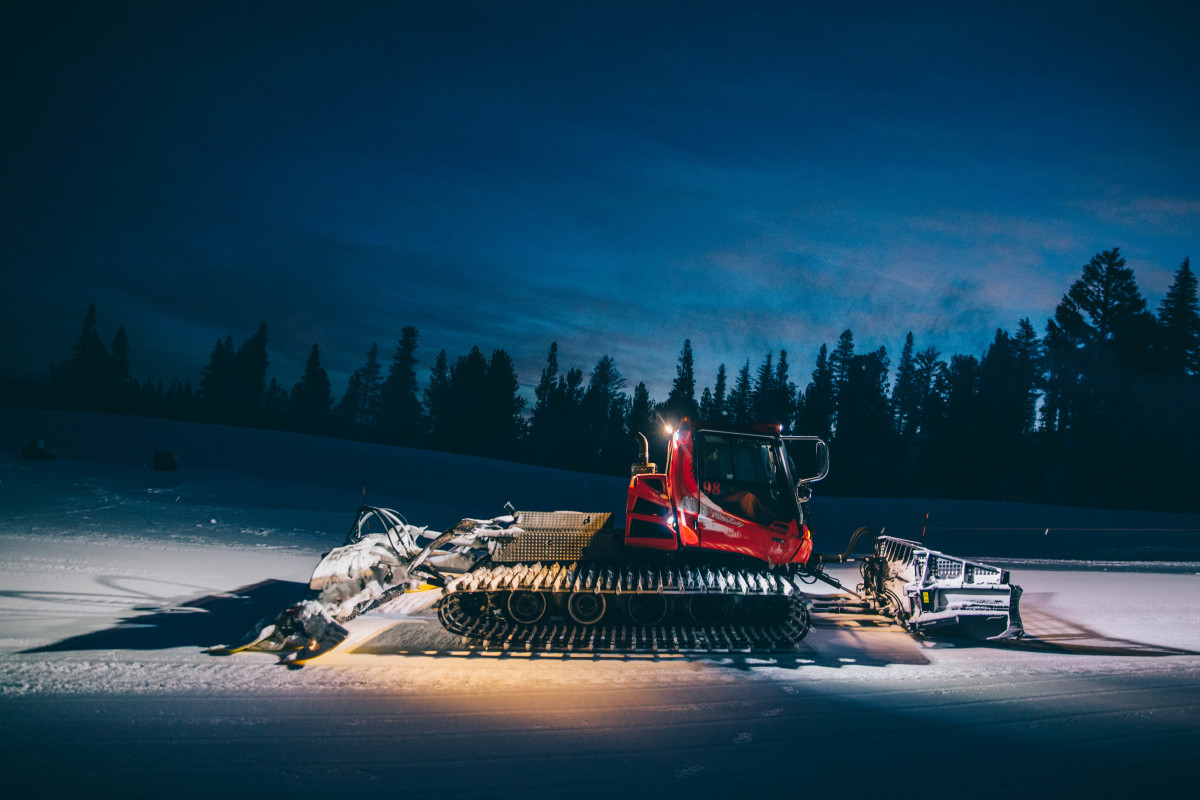 To help the snow freeze faster, Lutsen uses a nucleator and natural protein called Snowmax, which is relatively common. This addition helps the guns freeze the water faster and at a higher temperature. On a cold day each gun will create a big pile of snow within hours. Sometimes these piles stack upwards of two stories and more than fifty feet long. This snow is then dispersed across the entire run by snowcats, powerful tractors with wide tracks. Once the snow pushed is relatively even, groomers will smooth out the ski run in preparation for guests the next day.
After a few hours of trying to help Mark out, I walked away with a larger appreciation for the art of making snow. Even with millions of dollars invested in the equipment and infrastructure, it's a very complex craft to learn and master.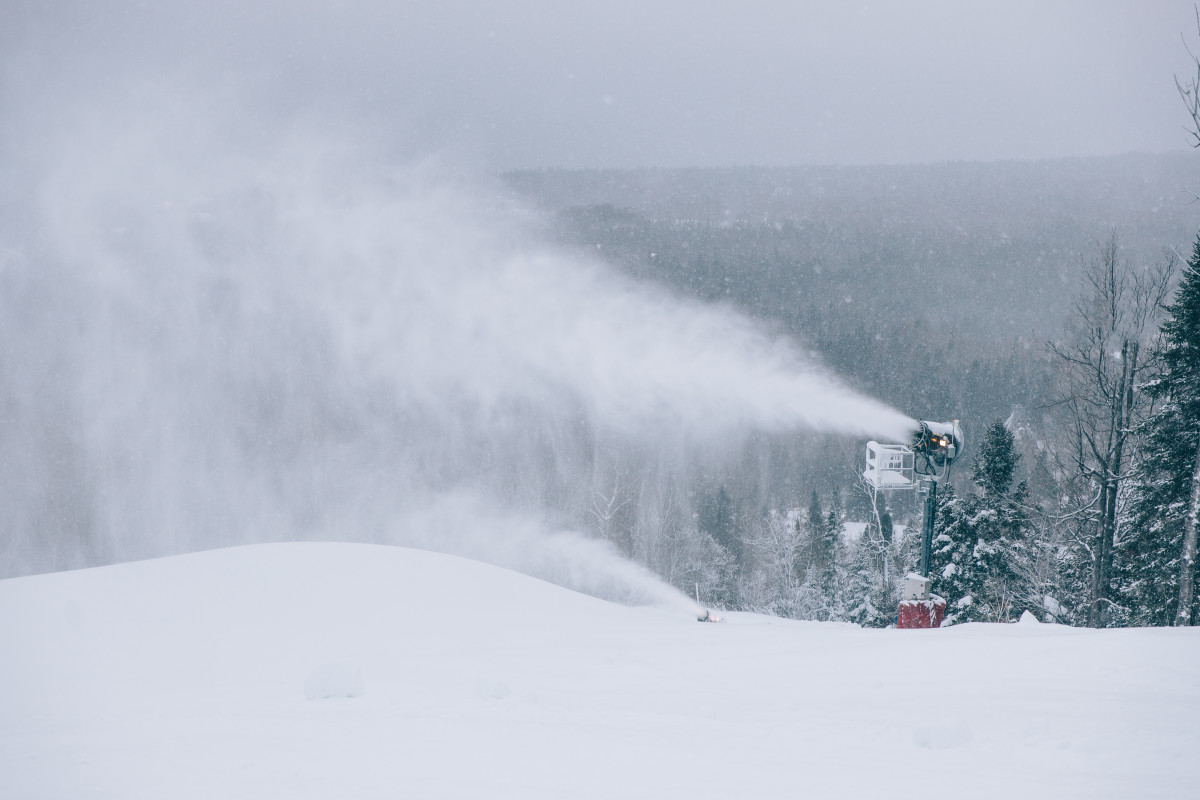 All Photos by Andy Cochrane.
For access to exclusive gear videos, celebrity interviews, and more, subscribe on YouTube!