At noon on the second day of July, ultrarunner Scott Jurek scrambled up to the 4,802-foot summit of New Hampshire's Mount Moosilauke. Known to the native Algonquin as the "bald place," from atop this treeless peak the entirety of the White Mountains stretched out before Jurek — a never-ending wave of sharp green ridgelines — and he knew his goal of beating the record by four days was done. "He's seeing the ugliness now," Karl Metzler, an ultrarunner and coach said at the time. Jurek would need to summit Mount Washington, famous for some of the most severe weather and highest wind speeds in the world, and scramble across fields of bus-sized boulders at Mahoosuc Notch. If the weather proved extremely fortuitous, Jurek still stood a chance of breaking the record by a handful of hours, if not minutes. But, as fellow ultrarunner David Horton noted, "The White's may annihilate him."
Widely regarded as one of the best ultrarunners of all-time, Jurek had hinted that this end-to-end run of the AT would serve as a cap to his competitive career, and had referred to the effort as his "masterpiece." He'd overcome crippling knee tendonitis and a compensatory quad strain just a week into his record-setting attempt. In Vermont, he ran through blinding rain and trudged across mud-slickened trails. Even as a stomach bug ravaged his insides and he skipped sleep to put in more miles, Jurek ran, hiked, and shuffled toward the end.
Thousands of people had been drawn to Jurek's journey, following him on Instagram, traveling hundreds of miles to cheer for him beside the trail, and bringing him vegan treats. Former AT record holders and fellow ultrarunners David Horton, Andrew Thompson, and Karl Meltzer, had joined his wife, Jenny, as crew members. 
From Mount Moosilauke, Jurek, who had slept just four hours the previous evening and only two hours the night before that, slowed to less than two-miles per hour, and, according to Meltzer, he was "kind of over it." But with just a week left to run, and so many people watching, he kept going. On day 40, he posted a photo cheerfully raising his hand atop a mountain in Maine, and on day 43 he reached the trail's 2,000-mile mark, "just 189.2 miles to go." Then, shortly after the sun rose on the 46th and final day to break the record, Jurek posted a photo from near the foot of Mount Katahdin — roughly a marathon's worth of running still left. He had a smile on his face, the hazy peak behind him, and captioned the image: "Hard to put into words."
By 2 p.m. on Sunday, with just three hours to spare, Jurek reached the summit of Katahdin, was handed a bottle of champagne, and let the bubbly pour down across the mountain's face. In 46 Days, 8 hours, and 7 minutes, Jurek had bested Jennifer Phar Davis' record, held since 2011.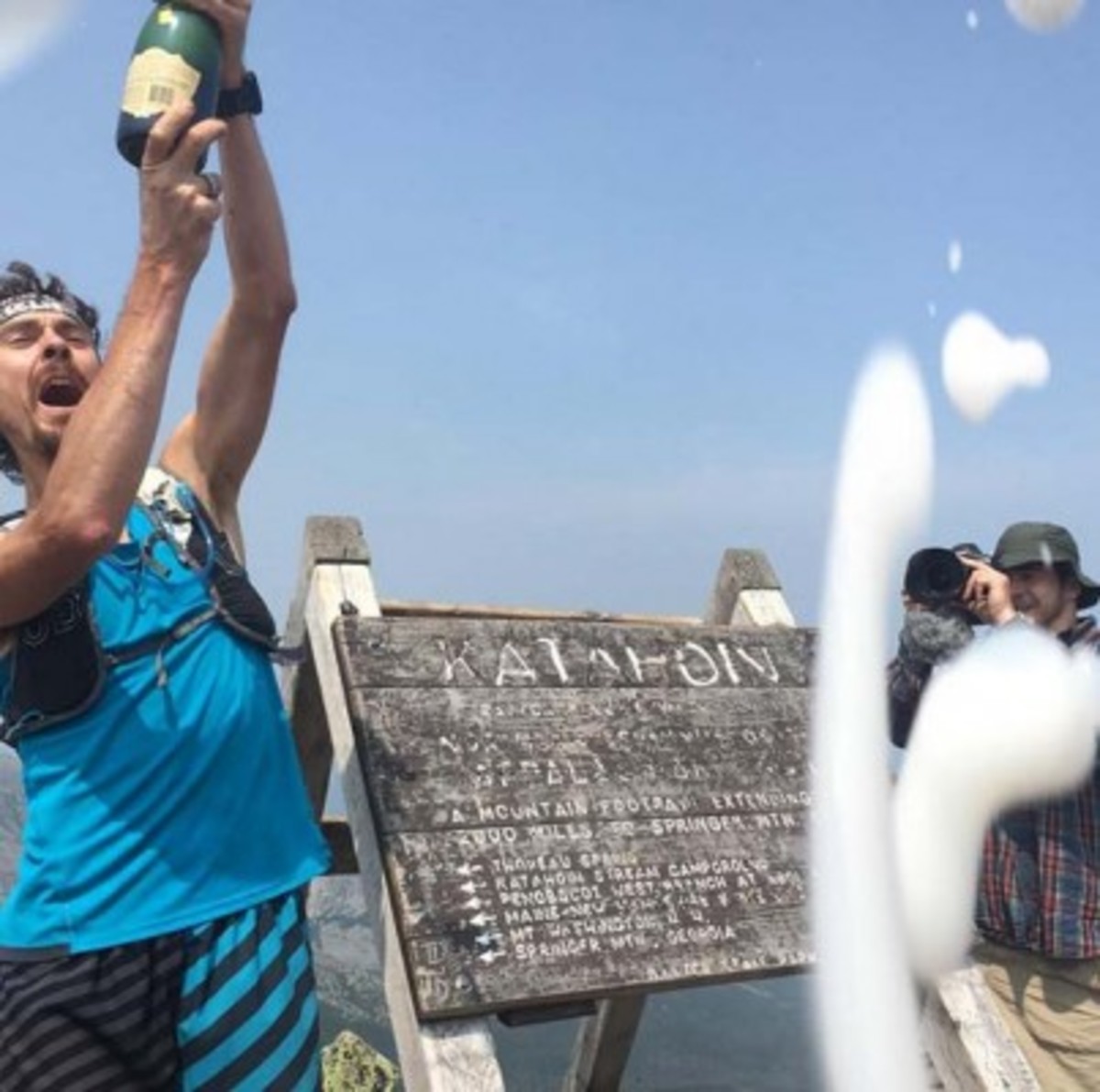 For access to exclusive gear videos, celebrity interviews, and more, subscribe on YouTube!