Story & Photographs by Michael Powers
A quick phone call from my wilderness guide daughter Marika was all it took to get me packing my paddling gear for a trip to Alaska. "Dad, I've got a week off and want to go sea kayaking up here . . . in a wild, Nordic-like fjord called Tracy Arm." My daughter has been a guide and expedition leader these past eight summers in Alaska, and for her to be this excited convinced me: Tracy Arm must be very special.
A week later Marika, her long-time adventure compañero Murphy (they met in Patagonia) and I rendezvoused in Juneau. Surrounded by mountains and islands and inaccessible except by plane or boat, Juneau was a colorful, hard-working seacoast town, unique among U. S. state capitols.
We rented a double and a single sea kayak from a local outfitter and found a local tour boat operator who could shuttle us and our gear the 45 miles south along the coast to Tracy Arm Fiord.
Motoring up the 30-mile long fiord, Captain Steve pointed out a distinctive waterfall he called Hole In The Wall, where he directed us to return in three days to be picked up. But this day to save us from having to paddle against the powerful currents that swept up and down the narrow waterway with the tides, he would drop us off at South Sawyer, one of the two glaciers high up in the fiord.
Once the tour boat was gone we were suddenly on our own, paddling through a mythical, frozen realm. Without warning, massive sections of the glacier's leading edge calved off explosively and echoed with a sound like thunder off the sheer walls high above us. A dazzling myriad of floating ice fragments, ranging from tiny bergy bits to mid-sized growlers and even one colossal, deep-blue iceberg, filled the upper reaches of the fiord. The icy maze made for challenging paddling, and often we had to back up and change direction. I recalled how Shackleton and his wooden ship Endurance were caught and ultimately crushed by the polar ice when they attempted to sail to Antarctica.
A naturalist back in Juneau had explained how he believed the ice confused the sonar of the predatory orcas in Tracy Arm, providing a safe haven for the numerous harbor seals we encountered lounging placidly on the floes. The multitude of wildlife that surrounded us was a confirmation too, of the naturalist's description of the fiord as a unique transition area between the offshore and inshore waters, resulting in an upwelling of nutrient-rich colder waters.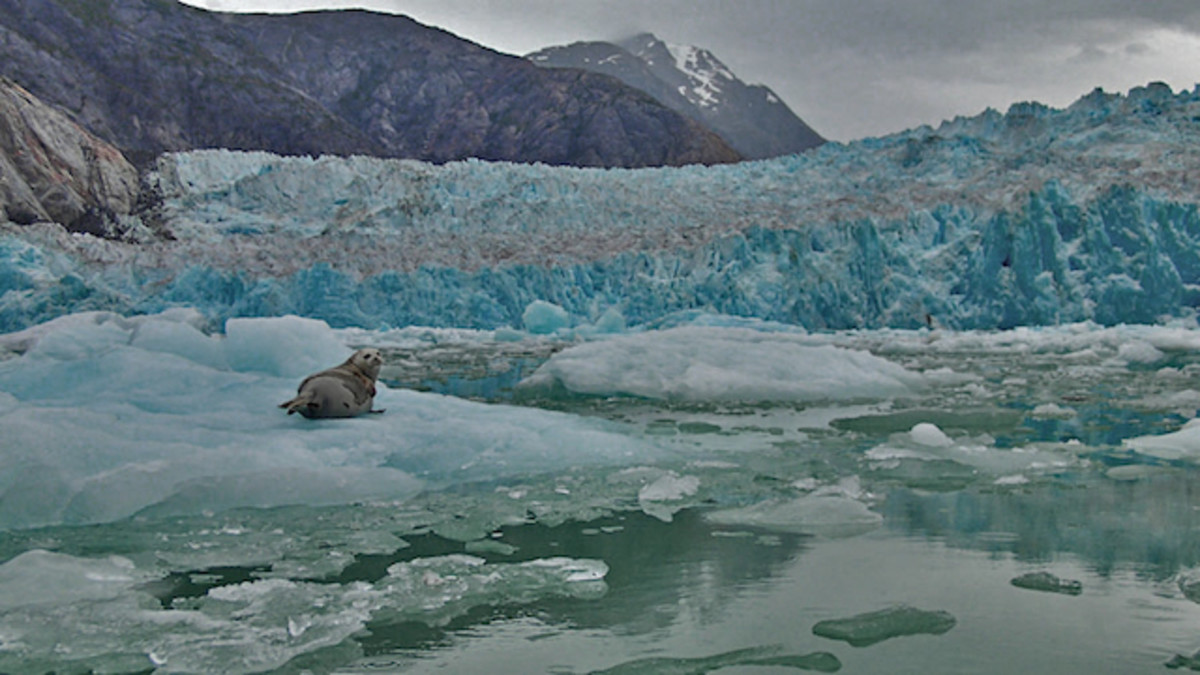 As the sun fell lower in the sky we started to think about looking for a place to camp. The cliffs that surrounded us rose up steeply for thousands of feet, but we had heard it was possible to land on a small island about a half-mile away down the fiord.
We grew concerned though, when we drew near little Sawyer Island. There were no beaches here, only glacier-polished granite rising abruptly out of the water. But we searched along the shoreline until we located a break in the cliffs where we could disembark safely, and with considerable effort we dragged our heavily-laden kayaks up high enough for the night. Finding level ground to set up tents was also a problem, but after much scrambling around we discovered an exposed ridge top with just enough space. At least the views were breathtaking, and there was no sign of bears on the island.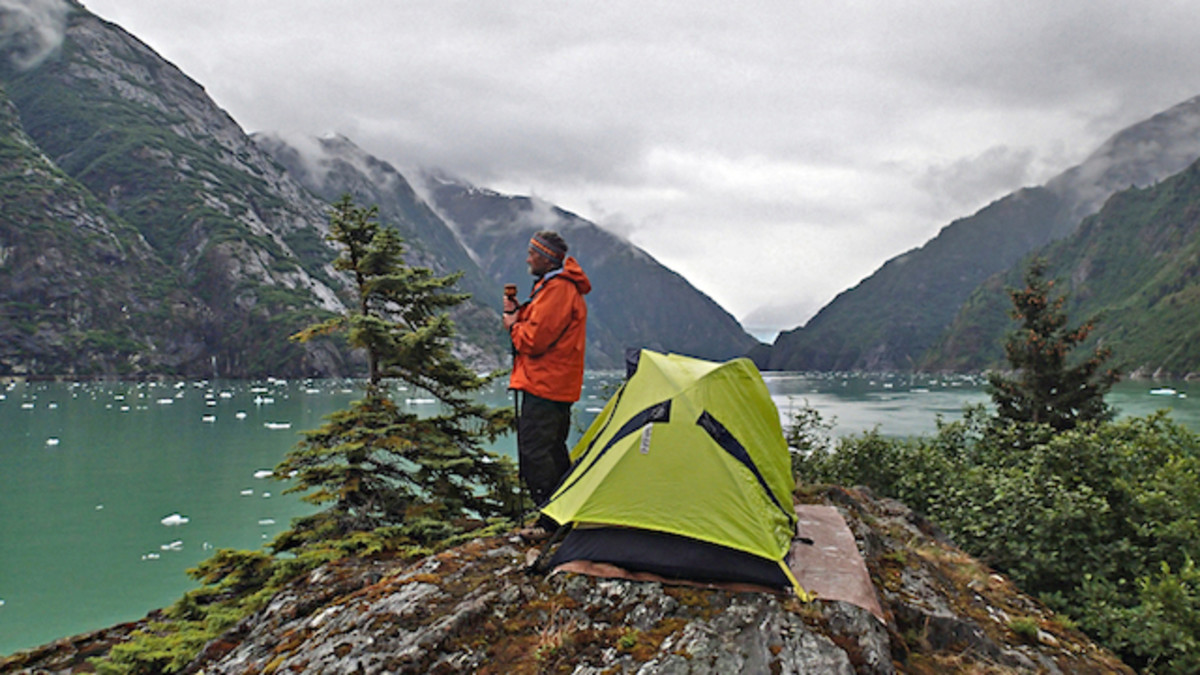 Eager to set off the next morning, we discovered the tide had dropped dramatically and left about eight feet of sheer cliff rising above the water where we had landed the night before. Rather than attempt a precarious seal launch with our fully loaded boats, we decided to wait until midday for the high tide to return.
But the paddle up a second arm of the fiord to reach North Sawyer Glacier was spectacular and well worth the delay. Here the cliffs rising up on both sides were brilliantly pigmented, mostly in intense copper and red colors. North Sawyer was also calving dramatically in the warm afternoon sun, producing sound effects straight out of a Star Wars movie. Most of the floating ice here had been carried away by the current, allowing us to paddle as close as we dared for some hair-raising photo ops.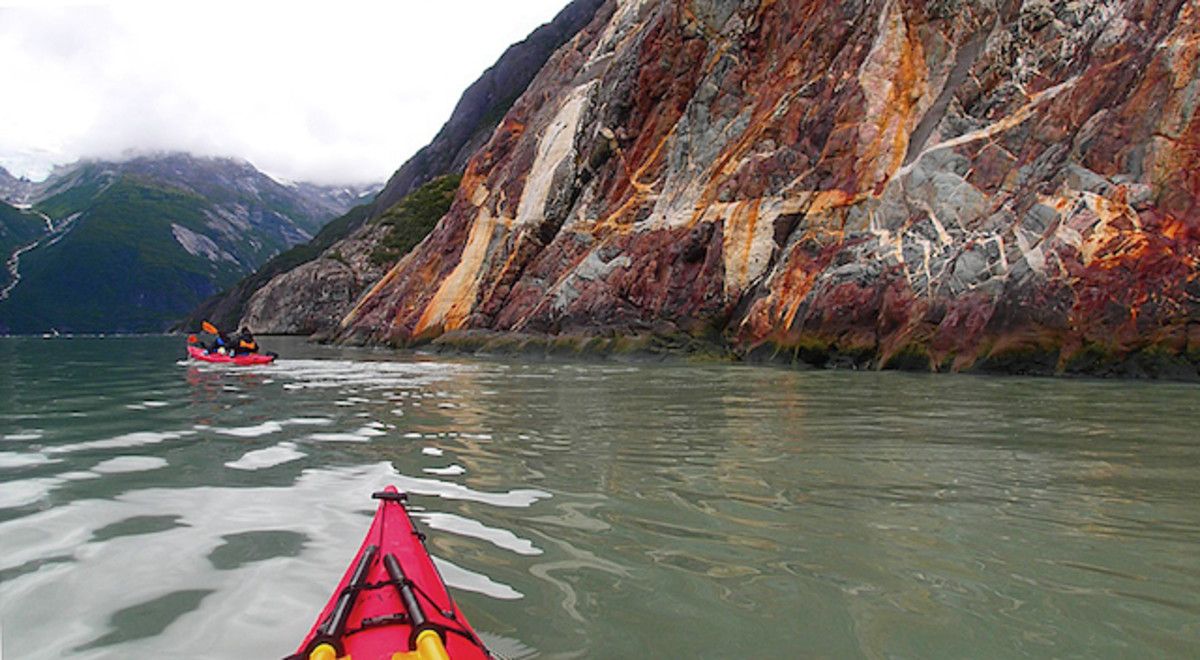 We got back to the main fiord later than planned, time to start looking for a safe refuge for the night again. Our hand-drawn map indicated two possible campsites on the far side of the fiord, so we set off immediately. More precious time slipped away while we crossed the wide expanse of the fiord and continued paddling along the shoreline, looking for a place to land. At last we spotted a stream cascading down the cliffs and into a grassy delta at the edge of fiord.
Idyllic as the scene appeared, Marika was obviously uneasy. Her seasoned Alaskan guide's eyes recognized this as ideal bear habitat.
"Hey bear… HEY BEAR!" she called out from her kayak. Long experience had taught her to take this precaution before landing on an Alaskan wilderness beach, in case there might be any big omnivores lurking around onshore.
Once out of our boats, her worst fears were soon confirmed. Big piles of fresh bear scat were scattered around the meadow, a sure sign of recent ursus arctos activity. "No way are we camping here!" declared our professional wilderness guide Marika. So we reluctantly returned to the kayaks and resumed paddling.
Our hopes rose each time we reached and paddled around a distant point, but what we found time and again was only another vast stretch of inescapable cliff-lined shoreline. Then when the sun disappeared behind the mountains above we began to get really worried.
We neared another point and I sprinted ahead, eager to find a place to land. But what I saw as I rounded the point only caused me to reverse course and go racing back to Marika and Murphy.
"I've got good news… and I've got bad news." I announced. "Around that point Icy Falls came into view, the waterfall where the captain stopped to let us take pictures on our way up here – that's the good news, cause now at last we know where we are… the bad news is, there are no more landing spots we know of for miles ahead down the fiord, and our only real option is to paddle back to 'bear' campsite!"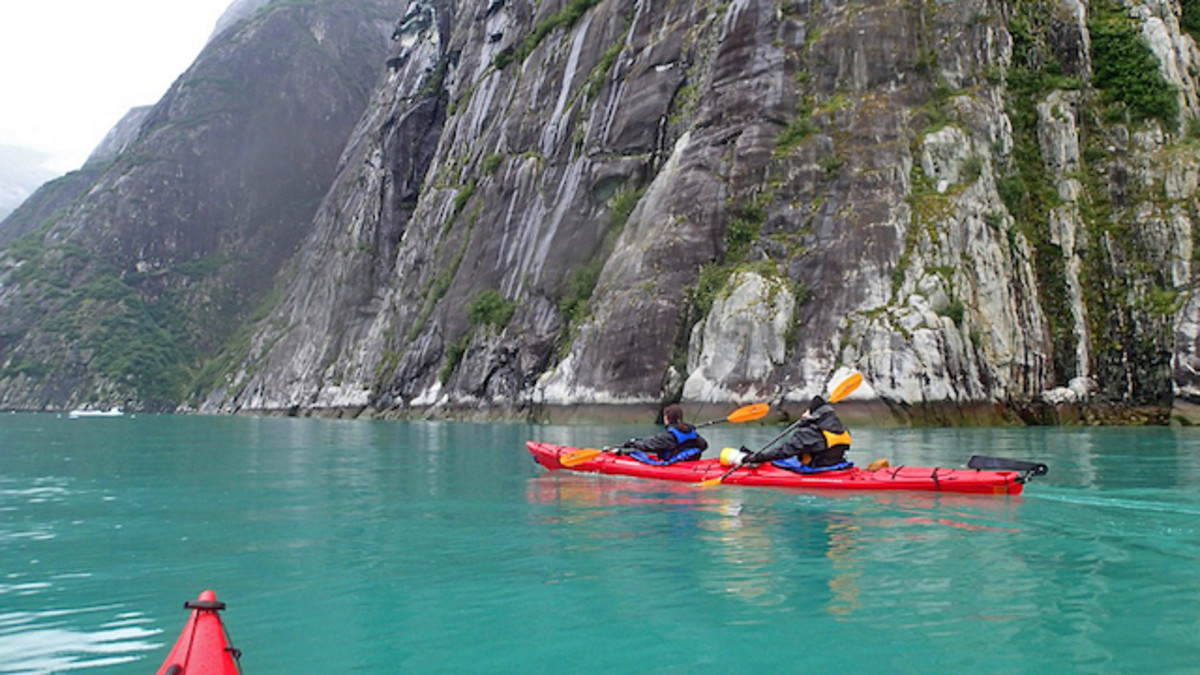 It was 9:30 and almost totally dark when we got back to the little beach where we had landed hours before. We hauled the heavy boats to what we thought was a safe distance from the shore and hurriedly tethered them in the rocks. By flashlight we located a grassy berm about a hundred yards further from the fiord and set up our tents close together as a meager defense against any marauding bears. Too exhausted to cook dinner, we gulped some trail mix and collapsed into our tents for some much needed rest.
About midnight something woke me up abruptly – water sloshing around on my tent floor! I grabbed my headlamp and peered out at a terrifying sight – fiord water was surging around my tent, six inches deep and rising! In a flash, I remembered those fishermen back in Juneau, talking about the extreme tides that were coming with this new moon.
"Marika… Murphy, we're being flooded!", I yelled. Seconds later everyone was rushing around trying to recue gear and tents from the swirling water. But there was no higher ground along the streambed, so in desperation we began clawing our way up the steep hillside – and straight into a tangle of thick rainforest, filled with infamous, spine-covered devil's club.
Alaskans have a saying about oplopanex horridus, that aptly named devil's club: "If you ever get caught between a patch of devil's club and a grizzly bear… run towards the bear!" But tidewaters were at our feet and there was no turning back, so I hacked at the devil's club with my machete until we had a little place to sit down. There on the steep hillside we huddled for the rest of the night, wrapped in our wet sleeping bags.
By first light the tide had dropping precipitously and we were immensely relieved to see that our sea kayaks—our only way out of there really—were still there. The high tide had definitely moved them around a bit, but the tether lines had held. We were grateful too, that the boats had all remained upright during the flood.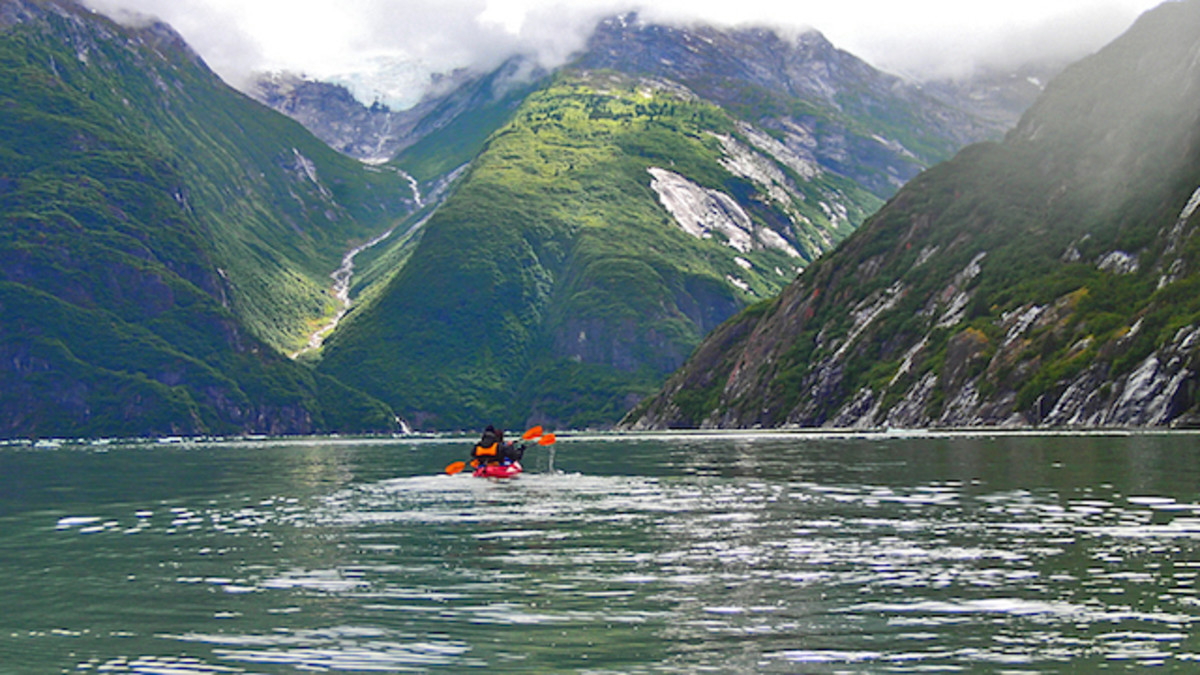 The dawn sky was dark with clouds and there was no dry wood for a fire to dry our sleeping bags. The prospect of another night's camping at such a northern latitude with wet sleeping bags seemed pretty grim. So after a quick breakfast we stuffed our sodden gear back into the kayaks and set off paddling.
The emergency radio we had been required to rent for the trip proved useless here in the remote fiord, and Captain Steve wasn't due back to pick us up for another 36 hours. So when I spotted a lone boat motoring up the far side of the fiord, I began paddling hard on a course to intercept it. As I drew near I waved – not a 'greeting' kind if wave, but more like: 'we needed help'. I was relieved to hear the boat's motor throttle back, and a woman stepped out on deck, smiling broadly.
When Bill and Tara learned of our dilemma, they insisted we tie our kayaks on to the back of their cruiser and come aboard to warm up. They had motored all the way up from Seattle through the Inland Passage, and seemed eager for company. We were soon enjoying the luxury of hot coffee inside their warm wheelhouse, and Bill quickly reached Captain Steve on his powerful marine radio. The good captain agreed to pick up at South Sawyer Glacier that afternoon when he got there with a boatload of tourists.
Back in bustling Juneau that evening, we were feeling a little sad about our paddling adventure got cut short a day. But we were very happy too, not to be out there shivering away the night in our wet sleeping bags. So we elected to celebrate at a delightful waterfront restaurant, appropriately called The Landing. Over a fine seafood dinner we began plotting out next epic Alaska coast sea kayaking adventure. Marika knew about another sheer-walled fiord by the ominous name of Ford's Terror. She just cautioned that we had to plan our entrance and exit paddling times carefully, as with each flooding tide – a narrow stretch of Ford's Terror Fiord can become a raging whitewater maelstrom.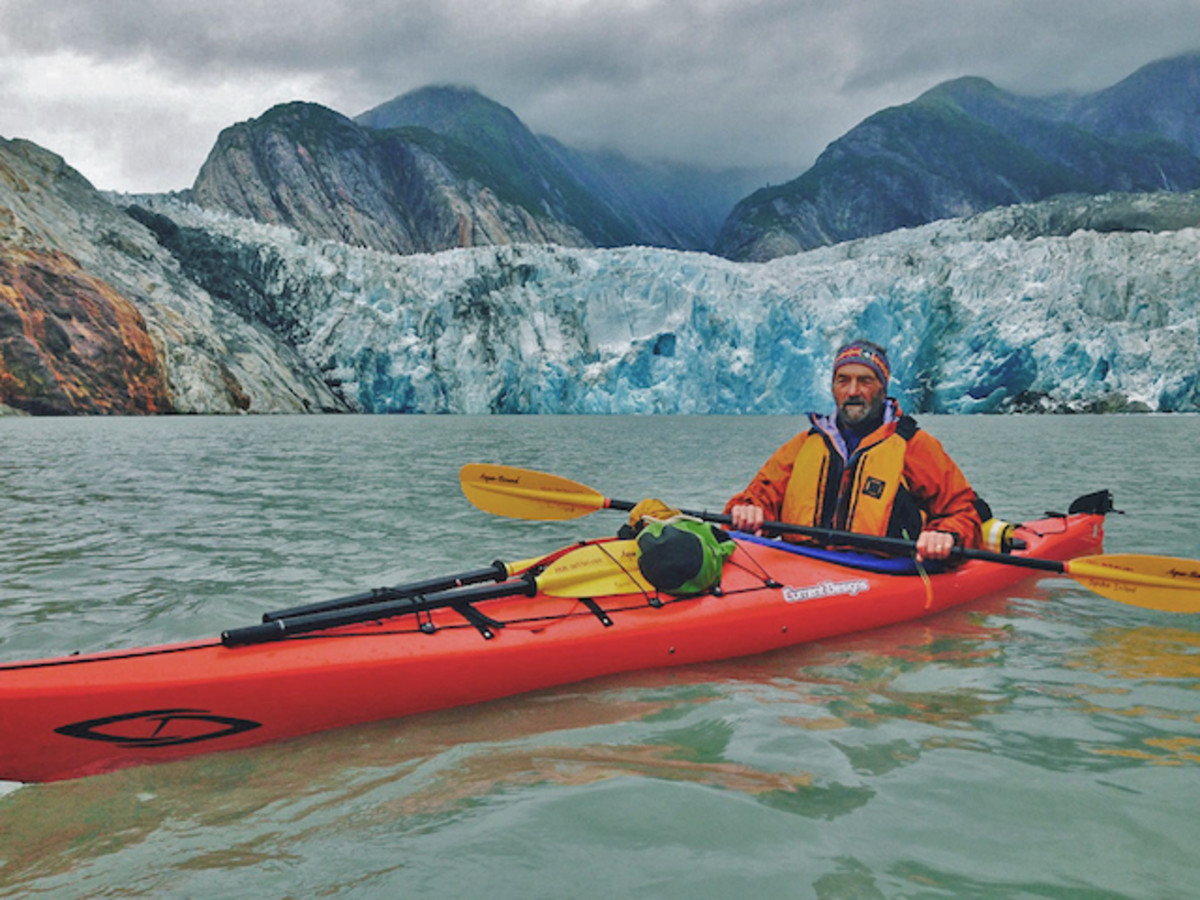 RESOURCES
Want to paddle in Tracy Arm? Below are some of the resources we used to plan our trip.
KAYAK & GEAR RENTALS
(emergency radios are required for wilderness paddling trips)
Alaska Boat & Kayak Center
(May-September) (907)789-6886
(winter) (907) 364-2333
info@juneaukayak.com
SHUTTLE TRANSPORT TO TRACY ARM
Adventure Bound Alaska
(907) 463-2509
advboundak@aol.com
JUNEAU HOTELS
Goldbelt Hotel
(907) 586-6900
51 Eagan (near waterfront)
GEAR USED
WATERPROOF CAMERA
Olympus Tough TG2, 3, 4
A good waterproof digital camera, which also shoots video.
www.getolympus.com
TENTS
Kelty
Gunnison 1.3 – compact & lightweight, easy to pack in kayak, free-standing & easy to set up on solid granite at Tracy Arm sites
www.kelty.com
MSR
Hubba (single) & Hubba Hubba Hubba NX (double) – also compact & lightweight, easy to pack in kayak, free-standing & easy to set up on solid granite at Tracy Arm sites
www.cascadedesigns.com/msr
PADDLING CLOTHING
Kotatat
Full line of high-quality dry suits, paddle jackets, etc.
www.kokatat.com
SPORT WATCH
Casio Pathfinder Twin Sensor
Waterproof, has solar chargeing, compass, altimeter(to 10,000m), barometric pressure (great for predicting weather changes, digital compass also very useful for sea kayakers)
www.protrek/casio.com
The article was originally published on Canoe & Kayak
For access to exclusive gear videos, celebrity interviews, and more, subscribe on YouTube!