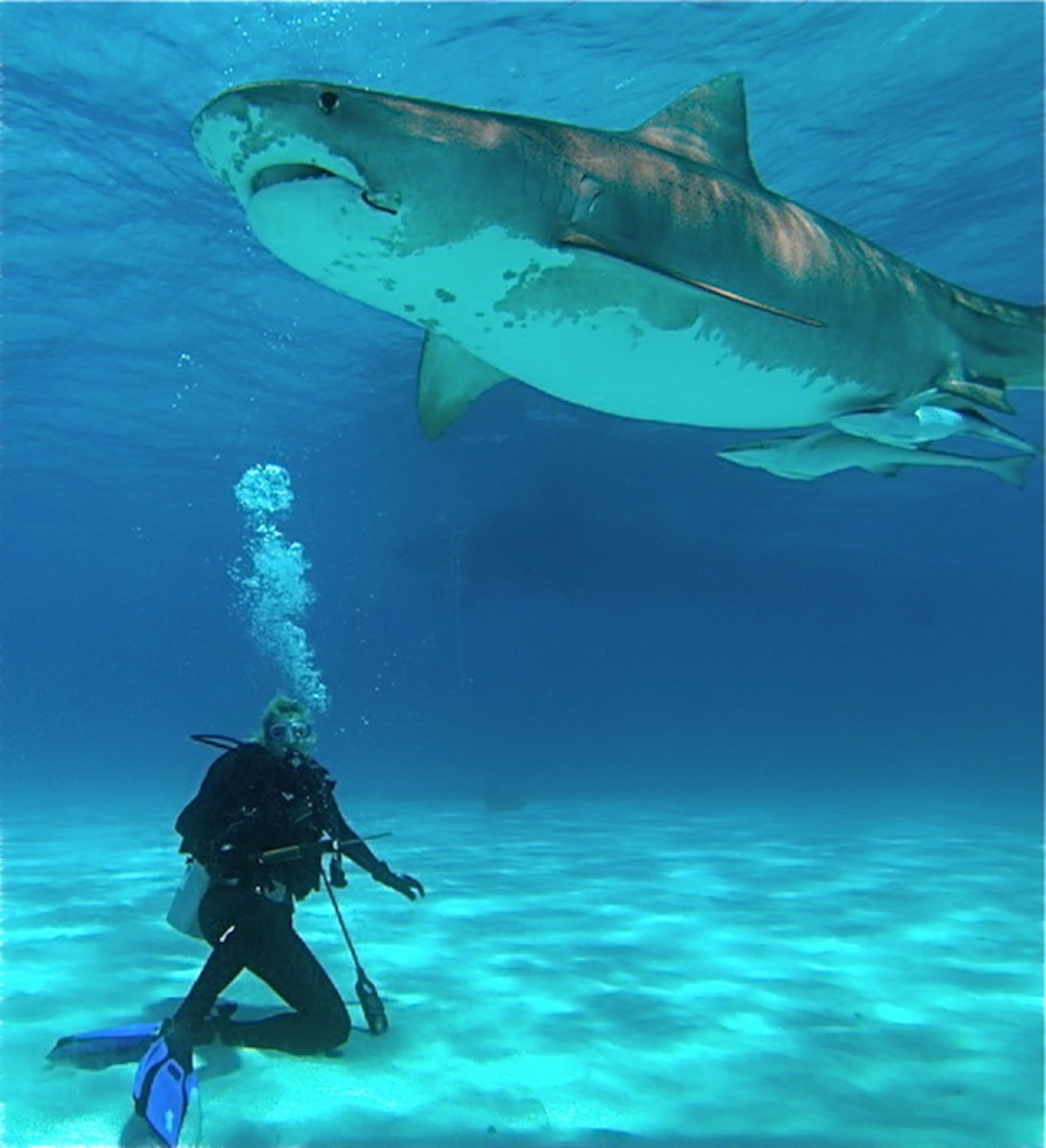 The search for a shark diver who did not surface with his group after a night-diving excursion Sunday in the Bahamas has ended after authorities determined that John E. Petty was attacked by a shark.
U.S Coast Guard crews found only dive gear, but no body after an exhaustive search that also involved Bahamian authorities.
Petty, 63, a chiropractor from Longview, Texas, was part of a multi-day adventure with Florida-based outfitter Jim Abernethy, a famous but controversial figure among the commercial shark-diving fraternity.
Eight other passengers were part of the expedition to Tiger Beach, a renowned location where divers routinely—but during daylight hours—dive among tiger sharks lured in with bait. (Many operations have stopped using cages for protection.)
Petty, who had recently obtained his mandatory advanced open-water certification, was last seen by other divers with the expedition aboard the 65-foot vessel, Shear Water. A distress call was issued at about 8 p .m., after it was discovered that Petty was missing.
Coast Guard Petty Officer John Paul-Rios told Chron on Wednesday that the search has turned up a "substantial amount" of dive gear. Outside magazine quoted Coast Guard spokesman Mark Barney as saying the gear included a mask and camera found one mile from where the distress call was issued.
On Wednesday afternoon Petty's son-in-law issued this statement:
"The family would like to thank everyone for the overwhelming support and prayers on behalf of John Petty. The U.S. Coast Guard has ceased its search as of 11:00 a.m., today. After the Bahamian Government studied the items recovered in numerous searches, it has been determined that a shark attack was the cause. A memorial service is being planned and details will be posted later today. Thank you all again."
Though thousands of tourists dive with sharks at Tiger Beach without incident each year, the location has been the site of several close calls and tense moments.
The cageless shark-diving industry began at Tiger Beach, which is located 20 miles nortwest of West End on Grand Bahama Island. The destination remains a major draw for those wanting to hand-feed the larger sharks. Several filming projects, involving intimately close encounters, were conducted there, etc.
Among past incidents Jim Abernethy has been associated with include losing a client to a fatal shark attack in 2008.
In 2011, the outfitter was bitten on the arm by what was believed to be a lemon shark while diving in the Bahamas. He was airlifted to a Florida hospital for treatment.
Messages sent to Abernethy on Wednesday were not returned.
–Find Pete Thomas on Facebook and Twitter
More on GrindTV
10 exotic fish El Niño might send to California
5 truly weird fish caught off Baja
Stranded whale saved after ill-advised rescue attempt
For access to exclusive gear videos, celebrity interviews, and more, subscribe on YouTube!