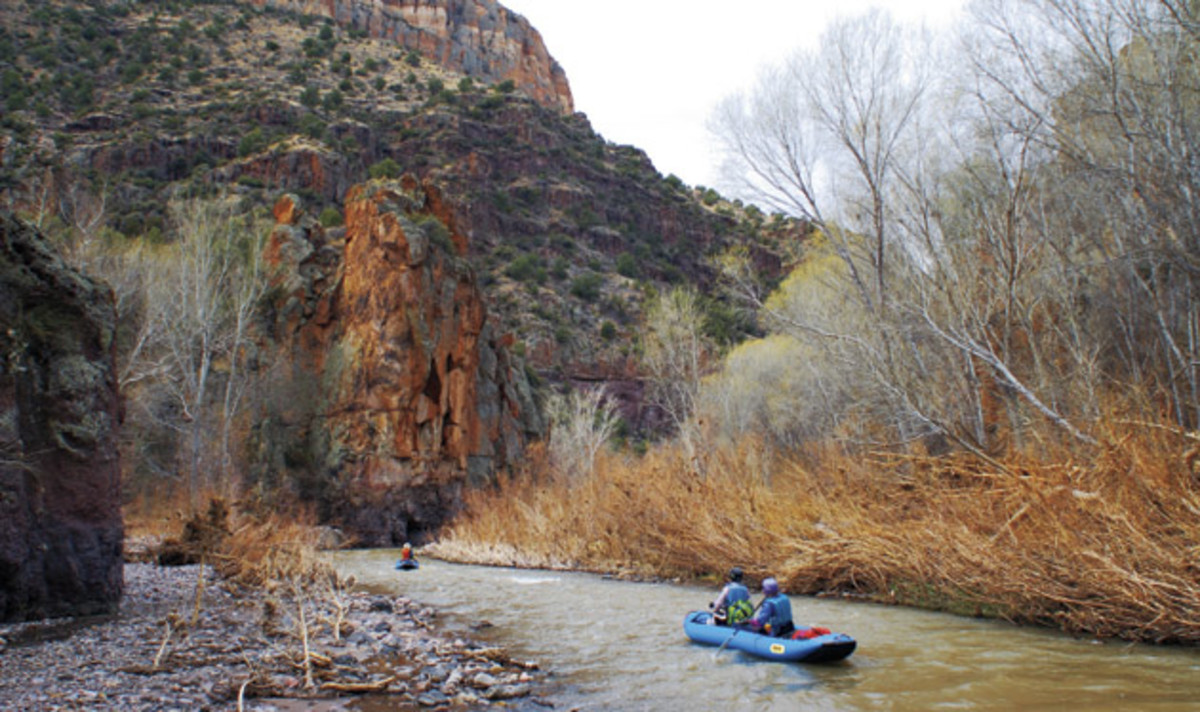 Flanked by pine-covered escarpments and lined with strands of sycamores, cottonwoods, and willows, the sparkling-clear San Francisco is a major tributary of the Upper Gila River, but a complete unknown to most paddlers—possibly because catching the river with navigable flows is difficult at best, and possibly because combat boating skills are a prerequisite to safely traverse this extremely remote stream. Three years ago, when we decided to explore the San Fran, we were met by a lonely land of inaccessible high mountains, rugged canyons, and stark ridges, and a river that tested our fortitude. In between quiet pools were long stretches marked by swift currents and boulder-garden rapids. Great fun. However, what required all our attention, all the time, was the threat of strainers and downed trees often completely blocking the tight channel. Not so fun. That said, the San Francisco ranks near the very top of my favorite ephemeral streams.
BEST WINDOW: mid-March to late April, but change subject to seasonal temperatures and winter snowpack.
MINIMUM FLOW: 200 cfs; optimum flow: 500 cfs.
LENGTH: 42 miles, between the towns of Pleasanton, N.M. (elevation 4,555 feet) and Clifton, Ariz. (elevation 3,435 ft.).
DIFFICULTY: Class II-III, strong wilderness boating skills required.
FLOAT TIME: 4-5 days.
TIP: Take small, folding handsaws to cut rogue limbs and logs.
CONTACT: Apache-Sitgreaves National Forest (928-687-8600).
BACKUP: Gila River. Located about 20 miles northeast of Safford, Ariz., the 23-mile, almost always runnable stretch of the Gila, protected within the 23,000-acre Gila Box Riparian National Conservation Area, makes for a fine two-day trip.
— LR
The article was originally published on Canoe & Kayak
For access to exclusive gear videos, celebrity interviews, and more, subscribe on YouTube!