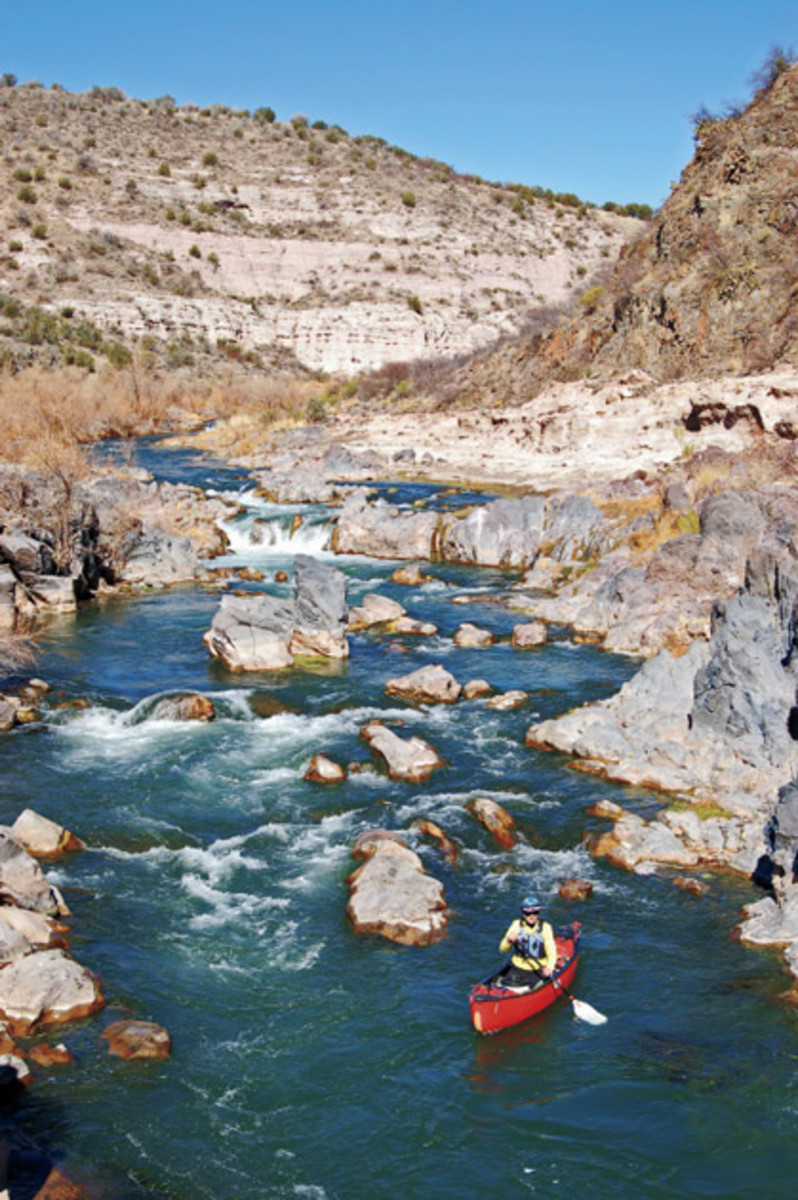 Flowing through some of the most stunning and desolate reaches of Arizona, the Verde is one of the Southwest's finest whitewater runs, and one of its best-kept secrets. Located midway between Flagstaff and Phoenix, the Verde—Arizona's first (and so far only) National Wild and Scenic River—tumbles south through three national forests, offering in places virtually non-stop technical whitewater amidst stark, lonely hills, towering cliffs and arid Sonoran Desert terrain bristling with cacti, including the giant, treelike saguaro. Pretty and peaceful pools alternate with long stretches of rock-dodging Class II-III rapids. There's great hiking up hills and in side canyons with ancient cliff dwellings and pit house ruins. Roaming through the remote countryside are javelinas, river otters, mule deer, coyotes and mountain lions, as well as nearly 300 species of birds.
BEST WINDOW: late Jan. through April.
MINIMUM FLOW: 150 cfs (involving some dragging, lining, and boat-scraping); optimum: 500-2,000 cfs.
LENGTH: 61 miles from Camp Verde to Sheep Bridge, however, many boaters prefer to paddle the remaining nine miles or so to the Ocotillo Boat Ramp on Horseshoe Reservoir.
DIFFICULTY: Class I-III, with a few Class III-IV ledge drops that may require lining or portaging. At any water level, brush and tree strainers blocking channels are the greatest hazard; scout blind turns before running them.
FLOAT TIME: 5-9 days.
TIP: The riverside hot spring a mile upriver from the Forest Service campground at Childs is worth visiting.
CONTACT: Verde Ranger District (928-567-4121).
BACKUP: Upper Salt River. Closest to the Verde, but advance Forest Service permits are required for this wonderful, multi-day Class II-IV run.
— LR
The article was originally published on Canoe & Kayak
For access to exclusive gear videos, celebrity interviews, and more, subscribe on YouTube!