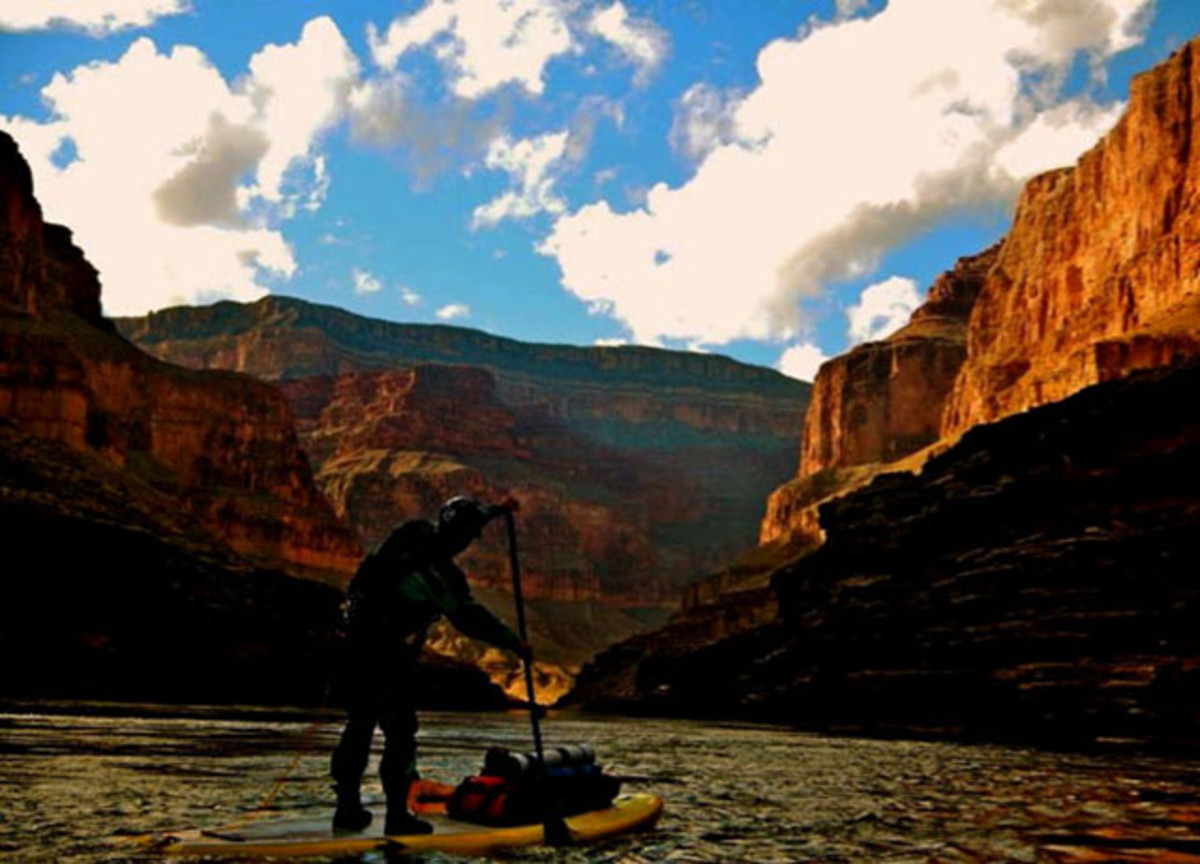 Self SUPporting the Grand Canyon with Spencer Lacy
On December 2, 2014, pioneering river SUP athlete, Spencer Lacy, along with his brother Mason and friends Luke Farny, Jimmy Hosstetler and Riley Gelatte, put in at Lee's Ferry—Mile 0.0 of the Grand Canyon paddling trail. The crew had lucked out, scoring a coveted last-minute permit to paddle the canyon, the kind of opportunity that may only come once in a lifetime. With a demanding collection of  full-time jobs and school, the guys were short on time, but that wouldn't keep them from their mission: a self-supported expedition along the canyon's entire 226 miles, in just five-and-a-half-days.
The others opted for kayaks, but Lacy's endeavor was a bit more…grand. He aimed to complete the expedition—Class-10 rapids and all—on a loaded standup, and be the first paddler in documented history to do so.
The challenge, for Lacy, began long before put-in. Planning is paramount with a standup expedition of this magnitude; packing is a feat in itself given the limited space and necessity for security on deck.
"I knew my board was gonna get worked in some of the most powerful whitewater in the western hemisphere,"  Lacy said. "My strategy for packing was, there's no such thing as too many cam straps."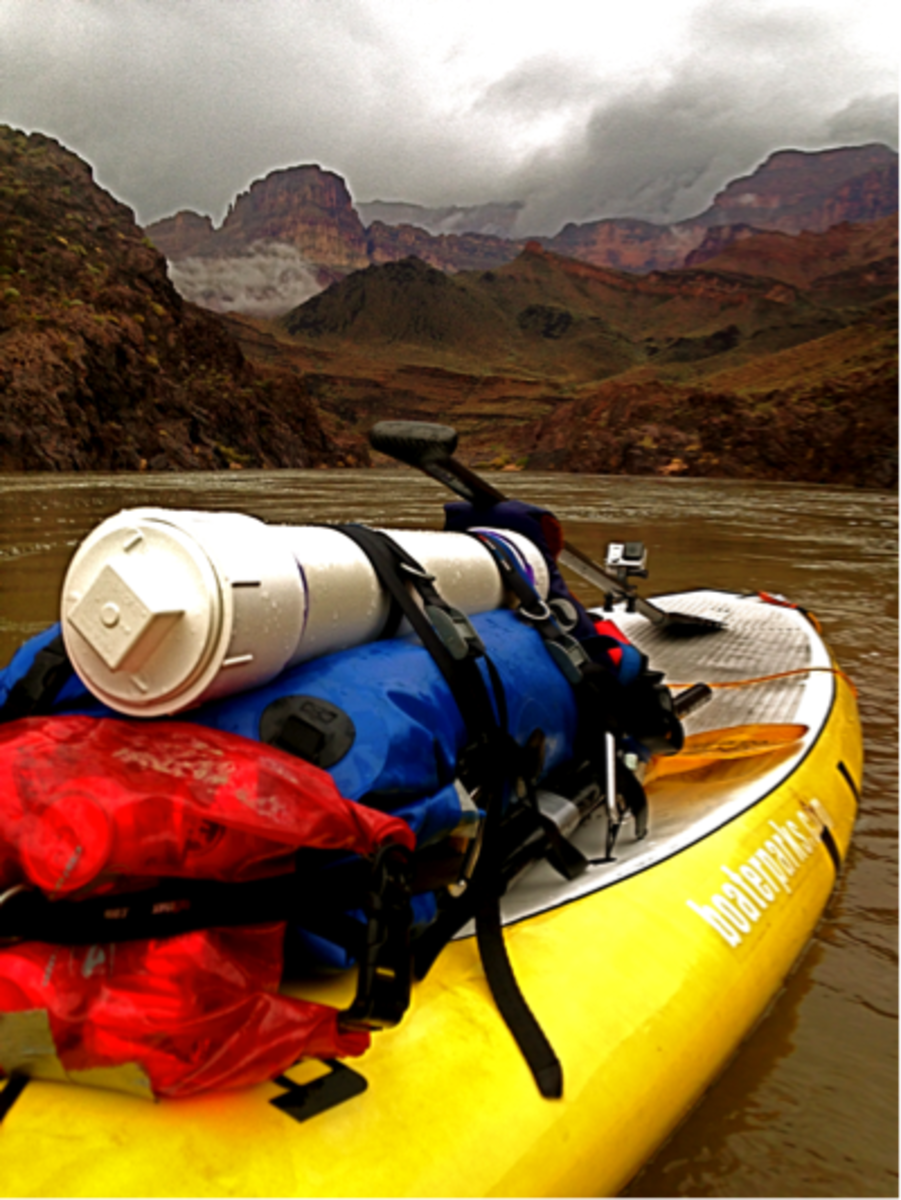 Lacy's strategy fared well their first day as the team plowed through more than 50 miles of burly rapids. For him, that meant 50 miles standing up through 9,000 cubic feet per second of water, raging through rapids without pause, gear and all. It was his most trying leg of the expedition.
"My attitude when it came to the whitewater was that it'd be a waste of a Grand Canyon permit to sneak any of the rapids," Lacy said. "I charged into all of them, knowing the kayakers wouldn't wait for me to scout or reflect. I had to keep up with an average speed of around five mph."
In turn, Lacy spent a lot of time swimming.
"The swims were pretty rough," he admitted. "But once you're used to it, getting worked in a river is a damn good time."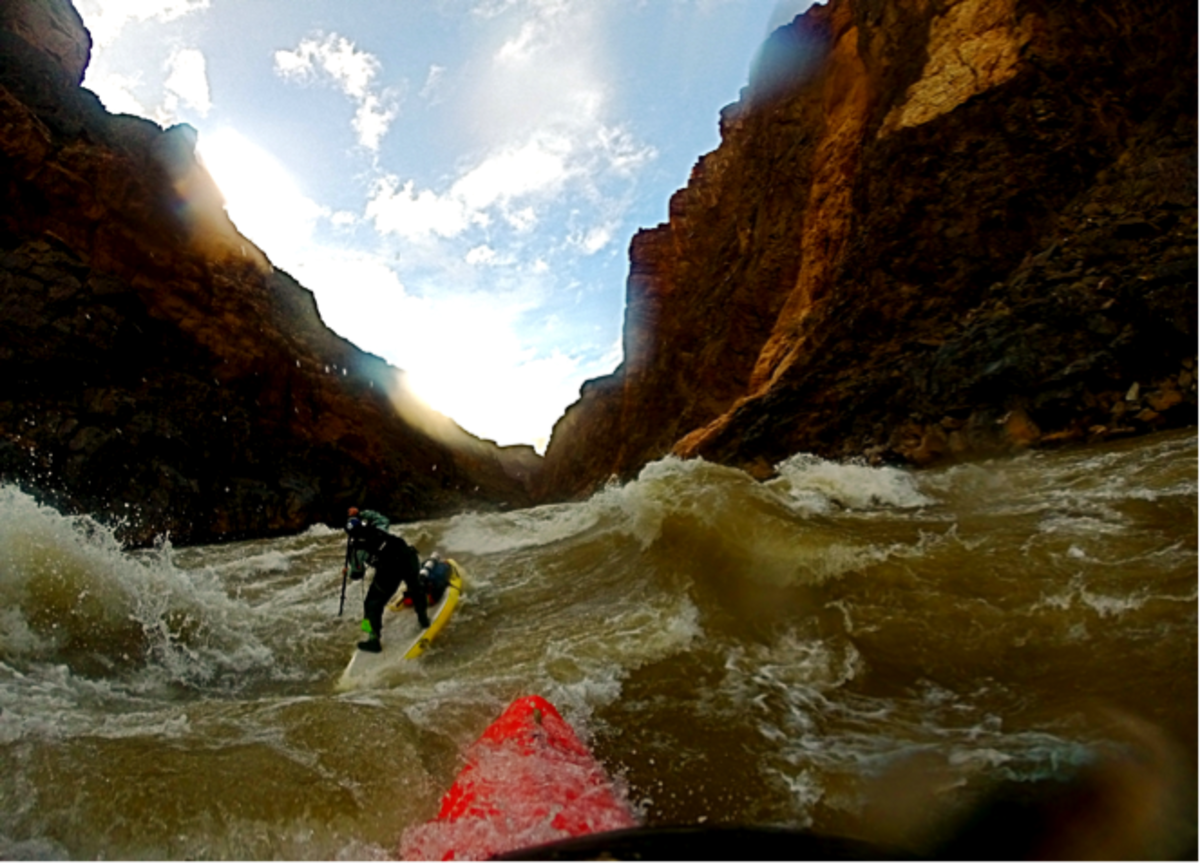 Lacy described the first major rapid: "I took the main line straight over the first huge wave of the trip. My entire body and board disappeared from sight behind a mountain of water, then popped up again as I ascended the second wave. As was the story with most of the bigger whitewater on this expedition, the first part of the rapid with all of the impressive features was the easy part. The bottom of the rapid, with its crazy pyramid waves and whirl pools, was way harder."
That night, their diligence in distance was rewarded when they arrived at their first campsite to find a group of 30-odd, camped-out vacationers hosting a dance party on the beach.
"I rounded a turn and was welcomed by a bonfire, disco lights and offers of cold beer and burgers," Lacy said.
Well nourished with good food and company, the team set out early the next day for another 40-mile stretch, during which Lacy successfully made a handful of the major rapids. Miles came easier as the crew maintained a steady clip, boosted by stoked morale.
"Day Two we paddled all the way down through Phantom Ranch," Lacy said. "Which is usually considered the halfway point. It was pretty encouraging to see we'd made it halfway in less than two days."
Day Three brought two of the canyon's most notorious rapids—Crystal and Hermit. To keep up with the kayaks, Lacy throttled through the whitewater without plotting his lines. He survived both Crystal—possibly the canyon's most feared rapid with enormous holes and a brutal rock garden—and Hermit, which Spencer described as having "waves 10-feet high—huge mountains of water."
"There was a lot of carnage for me that day," he continued.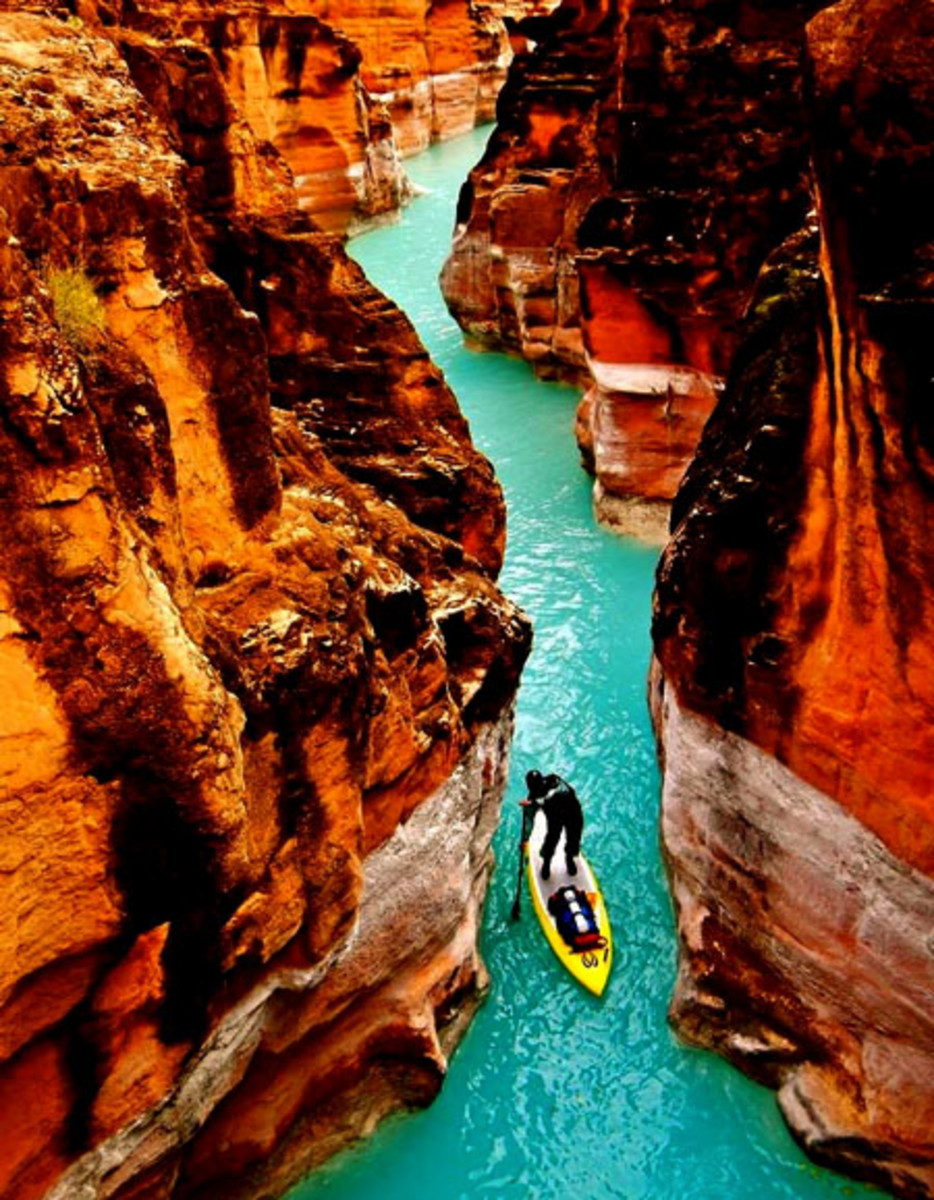 The crew was making good time, so they opted to go easy and cut back to 35 miles for day four. More carnage coupled with the astounding beauty of sights like Havasu Canyon—a narrow, turquoise-watered side canyon—for yet another sublime day on the river. That night, they camped out and plotted their most daunting descent yet—Vulcan Rapid, better known as Lava Falls.
"When we got to Lava on Day Five, I sprinted into the chaos, taking the same line as the kayakers. It wasn't long before I was engulfed in a big white pillow," Lacy said. "I spent the remainder of the rapid underwater, popped up down river, fought to get back to my board and climbed on. I was elated!"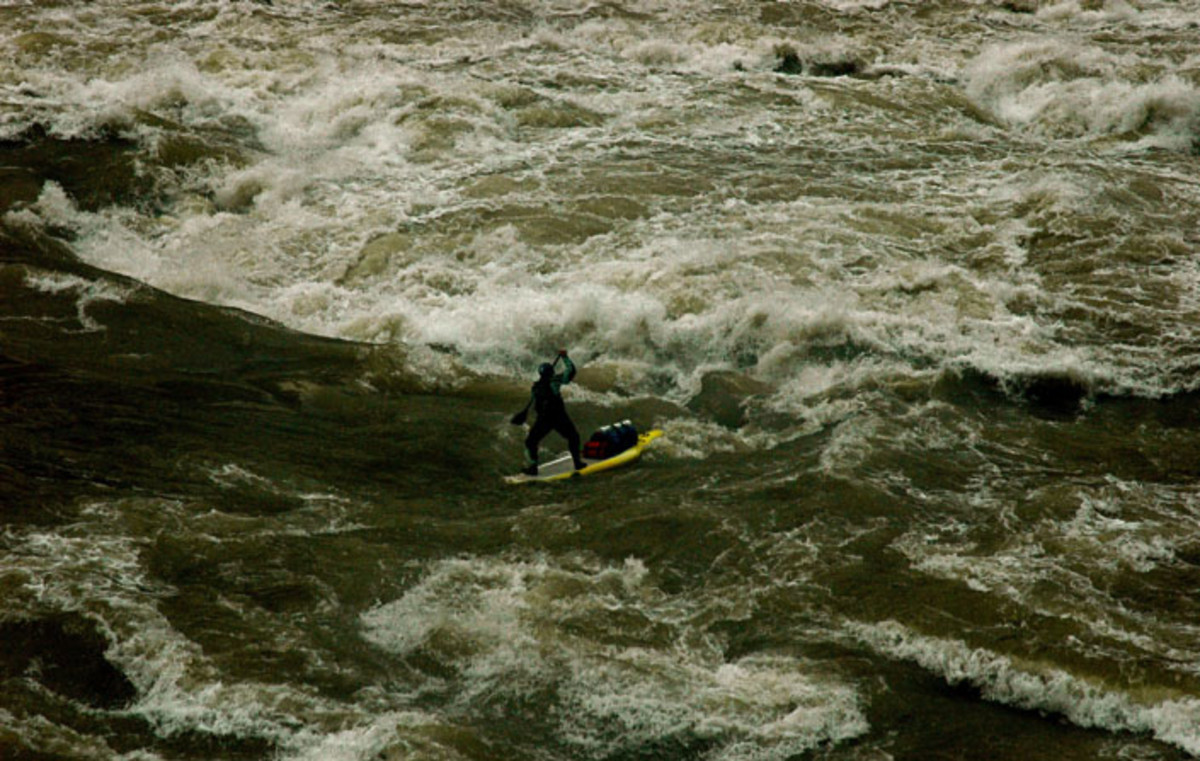 The crew spent its final night under a full moon, reflecting on the trip and polishing off the last of the whiskey supply. Five-and-a-half days and 226 miles logged on the river, a successful descent and a record for river SUP history behind them, the next day Lacy, Mason, Luke, Jimmy and Riley rounded for home on a natural high.
"Leaving that experience was bittersweet, for sure. It would have been great to have more time out there," Lacy said. "But I think we put that permit to pretty good use."
Follow Spencer Lacy on Facebook to keep tabs on his paddling action.
To look into getting your permit to paddle the Grand Canyon, click here.
For more from SUP magazine on paddling the Grand Canyon, click here.
The article was originally published on Standup Paddling
For access to exclusive gear videos, celebrity interviews, and more, subscribe on YouTube!