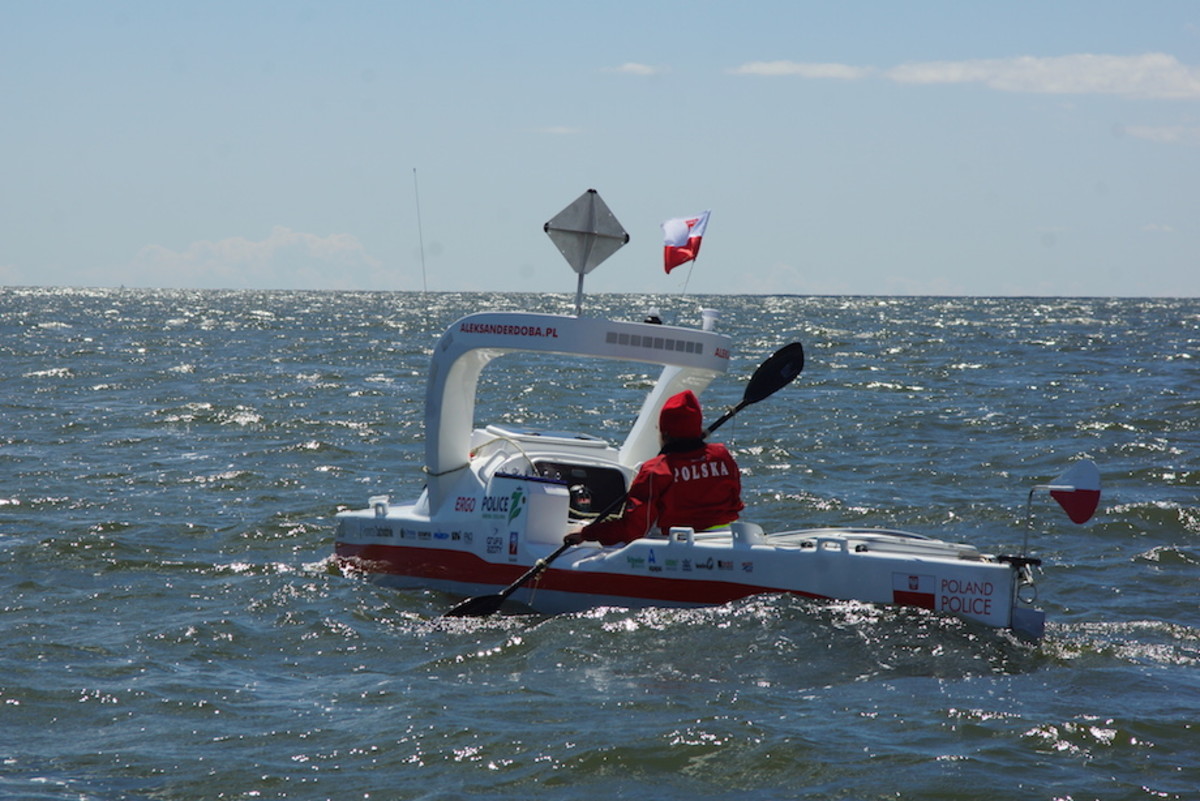 Seventy-year-old Polish adventurer Aleksander Doba is again at sea, attempting his third Atlantic crossing in the custom, 23-foot oceangoing kayak he calls Olo.
Doba left the mouth of New York Harbor yesterday afternoon after nearly being swept onto rocks at Sandy Hook, the same spit of land where his kayak was driven ashore nearly a year ago. At this writing he is about 30 miles offshore, working his way toward the relative safety of the open sea. His destination — Lisbon, Portugal — is some 5,000 miles distant. If all goes well he will finish the journey in about four months, in time for his 71st birthday.
If his previous voyages are any indication, however, it will not be that easy. During his first crossing from Senegal to Brazil, a series of storms pushed him in circles for weeks. Undeterred, he reached Acara, Brazil in February 2011 after 99 days at sea, then a record for the longest continuous ocean journey in a kayak. Three years later on a route from Lisbon to Florida he surpassed that record, as weeks of contrary weather slowed his progress, eventually breaking his rudder but not his resolve. One hundred and forty-two days after leaving Portugal, he put into Bermuda for repairs, and then carried on to Florida.
His third attempt is his most ambitious yet, and it nearly destroyed his boat a year ago. Last May 29 he set out from Liberty Park and paddled past the Statue of Liberty trailed by a fleet of well-wishers including Polish television, a documentary crew and a sizable component of New York's Polish community. C&K contributing photographer David Jackson was on hand for the media send-off:

Unfortunately, The wind and currents in New York Harbor exposed the vulnerability of the custom-built kayak he fondly calls Olo. The craft is built to withstand ocean storms and has kept Doba safe and relatively comfortable for more than three-quarters of a year at sea, but with a full load of provisions it weighs 1,500 pounds and is about as aerodynamic as a garden fence. Two days after his festive sendoff and still within sight of Lady Liberty, Doba and Olo went aground at Sandy Hook, cracking the kayak's hull in several places.
There was never any doubt that he would try again. This time though, he resolved to launch quietly, waiting for a favorable weather window and avoiding the distraction of a celebrity sendoff. Even so, Sandy Hook almost got him again.
The forecast called for several days of moderate winds from the northwest, just what Doba needed to make the critical first 100 miles southeast to a point well clear of the New Jersey shore to the west and Long Island to the north. First though, he had to get out of Sandy Hook Bay in the suburbs of North Jersey. A handful of friends including media coordinator Piotr Chmielinski helped Doba launch Olo from a trailer Sunday evening, and he slept in the boat anchored about a mile offshore. That night the kayak dragged anchor, and Doba awoke to see his old nightmare of Sandy Hook just a few hundred meters away and getting closer. The wind was rising, and pushing him toward a rocky shoreline.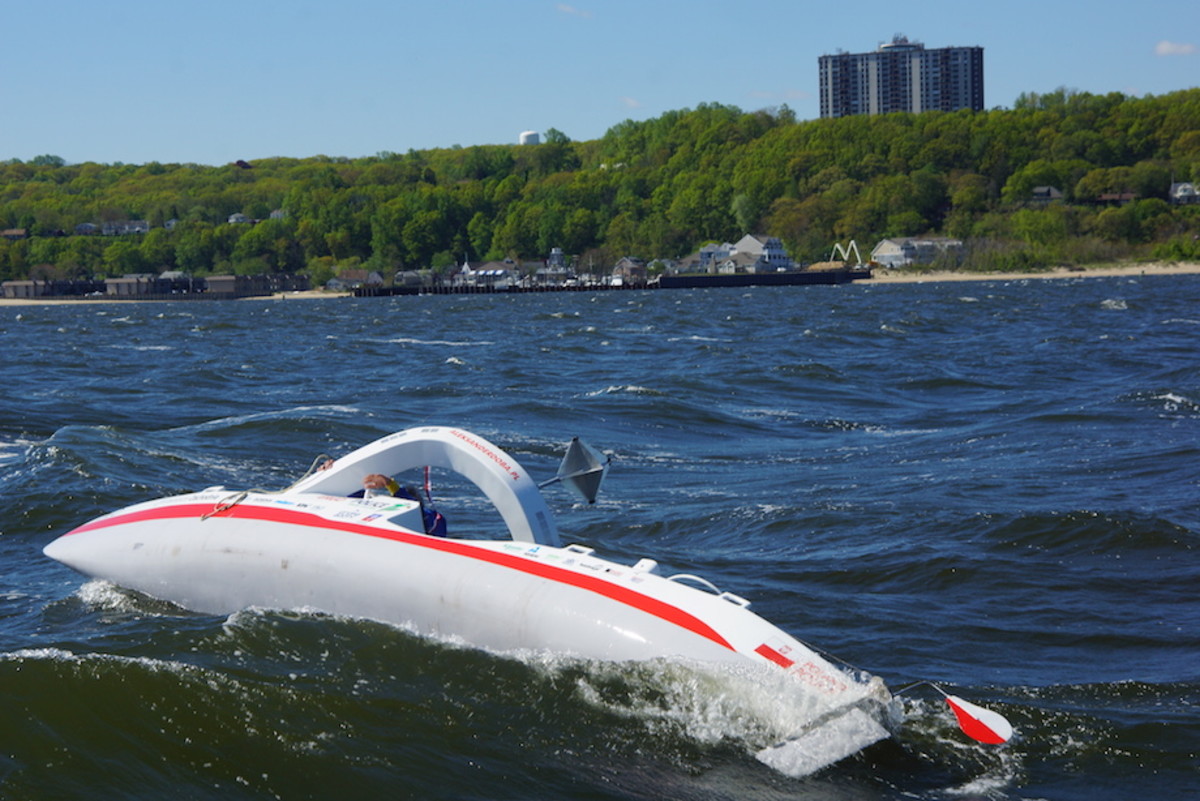 Using his SPOT satellite tracker he managed around 9 a.m. to get a message to Chmielinski, who had been looking for him since dawn. Brothers Pete and Jeff Patach volunteered their motorboat, and took Olo in tow. The kayak was only about 500 feet from the rocks when Chmielinski and the brothers arrived in the powerboat.
As they towed the kayak in winds approaching 25 knots, it nearly capsized. Doba held on "like a frog," Chmielinski says, as the boat's self-righting design proved its worth. The craft lay over flat on its side before slowly rolling upright with Doba still clinging gamely to it. The superstructure is one reason the kayak is so difficult to handle in high wind, but it adds an invaluable margin of safety on the open sea.
A few minutes before 1 p.m. local time Monday, they crossed the path Doba had taken last year on his ill-fated exit from New York, and the powerboat dropped the tow. From that point, roughly midway between the Sandy Hook peninsula and Rockaway Point on Long Island, Doba was on his own. His immediate challenge is getting enough sea room so that the inevitable storms won't push him into land. Already an inshore wind eddy has spun him for a five-mile loop, but at midnight Tuesday he was some 30 miles due west of Belmar, N.J. and 31 miles south of Long Island.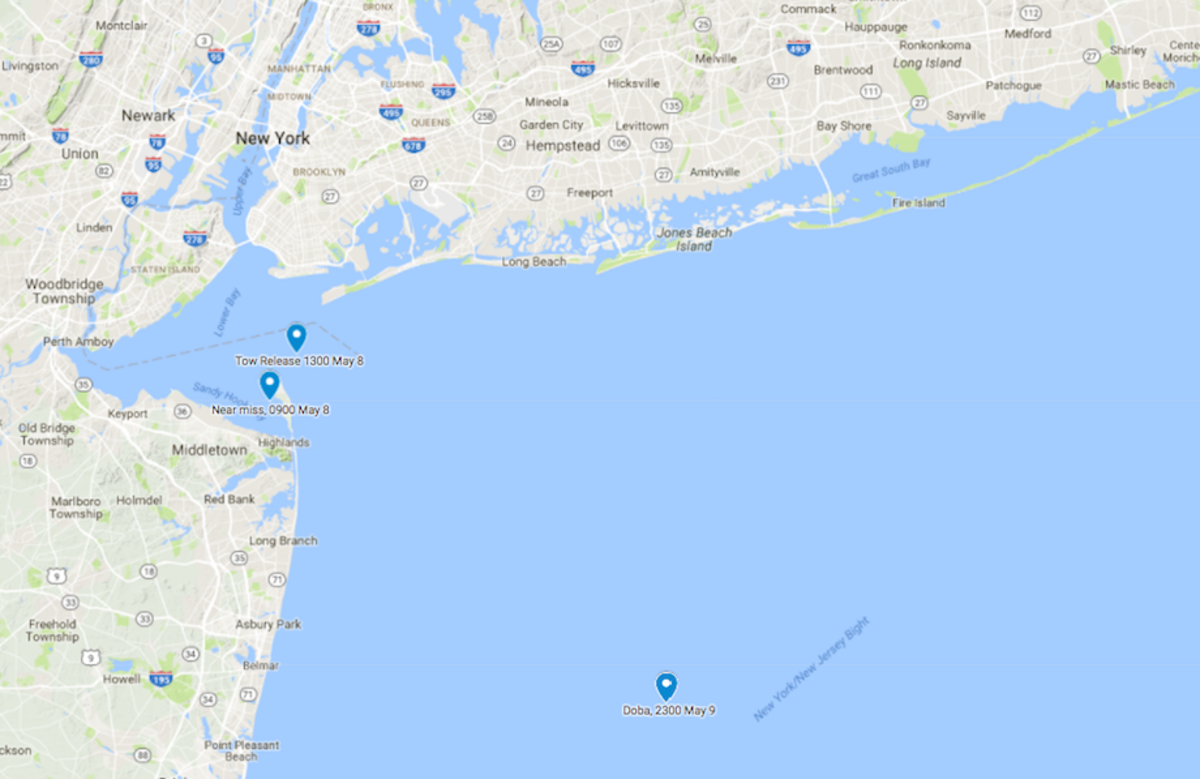 The first band of heavy weather is forecasted to arrive this weekend with powerful winds likely to push him farther south and east. He plans to catch the Gulf Stream about 100 miles offshore, and it should carry him northeast past Cape Cod, Nova Scotia, Newfoundland and eventually across the ocean on a long arc toward Europe.
Doba's first two Atlantic crossings were in tropical and semi-tropical latitudes, and they were not picnics. On his first voyage he encountered massive seas, powerful opposing currents and was forced to spend hours each day pumping his manual desalinator after his electrical units failed around the midway point. His second journey was both longer and tougher. Doba was unable to send messages for 47 days because his support staff forgot to pay his satellite phone bill. Then his rudder broke in a storm 800 miles from the Florida coast, and after languishing in the incessant winds and currents of the Bermuda Triangle for weeks, he finally elected to detour to Bermuda for a monthlong layover to repair his kayak before continuing to Florida.
The New York-to-Lisbon route will take him much farther north, in colder waters that typically generate frequent storms and more violent seas. Peter Bray remains the only kayaker to have crossed the Atlantic from west to east, in 2001, following an attempt that sunk his craft off Newfoundland and let him stranded at sea for 30 hours before rescue. Doba also agrees that this expedition promises to be the toughest of his three voyages. Why is he doing it now, at 70 years of age and with nothing left to prove to anyone?
"Ninety-five percent of people die in their sleep," he says. "So why lie down?"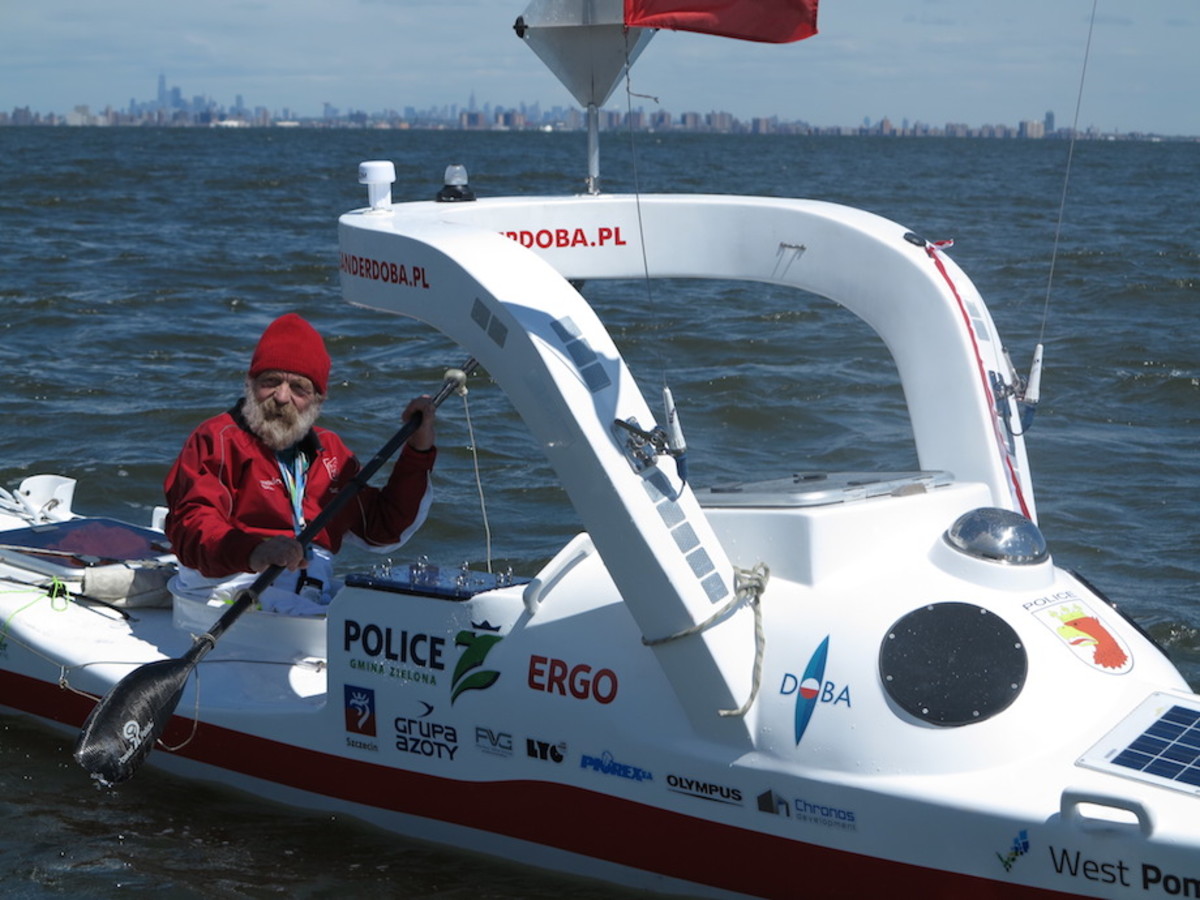 The article was originally published on Canoe & Kayak
For access to exclusive gear videos, celebrity interviews, and more, subscribe on YouTube!