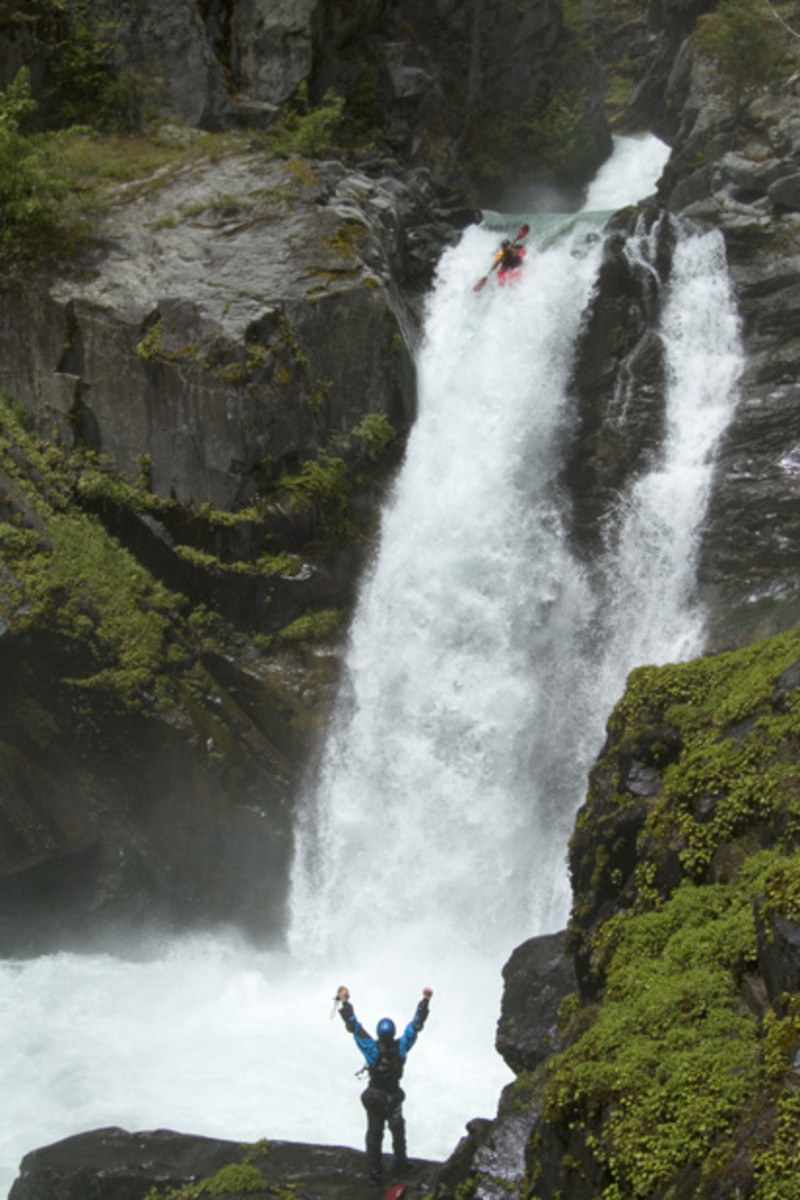 Featured in C&K's 2011 Whitewater issue, available on newsstands now.
By Kyle Dickman
The Demshitz crew, all but one of them in kayaking gear, was scouting a 40-foot waterfall they called the Dirty Toilet Bowl on the Rio Carhuello. The creek, a half-hour from the town of Pucon in southern Chile, was flooding. Wind whipped the trees and rain fell at an angle. Even the farmyard ducks by the put-in were huddled beneath the barn.
The team was debating whether it was better to punch the hole guarding the entrance on the left, or boof—"Mesa Falls-style"—onto the flake on the right that kicked water 30 feet out from the lip. Plug it or boof it. Satisfied with their choices, five of them hustled upstream with their boats. The sixth, Evan Garcia, was still in street clothes, using his jacket to shield his camera from the driving rain. Every few minutes he turned and dry heaved, attempting to purge the dozen or so pisco-colas he drank the night before.
Through sheets of heavy rain, Evan's brother, Ian, appeared at the lip. He rolled into a left stroke, flattened his chest against his bow, and pulled his boat into a 45-degree angle. The line was just as he planned it: a boat's width right of the hole, a boat's width left of the flake. The line seemed to distract Evan from his hangover. "I don't like the plug," he said, though his brother's line was clean. "The move is a left boof stroke, just where Ian ran it, but you lift your right hip and follow through with the paddle stroke," he said, pantomiming the motion. Watching was too much for him. As the others began one by one to plug the drop, Evan trotted back to the cars to suit up.
When he returned, he scouted the drop once more, and slapped his forefinger against his thumb as if packing a can of chewing tobacco. Then, paddle forward and wrist cocked, he flicked a stroke, pulled up his right hip and sailed through the spray. His line was graceful in the same slowed-down style of a snowboarder twisting a 180 off a 90-foot gap: the appeal was in his control.
Scenes like this have made the Demshitz one of kayaking's best-known posses. In the last few years, with Evan joining Pyranha pros Jared Seiler and Dave Fusilli as the group's unofficial ringleaders, the Demshitz have been on a never-ending, increasingly high-profile tour of the steepest, biggest, most challenging whitewater on two continents. Though they dutifully host Paddle with the Pros events all summer, their notoriety has grown largely from the Internet. In four years, they've accumulated nearly a million hits on 128 videos posted online.
Seiler and Fusilli are now spearheading a plan to launch Demshitz TV, an online video series akin to Lunch Video Magazine, the quarterly whitewater DVD. The last LVM went to subscribers last year, via snail mail; Seiler and Fusilli will leverage the Internet's global reach to fill the void. The formula is all-Demshitz, all the time, with sell-through links to T-shirts and DVDs. They plan to finance the venture by selling online ad space to outdoor industry companies. Fusilli estimates that a couple dozen committed boaters will keep the site stocked with fresh videos. "Everybody is a Demshitz so anybody can post to the site," he said.
The one million hits on Demshitz videos dwarf the sales figures of the best-selling whitewater DVDs, none of which has ever sold more than 15,000 copies. If all goes to plan, Demshitz TV could revolutionize kayaking media. Seiler and Fusilli just hope it generates enough cash to keep them traveling and kayaking.
Being a professional kayaker is more of a hustle than a career. Even the most accomplished Demshitz support themselves with short bouts of non-paddling work and parental cash infusions. Fred Norquist, a film major at Western Washington University who gets gear from Immersion Research, sold a quiver of old kayaks to get to Chile. He bought gas and food with Christmas money.
Fewer than 50 kayakers worldwide are paid to paddle, and of those, perhaps five make a living wage. When whitewater's economic bubble burst about seven years ago, companies began to pay sponsored boaters less and demand more.
"To get sponsored anymore, you have to be, or be able to become, a well-connected paddler who can reach thousands of people with a simple update," said Eric Jackson, founder of Jackson Kayak. The bottom line is companies sponsor athletes to sell products, and online media has become increasingly important for marketing.
"Facebook and other grassroots, blog-y stuff is very important," said Jim Hager, the director of Pyranha's North America operation. "The athletes that recognize that get recognized." NEXT PAGE >>
[ami_gallery ids="1000601957,1000601959,1000601960,1000601961,1000601962,1000601964,1000601965,1000601966,1000601967,1000601968″]
The article was originally published on Canoe & Kayak
For access to exclusive gear videos, celebrity interviews, and more, subscribe on YouTube!