San Diego's Aqua Adventures Kayaks & Paddleboards has a new owner, catering to everyone from sea kayakers and SUPpers to veterans, youth and more. Long run by five-star BCU sea kayak instructor Jen Kleck, the store was sold last year to U.S. Army vet Craig Seering, who, along with manager Ashleigh Conaway, is quietly turning their sleepy corner of Mission Bay into a vibrant hub for all things paddlesports. Offering rentals and instruction in everything from sea kayaks to SUPs, their long term plan includes a wellness lounge with yoga offerings, vittles, libations and live music at the soon-to-open Tower 2 Beach Café. "We want to turn this into a true activity hub for San Diego," says Seering, who also works hard to employ other vets at his business. "We're trying to build a true paddling community here." We caught up with Seering to learn more about his plans.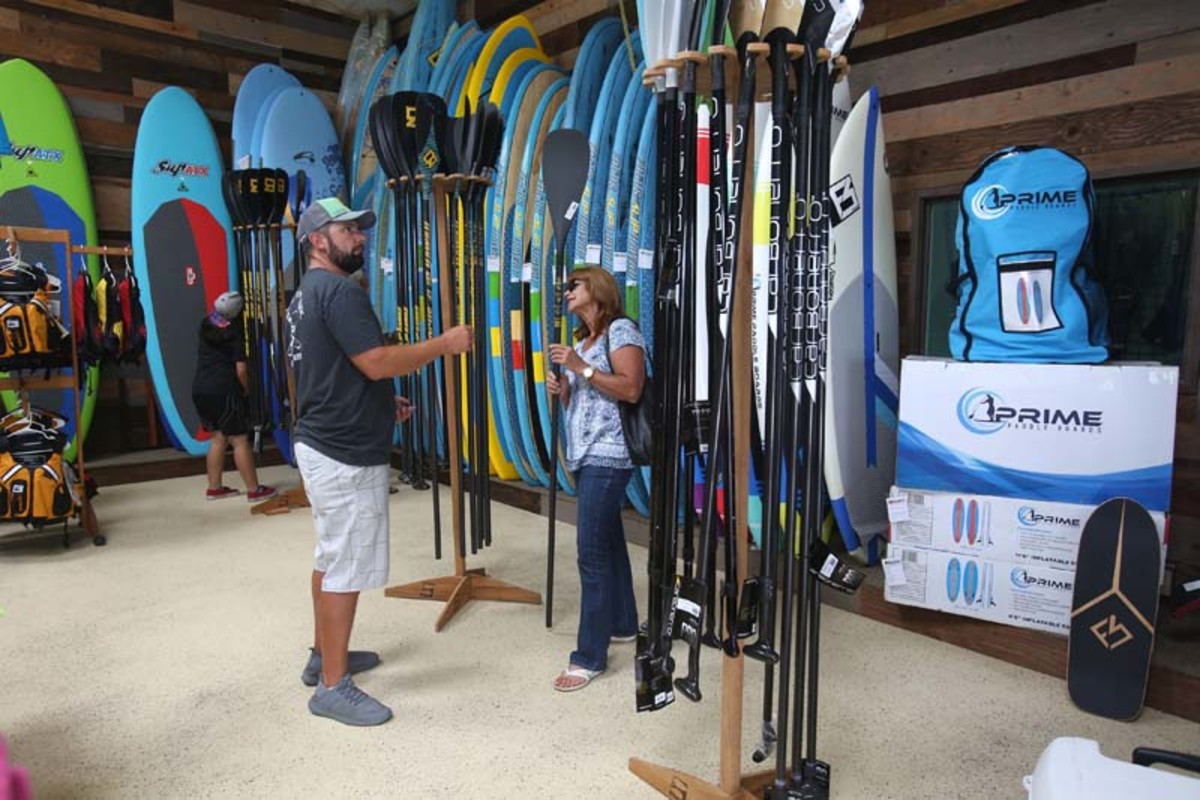 C&K: Tell us about your paddling background.
Seering: I'm a service-connected disabled veteran who served in the United States Army. I became involved in paddlesports after my separation from the military while trying to find recreational activities I could enjoy with my injuries. Being an entrepreneur and business owner, I had the idea to provide lessons and use of equipment to individuals and groups in the San Diego area. The idea was to educate through lessons so customers' first paddling experience would be enjoyable. Then we'd bring them back to refine techniques through additional lessons and turn them into paddlesport enthusiasts.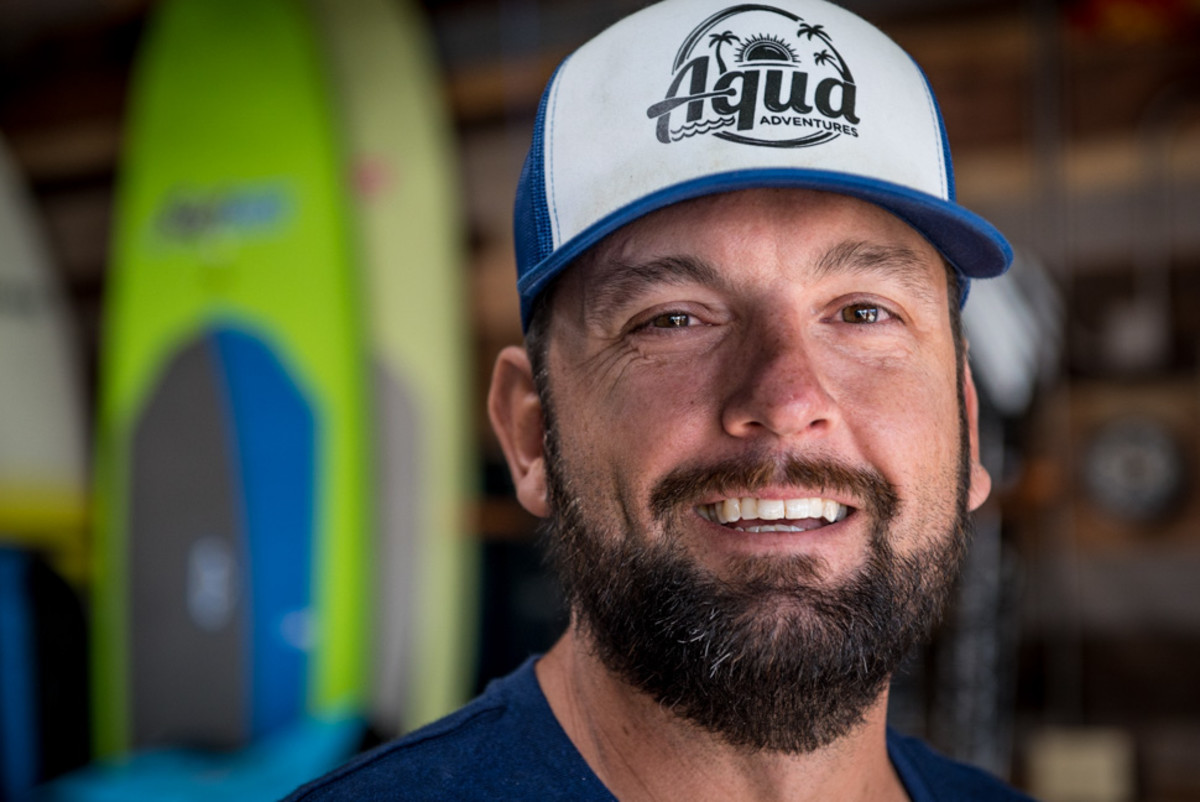 How and why are you turning it into an activity hub?
Creating a hub is great for the businesses involved as well as the community. It creates great networking opportunities, helps support new ventures and allows people with similar interests to connect. We want to make this a destination stop for paddlers, the community and tourists. One way we do this is by hosting free, organized paddles; people can bring their own equipment and newbies can join for the cost of renting. We also plan on partnering with other businesses in the area to create a place where tourists and locals can come hang out and enjoy being on the water. We want to make it a one-stop shop for people to get out on the water, enjoy recreational paddling, come back for a bite to eat and then get a massage or enjoy some yoga. Right now there is really no place like this for paddlers in Mission Bay. Here you can securely park your car, launch from a dock and paddle in the bay or out to the ocean easily. Afterwards, you can grab a bite to eat without worrying about your craft while you're parked at some restaurant. We see this is as a great way to bring the waterman community together.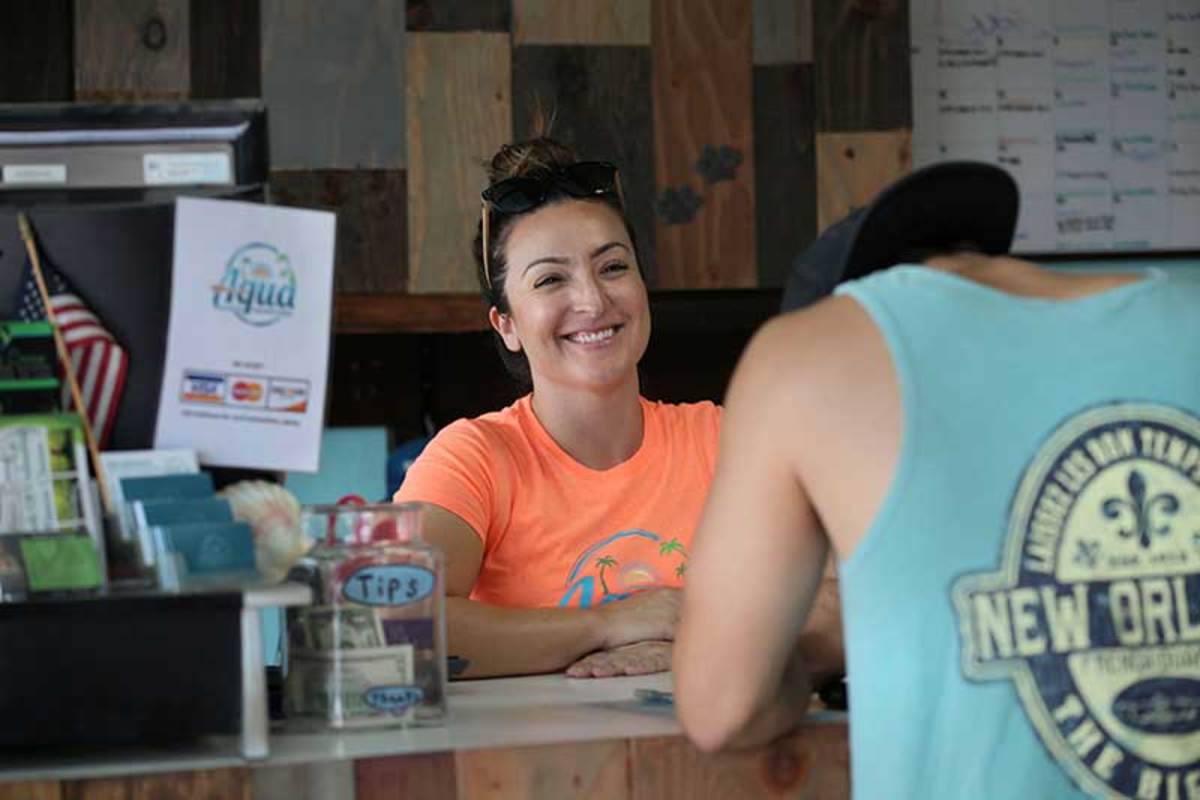 Tell us about some of your camps..
We plan on offering summer camps for people of all ages and experience levels. We have several clubs and nonprofits who use our location for events, including the San Diego Canoe & Kayak Team (SDCKT), San Diego Kayak Club (SDKC), San Diego Paddlers non-profit, Team River Runner (TRR), and Wounded Warrior Project (WWP). Another big thing is our veteran outreach — we currently do four programs per month with Team River Runner or Team Oasis, an extension of the Balboa Medical Center, and once a month with Wounded Warrior.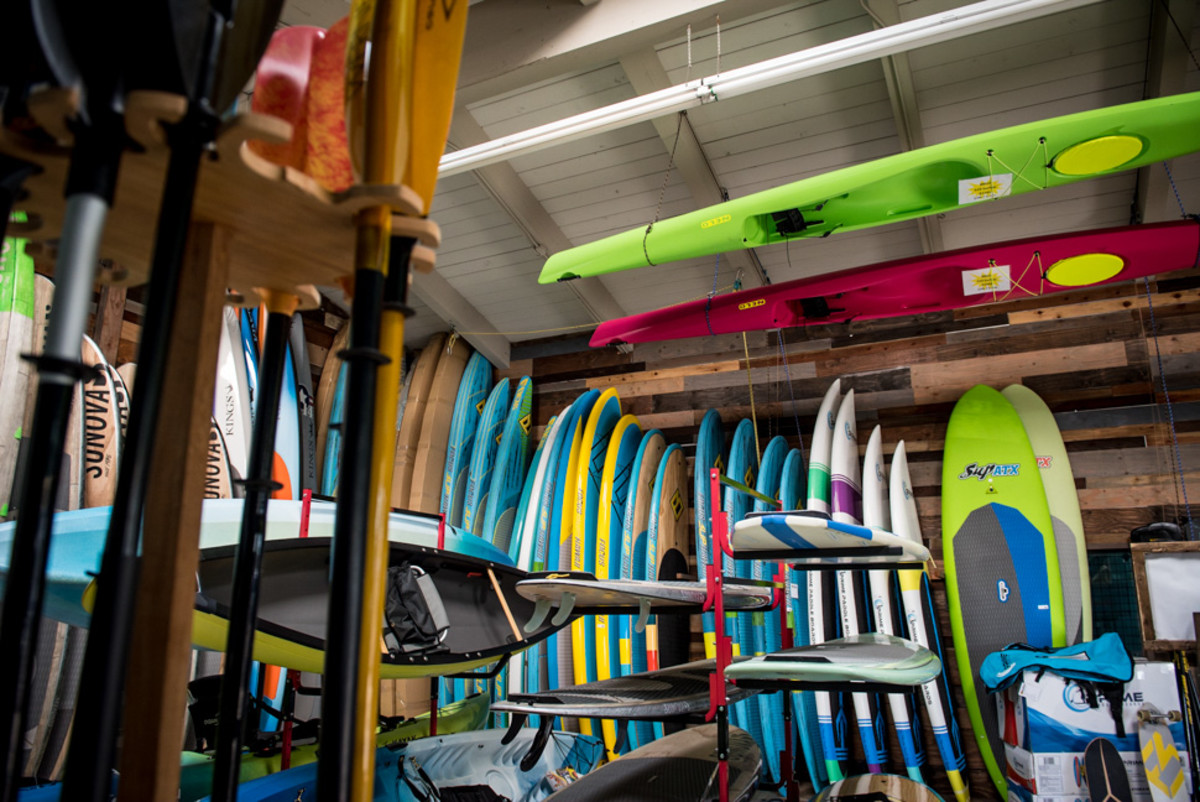 Working with fellow veterans is obviously important to you.
Yes, as a veteran myself there are a few reasons I enjoy working with vets and giving back to those who serve or have served. My father was in the Navy and I served in the Army so I know what it's like to live off a limited income; I want to provide affordable activities for families. I also know what it's like to move constantly, so I want to create a space where people feel welcome to hang out and make it their space. Programs like Wounded Warriors and Team River Runner are important because so often our veterans are forgotten about. Many have injuries they sustained during their service that last a lifetime. Paddling is a fun and alternative recreational activity and is a great way to create that sense of camaraderie you experience in the military.
You're also working with youth through San Diego Canoe & Kayak?
SDCKT is a collegiate level training program and we're combining forces to expand our offerings for all levels of training in every watersport. By teaming up, both organizations are able to provide a continuum of recreational activities from education and novice experiences to investing in quality products and Olympic-level training. The end result of this collaborative partnership is that both organizations are stronger. Our alliance effectively secures a sustainable future for both organizations.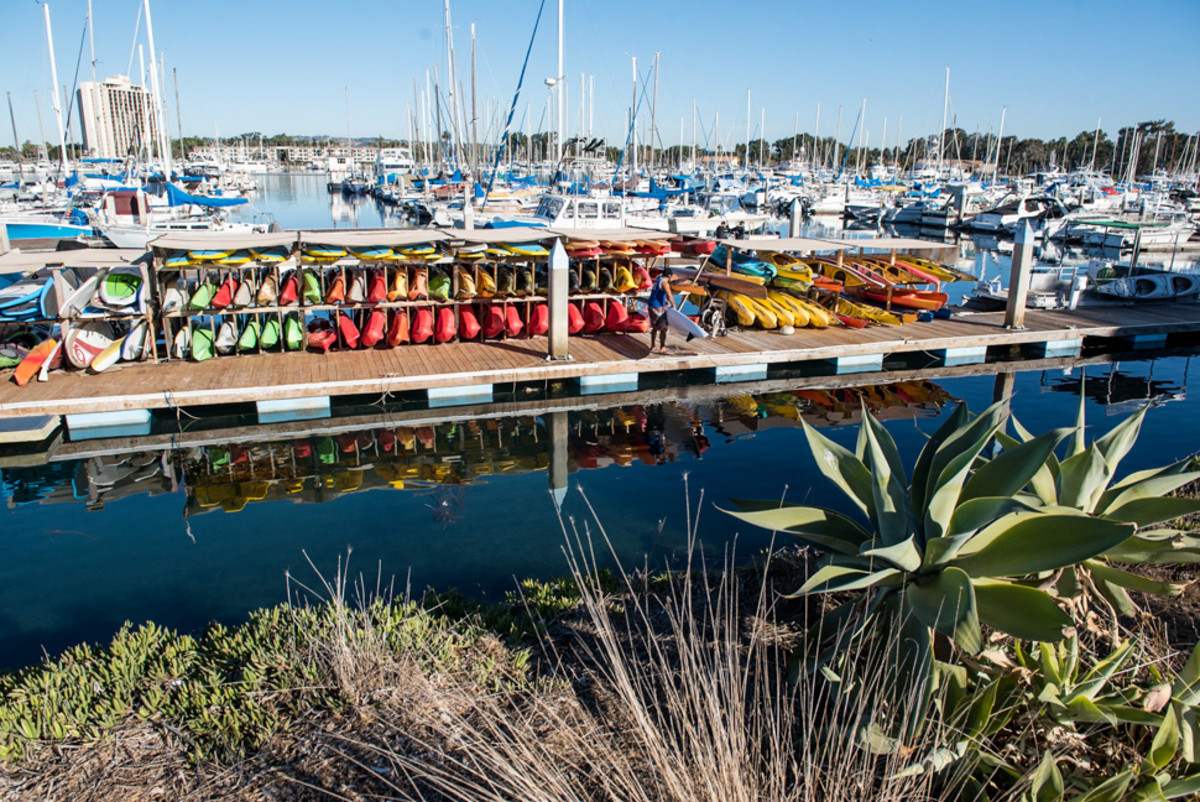 How do the Wellness Lounge and yoga offerings fit in?
The Wellness Lounge is opening up their second location here at Mission Bay. Currently, they offer SUP Yoga classes out of Aqua Adventures. At their main office they offer integrative medicine specializing in massage, chiropractic, acupuncture and yoga therapy. It's a hip, fun, relaxing sanctuary — a wonderful way to heal, awaken inner peace, and enjoy a blissful holistic experience. They plan on combining their holistic practices with the natural healing waters of the ocean.
And the Tower 2 Beach Café should help also?
Yes. I envision a place where paddlers of every craft can pull up to the Aqua Adventures dock and park their boat and have a snack or hang out and enjoy refreshment at Tower 2 and then finish their paddle. We also allow people who have their own craft to launch for free from our dock. After enjoying their paddle, families can hang out for a bite and listen to live music.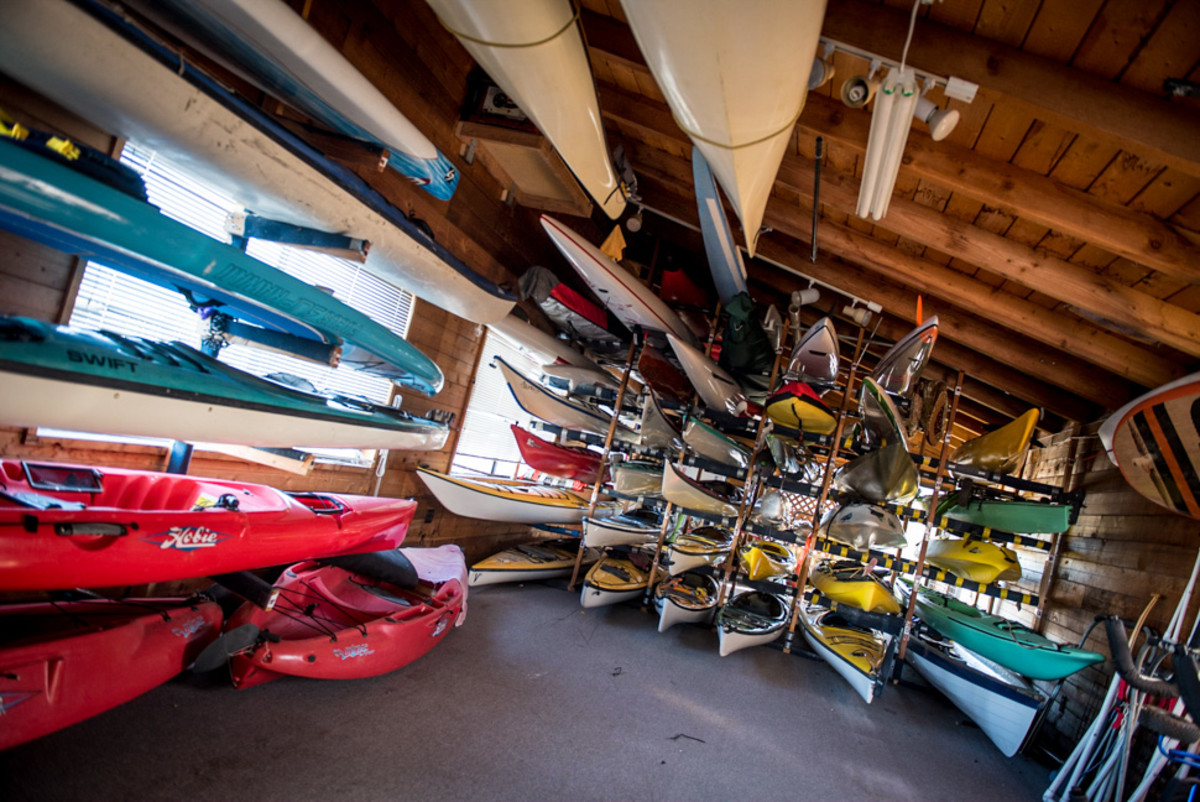 How about other vendors and accessory crafters–we heard you're planning to bring some of those in as well?
You bet. Our first event big event was last summer and it was very successful. We had several vendors come and set up to showcase their products. It gives customers a chance to see the product and interact with the brands. Once we get the restaurant open we would like to do more of these events.
For more information, contact Aqua Adventures Kayaks & Paddleboards: (619)523-9577; www.aqua-adventures.com
— Check out more Shop Stop installments from C&K
The article was originally published on Canoe & Kayak
For access to exclusive gear videos, celebrity interviews, and more, subscribe on YouTube!