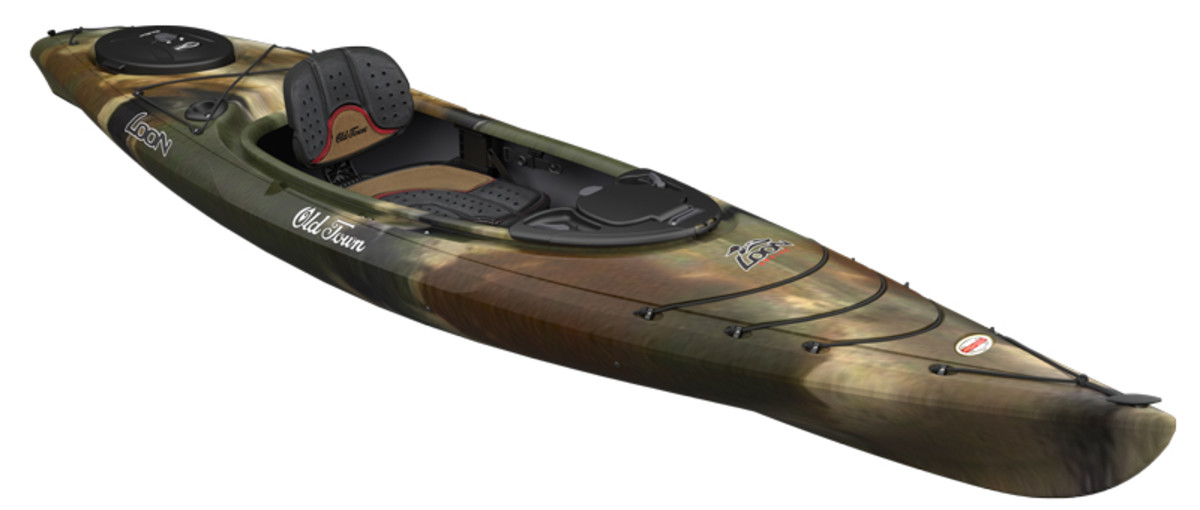 By Paul Lebowitz
Sit-in fishing kayaks don't deserve the Rodney Dangerfield treatment (am I showing my age with that reference?). 'Ol Rodney didn't get any respect. The Caddyshack and Back to School comic wasn't to everyone's taste, but to those who appreciated his style, he was brashly, brilliantly funny.
Anglers and sportsmen who fish and hunt through actual seasons (also known as cold and colder) will undoubtedly appreciate the shelter provided by the new Old Town Loon Angler 106 and 126, available in January 2016. Company marketing honcho Luke LaBree characterizes them as extra wide, with plenty of volume, presumably producing a stable, forgiving ride. Maximum capacities are 375 and 400 pounds respectively.
Old Town introduced the original Loon 20 years back, but the new versions are fully modern. There's a workdeck perched up front (see the picture), with the standard tackle storage. And a USB outlet for charging gadgets. Don't scoff; similar ports on Old Town's Predator XL Minn Kota are just the thing for charging a phone or GoPro.
Seats have come a long way. The Loon Anglers are outfitted with the Active Comfort System 2.0.
The Loons wouldn't be angling kayaks if they didn't come with rod holders. They do, a pair of integrated flushmounts just behind the cockpit. The mockups show plenty of flat deck available for mounting aftermarket accessories. There's also a Click Seal hatch in the back, for secure gear storage.
"The Loon Angler is easily the most comfortable sit-inside fishing kayak on the market. It's easy to paddle, designed for performance and has all the fishing features our customers have asked for," LaBree said via press release.

The article was originally published on Kayak Fish
For access to exclusive gear videos, celebrity interviews, and more, subscribe on YouTube!