Testing an open-deck fish 'yak is easy- you go kayak fishing. If you get lucky, you go kayak catching. Fortunately for C&K's pair of fish fanatics, six of the hottest new catchy kayaks represent the state of fishing kayak art; most are purpose-built for silently stalking finned adversaries. There's also a budding revolution in construction and materials – two of the test 'yaks use lighter and stiffer thermoformed plastic that looks and feels a lot like high-end composite. Working from opposite ends of the country, we matched the new boats against Chesapeake Bay's rough water and unruly stripers and tackled SoCal surf and underground urban fisheries in an east-west throwdown. We scored each new ride on stability, speed, comfort, and, most of all, fishability. Here's the fish report.
FIELD CREW: East meets West
The Virginian
Name: Ric Burnley
Kayak fishing credential: Author of the recently released book The Complete Kayak Fisherman
Favorite fishy target: Big stripers under the Chesapeake Bay Bridge lights
Measure of his fish obsession: Chased stripers at North Carolina's Outer Banks, the Graveyard of the Atlantic–on New Year's Eve

Left Coaster
Name: Paul Lebowitz
Kayak fishing credential: Kayak fishing columnist for the country's largest outdoor weekly, Western Outdoor News, and owner of KayakFishingZone.com
Favorite fishy target: Hard-charging California yellowtail
Measure of his fish obsession: Kayak icebreaking
Emotion Kayaks Grand Slam $899 ($199 for rudder kit)
www.emotionkayaks.com
L: 14 ft, 5 in
W: 30 in
69 lbs
Capacity: 375-450 lbs
Emotion's new Grand Slam appropriates the best features of the best fishing kayaks, boasting a large bow hatch, an oversized console hatch, and a partitioned tankwell that accommodates a stack of tackle boxes up front and a square crate or a small livewell in the back. The cockpit is unobstructed with a flat floor, providing plenty of room—and stability—to stand and paddle or sit and stretch out. The boat sits low to the water and offers little wind resistance while the seat is high and dry. A long paddle keeper runs down each gunwale, making it a snap to strap down the paddle and pick up a fishing rod. The polyethylene Grand Slam tracks well and slices through the water, but the long keel and flat bow stem require considerable effort to turn. Add the optional rudder and it'll carve the corners. Without a doubt, Emotion smacked the ball out of the park with the new Grand Slam.
Hits: Large hatches accommodate fishing rods, open floor plan, low gunwales
Short strikes: Sharp entry causes bow to dig into a head sea
Speed: ***
Maneuverability: **
Stability: ***
Comfort: ****
Fishability: ****
Hobie Mirage i12s $1799
www.hobiecat.com
L: 12 ft
W: 36 in
53 lbs (plus 6-pound Mirage Drive)
Capacity: 500 lbs
Have kayak, will travel … even on a plane, at least if it's Hobie's new hands-free inflatable. The Mirage Drive packs a pedal-powered punch—keep on fishing while your legs do all the work. Deflated, the i12s fits neatly into the included oversized wheeled duffel. Check it with the rest of your luggage and fly off to adventure, or stash it in a closet or car trunk. No pool toy, the i12s hull is crafted from tough PVC-coated 1,000-denier fabric with three bladders that inflate in moments. The flat deck isn't mushy either; it's firm like a pricey bed and just as comfortable. Stand if you like, this thing is incredibly stable. The i12s also includes a one-handed rudder with easy up/down lines, a padded seat with expandable pack, and a four-piece paddle with onboard storage. There's even below-decks storage up on the bow. It's not big enough to stash rods, but there's plenty of space on the aft deck for a fishing crate (make it a collapsible model) with rod holders. Or install your own anywhere you like with glue-on accessory mounts, available soon.
Hits: Store anywhere size, elegant hands-free Mirage Drive system
Short strikes: Slower than your average hardshell 'yak
Speed: **
Maneuverability: ***
Stability: ****
Comfort: ****
Fishability: ***

Hurricane Kayaks Phoenix 160 $1,189
www.hurricaneaquasports.com
L: 15 ft, 10 in
W: 28 in
55 lbs
Capacity: 350 lbs
Hurricane's beautiful Phoenix 160 has sea legs, real sexy ones. The boat shines at high gloss like a delicate glass 'yak, but it's made from durable, thermoformed Trylon plastic, a lighter and stiffer material than the more typical rotomolded polyethylene. There's a large tankwell on the stern, sized to fit a fishing crate and then some. The aft deck easily accommodates up to four of your favorite rod holders, and there's room up front on the console for more, plus electronics. The gracefully rockered bow hosts a large oval hatch suitable for stashing rods and other gear you want to keep out of Neptune's grasp when risking the surf. The boat boasts an ocean pedigree, sleek and quick with a wave-piercing upswept bow and a rounded chine that loves sloppy water, although novices may find it wobbly. The only oddity is the plumbed scupper system—a drain apiece in the cockpit and tankwell share a single outflow. Like an interchange at rush hour, it backs up fast, but doesn't dent this boat's exceptional performance.
Hits: A fast, yet beautiful, high performance fishing 'yak.
Short strikes: Low-volume cockpit drains slowly, making for a wet ride.
Speed: ****
Maneuverability: ***
Stability: **
Comfort: ***
Fishability: ***
Native Watercraft Magic 14.5 $919
www.hobiecat.com

L: 14 ft, 6 in
W: 32 in
Weight: 73 lbs
Capacity: 400 lbs
With the Magic 14.5, Native Watercraft killed two birds with one boat. This hybrid canoe/kayak features a rotomolded plastic enclosed hull that boasts sit-on-top ruggedness while the open cockpit and high gunwales offer the dry, stable ride of a canoe. The innovation doesn't stop there. Rails down each side accept a variety of plug-and-play accessories—simply snap in a few grommets to add a mounting bar for electronics and rod holders, or add a seat and turn this solo into a tandem. Native Watercraft's new webbed seats look like your grandma's favorite wicker chair and are just as comfortable, sitting high and dry. If you can drag yourself out of the seat, the Magic's wide hull and flat floor make standing and paddling a breeze. While the Magic incorporates the advantages of a canoe, it also struggles with some of the disadvantages—a little tough to maneuver when sea conditions turn sloppy and with the high sides, landing big fish is a challenge. This one-of-a-kind kayak is sure to please anglers targeting inshore species in secluded waters.
Hits: Open cockpit, comfy seat, bevy of accessories, dry ride.
Short Strikes: Not a big water boat, hard-to-reach hatch.
Speed: **
Maneuverability: ***
Stability: ****
Comfort: ****
Fishability: ***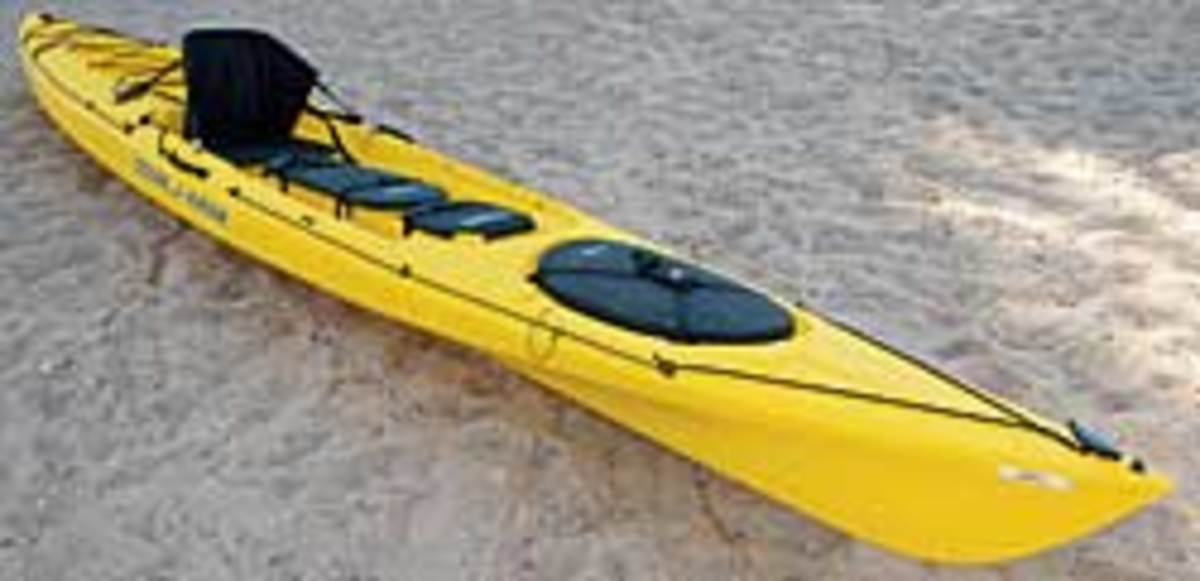 Ocean Kayak Prowler Trident 15
$1,109 ($1,339 with rudder, $2,439 for angler package),
www.oceankayak.com
L: 15 ft, 8 in
W: 29 in
Weight: 60 lbs
Capacity: 500-550 lbs
Ocean Kayak's newest Prowler is a fishing kayak through and through. Fishing innovation continues with the Rod Pod, a skinny hatch that runs the length of the cockpit, ideal for storing fishing poles and a veritable ton of tackle and other important gear in the hull. Then there's the Sonar Shield, a molded-in covered recess that protects fishfinders from the elements. A nearby scupper hole is sized for a fishfinder transducer—it works best with Humminbird's plastic thru-hull pucks. Naturally the Prowler Trident 15, made of rugged rotomolded polyethylene, does everything else expected of a fishing kayak, and quite well. The deck is solid if not best of class, accommodating rod holders behind the seat and up front. An enormous segmented tankwell dominates the stern. Up front, there's a big oval hatch for even more storage. Despite so much space, it's hard to overload the Trident. The high volume hull rides high and dry, but makes for a lot of boat to push around; the optional rudder is a welcome addition. Though it's only 28 inches wide, this is still a big guy boat that anglers with ample balance can even stand and cast from.
Hits: A fishing kayak, bow to stern.
Short strike: Takes work to get going.
Speed: ***
Maneuverability: ***
Stability: ****
Comfort: ****
Fishability: ****
Wilderness Systems Tarpon 120 Ultralite Angler $1,500 ($1,725 with rudder)

www.wildernesssystems.com
L: 12 ft
W: 28 in
45 lbs
Capacity: 350 lbs
Lighten up. Weighing in at a back friendly 45 pounds, the charismatic Tarpon 120 Ultralite is perfectly suited for smaller adults and children, but pegging it as a ride just for the ladies misses the point. The boat shines on portages or where access is too rough for kayak carts. It's Wilderness Systems' first foray into thermoforming, a manufacturing process producing stiffer, lighter, and prettier kayaks. The T120 Ultralite is a joy to paddle, nimble and responsive yet plenty stable and dry, just the thing for exploring tight fishing spots or curvy watercourses. Tarpons are traditionally solid fishing 'yaks, and this one shows its heritage via a huge stern tankwell and plenty of flat deck space for mounting rod holders and other accessories. It falls short on interior storage; the base model comes with a pair of 5.5-inch round hatches and one 8-inch "salad bowl." If that's not enough, order the factory-optional, standard size bow oval hatch. A comfortable Harmony seat back comes standard. A blast in the surf, the T120 Ultralite's shorter length is best suited for shorter distances.
Hit: Twenty-two pounds lighter than its roto-molded analogue.
Short strike: Base model is short on below-decks storage.
Speed: **
Maneuverability: ****
Stability: ***
Comfort: ***
Fishability: ***
The article was originally published on Canoe & Kayak
For access to exclusive gear videos, celebrity interviews, and more, subscribe on YouTube!