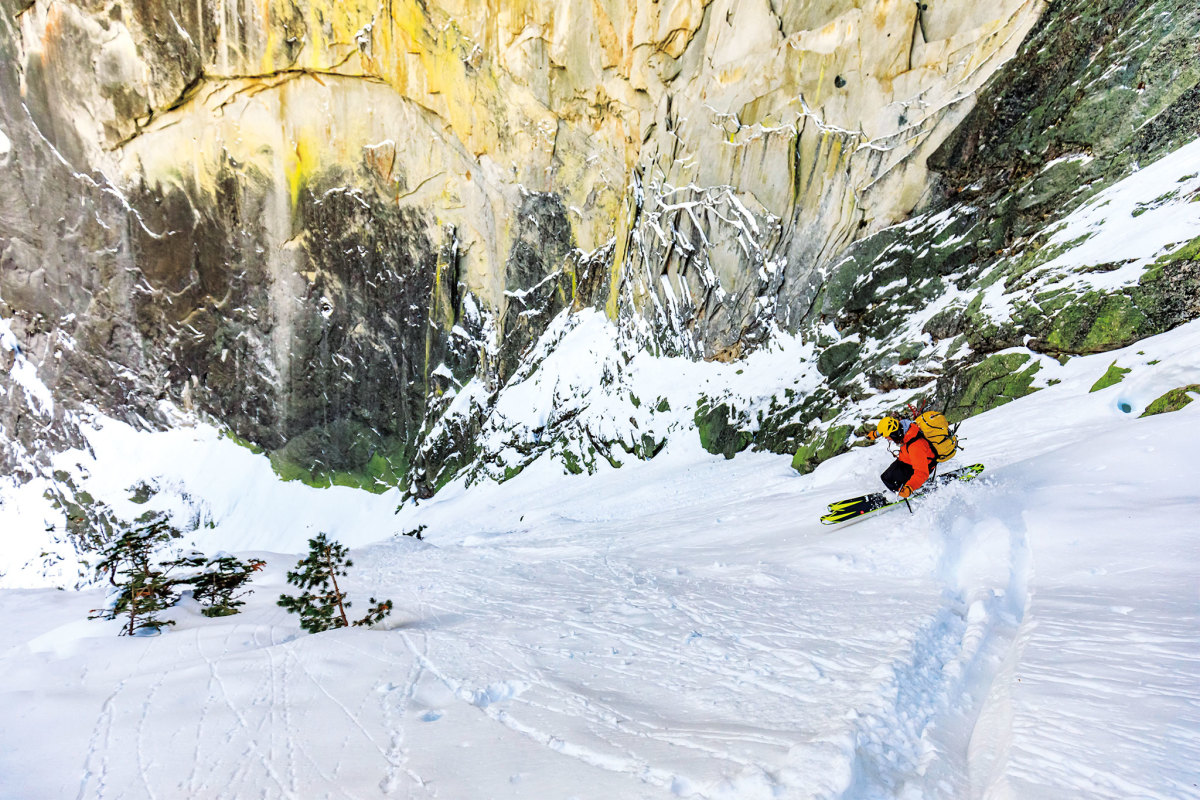 The Samurai of Yosemite
Half Dome's Terrifying Bushido Gully Is No Winter Playground—Unless You're Testing Fate on Skis
Seemed like a swell idea at the time. This past March, an intrepid trio of veteran backcountry trekkers gazed upon Half Dome, the granite monolith that rises majestically from California's Yosemite National Park, and decided to ski down a steep, icy furrow that runs near its famously sheer northwest face. Never mind that their chosen route, dubbed Bushido Gully after the moral code of the samurai, is seldom used even for summer climbing ascents, and never for descents in inclement weather—too rugged, too exposed, too damn easy to slip to certain death. That's just the sort of wintertime fun they crave.
Shortly after a frigid-but-glorious sunrise, the trio's deputized photographer, Eric Rasmussen, balances shakily on a precipitous slope with Half Dome's lookout spot, known as the Diving Board, looming over his shoulder. Immediately below, snow funnels into a wave of rock cliffs that drop 3,500 feet to the valley floor. Moments ago, his companions, seasoned climbers Jason Torlano and Zach Milligan, squeaked through this section ahead of Rasmussen. Now it's his go. Inching forward on his skis, scraping close to the void, he jabs ski poles fastened with ice axes at the frozen ground. They skitter and slide. "You scraped off all the snow!" he hollers down, but his hoarse recrimination is lost in the wind.
This is ski mountaineering, a mix of skiing, rappelling and climbing required to challenge such imposing terrain. "It's never pretty," says Rasmussen. "It's just a matter of getting down alive."
One of the key assets in attempting this feat on Half Dome is trust. These guys, no newbies to mainlining the rush of risk, have forged that asset over decades. Team leader Torlano, 47, is a shaggy-haired father of four and volunteer medic in Middle East war zones. But he's called Yosemite home since he was a toddler. His mother, a receptionist in a local clinic, supported his zeal for skiing and climbing—his earliest memories are of riding kiddie-size skis over powder-blanketed boulders. As a teen, he learned rock climbing from Mike Corbett, who once held the record for most ascents of Yosemite's other climbing mecca, El Capitan. At 24, Torlano became a U.S. Army paratrooper. He's also worked as a heli-ski guide in Nepal and as a law enforcement ranger in Yosemite, which is somewhat ironic since he doesn't mind skirting park approval when plotting a new wilderness challenge.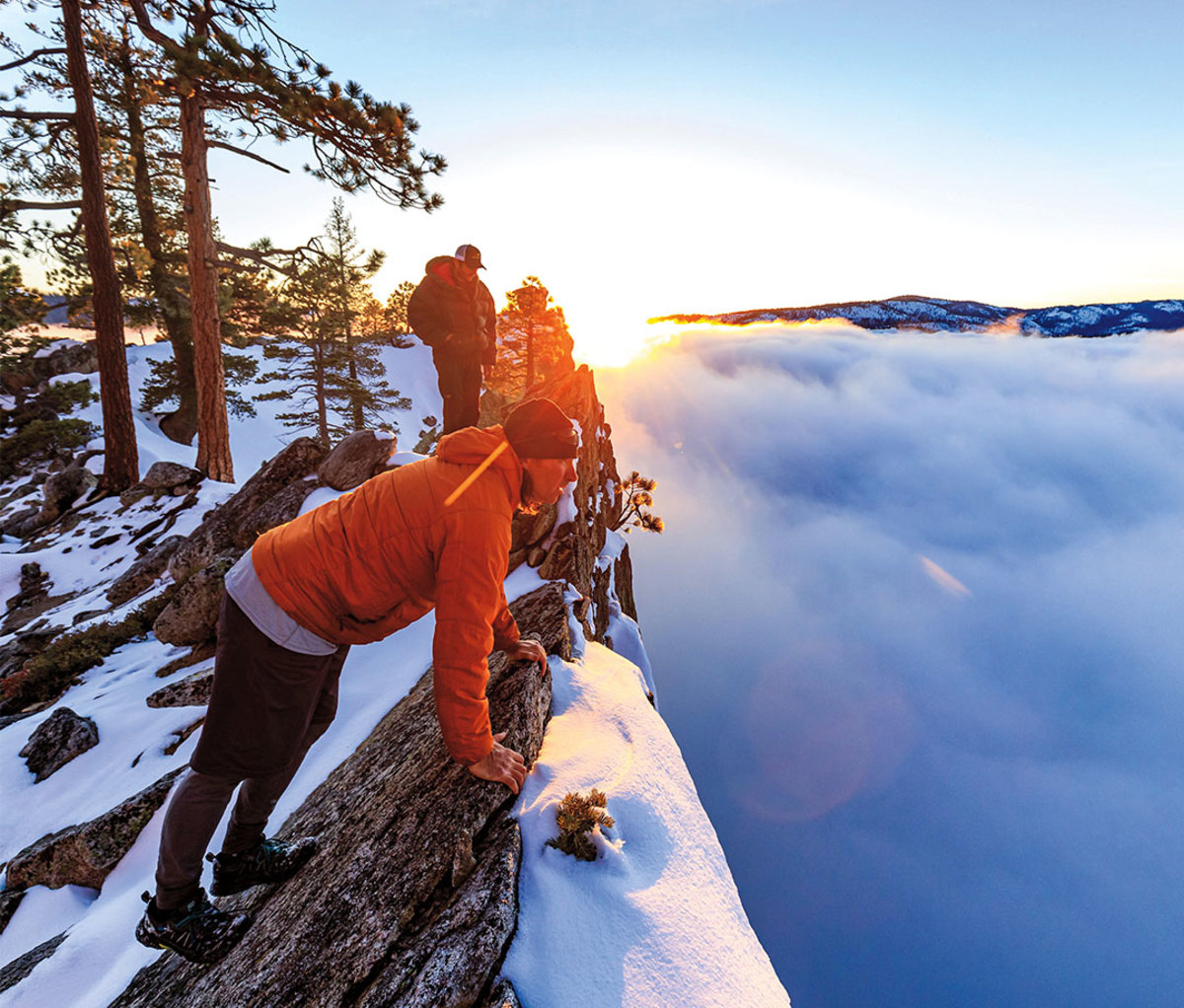 Rasmussen, 53, also worked for Search and Rescue in his younger days, specializing in big-wall climbing. After that, he was consumed by downhill mountain-bike racing, and typically either crashed or won. Dirt bike racing followed. During a Baja 1000 training run in 2006, he hit a rock going 60 mph and slammed into the desert so hard he was knocked out cold. The following year he nabbed eighth place.
Milligan, 41, with blue eyes and a brutally direct way of communicating, believes his "only gift is staying cool under pressure." Fresh out of high school in 1999, he moved to Yosemite and lived among its boulder fields for 13 years, despite describing them as "haunted as fuck, like pull-the-sleeping-bag-off-you haunted. Deeply unsettling." As camping in such wilderness areas without a permit is strictly prohibited, he played cat-and-mouse with park rangers, moving nightly from cave to cave, never leaving any trace of his presence. For income, he washed windows at Yosemite Valley Lodge and installed carpets at the park's luxurious Ahwahnee hotel. He worked nights so he could climb by day, preferring free solo and on-sight (no ropes, no pre-inspection), in which every move must be decided on the fly and executed perfectly. He scaled Sentinel Rock, a 1,600-foot tower of fissured stone, at least 275 times.
Thirty years ago, before the war zones and motorcycles, Rasmussen led the teenaged Torlano down his first ski descent in the park via El Capitan's viewing area, Taft Point. Back then, Rasmussen egged on the younger man, saying, "Let's just do 100 feet at a time. We can always climb back out." Midway down the 3,000-foot gully, he watched Torlano morph into "a maniac skier. He had ice axes in each hand and was jump-turning all the way down."
Over the last three decades, Rasmussen and Torlano have made ski mountaineering first descents in Yosemite something of a discipline, scouring the park for skiable lines. They've rappelled rock cliffs, traversed blue-ice slopes, and belly-crawled through dense chinquapin bushes. Along the way, Torlano has assumed the mantle of fearless leader.
"Jason knows he can die," says Milligan, "but he lives his whole life like he's invincible, this dental floss of luck that he's dangling from."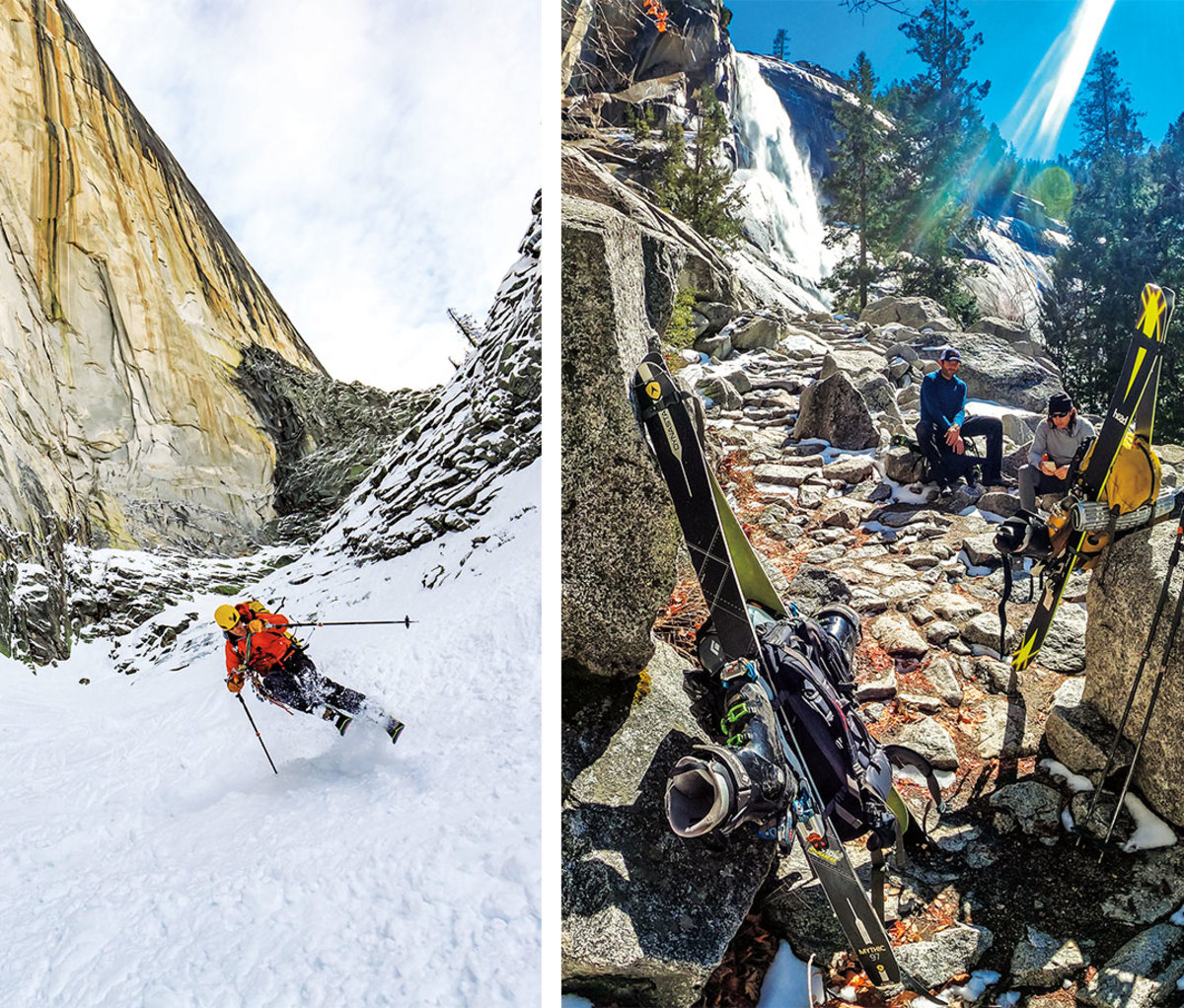 Just a month before the Bushido Gully attempt, it was Torlano and Milligan who were first to ski a different, breathtakingly steep route from Half Dome down to Mirror Lake on the valley floor through 5,000 feet of snow, rock slabs and undergrowth. Midway, Milligan lost his ski edge and instinctively arrested his tumble with his ice pick. Staring down at his demise and summoning the will to live, he righted himself and continued. Before reaching relative safety, however, they still had to ski down the instructively nicknamed "death slabs," several sections of steep, barely covered rock. "A thing only Jason thought would be skiable," says Milligan. "High consequence scary snow with avalanche debris—his specialty."
That descent garnered awe among the small circle of adrenaline junkies who take note of such things. Make no mistake, though, descending Bushido Gully, to the right of Half Dome's enormous northwest face, is even hairier, the most complex and dangerous first descent that any of the three has attempted.
The previous day, March 16, 2021, after a storm dumped fresh snow over a rotting base, they'd hiked nine miles up from the valley floor, following the most popular, if arduous, hiking trail across semifrozen marsh and over downed logs, and past the stunningly scenic Vernal Fall and Nevada Fall. At the remote Little Yosemite Valley campground, they diverted off the established trail and bushwhacked several miles to reach their bivouac atop Diving Board, 1,600 feet below Half Dome's highest elevation.
It was from this vantage point that Ansel Adams captured his famous black-and-white portrait of Half Dome's sheer western face in 1927. Adventure photographers are still drawn there, and a few wingsuit BASE jumpers who elude park rangers have launched themselves off the precipice.
With the sun setting and thick, brilliantly lit clouds filling the valley below, Torlano, Rasmussen and Milligan crawled into their sleeping bags. Soon, at that elevation, the overnight temperature dropped to near 20 degrees.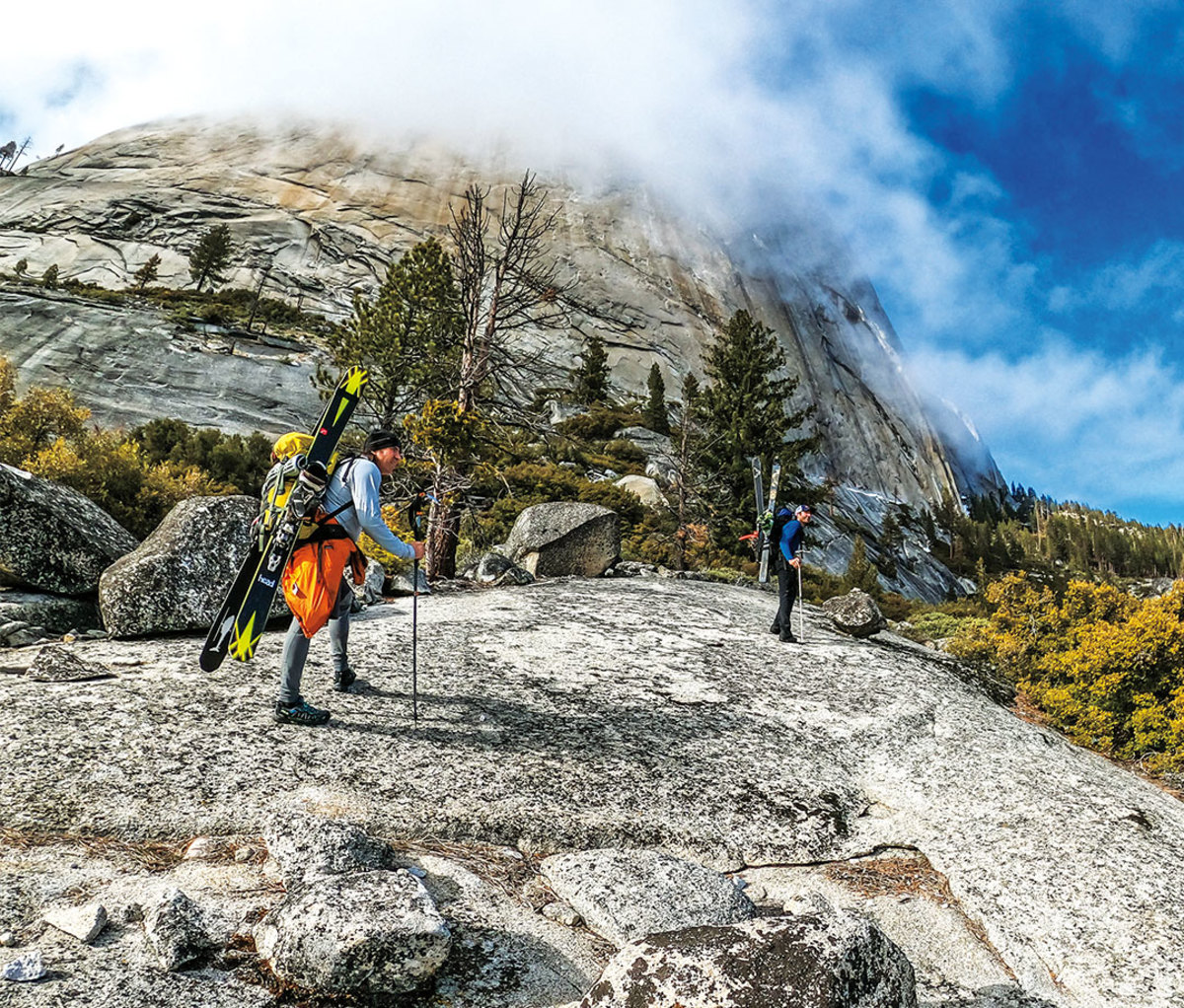 As dawn glimmered, the clouds parted to reveal a crystal clear view of their descent. But the sun can be a mixed blessing—once its glare hits the sheer face, everything can come crashing down, icefall triggering rockslides and full-on avalanches. Torlano clicked into his ski bindings as the other two stirred. "I'm packing my gear," he declared. "I'm leaving in five minutes with or without you guys."
Just below the Diving Board the team aims to cross a ridgeline to reach the beginning of Bushido Gully, which feeds to the base of Half Dome's sheer 2,000-foot northwest face. From there, another 1,500-feet stretch of rock, ice and snow will usher them down the death slabs. This funnel system, rife with razor-thin cliff edges, finally descends to Mirror Lake. The journey will require them to traverse a void, cross under massive hanging ice blocks, and be in constant danger of being swallowed by an avalanche.
They've barely begun when Rasmussen's poles fail to find purchase on the steep, frozen trail already navigated by his teammates. But he pushes his skis forward another 200 feet, heart beating out of his chest, right thigh cramping from holding his ski edge while weighted down with camera and camping gear. Relieved, he high-fives his team, skis past and encounters another 55-degree slope that scrapes along a cliff edge. The path appears to dead end, leaving them with two bad options—continue blindly ahead, or climb up and over slick, wet rock to cross the ridge. Without debate, Torlano takes over, committing himself to the blind ridgeline and skiing out of sight. "It's good!" he soon calls back. "I can get across. Bushido Gully is right in front of me!"
This is what they came for, a wide, insanely steep bowl coated in fresh powder, albeit studded with enough ice blocks and exposed boulders to rack up a dozen black diamonds. Torlano skis it aggressively, executing his signature jump turns for a few hundred feet before pausing for his teammates.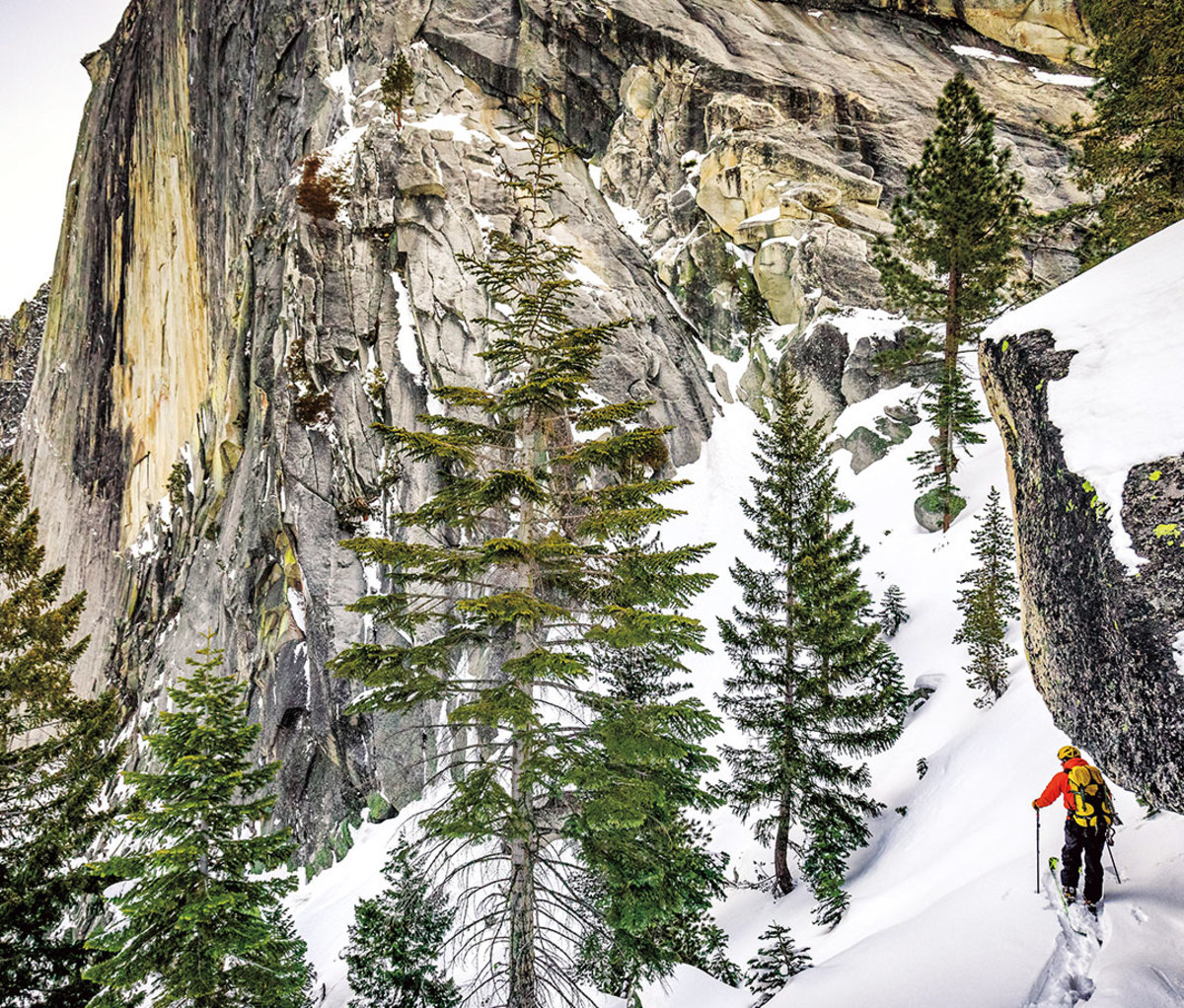 "This is an amazing position," Milligan says to Rasmussen. "Too bad we're in the direct line of fire from falling ice." Chasing Torlano downward the gully, they both snag their skis in the boulders and face-plant into the snow. Rasmussen's camera is soaked, but they quickly resume, wanting to clear the car-sized icicles dangling from the rim of Half Dome above.
Now, with the perilously technical top section and the blitz of the Gully behind, the team has only one dodgy stretch to go, the death slabs leading all the way back to their pickup spot. Only weeks ago, Torlano and Milligan had become the first to ski this stretch. Now it's Rasmussen's turn. He knows that they're all getting tired, ratcheting up the odds of making a costly mistake.
Peering ahead, he spies gullies that merge into a melt-off over a treacherous mix of avalanche-prone 1,500-foot slabs, loose boulders and tight shrubs sure to snag clothing and skis. This is the site of many hiker rescues, made worse by a major rockfall in 2015 that rained rocky shrapnel. To ascend the death slabs in summer, climbers rely on aging ropes left through vertical sections. But now it's winter, and many of these ropes are shrouded in snow and ice.
THE JOURNEY REQUIRES THEM TO BE IN CONSTANT DANGER OF BEING SWALLOWED BY AN AVALANCHE.
The team descends, terribly aware of the possibility with every step of slipping to their deaths. There is zero room for error. Suddenly, Torlano and Milligan ski away from the path and locate a spindly, 15-inch ponderosa pine they'd identified weeks earlier. They intend to rappel from it.
"You must be joking," calls Rasmussen. "If that thing pulls out, we're going all the way."
Torlano, chuckling mischievously, replies, "Dude, this is safe. It held last time." Then he skis backward down the slope with the rope feeding through his rappel device, steps over a ledge and continues down for another 80 feet. Milligan follows. Again, Rasmussen is the rear guard.
Trembling with fear, he attaches his harness to the rope and gingerly shifts his weight. As he descends, the pine visibly bends but somehow doesn't break. He reaches the end and lets out a huge sigh of relief.
From there, the team reverts to skiing, happily zigzagging the slope to find the last of the skiable terrain. When they finally reach dirt, they switch to sneakers, load up their packs with skis and boots and trudge over to a final rappel. A few hundred feet of relatively easy walking leads them to Mirror Lake. It's over. In a little over six hours, the team has completed the most difficult descent of their lives.
"Although you can't say it was more dangerous than our February route—if you fall in the wrong place, you die either way—this had a lot more going on," says Milligan.
"This was one and done," Rasmussen informs his friends as he sheds gear. "That's not something I would recommend, and I'm never coming back."
Torlano looks back up at Half Dome and grins. "I'll possibly come back."
For access to exclusive gear videos, celebrity interviews, and more, subscribe on YouTube!