A video of a skier at the Sun Valley ski resort in Idaho was posted to Facebook recently, after he busted one of his bindings and decided to "boot ski" down a groomer, smoothly carving the trail with better form than most skiers have with planks under their feet:
That video shows Michael Reed of Sun Valley boot skiing at the mountain while his friend Joey Petelle — another Sun Valley resident — films him.
RELATED: Skier somehow walks away after falling off of massive cliff; video
The short clip was posted to the Facebook page of flyTHERE Air, an airline that specializes in private travel that Petelle works for.
"Michael was a runner-up for a spot on an Olympic team back in the day," Petelle told GrindTV. "He's a natural athlete and crushes any sport he tries. I've know him for 20 years."
Petelle told GrindTV that the incident occurred on Sunday after the toe piece on Reed's binding ripped out of his ski while going down the Upper Warm Springs trail off the mountain's Challenger lift.
According to Petelle, Reed descended around 2,000 vertical feet skiing that way.
"It happened on Upper Warm Springs and I started videoing about mid-mountain," Petelle told GrindTV. "[His binding] had been repaired once before and the repair failed. The screws pulled out of the ski."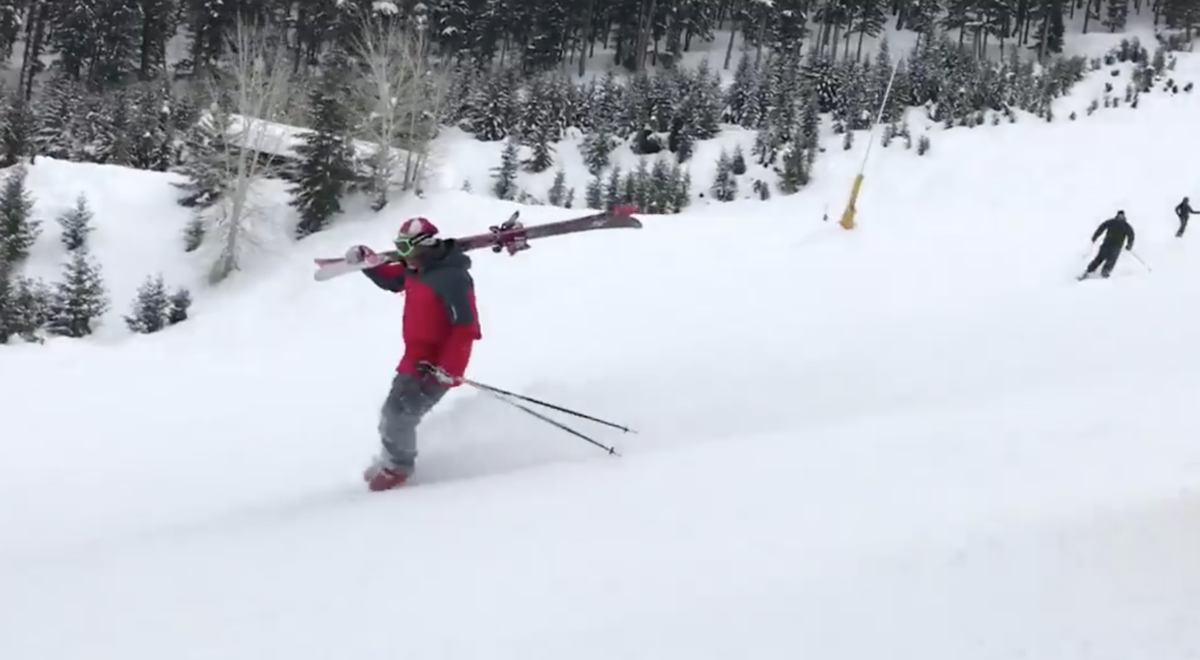 While Reed didn't immediately respond to GrindTV's request for comment, he did responded to a comment on flyTHERE's video jokingly asking him why he didn't try to boot ski switch on the run.
"No switch on that one," Reed wrote. "Legs were a touch burning by the bottom!"
For access to exclusive gear videos, celebrity interviews, and more, subscribe on YouTube!