Skiing in the backcountry is as beautiful as it is dangerous.
While the bountiful amounts of untouched snow are enticing, the unknown terrain you are skiing makes it so that even the slightest mistake can bear dire consequences. Utahn skier Devin Stratton found that out last Wednesday when he accidentally skied over massive cliff only to walk away unscathed:
GrindTV spoke to Stratton on Wednesday morning as he drove back from an early ski session to recount how it all went down, and how lucky he felt to be alive.
"I'm more than lucky. It's a straight-up miracle I'm alive," the 25-year-old Stratton told GrindTV. "I think the fact that I was skiing when I went off the cliff and I somehow had enough speed to clear the rocks you see in the video is nothing short of a miracle."
RELATED: Professional slackliner saves skier's life; video
Stratton says that, in the short video on Instagram, you can hear him yelling to his ski partner "watch out" after falling to warn him about the cliff.
"When he skied over to me after falling down the cliff, he just looked up at it then back at me and asked, 'Dude, how are you still alive?'" Stratton told GrindTV. "We looked up one of those free fall calculators online, and judging by how long I was falling for, the cliff I went over was well above 100 feet."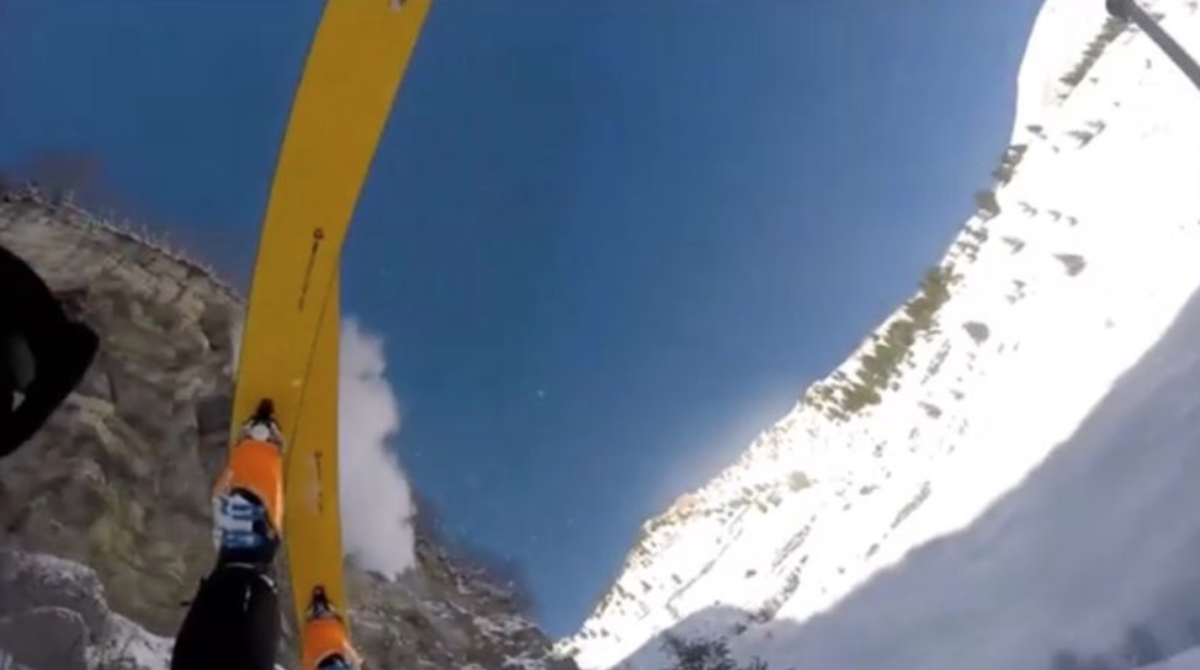 While he was unharmed, Stratton says he did break multiple pieces of gear.
"I landed on my back when I fell, so I bent my shovel, broke my avalanche probe and ripped my backpack," Stratton told GrindTV. "Plus, I spent about five hours digging to find the ski I lost after the fall which made me miss my job in town that night coaching the local kid's climbing team."
But, despite having a "slightly sore neck and back" following the fall, Stratton didn't let he incident hamper his outdoor enthusiasm: He told GrindTV he left town the next day to head to the Ouray Ice Festival in Colorado.
"We climbed for three days while I was out there, and I even got to go on a ski tour while out there to get back on skis for the first time after the fall," Stratton said.
"Plus they had a pull-up contest going during the contest to win a new backpack, which I ended up winning by doing 910 pull-ups in two days," Stratton continued. "That was nice seeing as my other backpack ripped in the fall."
And while Stratton says he doesn't want to disclose the specific location of the cliff in the Wasatch backcountry — he will only say it was around Provo Canyon — he does plan on trying to go over it again, albeit in a slightly different manner.
"As soon as avalanche conditions slow down I'm going to go back and do it again and bring a rope with me so that this time I can rappel down the cliff and get an accurate measurement of just how far I fell," said Stratton.
For access to exclusive gear videos, celebrity interviews, and more, subscribe on YouTube!