The C&K long-boat posse returns north
Playboat loops have lost their luster.
At one time, seeing the tiniest of kayaks carve, spin, pop and flip through a wave feature was true entertainment at the cutting edge of the sport. But the camera-totting crowd hovering at the edge of the bedrock outcropping at Skookumchuck Narrows wants more. More boat, that is.
Once you cross the 12-foot threshold and get on this fluctuating tidal wave, it's hard to get amped about short boats that don't walk the same tightrope here as a sea kayak. The big boat balance is one of ridiculous downhill wave speed offset by cold risk—should the tidal force of water flooding in from the Straight of Georgia into Sechelt Inlet decide to surge mid-surf, transforming green wave into green washing machine. That's where endless side-surfs eventually yield to the throttling show of force, the unintentional flips and the unknown results.
That's really what the crowd wants.
And I found this out the hard way, first from the water. I knew it was coming. We'd made an initial run up from Seattle to Egmont, B.C., back in November to test a fleet of innovative, shorter sea kayaks with flatter hulls best suited for the feature. So C&K Publisher Jim Marsh, Sales and Marketing Coordinator Scott Waidelich and I returned last week with a new fleet of rough-water boats and a crew of paddlers ready for a pair of tide floods pushing nearly 13 knots.
When I cross from eddy into wave in Pygmy Boats' sleek Arctic Tern 14—an evolution of the original Queen Charlotte wooden kayak kit John Lockwood developed in 1985—I think I'm merely in for a backseat cruise. And then I'm swallowed. Chewed on and flipped over by the retentive whitewash. Just as I come up, still in the surf, headed out, I get pulled right back: full back ender with the bow vertical, for a second, before being regurgitated and spit out for good. Then I hear the hoots from the bedrock peanut gallery.
Having earned the right to hoot back, I do my part to coax the Hurricane Riders, a Vancouver-based crew from the Deep Cove Canoe & Kayak Centre, into the maw. Scott and Riders Marty Perry, James Dunderdale and Pawel Szopa are the last out as the wave steepens and turns to shed-sized hole. Pawel has the chunderlust, spit out only to roll up, eddy out and paddle right back in, at times entirely engulfed in violent surfs ready to toss 16 feet of composite layup at will.
As the salt water drips from my nostril to mossy rock, I soak in the scene a little more, from the rich mess of fragile marine life caked in the bedrock in the foreground—bull kelp, shells and purple starfish—to the new-fallen snow frosting forested peaks across the inlet. But even from this vantage I still can't believe the circus act that takes place as Think Kayaks owner/operator Daryl Remmler takes to the wave on day two. Using a wing paddle. From one of his surfskis.
No thigh straps, no problem. Prepared for "the tour" swim, with the boat leashed to his leg, Daryl ferries into and out of the eddy with focused strokes and without incident. Surfing his 20-plus-foot Evo between crests, Daryl broaches the trough so that the midsection of the boat he's paddling from is entirely out of the water.
"I was very, not relaxed," Remmler admits later. "But the boat did more than I thought it would do."
As if that weren't enough, Scott surfs Pygmy's Pinguino Sport with a Caldera Pale Ale in hand (brought up from Ashland, Ore., by Sawyer's Shaggy McLaughlin, along with a fresh crop of the wood paddle crafters' latest designs) he hands it off for Daryl to finish. Then at peak flood, Daryl hops in his Wave Sport Ace to join the playboat crew that made the spring-break trek from Ontario for a few good rides. Not bad for a guy who's paddled since 1972. "[We first made the trip] with Spike Gladwin when he had the plugs for what would be the first flat-bottomed playboat, the Necky Rip," Remmler says.
For Skookum-newbie Jeffrey Rawson, the experience is eye opening. He's brought his unique Tangent 14 model-designed on the rowdy Atlantic Ocean–to test and get feedback. With a forward bow and asymmetrical design, he wasn't sure what to expect. But Rawson takes a page from the book of Delta Kayaks' Mark Hall, who's logged plenty of R&D hours at the wave and brought a few select boats for the test session too.
Like the ever-shifting ebb and flood of the feature itself, Rawson's designs can adapt quickly as he pours raw boat-building passion into his one-man production line. Paddling back to the warm food and cold beer waiting at the Backeddy Pub & Marina, Rawson begins planning the next move for his fledgling company, chomping at the bit to start custom shaping back in his Fairfield, Conn. shop: "I know exactly what I'm going to do to make a boat for this wave," Rawson says. "Give me three weeks."
Here's our take on how the fleet of four boats handled in the unique conditions Skook dished out:
Current Designs Cypress ($3,099 in fiberglass composite/$3,499 in Kevlar, cdkayak.com) L: 16'9"; W: 22"; 48/44 lbs.
There's a reason many of the members of the Hurricane Riders crew choose the classic NDK Romany for their rough-water missions. The prototypical British-style sea kayak, features the snug fit, moderate rocker and the sharp entry to maneuver easy in choppy conditions. The Current Designs Cypress reflects these design features, and despite its seemingly low profile as the volume of the boat tapers quickly to bow and stern, the Cypress comfortably accommodated large (200 pound-plus) paddlers and offered a exceedingly responsive option carving into and out of the eddy. While beginner paddlers might find the responsiveness and initial stability challenging, the intermediate easily reaps rewards. With its soft chine profile, one tester raved about the Cypress' acceleration down the wave face and its handling and speed on edge through the subsequent wave train. There's also still substantial room to load gear in three hatches, a retractable skeg, bomber Skook-proof foot pegs and seat, and a ratcheting backband perfect for cranking down when it's time to go from tour to surf.
Delta Kayaks Twelve10 ($1,400 in thermoformed plastic) L: 12'10"; W: 25"; 43 lbs.
The Delta Fourteen5 was the first boat Mark Hall developed and produced exactly four years ago. Back on the B.C. banks, the Fourteen5 surfed the waves amid a quiver of four lengths of Hall's sleek (solarcoat acrylic-coated) and capable, thermoformed sea boats. The testers were instantly drawn to the shortest boat in this quiver, Delta's Twelve10. We'd put the Sixteen through its paces on our previous trip and were pleased to see Hall's new innovative dry-hatch closures (thanks to three, 1/4-turn locking hatches), which will eventually be implemented on all his new boats. No surprise though that when the wave hit its thrash-iest levels and the following wave train turned into a rapid, that the stable and easy-rolling Twelve10 was on the water. "This is the most stable sea kayak I've been in," one tester said. What Hall calls his "ultimate Mini-Me" at only 43 pounds, still boasts two bulkheads and lots of dry storage in two hatches, plus the hard chine, shallow V and longer waterline of its bigger brothers that allow easy edging, quick turning and forgiving rides. There's no skeg option like his other models, but like Hall jokes, "it goes where you're looking."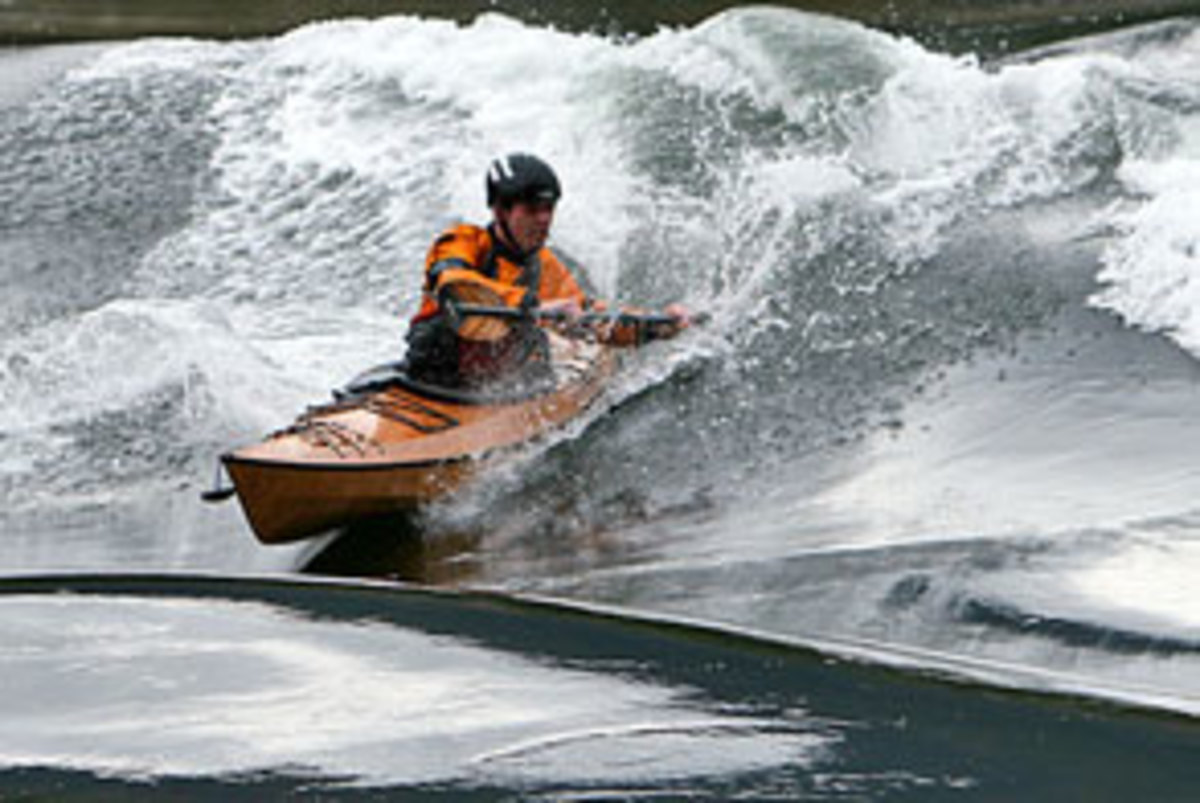 Pygmy Boats Pinguino Sport ($879 in Okoume plywood/fiberglass, pygmyboats.com) L: 13'; W: 25.5"; 36 lbs.
It's been a long journey for Pygmy Boats founder/owner/designer John Lockwood, whose original desire to build a lightweight wooden kayak to drag up the banks of B.C.'s Queen Charlotte Islands after breaking his hip turned the Harvard-educated computer programmer onto developing breakthrough 3D plate-development software to craft the panels for his boat kits. All we needed to know was that his sea touring line performed well in crosswinds without rudders. That, and that there would be no assembly required to surf them. So over 20 years after those Queen Charlotte trips, Lockwood was back in B.C., ready to see his latest creation, the short and lean 13-foot, 36-pound Pinguino Sport, tackle the wave. The surprising result—in that this was a wide boat with a large deck height not designed with the advanced paddler in mind—was that it was one of the best wave performers of the two surf sessions. "The secondary chine makes it easy to hit the brakes and go back, not so much in the trough, but as you're coming up off the wave, the ends release and you can carve it on edge back and forth," said one tester, noting the lightweight nature also seriously reduced any drag in the water. Lockwood chalks up that agility and acceleration to the boat's multi-chine hull profile, enabling it to perform like a hard-chine boat.
Rawson Tangent 14 ($1,980 in fiberglass composite, rawsonboat.com) L: 14.83'; W: 23"; 25 lbs.
The Rawson Tangent has a hull unlike any you've ever seen, with a design as unique as its crafter. The boat's humble roots lie in Fairfield, Conn., where Jeffrey Rawson's vision for a boat evolved in a marsupial fashion, isolated from any status quo influences and left free to develop an entirely new creature, designed to his specific needs for a touring kayak. "I made it for my home waters on Long Island Sound, having fun, running with the waves, surfing 3- to 4-footers." With its decreased waterline, tapered stern and cockpit placed farther forward than most, the asymmetrical Tangent felt like the hybrid of squirt boat, slalom kayak and performance touring sea kayak making for an entertaining tour to the wave. "It looks kind of like an F-14," one tester noted. On the wave, using the rudder became a necessity, and the boat turned faster and more responsively than any in the fleet. However, as the smallest in the Tangent lineup, the bow got buried quickly under our larger testers' weights as the wave grew. The Tangent is also available in 15-, 16- or 17-foot lengths. Or any length, or really any specs you want. It's all custom for Rawson, who builds them as the orders come in, one paddler at a time: "Fat seat, skinny seat, any color, any layup, any gel coat," he says, "22-, 24-, 26-inch rudder with wood fiberglass, carbon fiber—whatever you want."
— Dave Shively is an associate editor at Canoe & Kayak magazine.
The article was originally published on Canoe & Kayak
For access to exclusive gear videos, celebrity interviews, and more, subscribe on YouTube!