If you've been to Seattle, WA, Austin, TX, Encinitas, CA, Corvallis, OR, or a select number of Whole Foods, to name a few, you've probably seen Skye Walker's work and not even known it. His large-scale murals, often featuring Mother Nature and landscape influences, tend to dominate whatever area they pop up. Walker hopes they'll bring happiness to your day, or cause you to pause in your tracks and ponder what he's trying to express.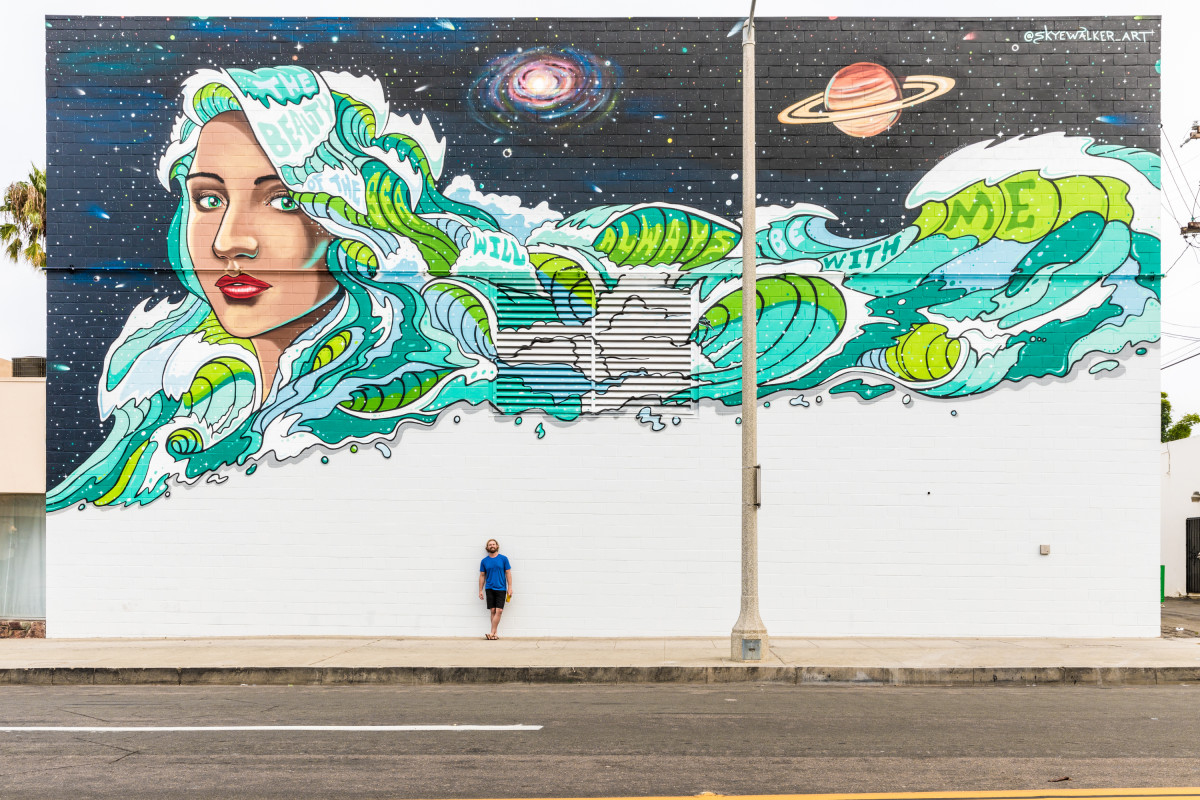 Walker sort of fell into full-time mural work, and his tour sort of fell together. When you learn that he spent his childhood as part of a touring family band, the idea that he could easily lean into the idea of a year of living life on the road seems more natural … he's used to it. He's done it before.
Walker spent his childhood and young adult life in pursuit of the creative; the expressive. He dabbled in mural painting in college, but after he graduated, it was right into the workforce. He spent 10 years as a designer in the surf industry, but when the economic downturn hit in 2008, he was let go from his job as lead designer at the yoga brand prAna. Most people might be terrified of the prospect of not having a steady 9-5, but Walker didn't have long to worry about that.
Shortly afterward, after 10 years of not painting a mural, he was asked to do a series of them for Whole Foods. Most artists might balk, or at least pause, at the idea of picking up the paint brush and can after 10 years of letting dust collect, but Walker immediately agreed and set to work. The first mural went well, and was lucrative enough for Walker to think, as he puts it, 'I can do this. I can make a living off this.'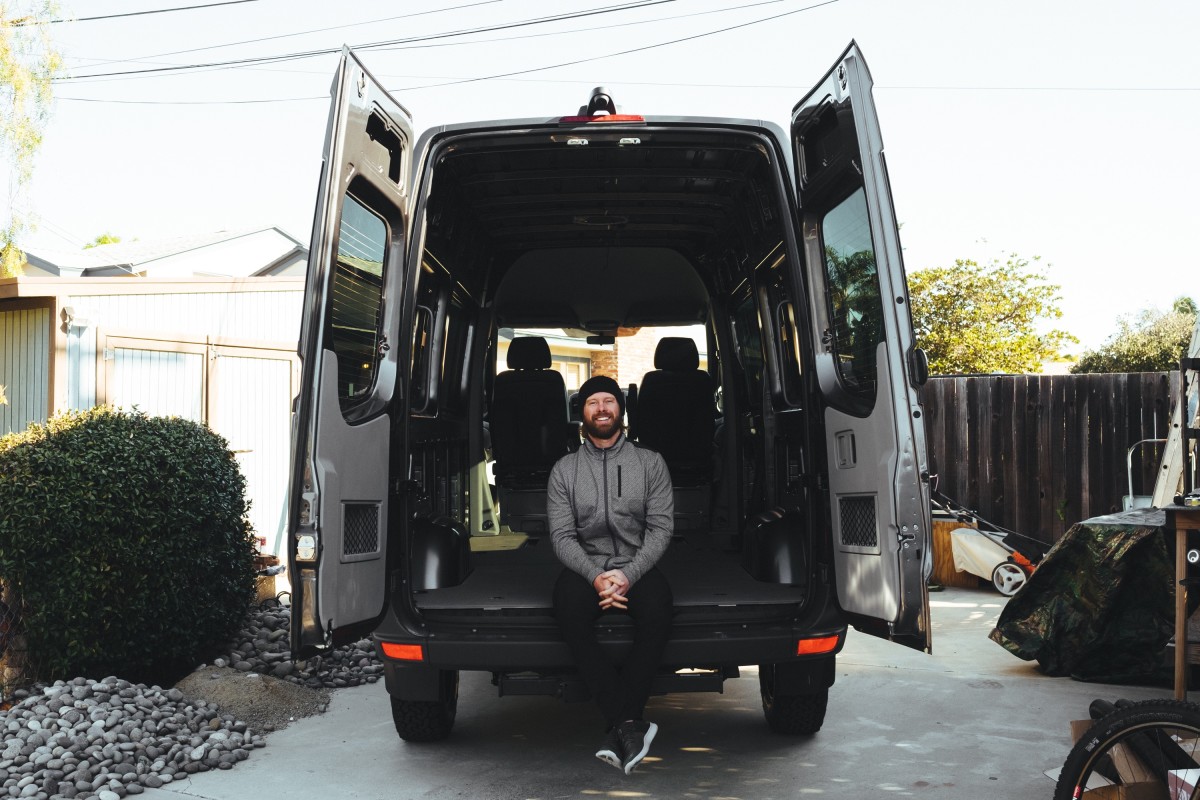 His idea for a mural tour first germinated a few years after that, almost 8 years ago, but at the time, 'I just didn't know how to do a mural tour,' he says. Fast forward to present-day, and Walker has made a living off being a mural artist. This last year, after getting plenty of experience under his belt, the idea for a mural tour came up again. This time, he was ready.
So what's the mural tour about?
We sat down with Walker just before he left for his trip, to get the inside scoop on why the tour, why now, and what he'll be doing for the next year.
How did this idea come to be?
After doing murals for years, and traveling, I was thinking, 'Maybe doing a mural tour is a real thing', but I wasn't thinking about a van, I was thinking maybe I could just convert my truck to cab-over camper, conserve what I have. But the more I thought about it, there just wasn't enough room for a year. It's feasible – if it was just me I could do it. But if I have paint gear, and surfboards and bike and all this stuff, I started thinking about it and I talked to a whole bunch of friends, and I was like 'I gotta get a van.'
My friend and art collaborator Chris Benchetler was a huge influence on me getting a van as we collaborated on the art for his van, the Stealthy Marmot. Also, my friend Curtis Bovee introduced me to Joey Fandel and Johnny Wood, who built out my van. Without each of these guys helping me out over the last 6 months, this project wouldn't be a reality.
With this tour, there are a few things I'd like to do. Obviously paint murals, do some expressive work, some commercial work, but I want to do as much community outreach and educational outreach as I can to inform people on the importance of public art, and how it changes the landscape of a community.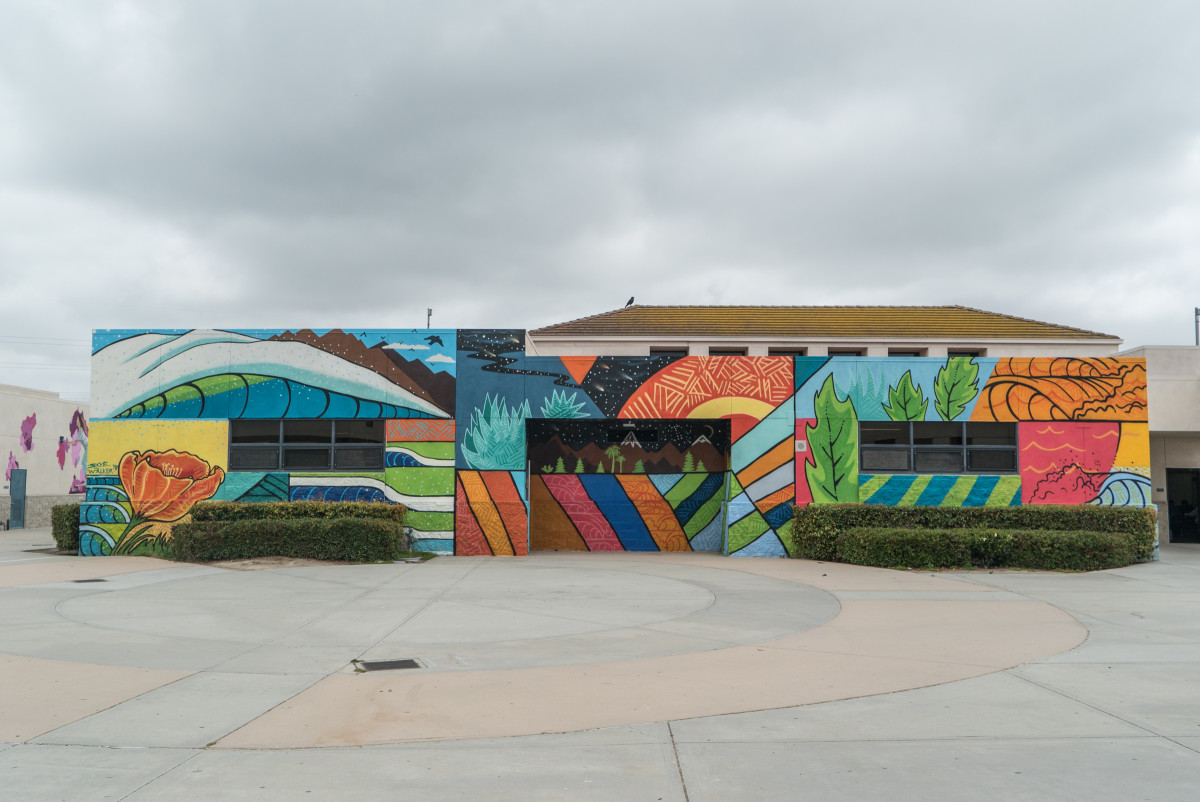 How do you plan on doing that?
Well, I'm going to connect with schools, community outreach programs, art programs, and do as many things where I can donate my time – if possible – to projects. I have some sponsors involved helping me with funding, paying for murals that I can't fund.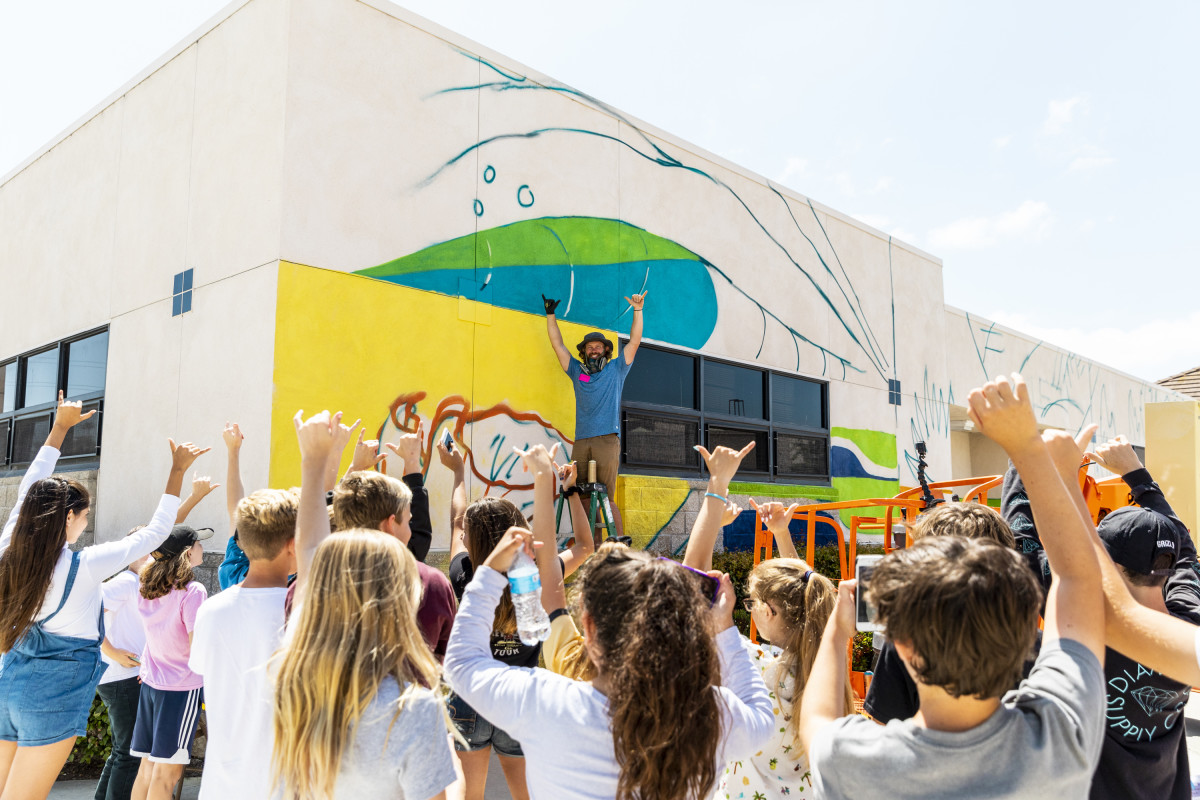 Even if I'm doing something commercial and getting paid, I will try to figure out a way to, in the right circumstances, get art students, or community elements where people can come see what's happening, talk about it, have people be involved if it's feasible, even if it's just a lecture about art and murals. I'm certainly not the first one to do this, there are plenty of more talented artists than me out there painting, but I realize this is what I can give back to society as a human: I'm not a doctor, I'm not a scientist, I'm terrible at math. This is my way of doing something.
And again, I'm not doing it because I think I'm a great artist: I do it because this is what I love, and I see how people engage with it, and when they stop and stare at something you've done, and take it in, and go 'Wow, this is something really cool' it might inspire them to go be a photographer, or an artist, or chase their own dream. And that might sound cliche, but I know a lot of people that feel trapped in worlds they don't want to be, and they have talents they want to explore, and I know for myself I've been inspired by people doing their thing.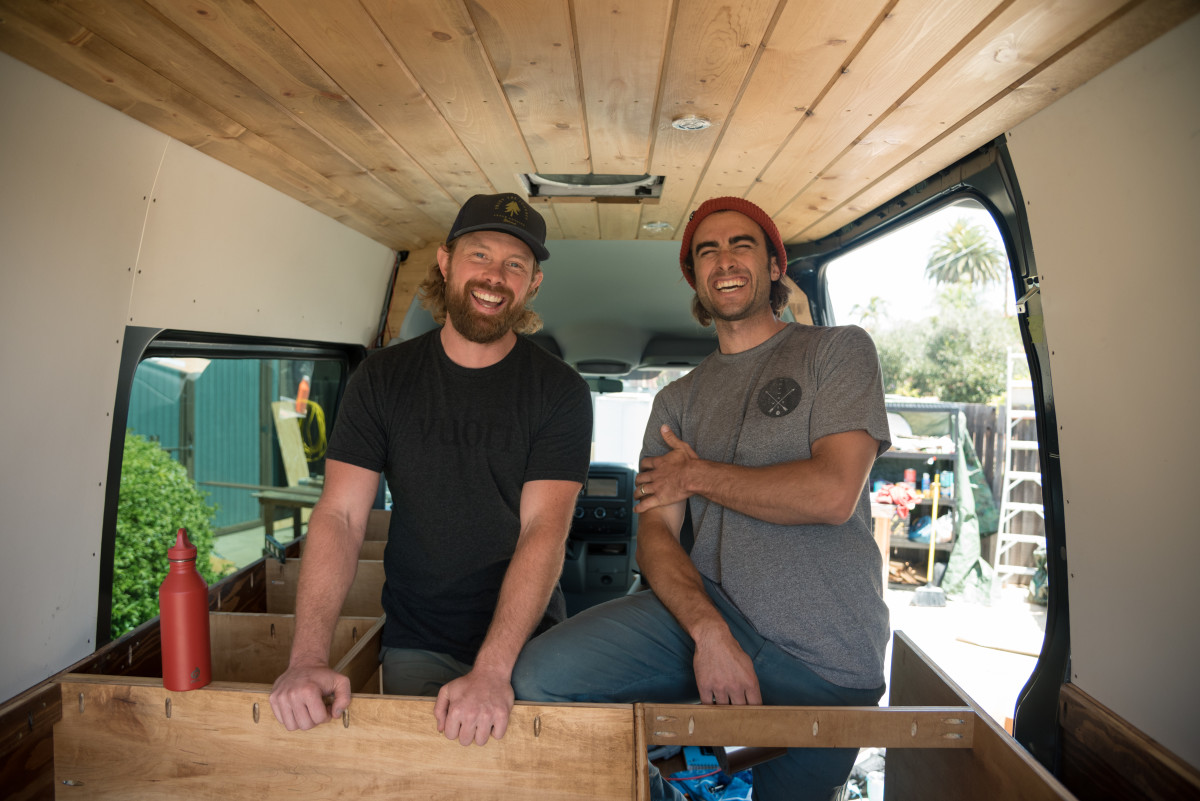 So with the tour, do you have stops that are set in stone, plotted out, or is it just a basic framework and there's room for spontaneity?
It's a bit of both. My main route now is going up the West Coast, to Washington, cutting across the top of the U.S. to Maine, because I want to get there for the fall, surf and hopefully paint a bit down the East Coast into Georgia, while stopping in South Carolina. I want to get down to Atlanta, because I have friends there, and then planning a project November 1 in Nashville. After Nashville, I don't really have anything set up, but I've had people message me that have found out about this, and have showed interest in places like Colorado and Wisconsin. So it's spreading, and as I start to get out there and do it more, word will spread some more.
There's definitely going to be some spontaneity, I want to do some stuff along the way that's unexpected, where I can approach people and say 'Hey, do you want this wall painted?' And if they say 'Well, we'd love it but we don't have any money' and I can be like 'We can make that happen'. Even if it's like I just take some black and white paint and do something simple and clean, I wanna mix it up. But I also want to have some time to do some little adventures, and not just be paint paint, paint, paint. I'm a little close to being burnt out right now, it's a good burnout, but still, I don't want to be burnt out.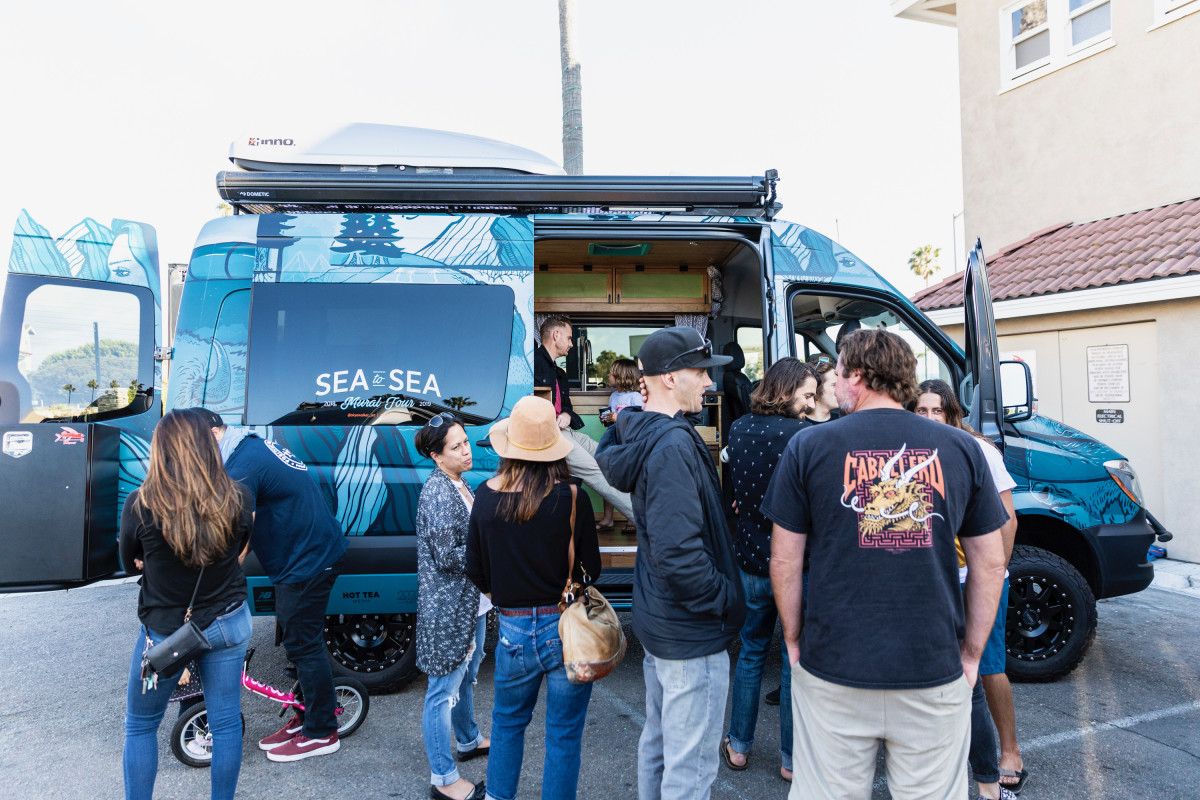 Do you feel like your work has taken on a deeper significance, maybe just for yourself but also in general, as you've progressed throughout your career? Do you feel like you've accessed deeper parts of yourself through this?
I know I have, but I also know I haven't painted those yet. I have ideas for paintings that would push those boundaries and make people think, and take a step back, but there's also that fine line of how far you can push it before people either get weirded out, or offended. I want to push myself as an artist. Not to say that landscapes, or things that are just pretty, are bad. Those are necessary for societies.
You can't paint something provocative in certain areas, because people are going to freak out, and they're not going to be stoked. I'm not out to do anything like that, I want people to see the work and either be happy by it, or get them thinking. And so I definitely want to have some stuff like that, but I haven't quite had the mural yet where someone is like 'Do whatever you want.'
Right, because with murals oftentimes there's a client behind it, and expectations to be fulfilled there. What's the balance between your vision and what the client wants?
It's always a balance. It's always walking that fine line, especially when money is involved, because they want their 2 cents, they want it to be their way, but if they're open to suggestions, cool, because then you can get your 2 cents in and make it something great.
More Culture content from ASN
For access to exclusive gear videos, celebrity interviews, and more, subscribe on YouTube!