By Jerry McBride
Jeff Herman introduced the Kayak Fish audience to the Jackson Skipper in an interview back in July at ICAST (kayakfish.com). Small, entry-level, general-purpose kayaks targeted at the youth and female market are nothing new. However, the Skipper is an actual down-scaled version of a dedicated fishing vessel, with many standard features identical to thoseadult anglers rely upon, allowing junior anglers to gain realistic experience with tools they'll need as they graduate to bigger models. With some assistance from Half Hitch Tackle, we finally got one into the hands of 5-year-old Hannah, who spent her first afternoon as a real-life product tester.
I was frankly jealous. The kayaks I started out with rarely came with seats, period. Certainly nothing like the Jackson Hi-Lo Elite seat. I'm not sure a kindergartner can fully appreciate the inflatable Therm-A-Rest back support. Newcomers to kayak fishing should pay some dues, but there's no suffering inflicted here. The Skipper seat, like the kayak itself, is a miniaturized version of the adult frame, scaled down to fit smaller bodies. Tackle storage underneath, plus a gear bag suspended from the back of the seat are just like the big-boy version. Included is a standard plastic tackle box; allegedly having been a kid at one point in the distant past, I still recall the pride I had in assembling my very own tackle in my first green metal box. Even a plastic fish gripper is included — kid-sized, of course.
Using the mid-gunwale handles, I easily lifted the lightweight green Skipper off the trailer, strapped on the seat, and Hannah went right to work, dragging it solo through the thick palm scrub to our improvised beach launch. Jackson wisely kid-proofed the 9-foot hull with a replaceable skid plate beneath the stern. Hannah squeezed her lunch bag into the front hatch, managing the simple bungee straps by herself. She set a jig-tipped rod in one of the two flush-mount, low-angle rod holders behind the seat, rather than the RAM-Mount holder in the forward port gear track, so it wouldn't interfere with paddling. An anchor fit nicely in the opposite holder. We didn't point out the camera mount for selfies, a distraction too tempting for many adults, let alone a 5-year-old. We slid the adjustable foot pegs (there are 16 in about 1-inch increments to accommodate the littlest legs) toward the seat, and she was set to go, giving her time to chase hermit and blue crabs while we got our boats set to accompany her.
Although not an accomplished paddler — it's surprisingly hard to find a seasoned 5-year-old kayak veteran — Hannah pushed the Skipper along with minimal struggles. We managed all of 200 yards before she decided it was snack time. She had no problem making her way unassisted along the open, flat deck to retrieve her apple slices from the front hatch. Adults would find the 28-inch beam somewhat treacherous for standing, but that's hardly an issue for a kid with a low center of gravity. The Skipper has a 200-pound weight capacity, with a recommended user range of 50 to 125 pounds. We slipped into a sheltered bayou, the grownups playing with small trout and redfish until Hannah's apples were finished. Then it was back to work, returning to the big bay to locate a school of trout that frequent a pair of docks in the area. Cruising alongside Hannah, I noticed little hull noise emanating from the Skipper.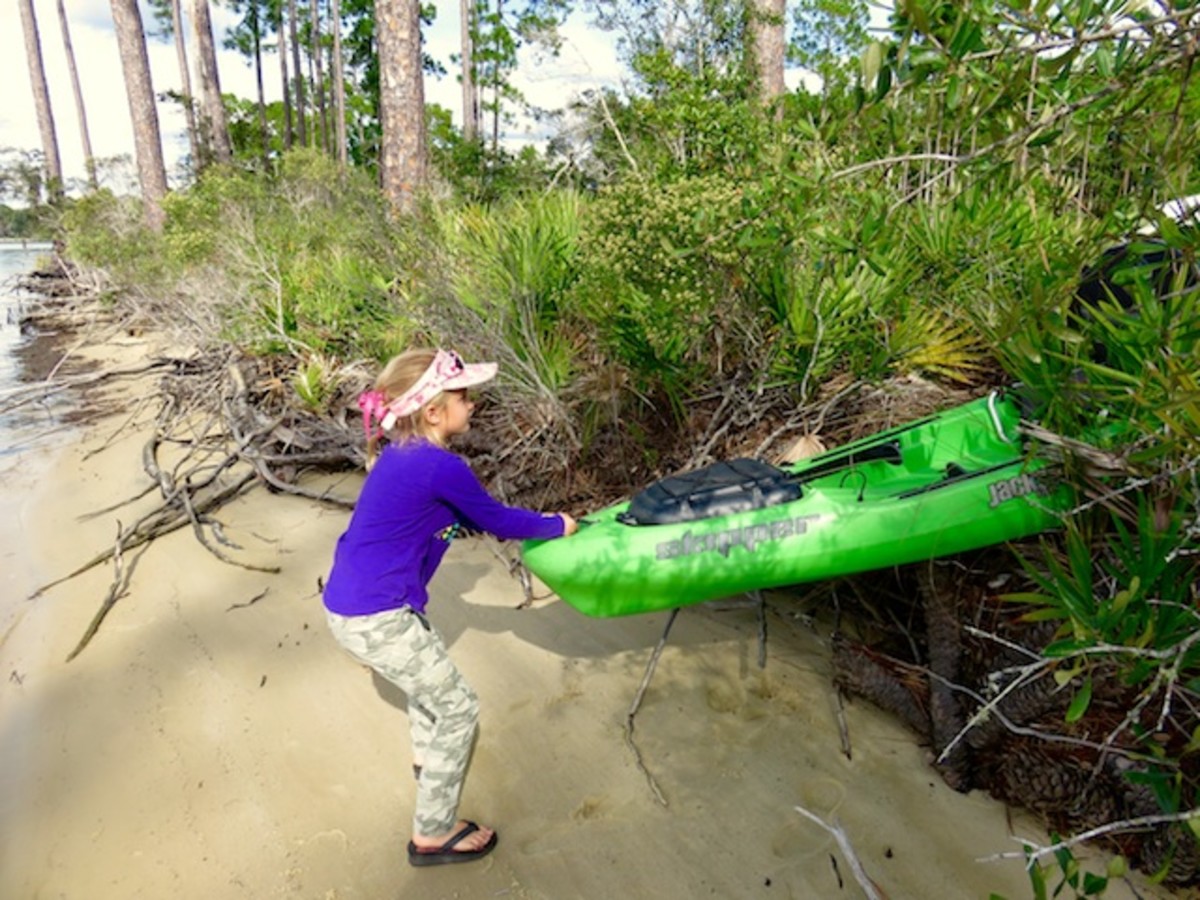 Hannah has reeled in and posed with a number of trout and redfish hooked by other anglers, but she accomplished her first solo catch on an artificial lure, making the cast, hooking the trout and getting it to the Skipper for a release photo. Smiles are always bigger and brighter if you catch the fish yourself — independence and a sense of accomplishment don't come with a minimum age requirement.
The Jackson Kayak Skipper: a well-equipped fishing craft manageable enough that a kindergartner can catch fish from it. Looking back, I can only imagine what a 10-year-old fishing-addicted kid could have accomplished.
Jackson Skipper Specifications

MSRP: $999
Length: 9 feet
Weight capacity: 200 lbs.
The article was originally published on Kayak Fish
For access to exclusive gear videos, celebrity interviews, and more, subscribe on YouTube!