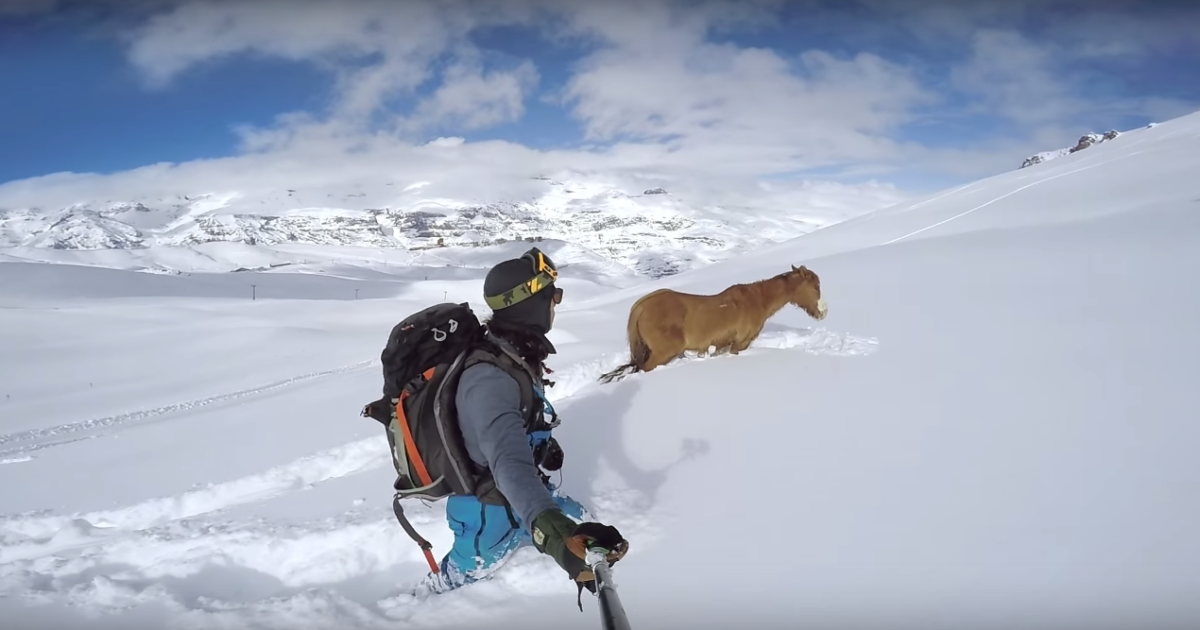 Rafael Pease is a 21-year-old junior at the University of Colorado Boulder, who splits his time between the southern and northern hemispheres chasing snow, snowboarding as he says, "about 180 days each year."
On a recent trip to the Chilean backcountry, Pease encountered something he had yet to see on the mountains: a horse, buried deep in powder, unable to move. Thinking quickly, Pease worked all day to dig the horse out of the heavy snow, saving its life and capturing the whole ordeal on his GoPro:
"The rescue occurred on July 13," Pease told GrindTV. "It was my twenty-first birthday and I was at El Colorado mountain in Chile. It had just dumped snow the night before, so I hiked up into the backcountry to get some powder turns in. Almost as soon as I started, I saw the horse buried in the snow, and knew I had to act."
Pease said the elderly horse had been buried by snow from snow groomers, and was too tired to fight out of the snowpack. If he hadn't come along, it would have likely died.
"I knew it would take all day to get the horse out of the snow, and that I was looking at the best conditions of the summer," said Pease. "But I couldn't, in good conscience, let that horse die up there. I ended up giving up the best powder day of the year to spend all day digging it out of the snow. But it was worth it."
RELATED: Dog stuck in a tree recued by fire department … yes, a dog
After hours of digging, Pease was able to coax the horse back down the mountain and out to a grazing pasture, where he released it back into the wild.
"When I got down to the ski resort, resort workers were trying to take the horse from me and bring it somewhere to let it die," said Pease. "Which is crazy cause I was doing them a favor instead of them having a dead horse on their resort."
Weeks after his rescue, Pease said he was approached by a local farmer. Pease had been in the community to set up the Flux Veho Mountain Film Festival, a film festival he organized to help celebrate the mountain culture in Chile. As such, Pease had become well known by the locals, and the farmer heard of his rescue.
"The farmer told me he was the previous owner of the horse," Pease said. "He told me it was an old work horse he had recently released so that it could enjoy its last years. He thanked me for rescuing it."
More from GrindTV
Which ski pass is right for you? The ultimate cheat sheet
Shaper makes 16 boards for surfer's Indonesian adventure
An Airbnb for trailers, Airstreams, RVs and campers
For access to exclusive gear videos, celebrity interviews, and more, subscribe on YouTube!