STORY AND PHOTOS BY ROSS EXLER
Editor's Note: When we last checked in with Exler, he had completed a crossing of his first African Great Lake, Lake Malawi. Here in Part Two, we find him taking on Lake Tanganyika–the longest, second deepest and second largest by volume in the world.
I designed this expedition to be the purest, and not coincidentally most challenging, form of expedition travel. My plan was to enchain the African Great Lakes by human power – kayaking each lake and bicycling in between – without a support team, solo, and carrying all of my equipment along with me.
Several of these would be firsts: paddling all three lakes in succession, enchaining them by bicycle, and then improving upon each of those by doing it solo and without support. My goal was to not only be the first to carry out this particular route, but to set the bar high in terms of style.
But with over 250 pounds of gear and brutal terrain featuring steep hills, I'd need to sacrifice "unsupported" on my string of expedition adjectives, and sent the boat ahead in a taxi. Despite losing out on one of my goals, it has made the expedition infinitely more enjoyable and it has still been plenty challenging.
After a brutal seven-day bike ride, I arrived at Lake Tanganyika and was struck by the scale of the lake.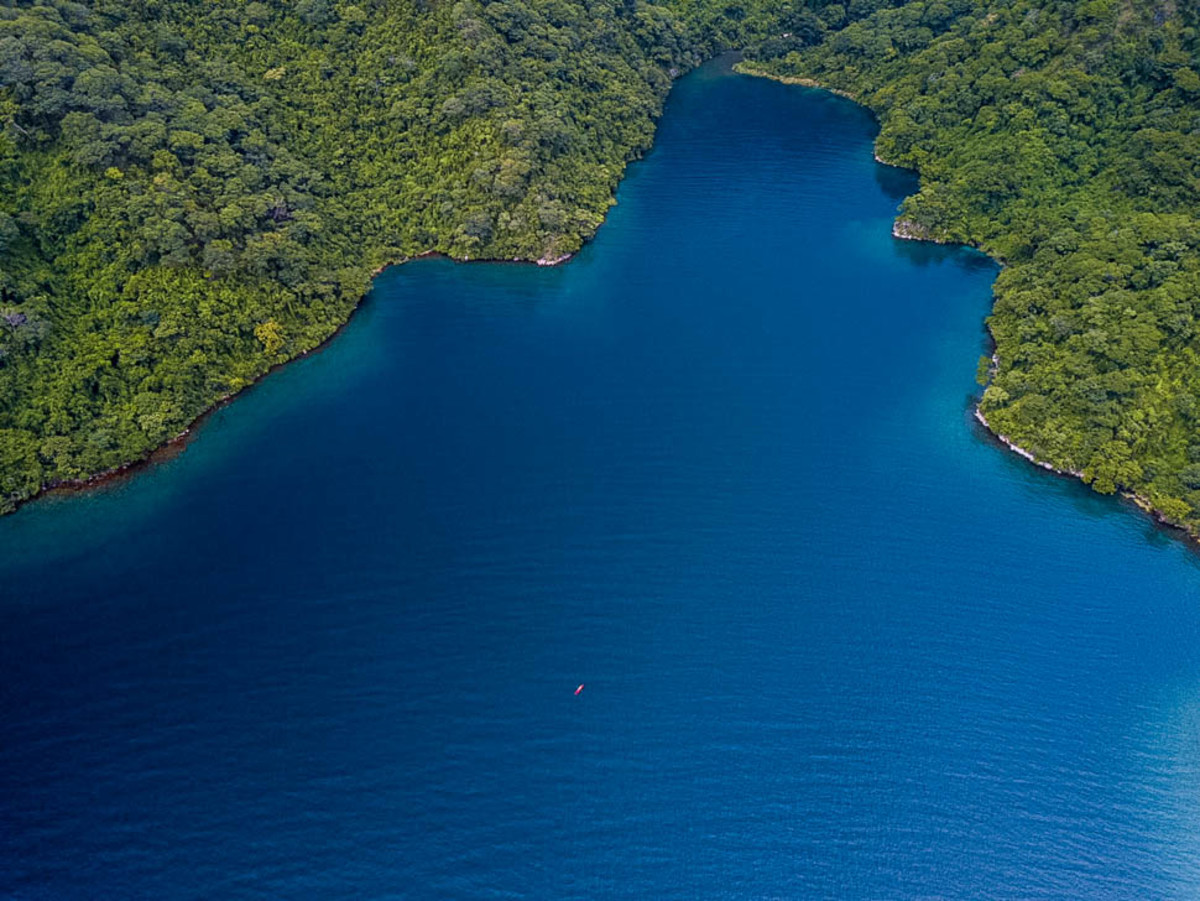 It's the longest lake in the world, the second deepest, and second largest by volume. Along the southern section, a steep escarpment drops down to the water, and you can see Zambia and the Congo in the background. I arrived in the hour before dark, and the lake truly glowed in the evening light. A storm, dropping a translucent column of water, rolled across the lake towards the Congo. I had arrived.
Part 2 
The lake was vast, but it wasn't anything that I had not grown accustomed to on Lake Malawi. I set up the boat at a small lodge in Kasanga. It was the off-season in this remote corner of southwest Tanzania, so I was unsurprisingly the only guest. The lodge is named after the MV Liemba, a century-old steel ship built by the Germans that still plies the waters of Lake Tanganyika. That is, when it's not under repair. I was informed that it's currently under repair and therefore I wouldn't see it along the lake.
The first section would be from Kasanga to Kipili. The plan was four paddling days and then a rest day at Lake Shore Lodge in Kipili.
I packed up the boat and set out on a calm day that belied the true energy of a lake this size, an inland sea.
The southern portion of the lake is gorgeous. Its shoreline is comprised of rocks – sometimes sheer cliffs but mostly boulders, the largest of which are house-sized. The water is a clear blue that is reminiscent of the Caribbean or South Pacific.
These days were largely uneventful. I would be on water around 7 a.m. and paddle until around 6 p.m. The density of people in the south is pretty low and I spent each night in small fishing villages or camping on a secluded beach.
Whenever I landed on a beach, I'd draw a large crowd of people eager to see what this strange person in this strange boat was up to. The procedure was roughly the same: land the boat, have some people help me up onto land, tell them where I was going and then ask to meet with the Mwenyikiti, the village headman, to ask for permission. As always, they were very welcoming and I felt very safe. A crowd of people, sometimes 50 or so, would watch me go about setting up camp until darkness mercifully set in and they'd head home and I'd go to sleep.
I lost one day to weather in this portion. The wind had picked up over night and large rolling waves as well as wind chop had formed, so I thought it was best to sit that day out. I paddled up to a compound where they were happy to accommodate me. It turned out to be a fish collection and distribution operation whose owners were from the regional "big town" of Sumbawanga. They would buy fish from the local fishermen and put it in freezers powered by a diesel generator. When the freezers were full, they'd send the fish to Sumbawanga or Zambia for sale.
This section of the lake, along with the Mahale Mountain National Park section to come, were the most beautiful that I have passed through so far on this expedition. I think that any paddler would find Kasanga to Kipili to be extraordinarily rewarding and worthy of consideration as a world-class sea kayaking destination.
The first third of the lake finished at Lake Shore Lodge, a great, lakeside lodge owned by a South African couple, Chris and Louise. They've been living in Kipili for a decade and have an incredible love for the lake and were tremendously knowledgeable about it. They helped spur efforts to gazette Kipili Bay as a protected aquatic area due to its importance for fish spawning and biodiversity. The bay itself is formed by a number of islands and is a great place to chill out, but also an ideal base to go explore the lake. They have a proper fleet of boats, scuba equipment, compressors and kayak equipment. In fact, Chris had kayaked the entire section of lake that I completed on this expedition. They took good care of me.
Leaving Kipili was when things started to get difficult. I had been told that Lake Tanganyika was much more sparsely populated than the western side of Lake Malawi, and as a result has relatively high hippo and crocodile populations. So that had been my main concern, but it turned out to be something else entirely that made Lake Tanganyika so difficult.
The morning of the first day out of Kipili was calm and easy. At about the 15-mile mark, a headwind started to build until just before 20 miles, where it had picked up to about 15 knots and was creating significant wind chop. I saw a small beach with no villages around and decided to go over there and see if it would blow through. As always, I approached cautiously and looked around for any signs of crocs or hippos. Seeing none, I brought the boat onto land.
It was a small strip of flat beach followed by a steep sand bank that rose up about 10 feet to another flat, vegetated area. I sat around for about an hour, and seeing no sign that the wind was going to let up and with the day getting late, I decided to set up camp here. I put my tent on top of the sand bank and then looked down at my boat. It looked vulnerable to waves down on the beach, but there was no way that I could drag it up the hill. In the past, I had "walked" the boat up onto land by turning it parallel to shore and alternating between moving the bow and stern a few feet higher onto the beach. I did this successfully up to the bank, but there was no way that I could do it up the steep incline. So, I tried something else: I flipped the boat over and sort of rolled it up hill. Satisfied, I went to bed.
A powerful storm came through overnight. It was one of those storms where the first winds pull the tent stakes out and then you feel compelled to sit up and brace the tent for fear that the winds will bend the tent poles. A broken tent would be a major problem for me, so I sat up for a couple hours with the wind roaring and every so often the darkness of night was punctuated by the broad illumination of a bolt of lightning. At one point, a crack of thunder woke up my phone. It lit up to my lock screen, an image of my fiancee, which seemed ominous. Still, no direct strike on my tent came and eventually I went back to sleep.
I came out of the tent in the morning and the entire beach that had previously occupied the space at the bottom of the sand bank had been washed away by waves. All that remained were rocks. Fortunately, my boat sat comfortably on top of the hill. I spent about an hour kicking sand into a sort of ramp, and then slid my boat down to the biggest gap in the rocks that I could find and pushed it back out into the lake.
I wasn't surprised to see that the lake was alive with energy, that was often the case after a big storm. Usually the morning after a storm was very rough and windy, with winds blowing in the direction that the storm had moved, and then the winds would calm over the course of the day until relative tranquility would return in the evening. On this day, I paddled out into a stiff, 10-15 knot headwind and serious chop, and pointed my bow northwards.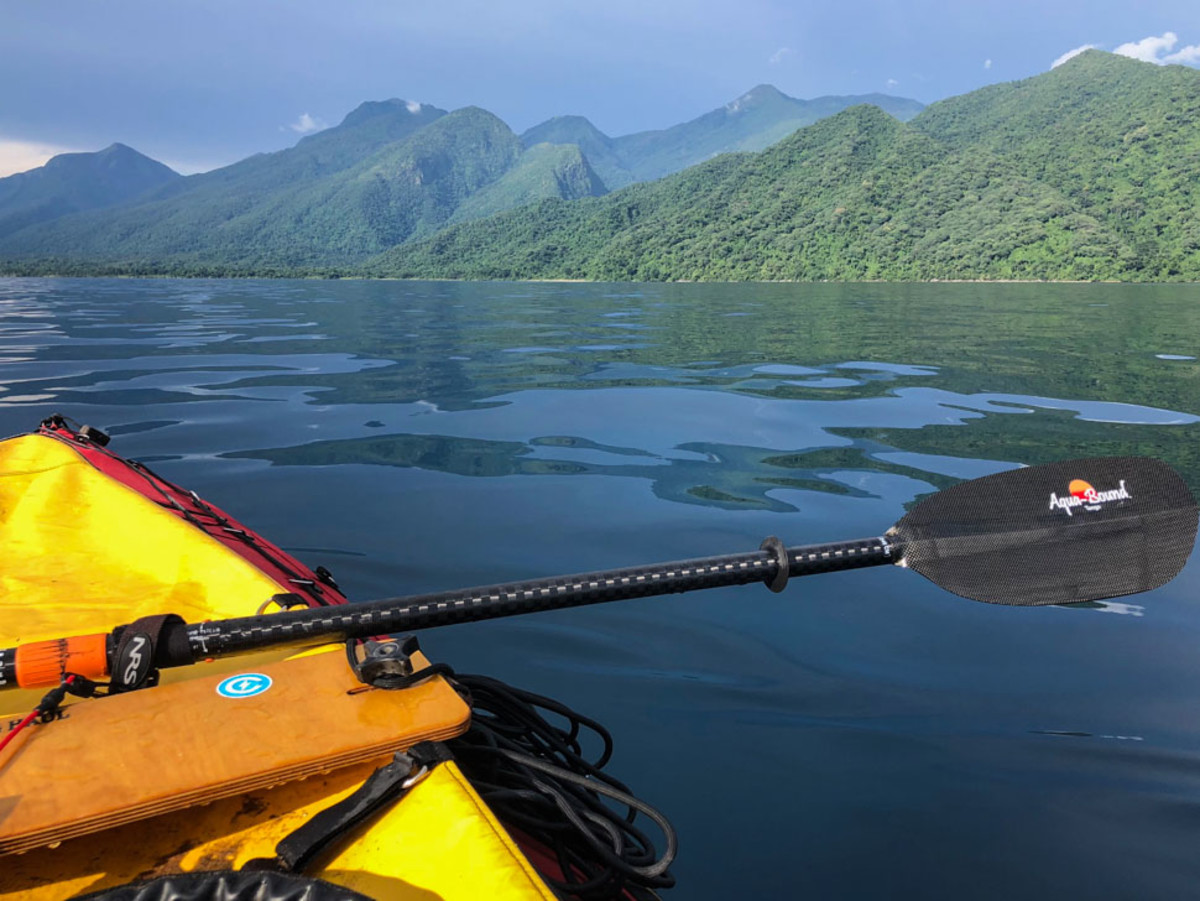 Anyone who has paddled long distance, or really any distance, into a headwind knows that there are a couple of problems. One is obvious – the wind works against you and sucks speed out of the energy that you're putting into paddling. But the other problem was the one that I found so much more difficult to cope with – whenever I stopped paddling, I'd clock myself moving backwards at as much as three mph. Considering that my entire Lake Malawi moving average was 2.87 mph, moving backwards at 3 mph hardly seemed acceptable. So I was forced to paddle more or less continuously until the wind let up or I made it to my destination. The contours of the shoreline topography, as well as my reluctance to paddle in the shallow water close to shore, also conspired to prevent any relief. So I was stuck out on the lake, bearing down on my paddle to make progress, and afforded precious few breaks to rest or eat or treat water.
On that first day of wind, I paddled for just over 10 hours, recorded under 15 minutes on water and not paddling, and earned a paltry 19.28 miles of progress. 19.28 isn't too far off my intended average of 20 miles per day, but I was utterly exhausted, having expended far more energy than my progress deserved.
I spent that night in a reasonably large community, which had a cell phone tower with data capabilities, so I was able to get a weather update. It was bleak.
From my location to the northern part of Mahale Mountains National Park, a distance of approximately 100 miles, was forecasted to have very strong north winds continuously for at least the next week. I tried to come up with alternative strategies, but there wasn't anything else to do. I would be willing to wait a couple of days, but with the forecast stretching out so far, I was just going to have to paddle through it. They call it the Rukuga wind, a powerful north wind that occurs in the rainy season. It carries storms down the lake and usually lasts a few days. Sometimes though, if you're unlucky, it lasts longer.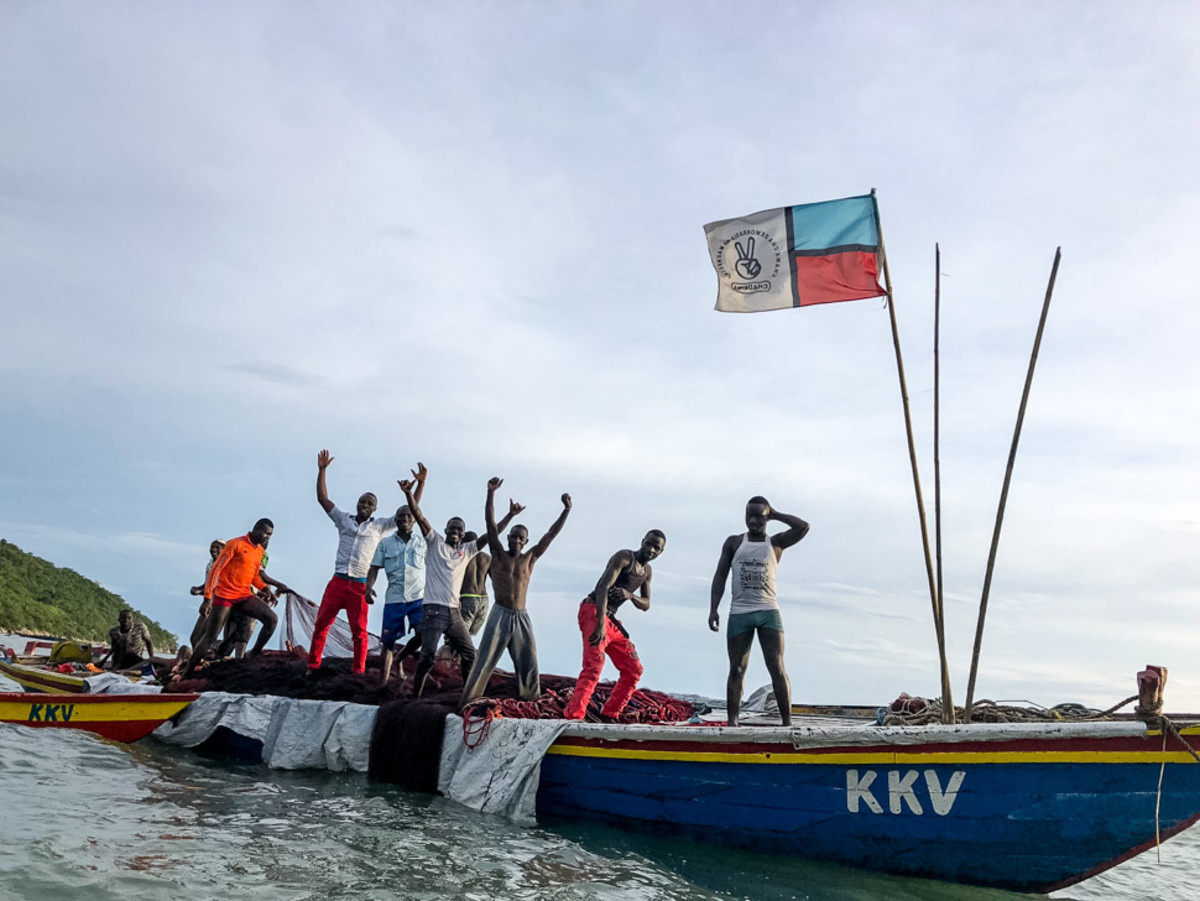 I set out again the next day, heading for Karema, a larger village that had originally been founded as Fort Leopold, a Catholic mission thinly disguising the real interest in the area: facilitating the slave trade from the Congo Basin in the west to Zanzibar in the east. From where I launched, the shore moved almost due east and then turned bout 80 degrees north up to Karema. It seemed to me that staying near the shoreline wouldn't be very advantageous because of the wind direction, so I decided to take the direct line. The crossing would take me up to six miles offshore but would save me about four miles – a distance that didn't seem trivial with the headwind.
Once offshore, the wind chop became secondary to rolling waves of 6-9 feet. In the trough, I'd lose sight of all land and then rise rapidly on a wave only to drop back down into the isolation of the next trough. I concentrated on paddling down the backsides of each wave and made tiring, slow progress. Because of the stability of my tandem Long Haul Folding Kayak, I wasn't concerned about capsizing, just about progress. The winds continued to build and at this time the most demoralizing thing happened.
I use a Garmin InReach device that logs my total elapsed time, moving time, average moving speed and total distance. I concentrated on my technique, using my best high-angle power stroke, but the total elapsed time was the only number that changed. Over the next 90 minutes, as I rhythmically paddled to the point of exhaustion, the moving time didn't change. Despite my efforts, I was frozen in place by the headwind and lake current. My decision to make the crossing was also coming back to bite me, as my only option to go to land would require me to give up hard-earned miles and I wasn't willing to do that.
Then, the windspeed dropped a little. Not precipitously, but enough that I started to make progress again. I limped into Karema close to sunset, badly beaten. I had managed 17 miles on the most exhausting paddling day of the expedition. For comparison, my best day on Lake Malawi was 32 miles and I arrived feeling more or less fresh.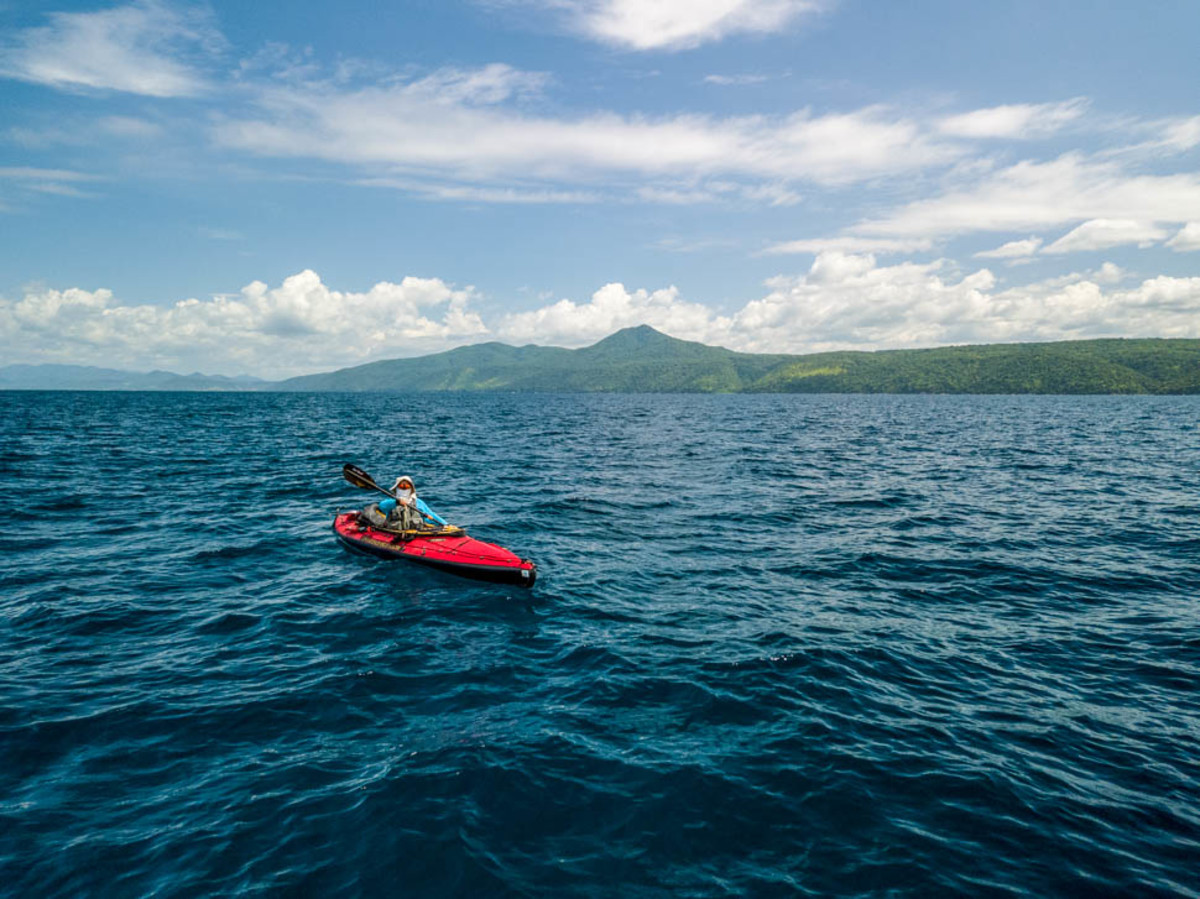 Ever the optimist, I awoke the next morning hoping for better weather, but found it to be significantly worse. Another big storm had moved through heading south, and significant rain lasted until midday and the strong north winds continued to blow. Once I passed the midway point of the day, I only had a few options for places to spend the night. Using satellite maps that I had saved on my phone, I aimed for a small village with a beach at the mouth of a small creek. Usually I would avoid areas like this because they are dangerous for crocodiles and hippos, but that danger is mostly mitigated by there being a community present. The people usually drive off the animals, and the beach is then relatively safe.
As I approached, it was immediately obvious that whatever community had been present at the time that the satellite image was captured was no longer here. There were no boats and only high vegetation where the huts should have been. Unfortunately, there were no other beaches nearby to pull out – the next one being several hours of paddling to the north, and the last one being several hours to the south. I proceeded into the bay cautiously and scanned the water and shoreline for signs of animals. Seeing none, I paddled hard into the beach and jumped out, moving away from the waterline as quickly as possible. On shore, I didn't find a village, but there were some signs of people. In a few places there were remnants of bonfires and I also found some small piles of garbage. I picked up some of the pieces of garbage and saw the labels were all in French. Whoever had used this place was either from the Congo or Burundi. I set up my camp as far from the small river as possible and endured a rather sleepless night.
The next day was unfortunately more of the same, but I eeked out another 20 miles and made it to a village called Kashagulu along the southern part of the blunt peninsula that forms Mahale. There are communities along the north and south shoreline, and the national park occupies the interior and most of the north-south section of the shoreline.
I met a local fisherman, Raphael Kalambwe, who worked as a volunteer officer of the Beach Management Unit (BMU) for his village. He had been trained as part of The Nature Conservancy's Tuungane Project, which strives to conserve aquatic habitat and species of Lake Tanganyika, as well as protect the terrestrial Greater Mahale Ecosystem, by working with communities in the area to improve their fishing practices, further climate smart agriculture, establish and monitor forest reserves, improve women's health and family planning, establish microfinance banks to spur sustainable small businesses, and create "model households" to demonstrate sustainable behaviors.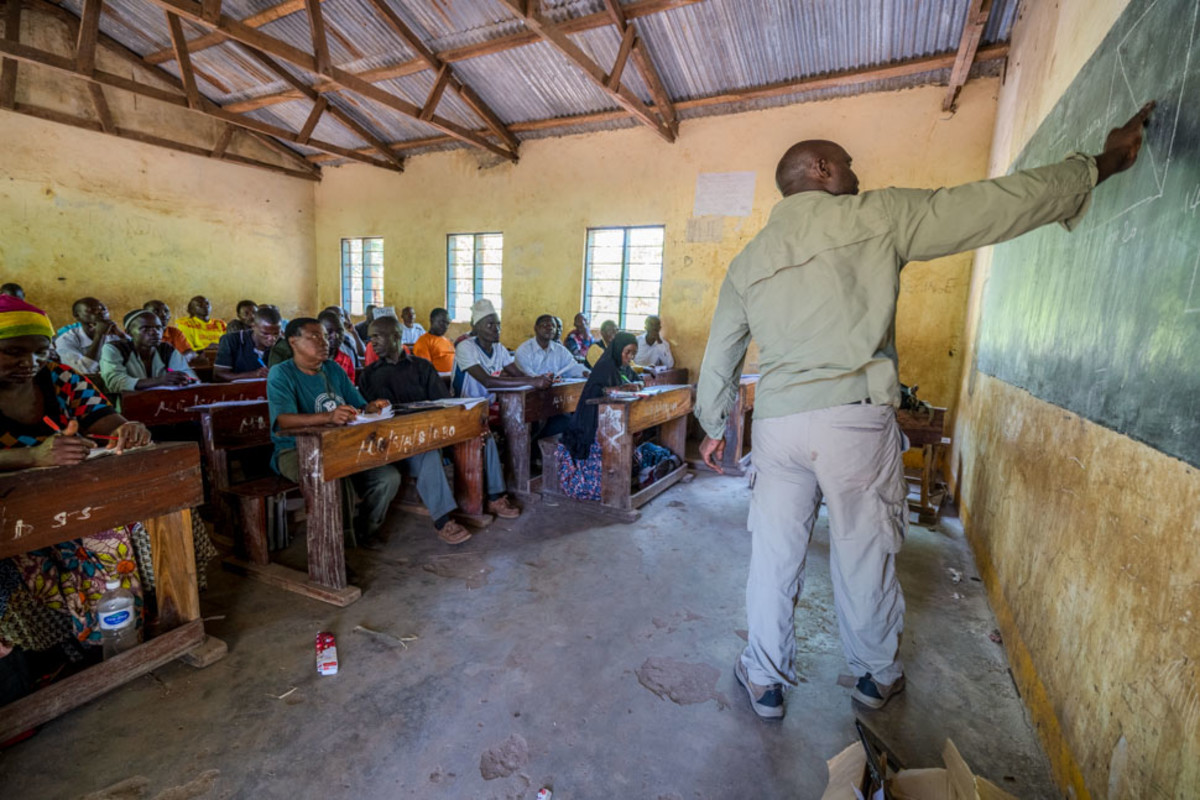 Raphael told me that the BMU program was voluntary, but that after being educated on sustainable fishing practices by The Nature Conservancy, 233 members in Kashagulu had come together to make fishing regulations, which they announced at a village meeting. They limited the gauge of nets to be used so that juvenile fish could escape, banned beach seine netting, and banned fishing in their most important nursery area, a small river to the east of the village. He told me that the biggest impacts of the project had been in helping to establish the BMU, because "the fish are for us, so when they increase, it's good for us – forever." He also praised the work of Pathfinder International (another Tuungane Project partner NGO) for helping with family planning and population growth education, and lauded the education initiative by The Nature Conservancy with regards to understanding the problems of deforestation, namely due to bush charcoal.
I spent a few hours that morning talking with Raphael, but eventually went back to the lake. My goal was to paddle around the point and turn north, finishing just south of the Mahale Mountain National Park boundary.
Part 3
The first hour of paddling was actually calm, something that I hadn't experienced in many days. Then the wind started to build. It was a west wind, which was particularly vexing because I knew that the predominant wind pattern must be from the north, but this wind was wrapping around the point and ensuring that I had a headwind all day.
After a few difficult hours, I made it to the rocky point where the shoreline stopped heading west and turned north. If the wind was a true west wind, then once I turned the corner, things would improve significantly. As I paddled around that point, much to my horror, my suspicions were confirmed. As soon as I cleared the rocks, the north wind hit me with all of its fury. 10+ foot waves formed in the relatively shallow water. They weren't breaking, so they weren't dangerous, but they were certainly unnerving.
I retreated back around the point to the relative calm of the south side and beached the boat. My plan only called for another 5-6 miles of paddling, so I could afford to wait on the beach for a few hours to see if the wind died down.
I waited two hours and tried again, but it was no use, it was at least as bad as the last time. I retreated back to the cove. After two more hours, I repeated this process with the same result. By now it was getting late, so I started to face the reality that I was going to be spending the night there. This wasn't a problem except for one thing: I had needed to get myself as close to the border with the national park as possible to have even a remote chance of making it to my destination within one day. I had been invited by Nomad Tazania to spend a couple nights in their world famous, luxury camp, Greystoke Mahale, but it's 30 miles from the southern boundary, and I had been scraping by with 18-20 mile days. I needed to combine serious effort with a bit of luck from the weather to have any shot at making it to Greystoke.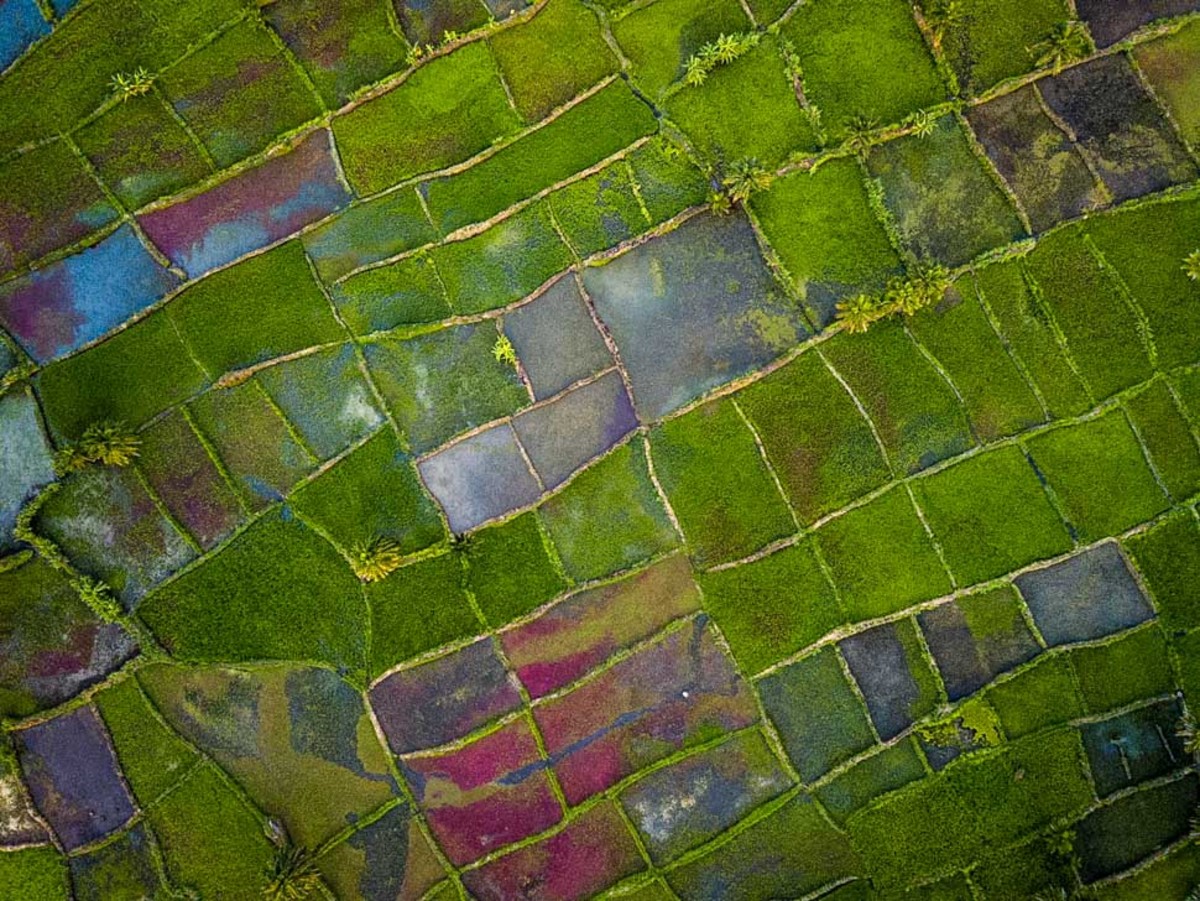 Through some connections, I had been able to secure permission from TANAPA, the Tanzanian National Park Authority, to "bush" camp for a night in the park south of Greystoke if I needed to. This was appealing because it's rare that people are allowed to do this, and would certainly have a "last man on Earth" type of feel. But Mahale is home to significant populations of hippos and crocodiles, and the beaches are not ideal – generally very small, flat, and usually at river mouths. That is to say, it would be cool but not safe to land my kayak and spend a night there alone.
So, this was of course on my mind as I set up camp, 34 miles south of Greystoke. To make matters worse, some local guys came by and mentioned that I might want to move my tent farther away from the waterline to avoid "mamba", Swahili for crocodiles. I hit my lowest point, asking if they had a boat with a motor. We negotiated a price for them to tow me north to Greystoke if the conditions were equally bad tomorrow. I had reached my breaking point.
Another restless night.
In the morning, I awoke before dawn and scanned the shoreline and water with my most powerful light. Crocodile eyes reflect light, so they are easy to spot at night with this technique. Much to my surprise, wind and wave conditions were calm. I waited for daybreak and paddled back out. Around the corner, my jaw must have dropped as I found a south wind and waves rolling to the north. A south wind. I need to repeat it again for effect – a south wind! After a week of battling a north wind, facing the unappealing reality of a forced and unsafe night in the national park, I was now moving northwards under favorable conditions at an extraordinary pace.
Once into the park, the flat land of the south started to climb into the jungle covered, jagged peaks of the Mahale Mountains. It reminded me of Hawaii's Napali Coast. I crossed the 10-mile mark at around 10 a.m. and close to 16 miles by noon. At 12:30 I had reached the point that looked like my best option to spend the night if I wasn't going to make it to Greystoke, and I was forced to make a decision. I needed to head to the beach and set up camp, or go for broke and head to Greystoke. As far as I could tell from the satellite maps, it was the point of no return. Once I went north, I had to make it to Greystoke. But it was only 12:30, so I pushed on.
By about 3 p.m., I was able to relax. At this point, I knew that even if the weather turned, I could still make it to Greystoke. Some thunderstorms were building over the mountains to my east, but I felt confident that I'd make it. Suddenly, an incredible racket started to emanate from the forest. I immediately knew what it was – a community of chimpanzees were calling out the presence of this strange red object below. It echoed down the slopes of the mountain.
By about 6, I could see a boat driving around to the north of me, and suspected that it was from Greystoke. They sat a couple miles offshore and then drove inland to a wetland where they would at times disappear behind the tall grasses. I suspected, and it was later confirmed, that they were looking for hippos and crocodiles – the exact opposite of what I had been doing for the entirety of my expedition.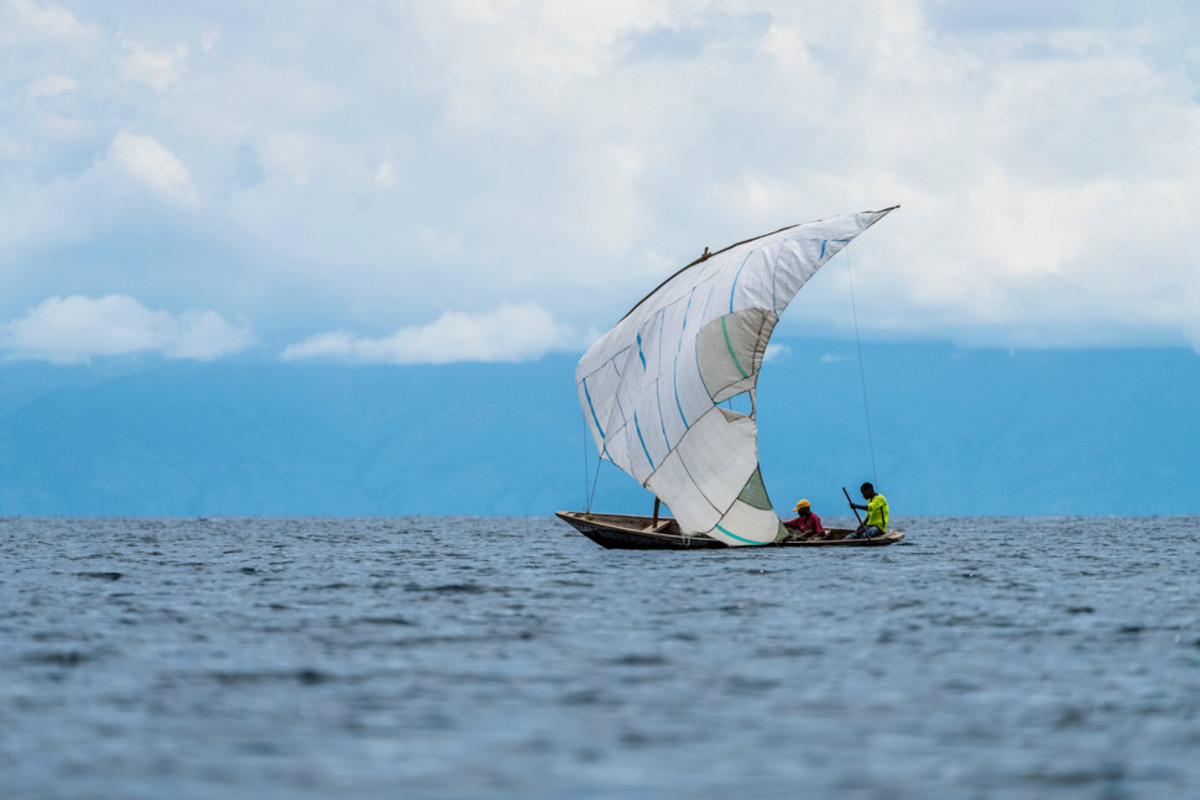 Soon after, I could see camp, and to say that this was a joyous moment would be a wild understatement. The architecture of the main building immediately signaled what this place was like: open air, constructed of natural and local materials, but exquisite and immaculate. I paddled ashore and was met by members of the staff. They helped me with my boat, and showed me to my room, an extraordinary private banda with open air views of the lake from my bed. A white robe hung in the dressing area. I was given a tour, and my guide casually drew my attention to the fact that the banda was two stories and had a lounge area upstairs, "in case you want to chill out". Greystoke boasted luxury in this most remote location. It's inaccessible by any roads and sits between Lake Tanganyika and the rugged Mahale Mountains. Paradise.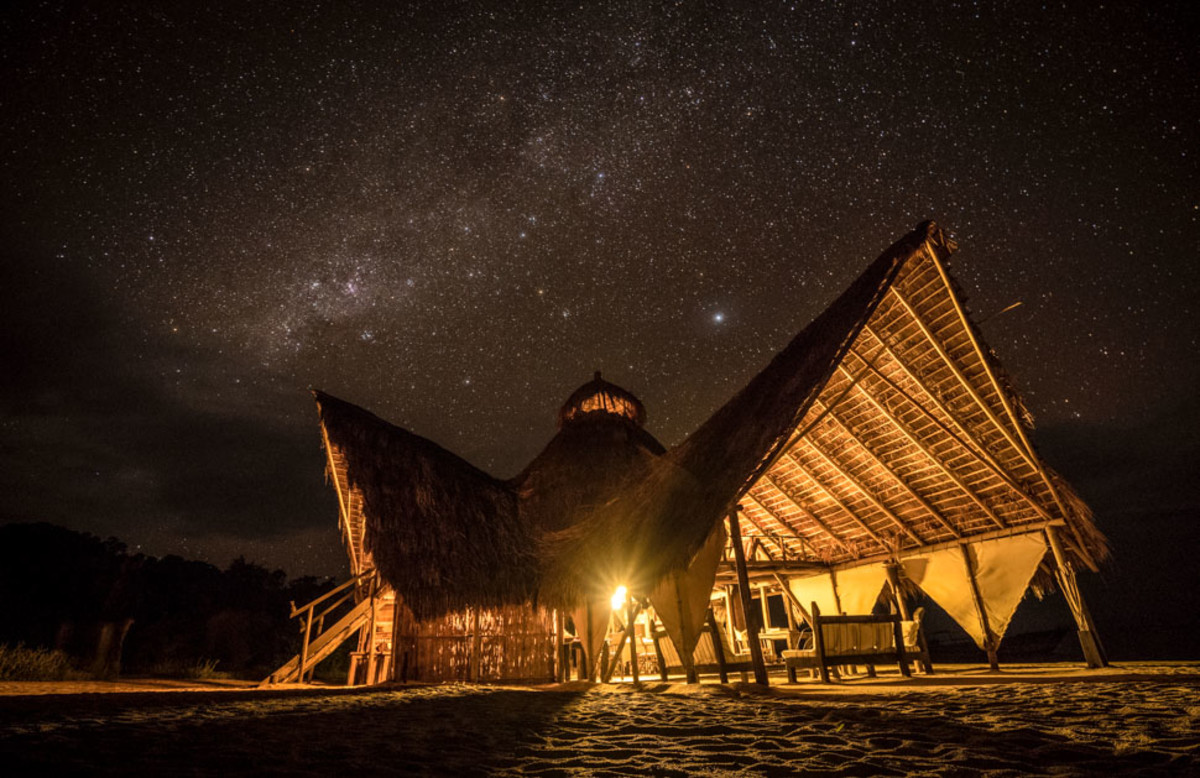 That night I had dinner with the other guests and the managers, Fabio and Barbara, and regaled them stories of my current expedition, as well as some older classics. I told my Amazon pirate story, as I do whenever it seems marginally relevant. I went to sleep happy. The company and hospitality of everyone at Greystoke, the creature comforts of the camp, and the knowledge that I had made it to within a stone's throw of the dividing line of the Rukuga wind, only a few miles to my north, had resulted in a foundational change in my attitude. My faith that I would succeed on this lake was renewed.
The next day was a blur of pleasure. I went out and observed a group of chimpanzees, 14 in total including multiple babies. Although Mahale Mountain National Park's sister park, Gombe Stream National Park is perhaps more famous due to the fact that it was the location of Jane Goodall's work, Mahale is larger, wilder, and contains many times more chimpanzees. It has also hosted researchers since the 1960s. This has resulted in communities of semi-habituated chimpanzees that will allow you to observe them at close range without aggression. At times, I was within a few feet of them. Without overly anthropomorphizing our close relatives, they really did seem to have interesting, human-like behaviors. At times there were disputes within the group and they would make noises and scatter. Then they would draw back into a tighter unit. Mothers cared for the babies, who played and explored. It was magical.
The next morning I was of course sad to go, but my psyche was entirely different than it had been before Mahale and Greystoke. After meeting with the Nature Conservancy's (TNC) Tuungane Project office in Buhingu–an organization whose Population, Health, and Environment approach to conservation has me very optimistic about the region–I paddled north over the next few days, as the shoreline started to become more populated.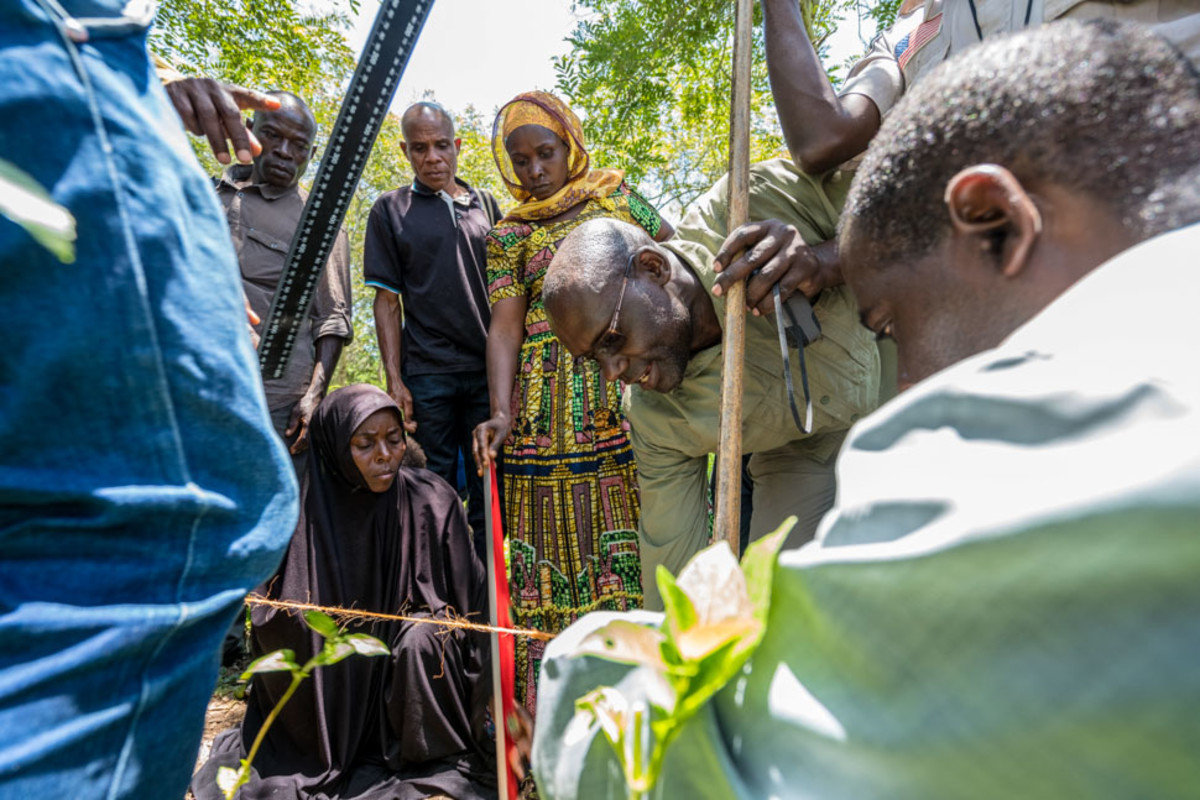 Those days were peaceful, and in the absence of the headwind, productive. I managed 75 miles over the final two days of Lake Tanganyika and pulled into Jacobsen Beach Lodge without much fanfare.
I came away from Lake Tanganyika awed by its beauty, and quite optimistic. It is much more pristine than the Malawi side of Lake Malawi. Fishing pressures, deforestation, and degradation of water quality all seem to be manageably low. I'm glad the TNC is there, working to keep Lake Tanganyika and the Greater Mahale Ecosystem's future bright.
Right now, I'm in Kigoma, preparing for the biking leg to Lake Victoria, and the final push to Entebbe. Let's hope for dry roads and south winds! I'll check back in soon.
OTHER DISPATCH SERIES FROM C&K:
The article was originally published on Canoe & Kayak
For access to exclusive gear videos, celebrity interviews, and more, subscribe on YouTube!