Words by Will Bendix
Photos by Alan Van Gysen
With its island-like geography and Mediterranean climate, Cape Town offers just about everything you could want in a SUP destination… and a few things you don't.
Cape Town was forged eons ago when tectonic forces pushed the South American and African continental plates together, crumpling the earth's crust upwards to build tall mountain ridges and sculpt deep bays. After being sanded down by millennia of erosion, the Cape Peninsula hangs off the bottom of the African continent and curls into the southern ocean like a crooked index finger. It's a popular myth that here, on the fingertip of Africa, you can see a line where the Indian and Atlantic oceans meet.
We're perched on the granite boulders of Miller's Point but there is no line in the sea. The real meeting point for these two oceans is actually a few hundred miles to the east, at Cape Aguhlas. But even if there were a line, we wouldn't be able to see it thanks to the raging southeast wind that's blowing crushed whitecaps across False Bay.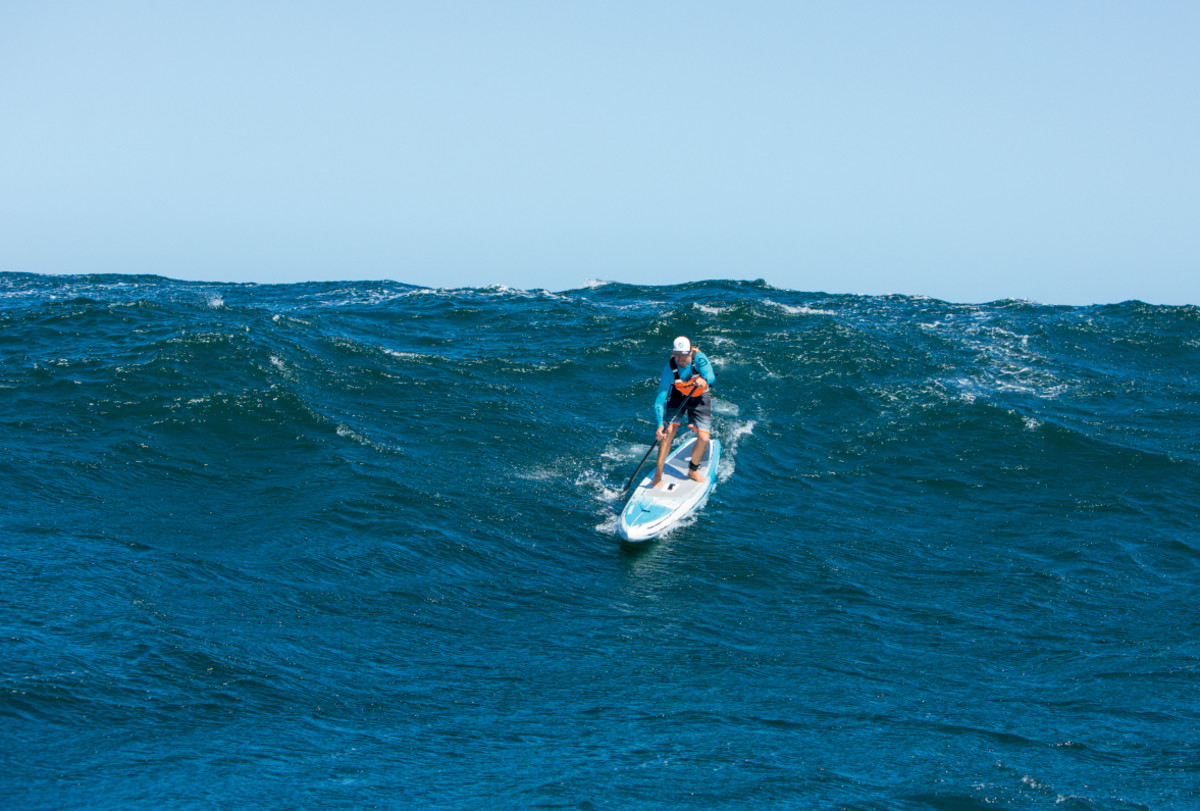 "There's going to be some good runs!" shouts Thomas King, one of South Africa's top-ranked standup paddlers, as our small crew strikes out from the lee of the protected bay into the teeth of the wind. We're headed for a white lighthouse that appears, then disappears between the swells, marking the halfway point on the Millers' downwind run. The conditions aren't conducive to a novice like me, so I've come along as support, riding in the rubber dinghy along with photographer Alan Van Gysen and our skipper, Ian. The crew in the water have the right kind of experience to tackle the 30-knot winds and building swell: there's King, along with his wife, Tarryn, a multiple S.A. women's champ. Then there's Greg Bertish, a stout waterman and brother of Chris, the man who recently standup paddled across the Atlantic, solo and unsupported. Rounding out the crew is Gary Van Rooyen, commonly regarded as the godfather of SUP in South Africa.
As we near the lighthouse in the middle of the bay the swells are amplified, creating stacked wave trains that provide runs for hundreds of yards at a time, but a cross chop is making conditions tricky. At one point Van Rooyen loses his balance and falls over into the bucking swells. "If Gary Van Rooyen's falling off, you know it's hectic out here," says Van Gysen.
Driving across the peninsula earlier, I'd been quizzing the photographer about Cape Town's seemingly endless options for SUP, along with its sharky reputation. "The only real concern is the hardcore Millers' run, because that's in the heart of great white breeding territory," replied Van Gysen. "You don't want to fall off there," he added with a chuckle.
Van Rooyen disappears briefly then scrambles quickly onto his board and on his feet in no time. The rest of the run passes without incident. An hour later, the crew are all safely on the protected beach at Fish Hoek across the bay. Despite the blustering wind, a group of elderly women are swimming in the enclosed bathing area where small, foamy waves lap the shoreline. "Any day is a water day in Cape Town," smiles Van Gysen as we dry off at our car. 
He's not just talking about the devoted grannies. An ardent standup paddler himself, Van Gysen claims Cape Town's unique geography makes it a paradise for paddlers. "If you look at it from above, the whole city and surrounding area is like an island," he explains, motioning towards the mountains and ocean around us. "So it can be pumping southeast like today, which is perfect for downwind at places like Millers' and Blouberg, but at the same time you can find somewhere offshore and protected on the opposite coast that's good for flatwater. You can pretty much paddle every day here and have a different experience each time."
Around the corner from Fish Hoek lie the bohemian cafes and galleries of Kalk Bay, which butt up against a small working harbor where fishermen haul in their catch every morning. Before this is Muizenberg, a beachfront suburb framed by art deco buildings that has undergone a boom in recent years, thanks in no small part to the fact that it's an ideal place to learn how to surf and SUP. The same road hugs the coast all the way around to Cape Point, or you can cut across the flat belly of the peninsula to the powerful waves of the Atlantic coast, where Van Gysen lives.
When we arrive at his house a 20-minute drive later, the ocean surface is transformed. The same wind that was battering us around in False Bay has groomed the icy Atlantic into a slick surface at a protected inlet called the Inner Kom. Giant bull kelp helps keep the wind off the water, which is still blustering out to sea. Beyond Inner Kom lies Outer Kom, a legendary big-wave spot Van Gysen grew up surfing with his friends. But as SUP has gradually taken over more and more of his water time, the photographer's focus has shifted beyond the popular big-wave spots of his youth.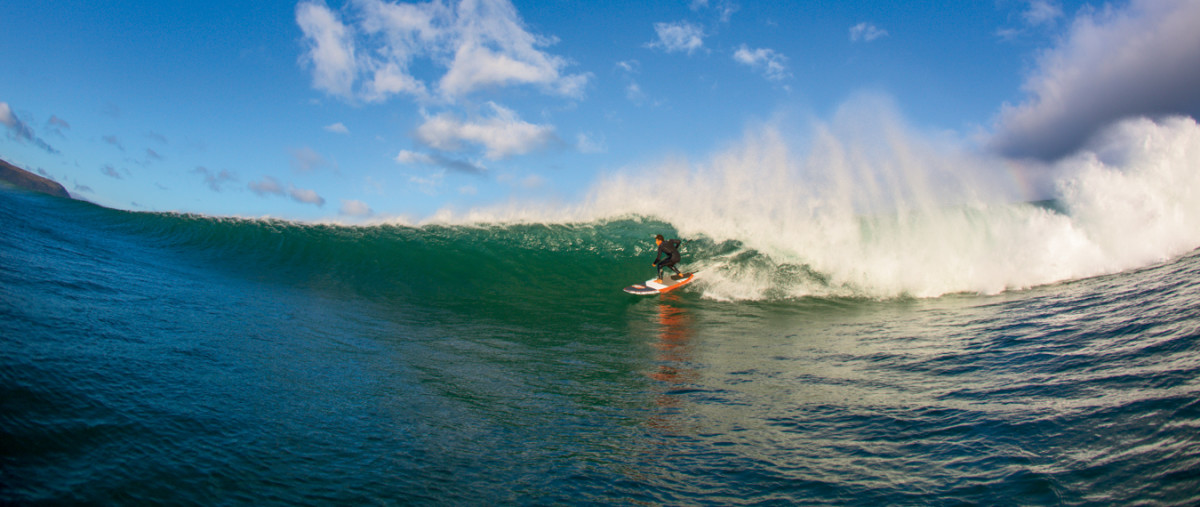 "That's Baby Pipe over there," he says, pointing to a kelp-infested patch of reef in the middle of the bay. "And that's Boneyards, around the corner. Then if you go past the Outer Kom, there's a whole bunch of other reefs and kelp beds that are hard to reach, or not really possible to ride on a surfboard, but you can SUP them. There's a whole part of the ocean around here that wasn't really utilized before…now it's like a giant playground."
This is where Van Gysen spends most of his time when he's not shooting photos: exploring the kelpy backwaters that dot the area known as Kommetjie, or paddling around the inlet on flat days with his two-year-old son, Levi, tucked between his knees.
From Kommetjie the road stretches south again towards Scarborough and the Cape Point Nature Reserve, passing the spectacular tip of Africa before looping back around to False Bay. Or you can head north, towards the city bowl.
Despite being only 20 miles away from the heart of the CBD, 'the Kom' as it's commonly called, has a decidedly country feel. It's also the epicenter of Cape Town's big-wave surfing scene and has a longstanding reputation for forthright locals. Not everyone was enamored when the revived art of standup washed up on South Africa's shores less than a decade ago. 
"It's funny," Van Gysen quips. "Some of the guys who used to be the most vocal about SUPs are part of the big-wave crew, and most of them SUP themselves now and always have a SUP strapped to their roof or tucked into their quiver. They've realized that not only is standup paddling an incredible way to keep fit and train, but they live in one of the best cities in the world to do it."
Australian Keahi de Aboitiz has been in on this secret for years. The APP World Tour standout is a regular visitor to Cape Town and the big, open stretch of beachbreak that lies north of Van Gysen's house is one of his favorite wave-riding zones.
When I get ahold of him he's just returned from a session in the hard-breaking waves that lie strewn along the 10-mile beach called Noordhoek. Despite the boiling air temperatures and blue skies, he's wrapped in a four-millimeter wetsuit to counter the brain-numbing water temperature.
"It's always a big wake up call getting back in the water here," says de Aboitiz. "Sometimes you almost forget how cold it is—until you touch the water. Certain spots are some of the coldest I've ever surfed."
Even though he's not a fan of the polar temperatures, the Australian says the waves make it all worth it. "There are a few spots just outside of the city that have some of the best waves I've surfed in the world. Perfect, giant open barrels…that's what I live for."
One session in particular stands out for de Aboitiz as being both tragic and sublimely unique in all his travels.
"We arrived at the beach one morning where 20 pilot whales had beached themselves overnight," recalls de Aboitiz. "We ended up scoring incredible barrels but it definitely felt sharky with all the activity. It was super sad to see these beached whales and not be able to do anything about it."
From Noordhoek northward, the road curves steeply over Chapmans Peak, a mountain pass chiseled into sheer cliffs that tumble down towards the harbor of Hout Bay. The cliffs then give way to a number of scenic coves, passing neighborhoods with exotic names like Llandudno, Bakoven and Clifton, where million-dollar apartments stud the mountainside and the smell of sunscreen lingers in the air. This is Cape Town's famed Atlantic Seaboard, also cheekily called 'The Riviera of Africa', thanks to the wealth and scenery on tap.
Passing Camps Bay, a bustling beachfront suburb lined with bars and restaurants, I spot a Porsche coupe with a SUP wedged into the passenger seat. A few blocks down a film crew has blocked off a section of beach where they're filming a commercial. The area often doubles for exotic locations around the world, which isn't surprising; the beaches are nothing short of spectacular, offering a series of protected nooks and crannies to explore amongst all the beautiful people, before the road finally spits you out into the City Bowl.
"It's special living in a big city where the coast is literally on your doorstep," Van Gysen tells me. The reality of this sinks in as we look out over Table Bay, across the skyscrapers that melt into the placid waters of Cape Town harbor and beyond, to the beaches of Blouberg and Milnerton.
It's only a short commute to these SUP friendly enclaves – as long as you don't get stuck in Cape Town's notorious rush-hour traffic. While the city has grown exponentially as a world-class tourist destination, the road infrastructure hasn't kept pace and many Capetonians will tell you horror stories about sitting in gridlocked traffic for hours every day.
Our timing is good, however, and we roll into the carpark at Blouberg not long after leaving the City Bowl. Translated from Afrikaans, Blouberg literally means 'blue mountain' and the iconic visage of Table Mountain lives up to its namesake in the distance. The carpark is relatively empty but as five o'clock rolls around, more and more vehicles pull up with SUPs of every shape and size strapped to the roof.
"The best place to explore here is around Big Bay," says Andrew Kellet, owner of Paddlezone and a multi-discipline paddler. "It's hard to beat Table Mountain as a backdrop, there's hidden little beaches and then you've got a number of small surf breaks that are perfect for SUP."
Kellet attributes this to a pair of small islets which sit just offshore and refract the swell into a series of user-friendly wedges that bounce and peel into a protected beach called Small Bay. Out in the water it's a mixed bag of beginners and experienced paddlers rinsing off the hot summer's day, vying for waves or paddling around the small islands. A few kids are learning to SUP with their parents while a middle-aged man is paddling on his knees, a golden retriever parked on the nose of his board. It's hard to tell who is more stoked.
By the time the last diehards get out of the water it's well past 8 p.m. as the sun finally starts to dip below the horizon. In winter, however, it's a very different picture.
"You need to choose your season depending on what you want to do," says Kellet, pointing out that during the winter months, Cape Town is the first place cold fronts from the Roaring Forties (a storm belt just above Antarctica) make landfall. Come June, and these fronts hit the peninsula with alarming regularity, bringing with them huge swells and plenty of rain. This suits Kellet, who cut his teeth whitewater kayaking, just fine.
"Whitewater SUP is relatively new to Cape Town, so pretty much every river I paddle is a SUP first descent," he laughs. "The options in and around Cape Town are pretty limited—the rivers rise quickly with the rains and fall quickly, so you have to be prepared. But further out of town there are some great overnight options, especially in the Cederberg (Mountains) where the rivers hold their water longer."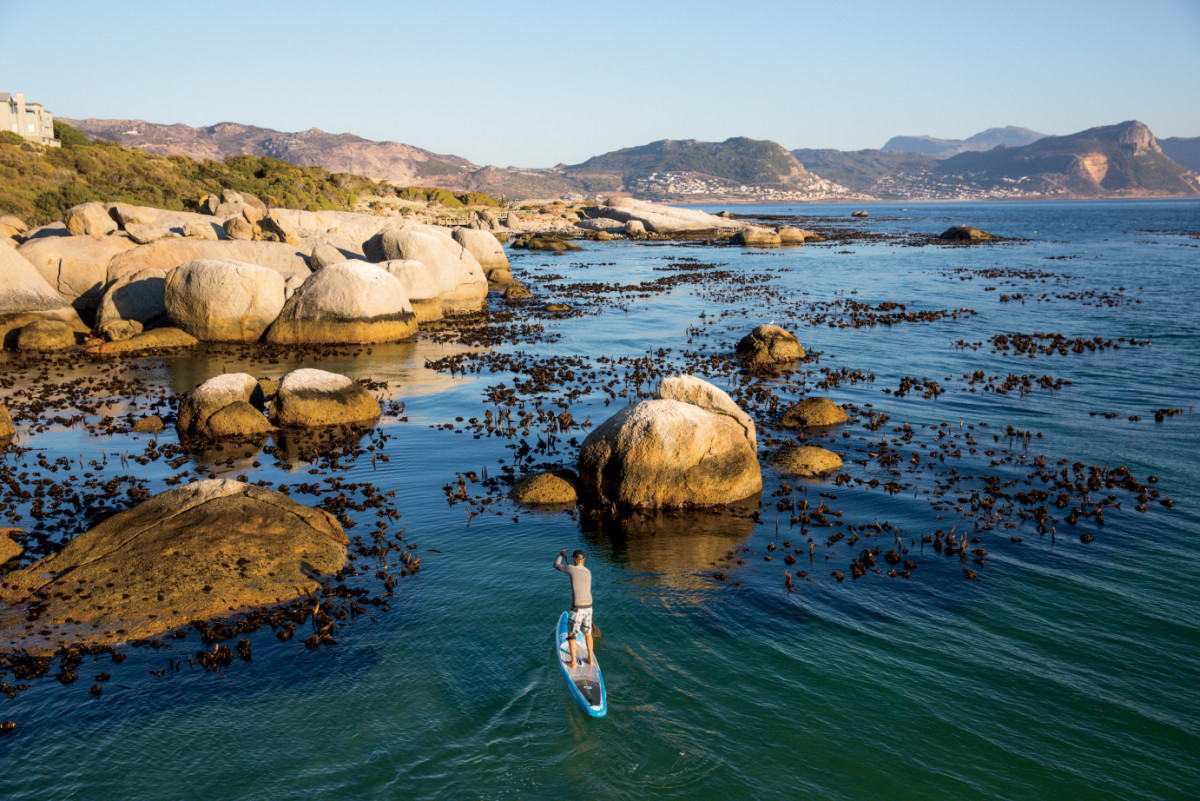 A couple of days later I'm back in False Bay, where a broad smile of sand curves around to the Hottentots Holland Mountains in the distance. On the way to the beach I'd passed Zandvlei, a sprawling estuary bordered by thick reeds and soft, grassy lawns. Three mornings a week, Clellind Bertish, wife of Chris, holds SUP yoga classes along the vlei (a small lake). The classes are regularly packed to capacity.
The water is also packed at Muizenberg, teeming with all manner of surf craft as a gentle offshore brushes back the mellow waves. Hipsters and tourists quaff coffee and croissants along the beachfront, while the surf shops do a roaring trade.
"I caught my first wave here in 1964 when Muizenberg was a very different place," says Gary Van Rooyen, recalling how "the Berg" used to be the choice destination for wealthy inlanders to come spend their holidays in the old stately Victorian houses that line the main road.
Back then, Van Rooyen's craft of choice was a longboard, which he skillfully rode for decades before taking up windsurfing, kiteboarding and, later, standup paddling. But over the same stretch of time, Muizenberg's status declined and the neighborhood became a rundown warren of crack dens and dilapidated properties. It was only in the late '90s that businesses and residents started to cautiously invest in the area again, driven by an irresistible proximity to the beach and a resurgence in the popularity of surfing. When a good friend of Van Rooyen's returned from Hawaii and introduced him to SUP in 2008, the neighborhood was on the up. Being a waterman who has always had his finger on the pulse, Van Rooyen set up the first exclusive SUP store in Africa not far from were he rode his first wave. It was anything but smooth sailing in the beginning.
"We would sell one board a month and the sport was snubbed by surfers," says Van Rooyen. "We had to give boards to retailers on consignment because they didn't have the confidence to invest in this unknown sport."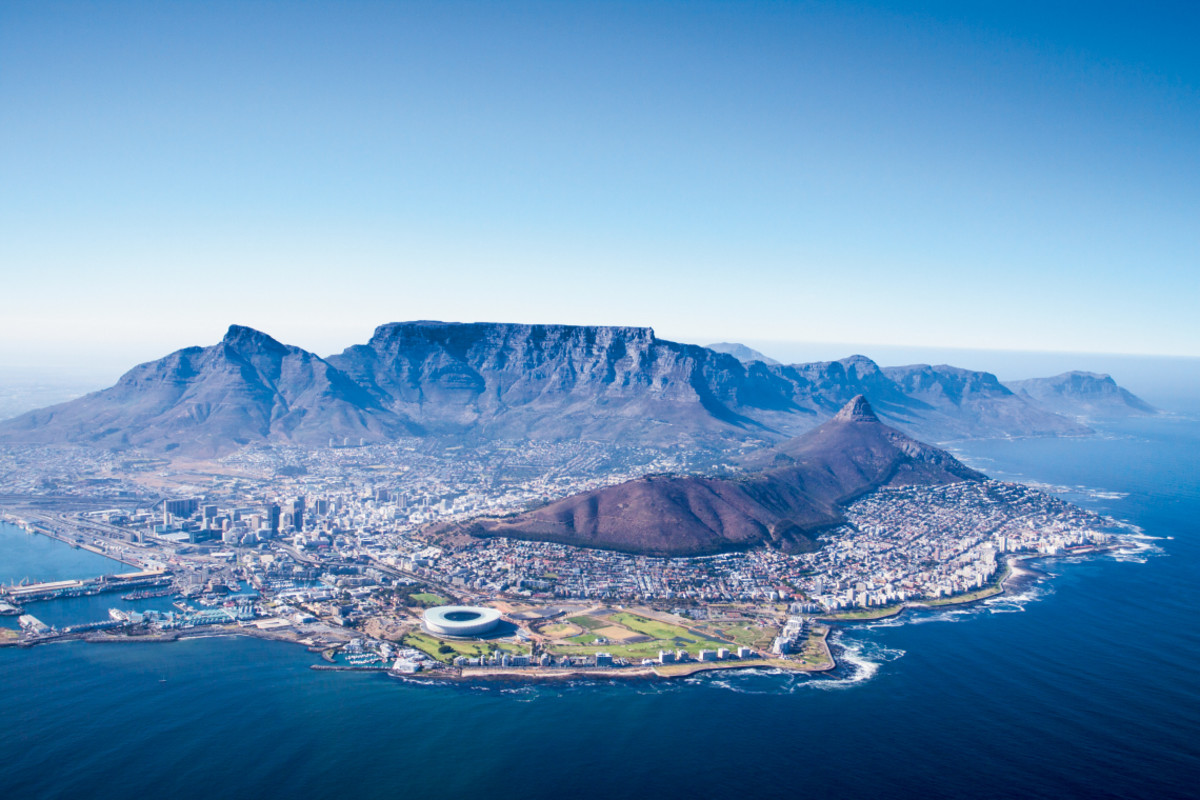 But with Van Rooyen's relentless enthusiasm and the ideal nursery grounds of False Bay, it was inevitable that SUP would catch on. Not long after, he ended up buying a fledgling brand called Coreban and set up his headquarters in the Berg. The rest, as he says, is history.
"Muizenberg has become a year-round destination for international tourists," says Van Rooyen. "And a lot of that's got to do with learning to surf and SUP. We've got eight surf and SUP shops now, and it's one of the world capitals of surf instruction."
The magic ingredient for all this lies in the Berg's gentle bathymetry. As swells wrap into False Bay, they are slowed down by the gradual change in depth and sculpted into long waves that run left and right as far as the eye can see. Even relative beginners can get rides up to a hundred yards long. Unlike the competitive lineups of Kommetjie, the mellow waves are complemented by an easygoing atmosphere where, for the most part, nobody takes themselves too seriously. As Van Rooyen says, "Surfers have come to realize that SUP is here to stay."
In front of his shop lies a row of multi-colored bathing houses, a throwback to the Victorian era that has somehow withstood the Berg's metamorphosis intact. A flag bearing the outline of a great white shark flaps in the breeze above the bright roofs.
While False Bay is paradise for learners, it also has the highest population of great white sharks near a major city center of anywhere in the world, according to a recent study. But if Cape Town's ocean users are overly concerned, it doesn't show.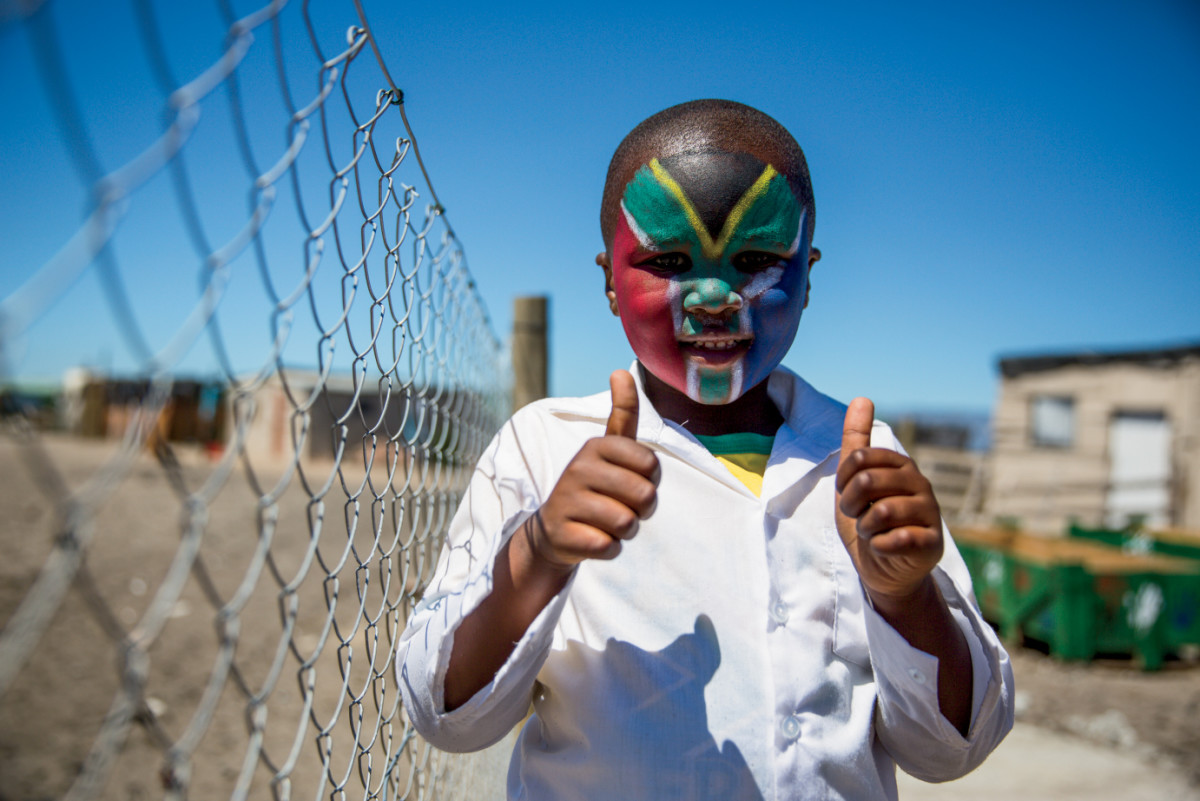 Van Rooyen has seen a number of toothy visitors but points out that incidents are rare. To date there has never been an attack on a SUP. "Plus we've got the Shark Spotters," he says, referring to the nonprofit organization that employs a crew of dedicated spotters who keep watch with powerful binoculars from the mountainside. If the spotters see a shark getting too close to ocean users, they radio the ground station who set off a siren, clearing the water. The system of flags helps communicate what the shark status is to the public—black with the outline of a great white means visibility is poor but no shark activity has been detected. Green means it's all clear. A white flag with a solid black shark means there's a shark in the immediate vicinity and the beach is closed. "Most times the sharks just move off and 15 minutes later, everyone is back in the water," says Van Rooyen.
The wind has dropped off to nothing more than a gentle puff when I find myself with Van Gysen again a week later. We are back where we began, amongst the granite boulders on the road out to Cape Point. Instead of raging whitecaps the sea is a blue sheet of glass. Our only company besides the odd SUP is the African Penguins, who carry on about their business unperturbed, marching in single-file around the boulders or swimming amongst the kelp.
The wind is forecast to pick up later but for now it's postcard perfect. After snapping a few photos, Van Gysen packs up his camera and trots back to the car. He unties the boards from the roof, grabs his paddle and heads for the shoreline, motioning for me to follow suit. "Any day is a water day," he calls back, grinning, before he strokes out into Cape Town's ever-changing sea.
This article was originally published in SUP's 2017 Gear Guide, available here.
Explore more:
Charging Chilean Whitewater: A First-Ascent Spree in South America
Searching Southeast Asia by SUP
The article was originally published on Standup Paddling
For access to exclusive gear videos, celebrity interviews, and more, subscribe on YouTube!