Words and photos by Chuck Graham
While in search of a permit to paddle around Mono Lake, nestled at the foot of California's Eastern Sierra Nevada mountain range, I inquired with a stoic gentleman sporting a mustard-colored vest, a classic comb-over and bifocal eyeglasses at the Mono Lake visitor center.
"You can die out there," he said deadpan. "Folks paddle out there and they don't come back. The winds come from out of nowhere and catch people off guard."
I think he was trying to scare me and probably wanted to see if I'd blink. He was leery of our paddling prowess despite me doing my damnedest to convince the man that Patrick O'Hea, Will Miller and I could handle whatever the lake threw at us. I'm a kayak guide at the Channel Islands National Park. Patrick and Will are former U.S. National Rowing Team members. Still, the man wasn't having it.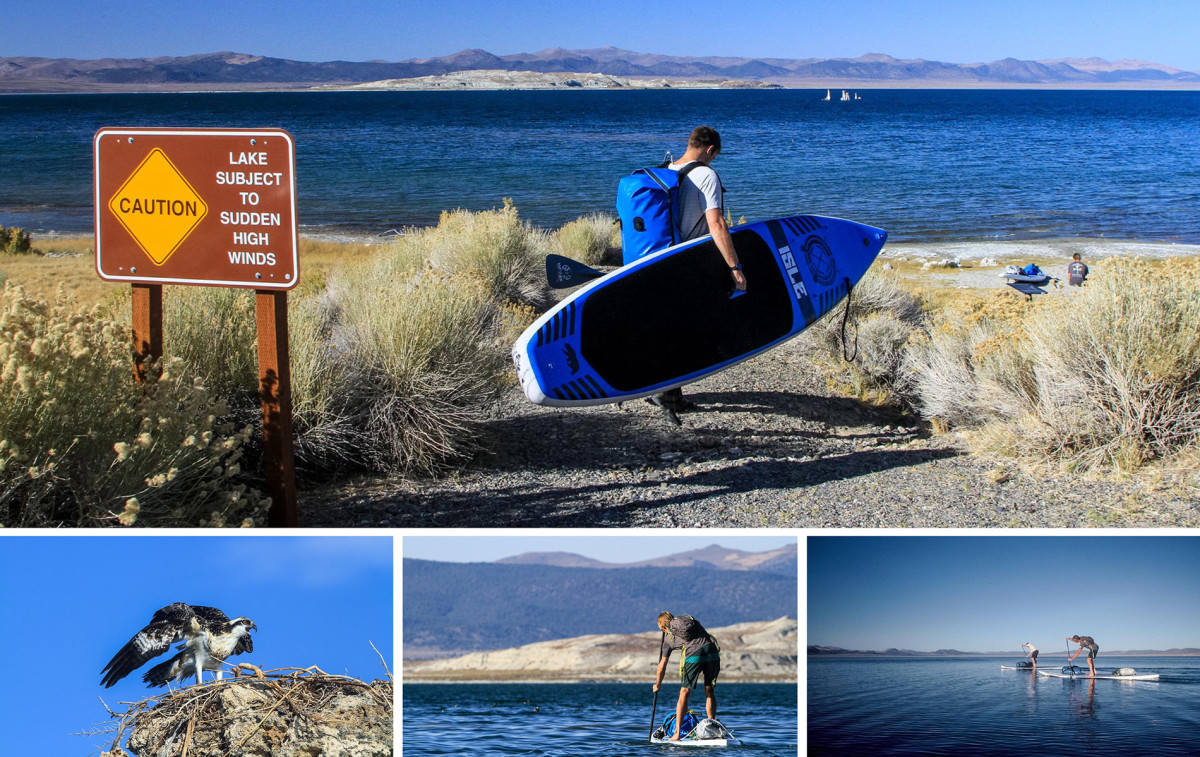 "People come out here to paddle a kayak or a standup paddleboard and underestimate the winds blowing out of the desert," he continued as a busload of Japanese tourists flooded into the congested entryway of the Eastern Sierra visitor center. "Just sign here so we can keep track of your whereabouts."
Now we're talking. We high-tailed out of the visitor center with a free permit allowing us three days of paddling at just over 6,000 feet, this high desert realm located at the base of towering snow-capped mountains. After ditching the watchdog we drove our trucks to Navy Beach on the south side of the saline lake and below the Mono Craters. We had it to ourselves—tufas, freshwater creeks, islands and chirping ospreys.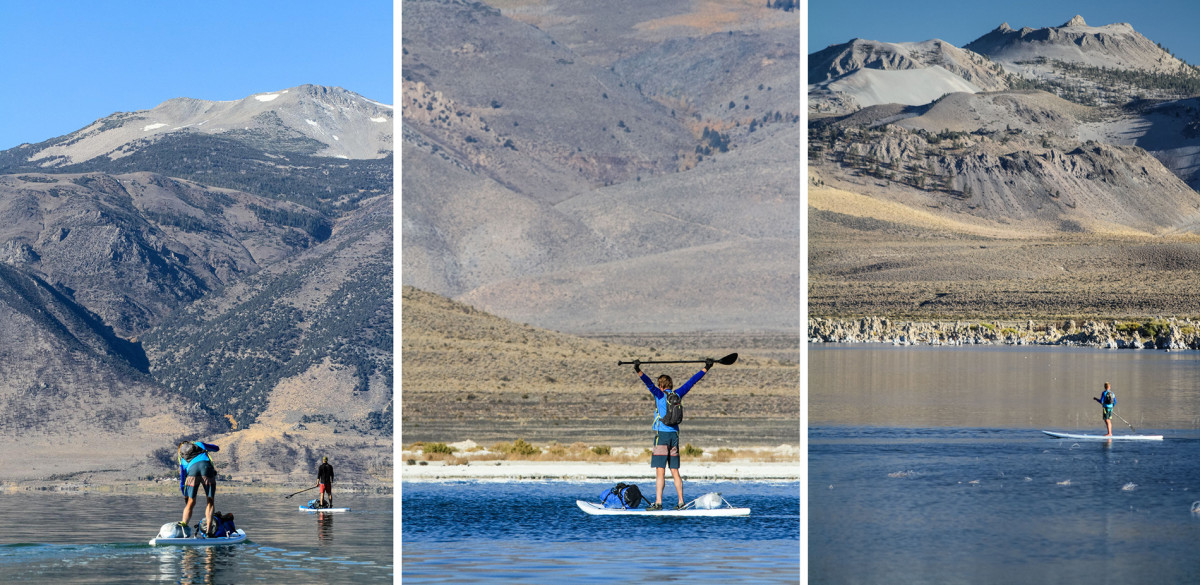 Launching was simple as we sprinted across the lake to Paoha Island. Though I admit, we did take note of the "Sudden High Winds" sign while hauling gear down to the muddy shoreline. But the paddling was sublime as we waded through huge flocks of eared grebes and red-necked phalaropes, migratory birds that number in the thousands during their annual fall migration.

We had our pick of the islands and selected a small, gravely, low-lying isle covered in high desert sage with epic views of Tioga Pass winding its way toward Yosemite National Park. California gulls fed on brine shrimp that are a staple of so many avian species, except the ospreys which perched themselves on the clusters of tufa columns like chirping gargoyles.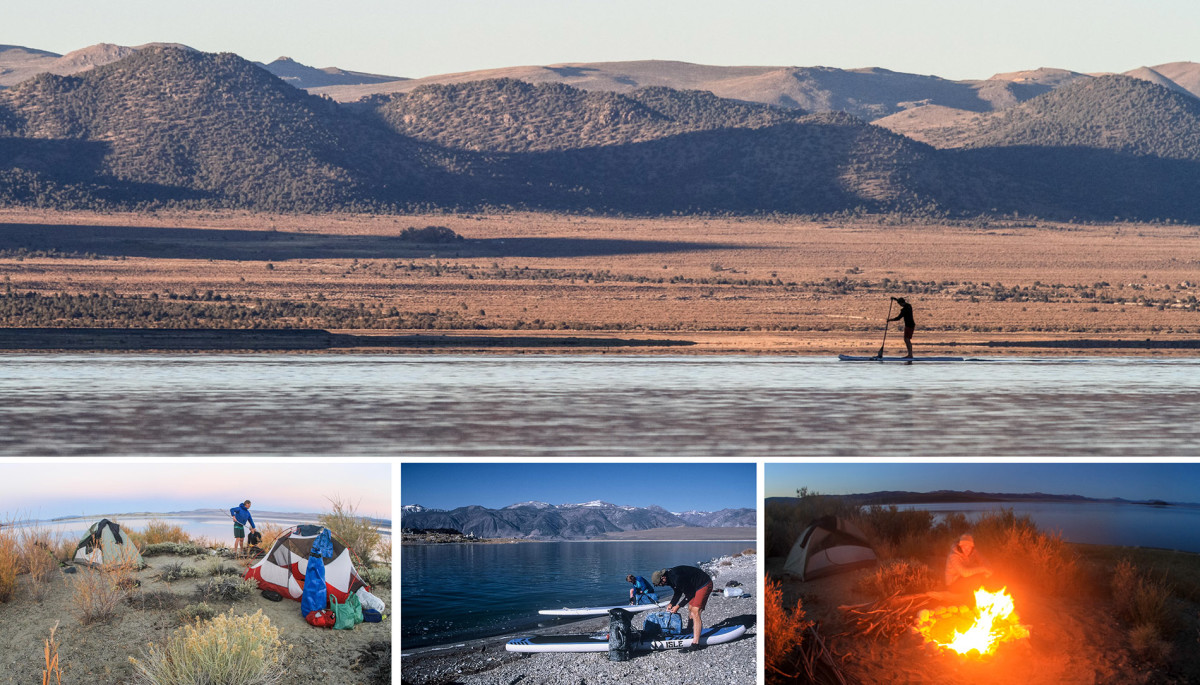 The next night we found an ideal campsite on a sandy beach elevated just enough to soak in the expanse of Mono Lake. Before sundown we paddled for the tufas and weaved between knobby limestone columns formed by carbonate minerals found in the lake. They were also ideal for nesting ospreys taking advantage of the tallest tufas overlooking the lake.
Beyond the tufas, the daunting Mono Craters loomed above the southern horizon. The ashy-coned cylinders were stacked on top of each other, highlighted by the setting sun and a clear reminder of the geological wonders surrounding the Eastern Sierra.
As we looped back toward Navy Beach, the three of us stopped out in the middle of the lake and simply floated while enjoying a mid-morning bite, soaking in the stillness of Mono Lake.  Just the steady flow of Rush Creek broke the high Eastern Sierra silence, feeding the lake where several Clarke's grebes swam around our flotilla of standup paddleboards and gear.
As we floated past Rush Creek, I took note of the movie site where Clint Eastwood directed his 1973 western, High Plains Drifter, located just before the last stand of tufas. It's a film about revenge overlooking a lake that is cloaked in tranquility.
The article was originally published on Standup Paddling
For access to exclusive gear videos, celebrity interviews, and more, subscribe on YouTube!