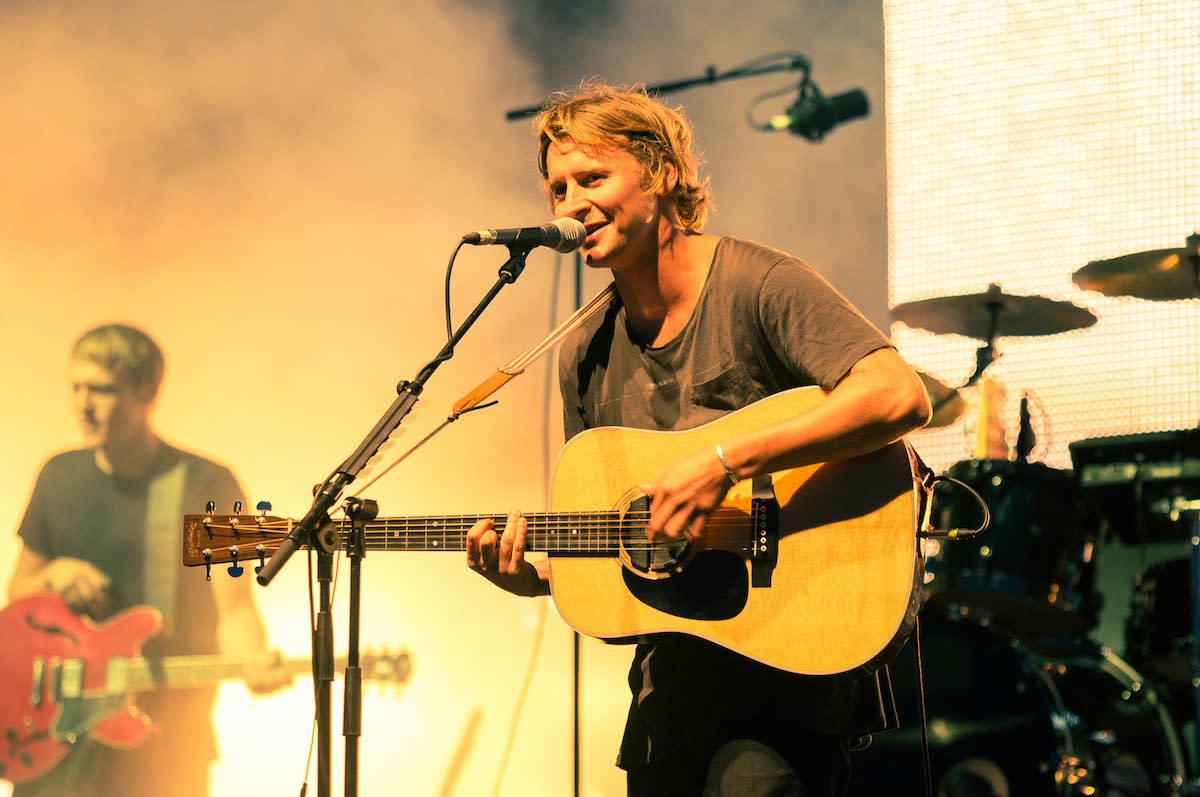 The music ends, the lights go off in London's cavernous Alexandra Palace, and, in the darkness, 7,000 people scream in approval. Suddenly the stage lights flash back on, illuminating the UK singer Ben Howard and his band. Just to the left of Howard, Mickey Smith, red guitar in hand, blinks into the light and bows in thanks to the roar of the crowd.
It seems that one of surfing's best-ever photographers and filmmakers has morphed into a rock star.
Later, over a beer at the after-party crammed with famous musicians, roped-off fans, and international media, I ask: How on Earth did it happen?
"I'm still not sure," Smith laughs. "And Ben is the star, not me, but it's pretty crazy how life turns out. I had a mad decade chasing waves around the world and finding new ones in Ireland, but life changes and I wanted to start enjoying my time in the ocean, because I had lost that. I also wanted to expand my other creative pursuits, like music."
That decade Smith is referring to is a time when he documented surfers like Fergal Smith and Tom Lowe discovering some of the world's newest and heaviest waves around their adopted west coast of Ireland. Smith's arty, dark, and creative images scored dozens of surf magazine covers, and his movies "The Power of Three" and "The Dark Side of the Lens" won countless international film-festival awards.
"It was a special time, and we didn't stop moving or looking for adventure for about five years. It was just full on," says Smith. "Then my sister died and I had a baby, so I just decided to reset my life. I made 'Dark Side of the Lens' and then just edged away from the surf world. I'd had enough, really."
Howard, an avid surfer and a big fan of Smith's imagery, had asked Smith to photograph his "Every Kingdom" album cover as well as direct a few of his music videos. However, Mickey had also played guitar all his life in various bands, and when Howard needed a new guitarist, Smith dropped the camera for the six-string.
He has since backed Howard on his sold-out world tours as well as performances on the "Letterman Show" and at Glastonbury.
"As I said, it kinda blows my mind to play to these huge crowds and be a tiny part of Ben's success," Smith says. "However, my photography is still a huge passion. I'm just about to release a book called 'Decade,' available through my website, which features all the unpublished photos from those years chasing waves and trying to capture the moods of the ocean. It's been a journey, all right; you could never have scripted it. And who knows where it all will lead?"
More from GrindTV
Surf Lakes promises 3,000 waves per hour in new Brisbane wave pool
Photographer Terry Richardson turns up the heat with Anastasia Ashley
For access to exclusive gear videos, celebrity interviews, and more, subscribe on YouTube!