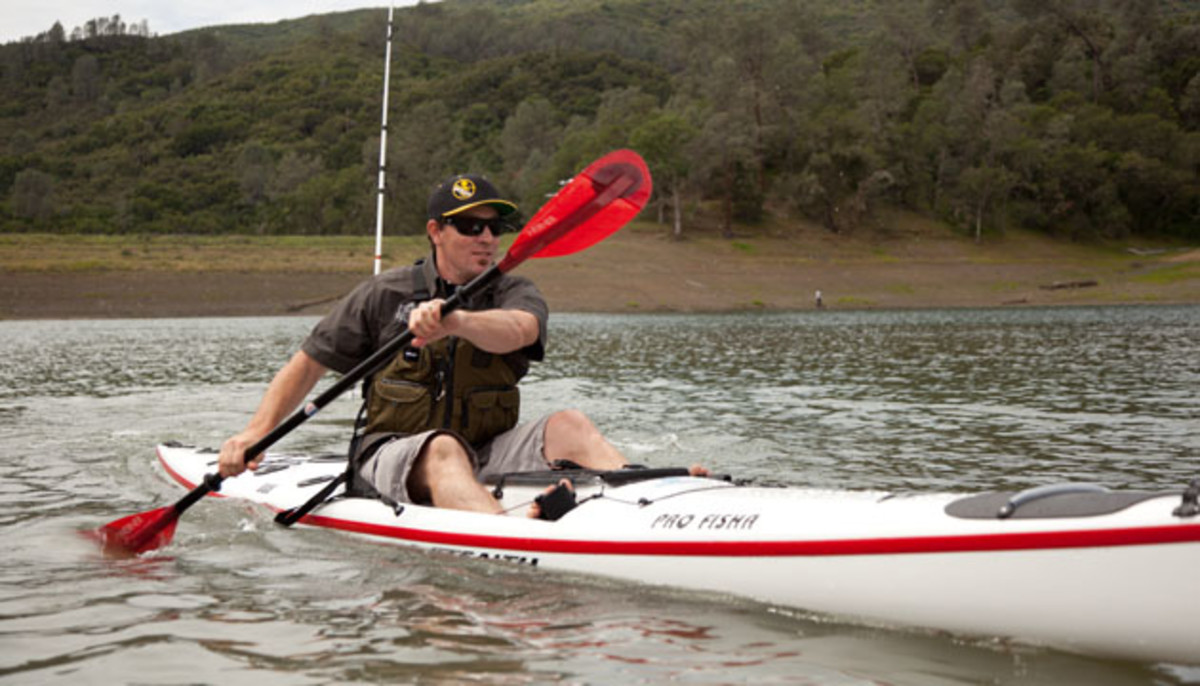 Stealthy Invaders
Real Offshore Rockets Come to the U.S.
Words and Photos by Paul Lebowitz
"I was a paddler first. I like to go fast, I like to surf, I like to have fun, and I like to catch fish," Dan Arbuckle says. He's sitting atop a flashy white fiberglass craft with striking white trim. The boat is a looker, low slung and narrow, with a prominent, graceful bow. Dual flushmount rod holders aft betray the boat's deadly nature – this is a predator.
"This boat does it all," Arbuckle says.
The logos on the side read "Stealth" and "ProFisha." If it looks fast now, you should have seen it under Arbuckle's deft control. Moments ago it was slashing effortlessly through the water, carving aggressive lean turns, moving in a way no U.S. fishing kayak ever has, not even the Scupper or original Tarpon 160.
Arbuckle runs Headwaters, a paddling shop headquartered in Lodi, California. He's a technically gifted paddler, a man at home in a demanding sit-inside. But don't get Arbuckle or his shop wrong. It's filled with fishing boats, mainstream models built for standing, bristling with rod holders and sporting the latest elevated seats. He's no snob; he fishes them too, with gusto. They're outstanding fishing craft. They aren't fast, or designed to chew up the miles or take on big fish in intimidating conditions. Arbuckle figured they needed speedier, higher performance cousins.
"I didn't see anyone serving the high performance market," Arbuckle says. It's different in South Africa, where nasty ocean waves demand seaworthy rides. Stealth Performance Products, out of Pinetown, has been making a big push on the fishing side. Arbuckle, already known for bringing in the newest brands, ordered a shipping container full of the missiles, and debuted them at the NorCal Kayak Anglers Festival at Lake Berryessa.
I was keen to give these fiberglass beauties a once-over. Arbuckle has brought in two main lines, the ProFisha and the Evolution. The ProFisha is the sleeker of the two, about 24 inches wide. It comes in 475, 525 and 575 models retailing for $2,800 to $3,0000. None weighs more than a relatively featherweight 55 pounds. The ProFisha is every bit as fast as advertised, the quickest purpose-built fishing paddlecraft I've encountered.
It's stable enough – I could sit sidesaddle and shimmy up and down its length – but designed to accomplish everything right from the low volume, Spartan cockpit. That consists of an indent for the paddler's posterior, and a couple of recessed footwells right at water level. The only nod to comfort is an old-school backband, although Arbuckle is working on an improvement.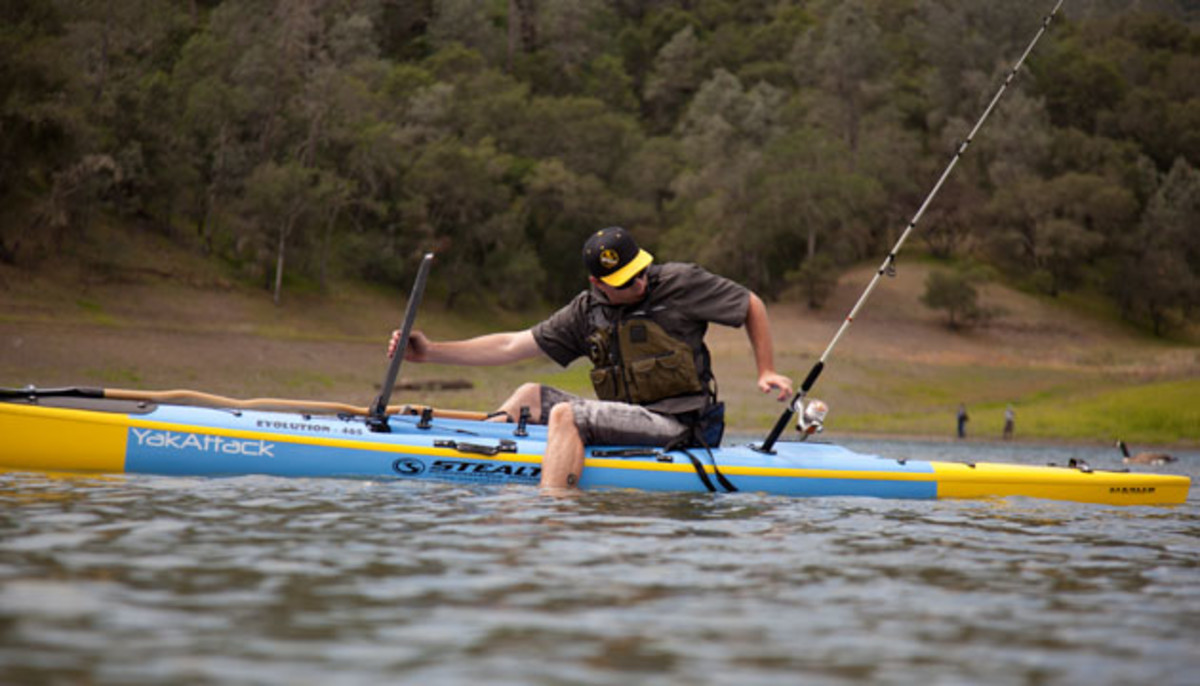 A long, center console hatch accesses ample below-decks storage. It's wide enough to stash fish, tackle and rods, and the only way you're getting in there other than a round hatch perched on the stern deck. There's no bow hatch, just a place to park your paddle. There's a rudder, a low-profile blade under the stern. Control is precise. The whole feels at once bare bones – just the essentials – as well as keenly honed to its purpose.
The Evolution comes in 430, 465 and 495 models ranging from $2099 to $2,999. It's a little wider, a little more forgiving to paddle, and just as kind to the eye. There's more primary stability, but it's no slouch when it comes to the quicks. I expect it would outrace any fish hunter other than its ProFisha sibling. Fishing features are similar – everything you need, but nothing more, for anglers who want to hunt far across a tumultuous ocean.
The article was originally published on Kayak Fish
For access to exclusive gear videos, celebrity interviews, and more, subscribe on YouTube!