This interview was published August, 2014
During an afternoon at Pier 36 in New York, known simply as Basketball City, a revitalized sports mecca in the shadows of the Manhattan Bridge, I got to ask NBA guard Stephen Curry a unique question: "So, honestly, how did I shoot today?"
A slight but knowing smirk crosses Curry's face, followed by a pause that can only be categorized as the most polite response a human can muster as he searches for the right words. The 26-year-old All-Star for Golden State, a second-generation pro talent, is arguably the best shooter in the game today (he still says Ray Allen is king). Curry's career 44 percent from beyond the arc is currently third in league history as he enters his sixth season. But drawing from the Degree slogan he wears across his back as the brand's ambassador, Curry believes he can always "DO:MORE" to improve.
"I'm just trying to hone my skills to a more precise and better level than they were last year when it comes to ball handling, seeing the floor, pick-and-roll situations, and shooting the basketball," Curry says. "You can never really stop working."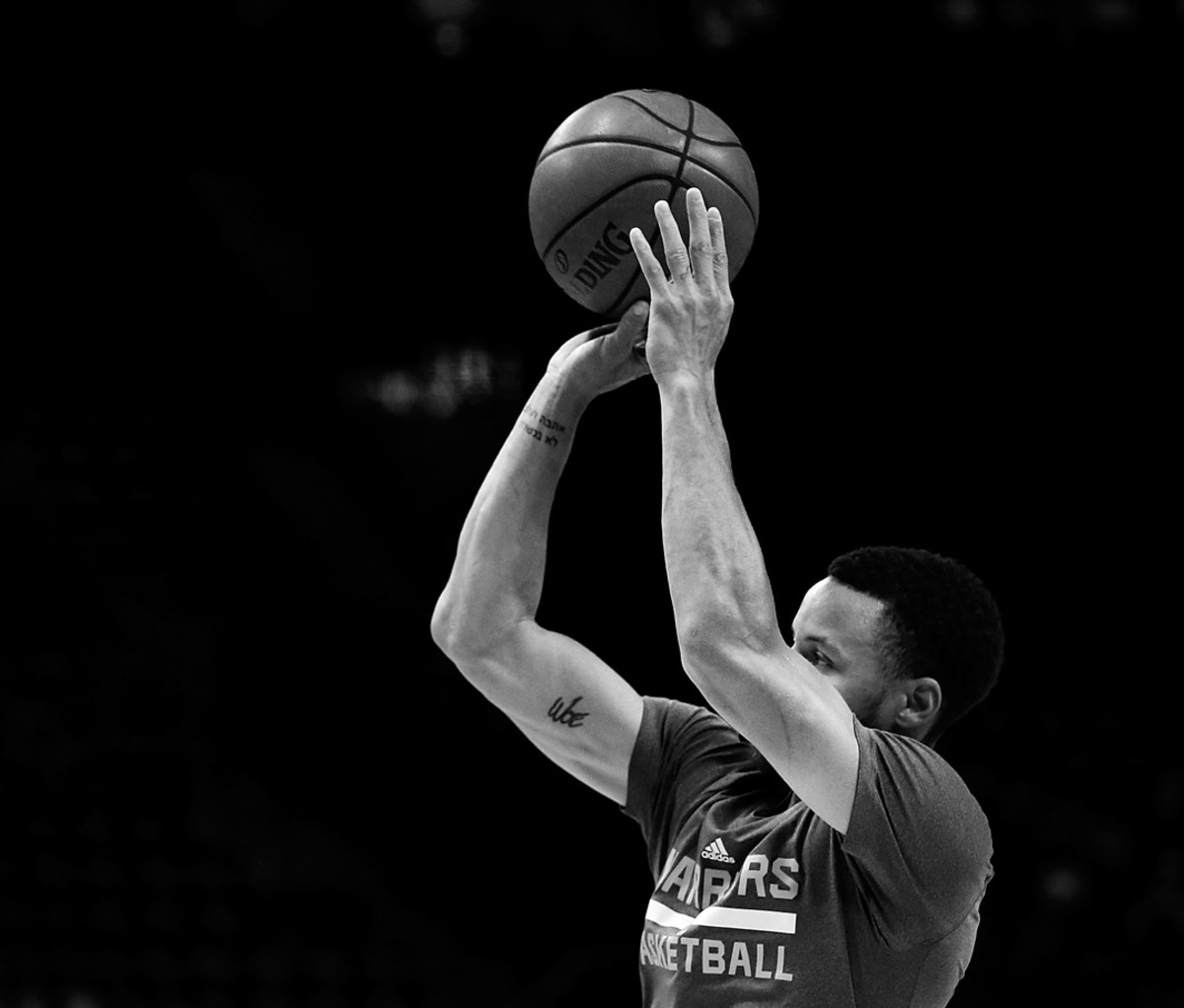 Curry walks a few of us through his summer shooting drills, explaining everything he works on from bottom to top with an acronym he learned from his father as a kid: B-E-E-F
Balance: "Keep your feet shoulder-width apart with your dominant foot just slightly ahead of your other, maybe six inches. Bend your knees for a good foundation."
Eyes: "Keep your focus on the front of the rim. There are three hooks holding the net up that are always facing you, and they're about the width of a basketball, so I lock my eyes on that target and try to put the ball just over those hooks, instead of aiming at the back of the rim."
Elbow: "Keep your elbows bent with your upper arm perpendicular to the basket and parallel to the ground so it's stacked—not just hanging out like a chicken wing."
Follow-Through: "You always have to follow through every shot. It helps you shoot with a better arch and get a better rotation on the ball. And there are always cameras on you, so it helps you look good whether you make it or miss it."
He also explains how his bodyweight workouts focus on becoming stronger in moves specific to basketball, "Like exploding to my right hand, pushing off, and being able to get to that spot quicker, and rise for the shot quicker," while also not building bulk that might confuse his feel for the ball. "My body won't change much, but I'll be stronger each year."
After the drills, we square-off in a three-point contest. I make eight of 25, followed by Curry nailing his first five in succession before missing 15 straight in the way only a polite man with pinpoint accuracy can. So how did I do?
"You're like Tim Duncan," Curry finally muses. "You like to use that glass. That's your forte. Once you get the touch for it, you'll be fine. And you got better once you were outside the arc, so maybe you're just too strong for this game."
Yes. It's definitely that. Absolutely. And nothing else.
For access to exclusive gear videos, celebrity interviews, and more, subscribe on YouTube!