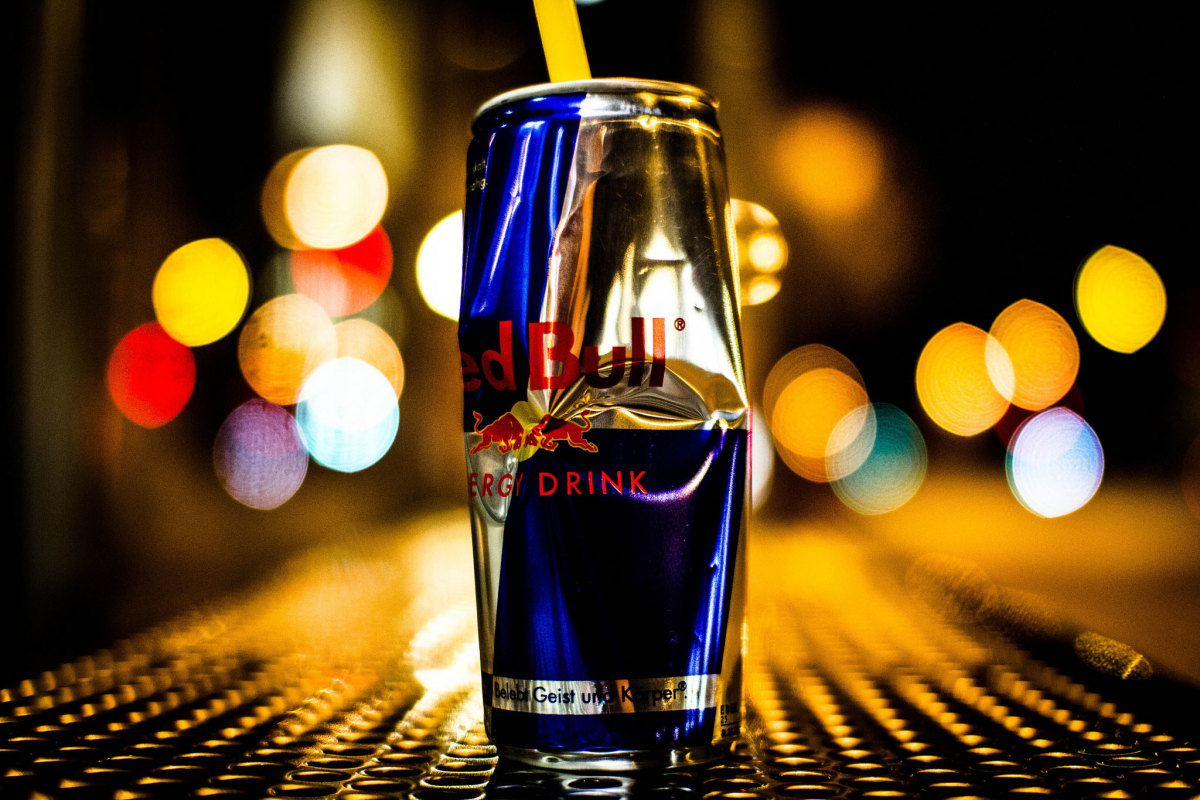 When athletes of yore wanted to Be Like Mike, they drank Gatorade. Most athletes, even if basketball wasn't their game, wanted to get their "23" on.
But in the last decade, a big change went down—so many athletes, shilling for so many different (purportedly) performance-enhancing drinks.
Want to be like Ken Block? Monster is your get-down. Travis Rice? Enjoy your Red Bull. Shred like Bucky Lasek? Reach for the yellow of Rockstar.
To keep this Socratic charade going for one last, albeit odd, query: What would happen if you saw the caffeinated, carbonated, and contorted universe through the drink itself? If you did that, you'd have to enter the world of British photographer Stephen Gill, who gave his photo process wings by pouring energy drinks into the chemical mix.
Adding some local flavor, the photographer used energy drinks that were bought in the same borough of London where he shot the photographs in his collection "Best Before End." The specific drinks he used are part of the titles of the prints in the collection featured in this piece for The New Yorker.
The effect is remarkable; most prints appear to have another layer. And different drinks deliver different, sometimes Dilaudid-like, effects: Organic Energy adds a sepia tone, B52 washes out the image, and Rockstar Xdurance is like a black light.
These distortions are amplified by Gill's process. Here's how he did it: He took partially processed images and soaked them in individual energy drinks, which softened the film's emulsion. Once the images were malleable, he could stretch, move, and distort the layers, often finishing off the fun with a few brushstrokes—almost the same way you Red Bull–sipping kids do with the Photoshop.
Published recently by Nobody in association with Archive of Modern Conflict, a cloth-bound hardback of the images is 72 pages long, includes 43 photographs, and costs 44 British pounds.
Gill "writes in the book, The series 'Best Before End' is an attempt to reflect and respond to the intensity of inner-city life by focusing on the phenomenal rise of energy drinks. These powerful and potentially dangerous stimulants are being sold and consumed in ever-increasing quantities as the demands of modern life and the growth of a 24-hour society almost forbid us to become tired."
And he pulls it off. Some images make you see through bleary (but jittery) eyes, while others are colorful enough to make you feel like you're underwater (sometimes tropical, sometimes polluted, and sometimes under ice). And a few are cracked and brittle like they're from the desert floor.
The book's author, Will Self, who is a literary rock star himself, puts it a different way in the foreword (caution, you may have to read this one two or 20 times): "Stephen Gill's beautiful images, which incorporate energy drinks as an integral part of their processing, capture this strange state of being at once driven and aqueous, simultaneously sweet and oh so bitter. The 'Best Before End' series memorialises the freewheeling Decline of the West; which, to paraphrase Alfred Jarry, the founding father of pataphysics, is best conceived of as a downhill bicycle race sponsored by a major-brand energy drink in which all of the pursuit riders have the red head of the Minotaur. For myself, I'm way out in front of them and pedalling HARD."
More from GrindTV
Red Bull gives you…well, Red Bull
Bicycle art made from tire tracks is a hit
Iceberg in Greenland immortalized in 'Monuments Project'
For access to exclusive gear videos, celebrity interviews, and more, subscribe on YouTube!