At an unmarked warehouse in an industrial park near Los Angeles International Airport, Hollywood's top stuntman crew is about to start a brawl. Two tattooed toughs wielding staffs corner a warrior named Daniel Graham. In a blink, Graham uses his own staff to take down one thug with a wicked flourish and, a second later, wipes out the other, flipping him onto his back and delivering a devastating finishing punch. As soon as the sequence is finished, Graham and the rest of 87Eleven Action Design – a gym, stunt-choreography studio, and production company rolled into one – gather around a laptop to critique the fight sequence. At 87Eleven, the stuntmen are trained to land punches – and also direct films. "We teach our young guys to fish for their meals," says 87Eleven co-founder Chad Stahelski. "The art of stunt-making is not about falling down; it's about getting the shot. Creating stunts is creating heroes."
87Eleven is a one-stop shop for blockbuster fight scenes. Founded by two stuntman veterans, Stahelski, 46, and David Leitch, 42, the company is upending the traditional fight-choreography business model. When it learns of a major action movie in preproduction, they create, shoot, and edit original stunt sequences – and then pitch them straight to the director. After being hired, they whip the film's stars into shape and teach them the preplanned fight choreography. Finally, when filming begins, Stahelski and Leitch are on set as the film's stunt coordinator and fight choreographer, and their crew of stunt performers serve as the stars' stunt doubles and the evil henchmen. The company has been so successful – a few of its recent films include The Bourne Legacy, Expendables 3, and the Hunger Games series – that Stahelski and Leitch have just directed their own movie, the Keanu Reeves revenge thriller John Wick.
The transition from stuntman to director, though rare, is natural, according to Leitch. As he and Stahelski began filming their own scenes and pitching them to directors, they learned how to photograph and edit. "As a stunt guy, you become a mini-director," Leitch says. "You're talking to actors about performance. The way you present a stunt is tied in to the way you photograph it, so you're hanging out with the cinematographer. You learn tricks to make action look more dynamic – having the fight come toward you or shooting on a longer lens to compress the speed."
Before founding 87Eleven, Stahelski and Leitch kicked, punched, and fought their way to the top of the stunt world for more than 20 years. The pair first met in the early Nineties at a karate academy. Leitch then worked with Brad Pitt, executing the star's combat scenes in movies like Fight Club, Mr. and Mrs. Smith, and Troy. Stahelski worked as Brandon Lee's double (and eventual replacement) in The Crow and performed Keanu Reeves' fight work in the Matrix movies alongside an Asian stunt crew. "While filming The Matrix, we studied how a Chinese fight-choreography team trains actors before production starts so that they can participate in action sequences in a more dynamic way," explains Leitch. "We wanted to bring that to Western cinema."
87Eleven kicked down Hollywood's front door with its first major project – Zach Snyder's sword-and-sandals blockbuster, 300. After getting the gig in 2004, Stahelski and Leitch moved their team to Montreal for a few months of intensive preproduction sword and hand-to-hand-combat work with the film's cast. They drilled the actors in martial arts and sword skills, ultimately choreographing a number of complex fights. The resulting hit movie raked in more than $457 million at the box office and became a chiseled-ab business card that soon brought directors calling.
James Mangold, the director who worked with 87Eleven on The Wolverine, says that Leitch and Stahelski's ability to tailor fight sequences that help narrate a film sets them apart from other stuntmen. In 2013, they built Wolverine's fight style to change and progress alongside the character's arc. "Inevitably, when I talk to a stunt guy about a scene, they provide me with a menu of stunt gags that might fit," Mangold says. "But [Stahelski and Leitch] understand that an onscreen fight has to serve the narrative. They are always talking about story."
Stop by on any given day at 87Eleven and you'll see Hugh Jackman or Jason Statham working through aikido moves, slick pistol handling, and archery. The company's team members are experts in every type of stunt (falling, burning, driving), but the house specialty is hand-to-hand combat. Everyone has mastered multiple disciplines, from ancient wushu to a high-flying style known as tricking. Leitch and Stahelski have even developed their own style for the movies; they call it movie-do (sounds like tae kwon do), a mash-up of the biggest, loudest moves cherry-picked from a dozen different disciplines.
The facility is an action geek's dream, roughly 30 yards long and 13 wide, with a spartan workout area up front comprising rowing machines, dumbbells, and pulley systems for rows and chest-flies. Here, 87Eleven trainer Cale Schultz oversees intense CrossFit-style workouts that help turn the scrawniest chain-smoking theater majors into trained assassins. "Production wants a miracle on every movie," says Stahelski. "They want us to do something new and amazing – but then they give you a 55-year-old actor with sciatica who doesn't want to train. But that's what we do. We can take shit and make it look like gold."
While another fake brawl breaks out on the mat, Schultz urges on Ben Winchell, a 19-year-old actor training for his first action role in the upcoming sci-fi movie Max Steel. Winchell does sprints, dragging a heavy tractor tire on a rope for 20 yards, grunting and sweating the whole way. When he reaches the end of the mat, without pausing, Winchell drops the rope and does a bear crawl sprint back. After a few sets, he rushes outside and pukes in the shrubs.
"We're creatively active here every day," Stahelski says. "When studio execs visit, they notice we're always doing something. It's how we stay fresh." At 87Eleven, discipline and sweat equity are required alongside military-like self-control. The younger members address their elders as "Sir." Everybody is at work at 7 am to complete one of the high-intensity interval workouts. Dragging ass is not permitted. When the first session is complete, they practice martial arts, usually judo or jujitsu. "At the end, we spar," Schultz says. "We don't try to hurt each other, but it happens."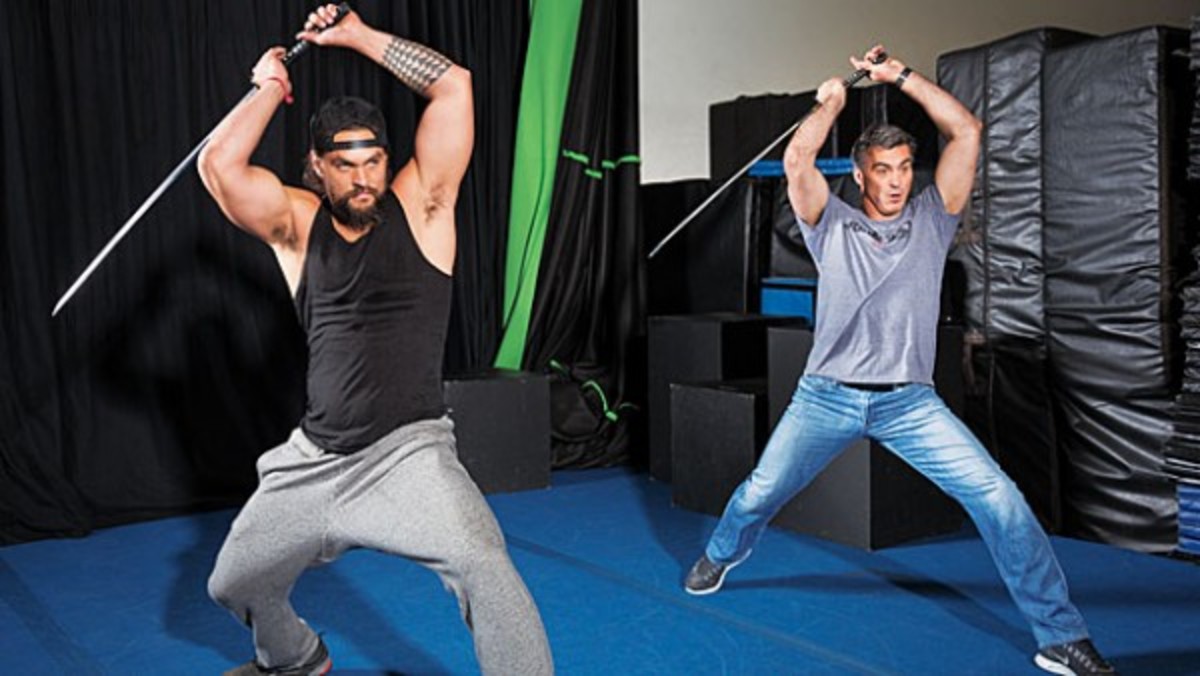 This kind of concentrated, personalized training isn't cheap – studios can expect to spend at least $500,000 for the services of 87's A-team. The work begins with 87Eleven staff members evaluating an actor's strength, flexibility, and general athleticism. "Say you can't put one foot in front of the other, you punch like a child, and you're not flexible at all," Stahelski says. "We'll show you some aikido, some ground jujitsu, some gun stuff, some knife moves. We can make a pretty good-size dent with that."
Winchell is on the second day of a six-week intensive. Until yesterday, the tall, skinny actor has been exercising only about once every three weeks. But 87Eleven has a plan for him: weights on Monday, Wednesday, and Friday, with abs and cardio work the other two days. The guys on the stunt team will teach him boxing, karate, capoeira, and wushu during his two and a half hours of daily stunt and fight training. By the time he's done, Winchell will have shed fat and added about eight pounds to his 175-pound frame. "We made him into an action hero," Schultz will say weeks later.
Stahelski and Leitch have finished post-production on their directorial debut, the Keanu Reeves vehicle John Wick, and are already planning to expand 87Eleven into a full-fledged production company – where every member of their team will be well versed in all aspects of filmmaking. "Someday we want to have two or three additional directors working for us with multiple movies in production simultaneously," Stahelski says.
When I mention that it seems very un-Hollywood to relinquish their egos and reveal all of their skills to the young and ambitious members of his team, Stahelski smiles. "We teach our guys how to get the shots and make the most of themselves," he says. "That only makes them that much better and allows them to get the most for the client. They're not just going to make a buck; they're going to show what you can get with our team."
For access to exclusive gear videos, celebrity interviews, and more, subscribe on YouTube!