PURA SUP COSTA RICA
Our correspondent indulges in an unforgettable paddle tour off the Nicoya Peninsula
By Shelby Stanger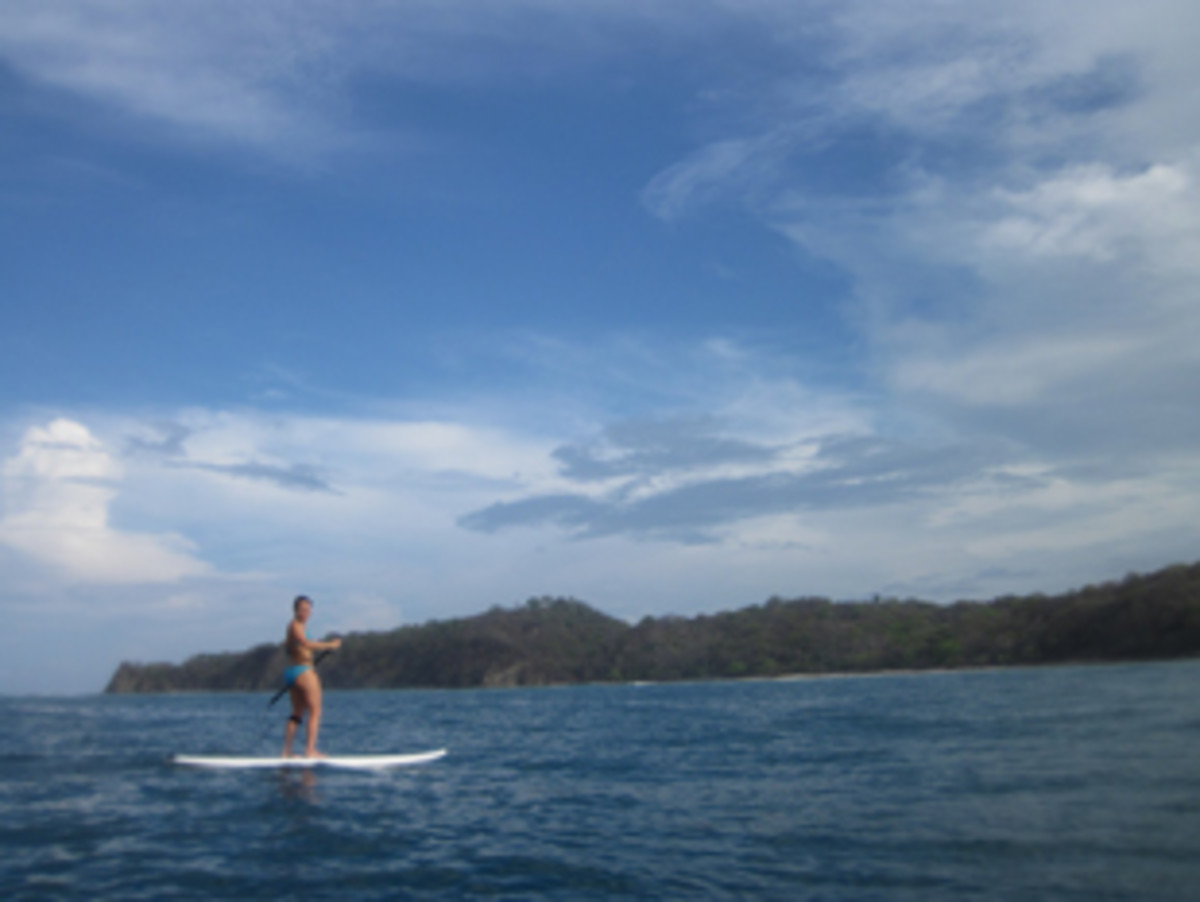 "Are we still on?" I ask my paddling guide Spencer Klein, belting into the phone. Rain batters the roof, thunder shakes the floor, and an army of toads reminiscent of a bad teenage garage band have churned up some eerie sort of echo making it hard to hear. I was super-excited to explore this stretch of Costa Rican coastline from the water, but in the rainy season, I wasn't sure my last minute SUP adventure was actually going to happen.
"Yeah, meet at the south end of the beach, just before the estuary at 5 am," he said. "Be prepared to paddle."
Estuary? Does that mean crocs? I wasn't quite sure what that meant, or if I even heard him right, but days earlier, when I met Spencer, and his partner Felipe Lopez, a native Costa Rican and professional photographer, they promised to show me see some parts of the coastline far from the hustle and bustle of the modest little surf town where I was shacked up.
"No, we're not gonna tell you where. Just come," said Spencer, an avid surfer and waterman who spends a few months a year on the North Shore in Hawaii and the dry season leading waterman adventures in Costa Rica.
I chose the surf/yoga town of Nosara on the Nicoya Peninsula in Guanacaste for the same reasons everyone else does: the surf, yoga, and amazing banana and pineapple smoothies. Two southbound flights later, and a 162-mile drive west from the capital of San Jose, I arrive to my destination.
In Nosara, you basically do two things: surf the uber-consistent three-mile-long beach break with dozens of surf school students, and enjoy world-class yoga venues with yogis from around the world. Thanks to a tip from a friend who visited Nosara just a few weeks earlier, I knew there was a third element that would complete the equation. With the natural scenery and dynamic coastline, it seemed like standup paddling around the point would let me see a lot more of the coastline unreachable by most roads.
The next morning, I awoke at daybreak, grabbed a mango off the tree (peak mango season is March and April), and waited for Spencer and Felipe a half a mile down the beach. With a storm churning a couple hundred miles offshore, the surf had risen well overhead and I was a little nervous about paddling out.
"Change of plans. You ready to go?"  They showed up with some safari style truck outfitted with Korean pleather seats, and three paddleboards set on a custom welded trailer in tow.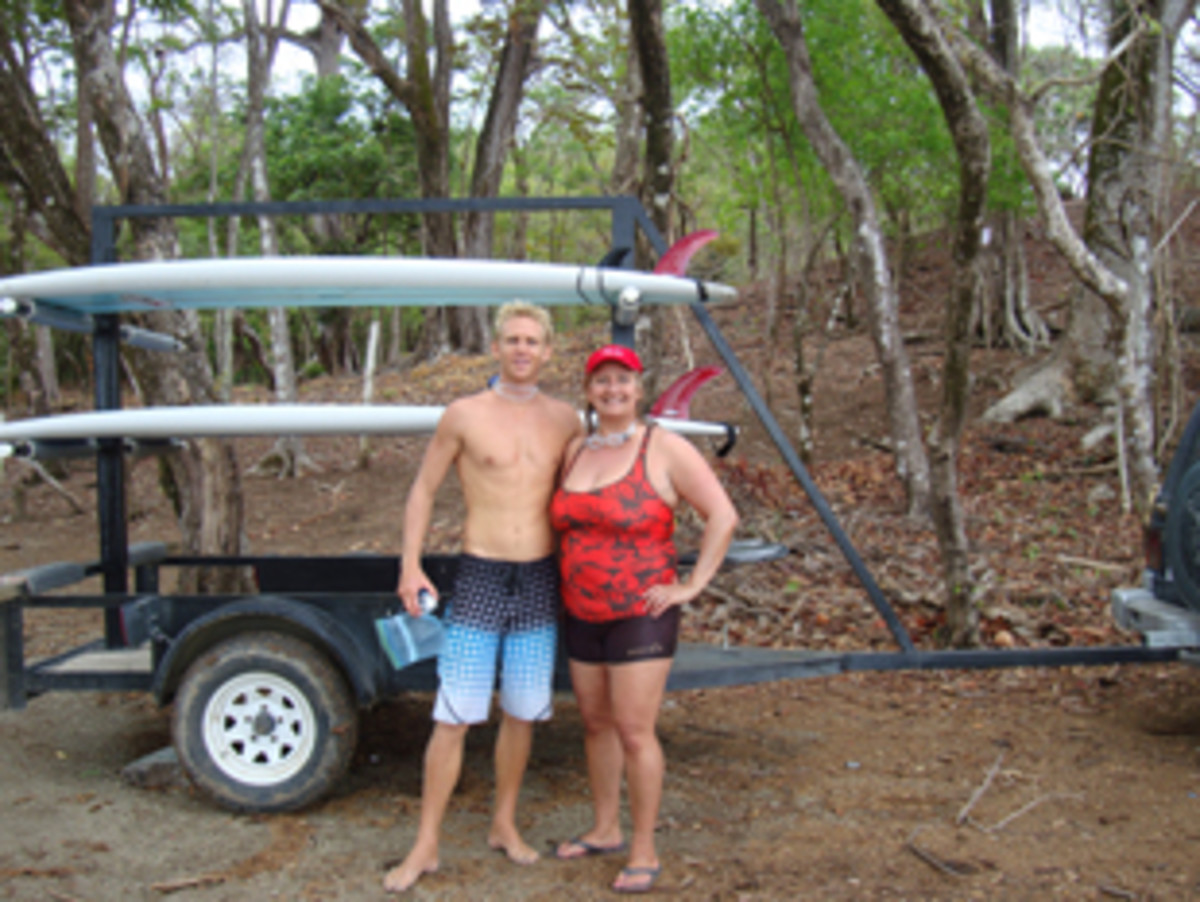 "You mean we're not paddling out through that?" I pointed.
"No.  We're gonna' show you the real Costa Rica like we promised." Relieved and skeptical, I got in the car, my bottom already sweating and sticking to the pleather seats.
We plow south, dodging iguanas the size of small dogs, and a herd of cattle that happened to be meandering the same dirt road. The ranches of Guanacaste are like vintage postcards of rural Latin America, golden before sunrise with a canopy of huge Guanacaste trees the province was named after. About 20 minutes later, we pull up to the edge of a small fishing village that thinly spreads around a two-mile-long bay.  The clouds dissipate as the sun rises, making the water mouthwash, emerald green.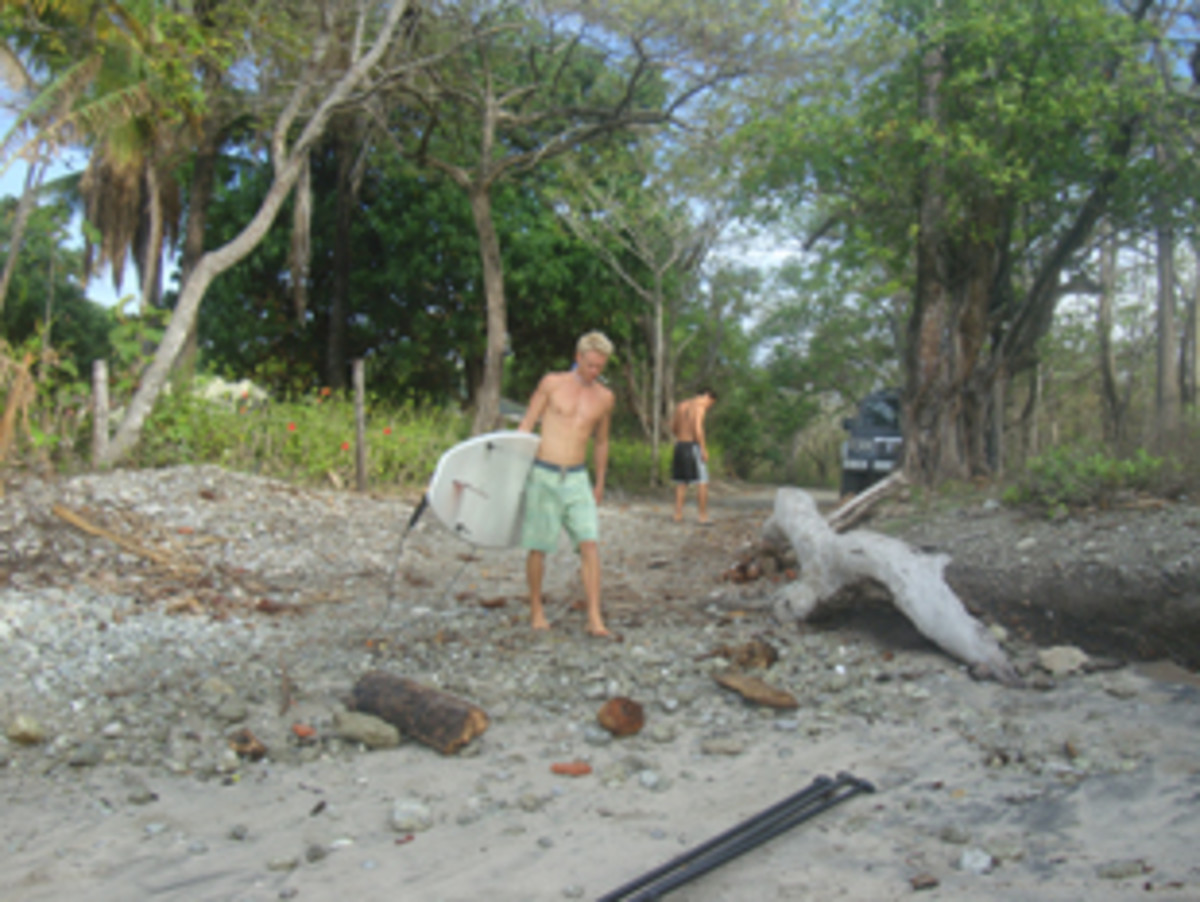 Grabbing our boards and paddles, we head out without a person, boat or any human activity in sight. There's a shallow reef pass that extends off a headland, and some swell in the water, so I decide to follow Spencer, who's obviously been here before and anticipates where the waves are breaking. We make it around the bend unscathed and I find myself rolling with the open ocean swells trying to tune into Felipe and Spencer, who start pointing out sea life.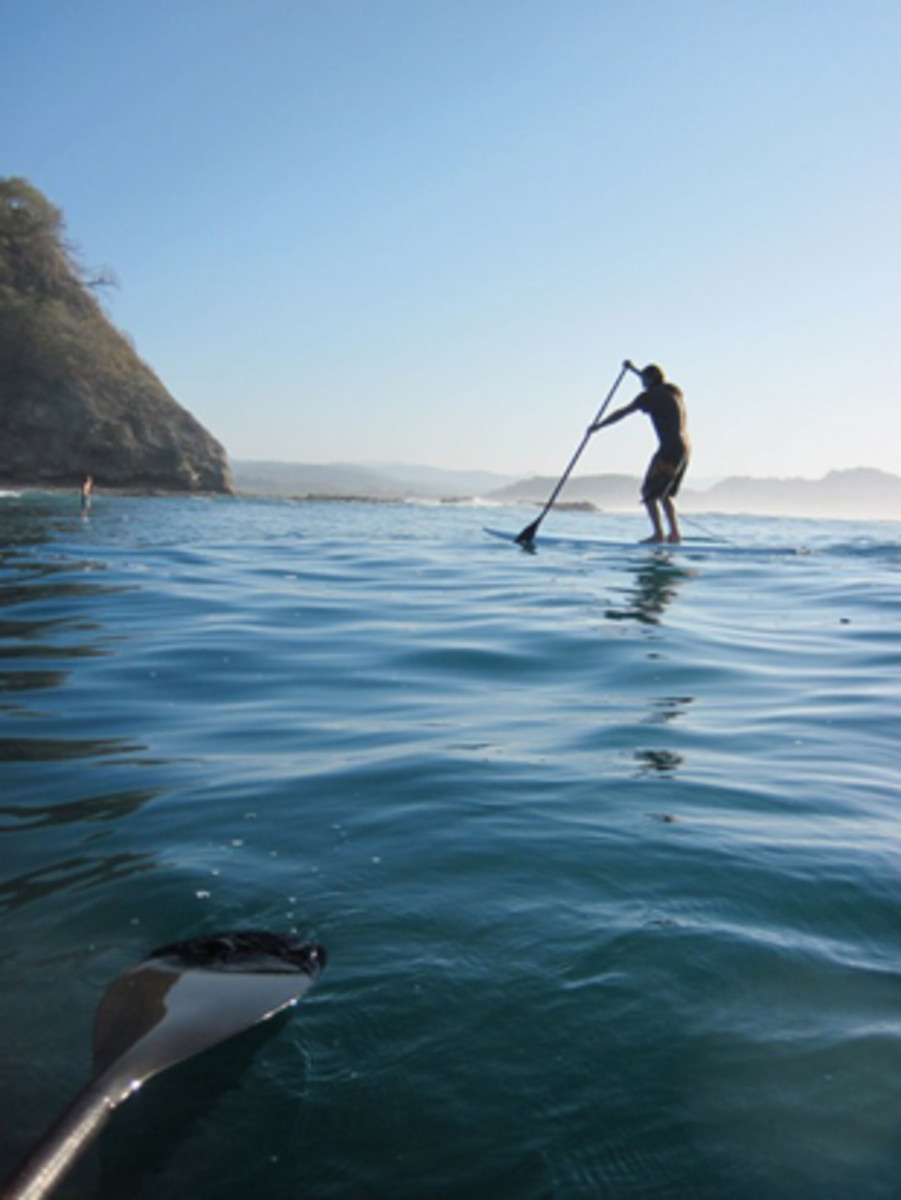 I was near the spot a few days prior when someone took me fishing off a boat to the area a few miles away. In one hour, I caught four tuna, filling my freezer with dinner for the month. I knew there had to be more than just game fish below.
As luck would have it, we see spotted eagle rays jumping everywhere, and sea turtles popping their heads out of the water left and right. The first one I see gets me so excited, I lose my balance, nearly falling on top of its giant shell. According to Klein, the largest breeding ground of olive ridley sea turtles in the world lies just a few points north.
About a mile and half around the point and well out to sea, Spencer points to a small island laced with some pretty big waves breaking on the reef all around it.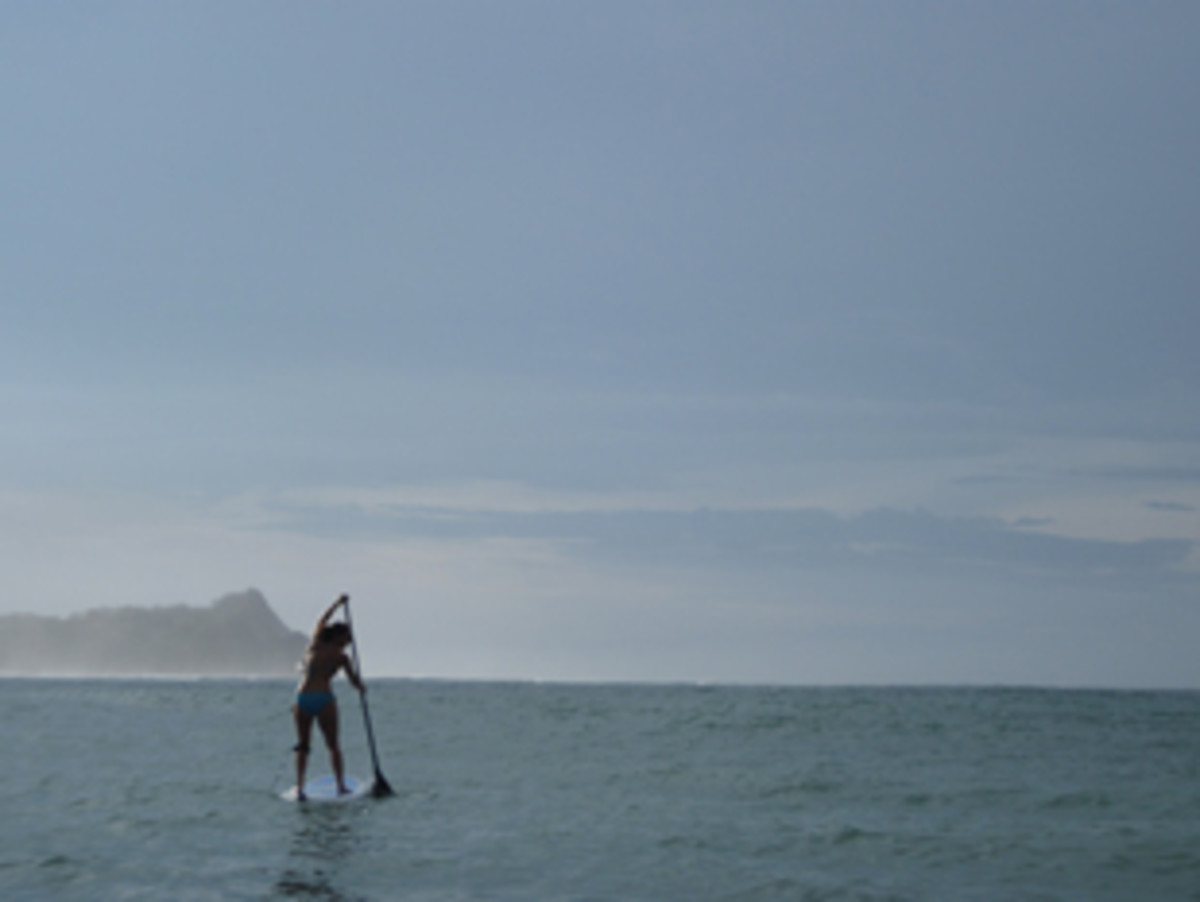 "Isla Rosada … pink island," he says. It's aptly termed, I come to find out, because of it's rosy pink sand.
As soon as we hit shore, Spencer's eyes light up. "This is pretty much the center of my universe," he says. Eight years prior, Spencer met a girl on the beach, and the two hiked miles around a series of points and swam out to the island, finding two conch shells that they buried in the sand. Five years later, Spencer proposed with one of the shells he had secretly recovered. Now they're married with their first son and live on the same beach where they met.
Like a total girl, I melt over the story, drawing a giant heart in the sand with my heel. By this point, I was regretting not wearing sunscreen  (it was cloudy when we started), and was starting to look the same color as the sand.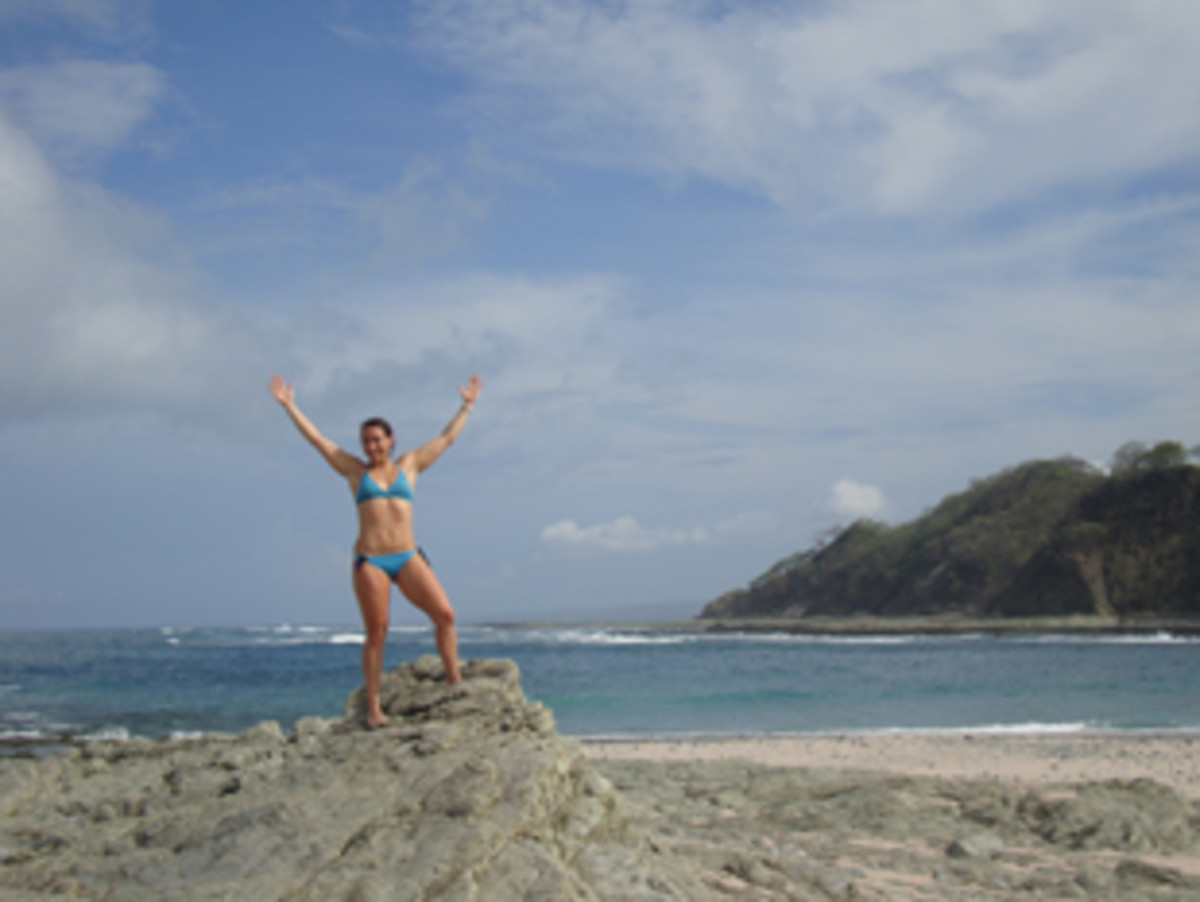 After playing in the tide pools and looking for more conch shells, we head back in what feels like a quarter of the time to get out. We catch a few waves in, and the thought of fresh pineapple and a huge plate of gallo pinto and eggs awaiting us on shore makes my stomach growl. Somehow we break a paddle, and I end up with a few scraps from saying hi to the reef. After four hours, I see more of Costa Rica's sea life than I'd seen all month, and am brimming with glee. There's a saying the locals use, "Pura Vida," which translates to "Pure Life." Standup paddling to a secret island, swimming with sea turtles, and riding waves without any evidence of civilization in sight, the simple saying was all I could think about.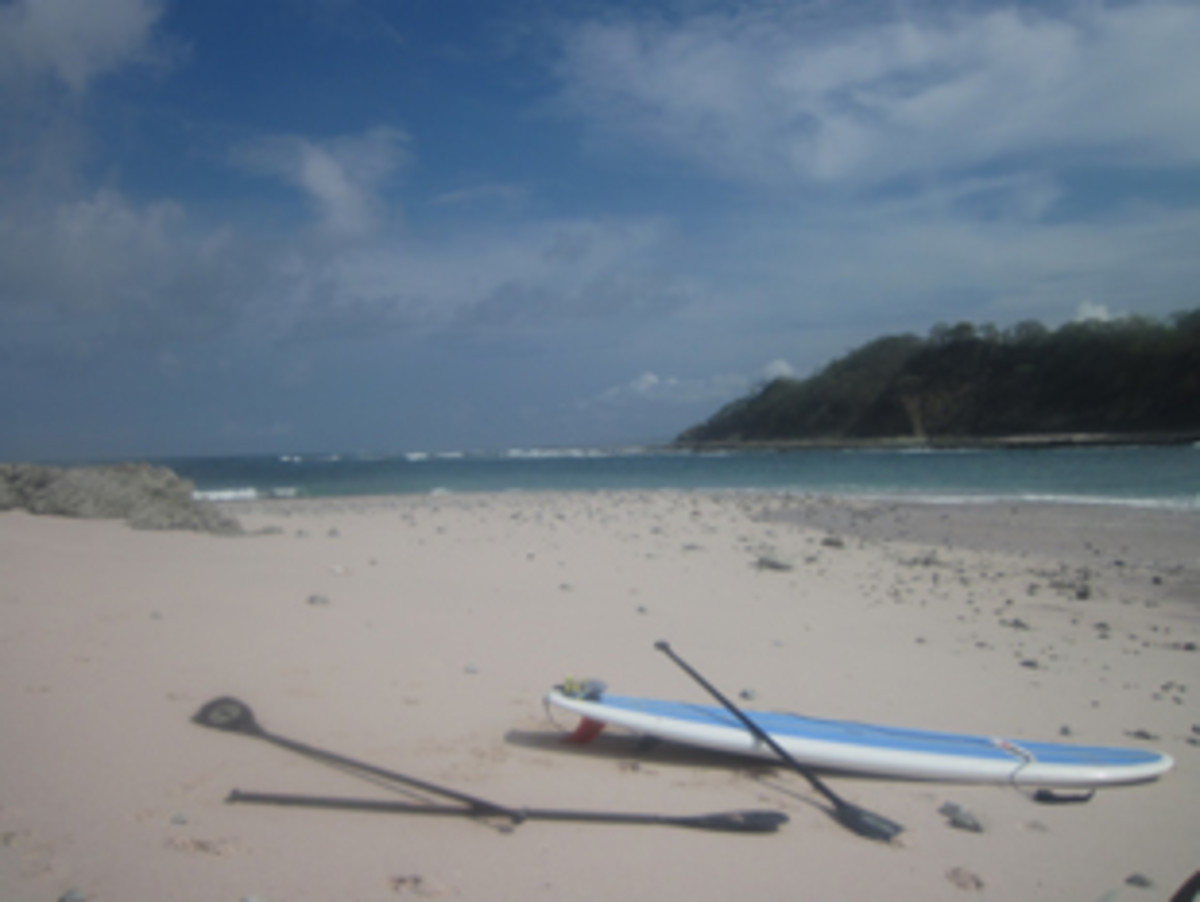 IF YOU GO
Because Costa Rica has a wet and dry season, it's best to go from November to August. The tour company I chose, Experience Nosara (www.experience-nosara.com), is well run, eco-friendly and has expert guides. Spencer and his partner Felipe have well over a decade of combined experience and are each certified in lifesaving, CPR, first aide, and both speak fluent English and Spanish. They also offer kayak and SUP river tours and full waterman adventures where you paddle from town to town, staying at luxury resorts along the way. For the ladies, they have partnered with the world famous Surf Diva Surf School from La Jolla, which also owns an all-inclusive surf and yoga resort in Nosara (www.surfdivacostarica.com). Starting next winter, they will be having "Pura SUP" adventures, where ladies will paddle down the Nosara coast, with five-star meals and luxury accommodations and yoga classes awaiting them at every stop.
The article was originally published on Standup Paddling
For access to exclusive gear videos, celebrity interviews, and more, subscribe on YouTube!