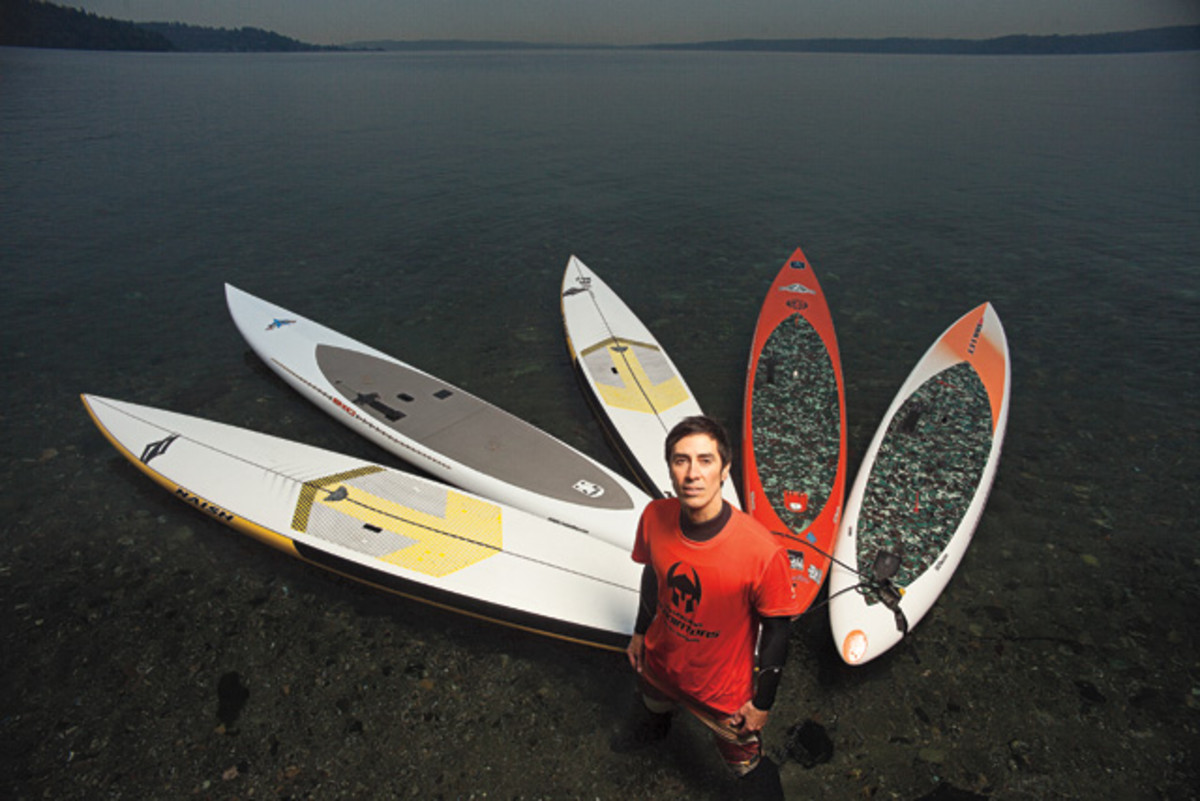 SUP Instructors Near You
From flatwater socialites to downwind warriors, SUP instructors are key to learning how to standup paddle. In honor of our upcoming Beginner's Guide, hitting newsstands March 28, here's a look at some of standup paddling's top instructors in your region.
Wind Walker: Art Aquino
Seattle's Art Aquino is serious about downwind SUP. His website is called Downwind Warriors, his nickname is "Road Warrior" (he often spends 12-hour days driving after downwind runs) and he travels to Maui a few times a year.
But before this reincarnation, Aquino, 46, could hardly do anything active. He'd been out of boardsports for six years after blowing a disc in his lower back snowboarding and was spending most of his time sportfishing on Puget Sound. He fell in love with the water but felt restless and unhealthy. Then he discovered SUP.
"I took (a neighbor's) board out and I was like, "Wow, this doesn't hurt my back," Aquino says. "It was an amazing experience, kind of like being reborn. I now have ten boards in about three different places."
Aquino hasn't looked back. He retired from his position as creative director at Zumiez in 2005 and is able to follow his passion full-time.
"I started flatwater paddling (in 2009) and by the end of the summer I was basically like, 'What am I going to do now?' I started downwinding."
Downwind paddling usually consists of a shuttle, paddling from one point to another with the wind. The wind creates bumps or windswell, which can be surfed on longer boards. Aquino is dedicated to diffusing the sport throughout the Pacific Northwest. He participates in many of the regional flatwater races and is actively spreading the downwind gospel. He also puts on his Downwind Warriors race series on the weekends. Part of his motivation for teaching is to get more partners for downwind runs.
"You stomach the first time, going, 'What am I going to do here?'" he says. "As soon as you turn that corner and the wind is at your back and the waves are opening up way out in front of you it's a surreal thing."
He says he currently has a queue of five or six paddlers waiting for lessons when the wind blows. Aquino sends out a mass text when it starts to kick up on the Puget Sound—he can see the water from his house—and the first person to respond gets a one-on-one lesson.
One of those people is Joel Yang, a 37-year-old industrial engineer, who took his first downwind lesson from Aquino.
"I took one class with the guy and was totally stoked," Yang says. "He's one of those crazy nutballs that can easily infect you with the kind of stoke that he has."
Aquino himself learned from the best: he's attended Kalama Kamp and had instruction from Jeremy Riggs and is bringing that dedication and passion to the Seattle area. He's not alone. Aquino quickly rattled off a handful of obsessed paddlers that are always watching the wind and waiting to sneak away from whatever other obligations they have.
"He really leads the charge on the downwind stoke," Yang says. "He's demystifying (downwind paddling) and making it accessible to everyone."
—Will Taylor

For other options nearby, checkout the following:
• Surf Ballard
• Bellingham Kite Paddle Surf
• Big Winds (Hood River)


This article originally ran in our 2013 Beginner's Guide. Look for more profiles in our upcoming Beginner's Guide on newsstands, March 28.


For more information, visit: Downwindwarriors.com, 206.356.0023
For more From the Mag, click here.
The article was originally published on Standup Paddling
For access to exclusive gear videos, celebrity interviews, and more, subscribe on YouTube!