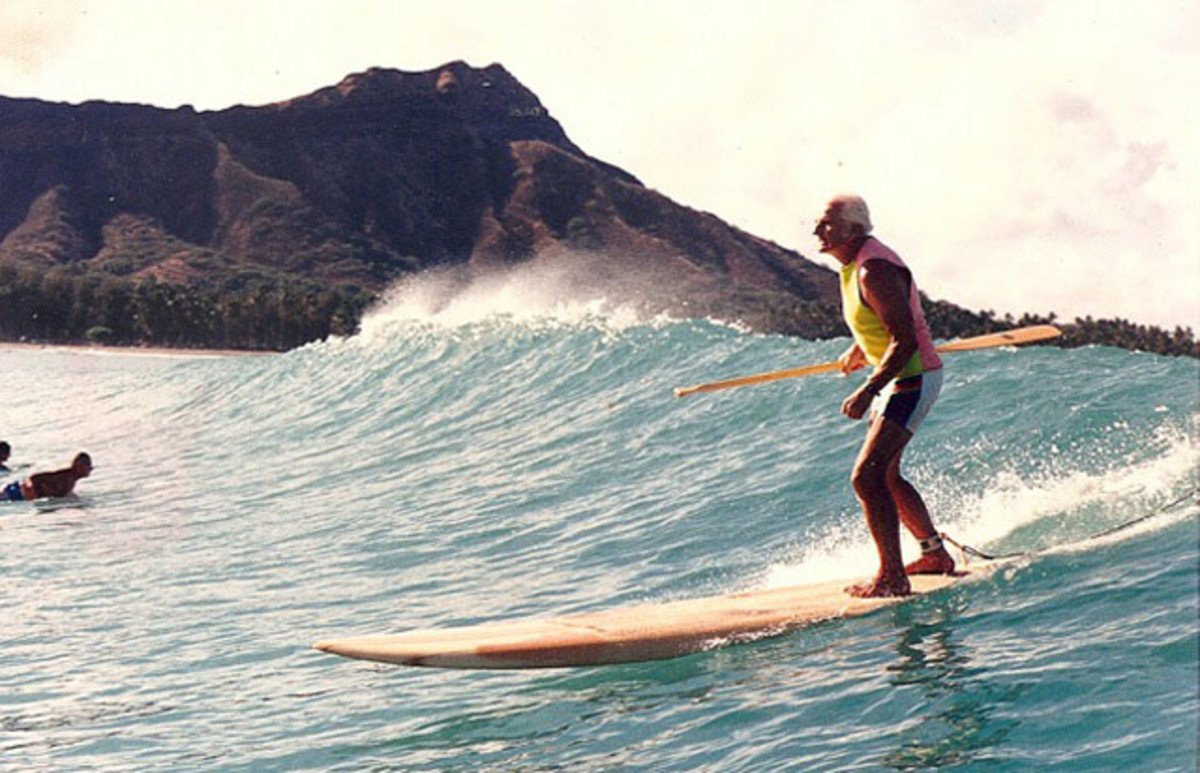 Sunday, October 13, 2013, the waterman community lost a legend, as Hawaii's John Zapotocky Sr. passed away at the age of 95.
The waterman known as "Zap," born in 1918 in Brownsville, Penn., moved to Oahu in 1940 where he began his love affair with the ocean and dove headfirst into the waterman community. Though unaware he was pioneering the sport of SUP, John was one of the original standup paddlers, having first picked up a paddle to use in Waikiki alongside John "Pops" AhChoy, who first stood up to catch better shots of tourists out in the water.
While surfing and paddling canoes off Oahu's south shore, John bumped shoulders with icons from the waterman world, including Duke Kahanamoku, Rabbit Kekai, Blue Makua, Steamboat and other Waikiki Beach Boys, and, after clocking enough time down in Waiks, John became an 'honorary Beach Boy.' John became a true advocate of SUP in his early forties and could be seen standup paddling from Tongg's to Queens to catch a few waves. In his later years, John was a staple at Queens and Canoe's, and could be seen in the early mornings paddling and surfing, usually leaving the water with his white hair still dry.
John was a well-known member of the island community as well, working first at the Pearl Harbor Naval Air Station for a few years, and then for the Hawaiian Pineapple Company (later Dole) for more than 30 years, before retiring as Dole's Superintendent of By-Products. He volunteered his time as a Scoutmaster, built the stairs at Tongg's, and coached little league. John also made valiant efforts to save Waikiki's historic St. Augustine Church By the Sea, convincing Dole to donate pineapple juice he and his family sold to raise funds every Sunday after mass for ten years. He was an active leader in keeping fluoride out of Hawaii's drinking water, and helped with many other community health issues.
John Sr. is survived by his son John Zapotocky III (Cindy), daughter Barbara Cook (Steve), grandsons Levi Stribling (Kerrie), and Alan, Brian, Christopher and Daniel Zapotocky.
A memorial celebrating John's life is scheduled for Monday, October 28, 2013. Mass at St. Augustine by the Sea Church in Waikiki begins at 9 a.m., followed by the scattering of his ashes at Waikiki Beach between Queens and Canoe's surf spots, followed by a lunch at the Elks Club. —SC
The article was originally published on Standup Paddling
For access to exclusive gear videos, celebrity interviews, and more, subscribe on YouTube!