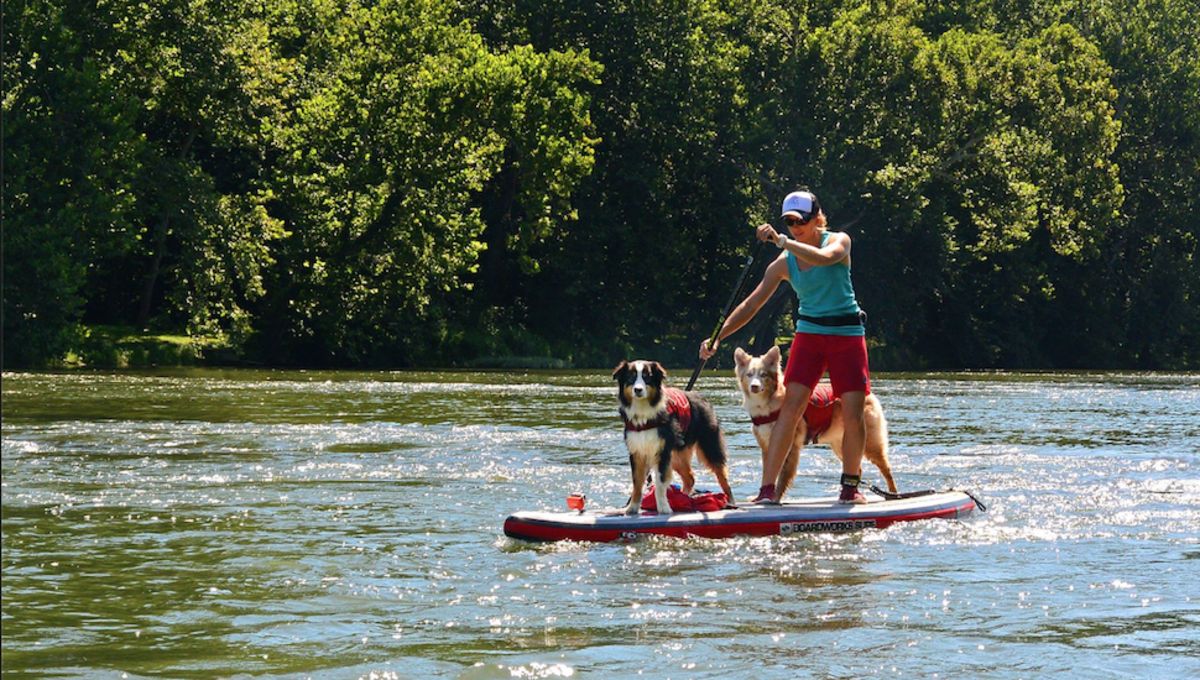 A Brush-up on SUP Safety Basics
"You'd better be safe than sorry."
You've probably heard the phrase enough times for it to lose its leverage but it couldn't be more fitting for SUP. Situations turn dangerous far more quickly on the water and if you aren't adequately prepared, you'll be living those sketchy scenarios that come to mind. Of course, we don't want to be pessimists and expect problems while paddling. However, we do always want you to be prepared for the time an accident does arise. Brush up on the following five pointers and make it a habit to use them during your standard paddle preparation for a safe, stress-free paddle. —Shari Coble
Check yourself.
As with any physical activity, it's best to consider your personal abilities and overall health. Overexertion and inexperience on the water can quickly lead to major problems or even worse: fatalities. Don't put yourself or others in danger by being a kook. Learn basic skills and technique from an instructor or experienced paddler, be realistic about your skill level, and always respect your body's limits.
Check your gear.
Making sure you have the right equipment for your SUP session is key, as is checking to ensure your gear is in good shape. Whether your session is short or long, on flat water or in the ocean, accidents happen. Take the time and do a proper once-over of all your equipment BEFORE you paddle out. Also make sure you have a PFD on your board or in a waist pack (for safety—and the fact that many cities and counties require them), and remember to be in tune with your gear throughout your session. And wear the appropriate leash for the conditions.
Consider conditions.
You can't successfully plan for your session without considering the current conditions. Wind, tide, swell, current, and temperature are all factors that can effect the quality and safety of your board meeting. Check the conditions of your planned route in-person, talk to fellow paddlers, look at the forecast, and be practical when considering how you and your gear will handle the ever-changing moods of Mother Nature.
Bring water.
We're constantly losing water from our bodies in the form of vapor (in our breath), sweat, and every time we relieve ourselves. So it shouldn't be a surprise that even a leisurely paddle may cause some to become dehydrated. Dehydration occurs quickly. By the time you notice the signs, it has already set in and has the potential to negatively impact both your physical and cognitive abilities. Do your body a favor and always keep either a bottle of water or hydration pack within reach.
Go with a buddy.
SUP in numbers is safer, and really, who doesn't have more fun with friends? Paddling with a partner is smart paddling because accidents happen to even the most prepared and experienced paddlers. Nevertheless, don't let your friends sidetrack you from your surroundings—the only thing worse than one standup paddler oblivious to their surroundings is an entire pack of them. We realize it's unrealistic to expect a seasoned, strong paddler to grab a SUP buddy for every session. But regardless, it's important to let someone know your put-in and take-out locations, the general course you plan to paddle, and the timeframe you plan on being out. You can't expect to be found if others don't know you're missing, or even worse, have no idea of when and where you were paddling.
For more SUP safety tips.
The harrowing tale of one paddler's afternoon SUP session gone wrong.
The article was originally published on Standup Paddling
For access to exclusive gear videos, celebrity interviews, and more, subscribe on YouTube!