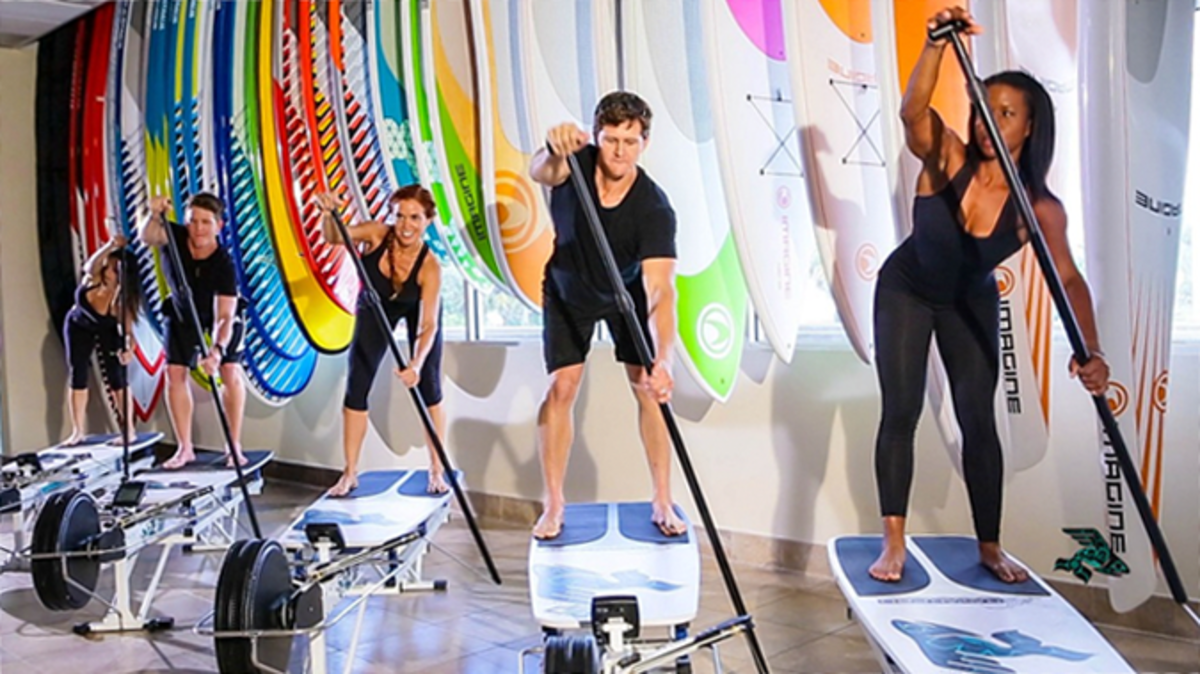 Paddle Healthy | Indoor SUP Studios
A New Wintertime SUP Solution Is Coming to a Town Near You
Winter weather and frigid temperatures got you jonesing for a good SUP? Tired of suffering through spin class or fighting the monotony (and crowds) at the gym? Believe us—you're not the only one disenchanted by wintertime's limited exercise options. But don't settle for binging Netflix instead just yet. There's a new studio in a town near you that'll help you through the seasonal paddling blues.
SUP studios are for standup paddlers what spin classes are for cyclists. They're the new trend in SUP, popping up in various forms with a range of specialized equipment and providing full-body SUP specific workouts, sans the inclement elements of the great outdoors. From Indo boards to Kayak Pro's SUP ergometer, and even custom indoor SUPs, studios are finding ways to bring the sport indoors. So next time you're considering Netflix in lieu of training, check out one of these new SUP studios and stay in SUP shape till the sun returns. —Shari Coble
SUP the Workout
Coconut Grove, Florida
SUP the Workout is an indoor training program created by personal trainer and certified PaddleFit instructor, Melina Cherry. Workouts are performed on KayakPro SUP Ergometers, combining a variety of paddling techniques with interval and heart rate training either in classes or private sessions. SUP the Workout offers the 'First Class' for athletes that are new to SUP and the SUP ergometer, as well as a class for all levels. When you're ready to hit the water, Cherry also offers eco tours, SUP fitness classes, team training, and SUP pilates too.
Price: $35/class
suptheworkout.com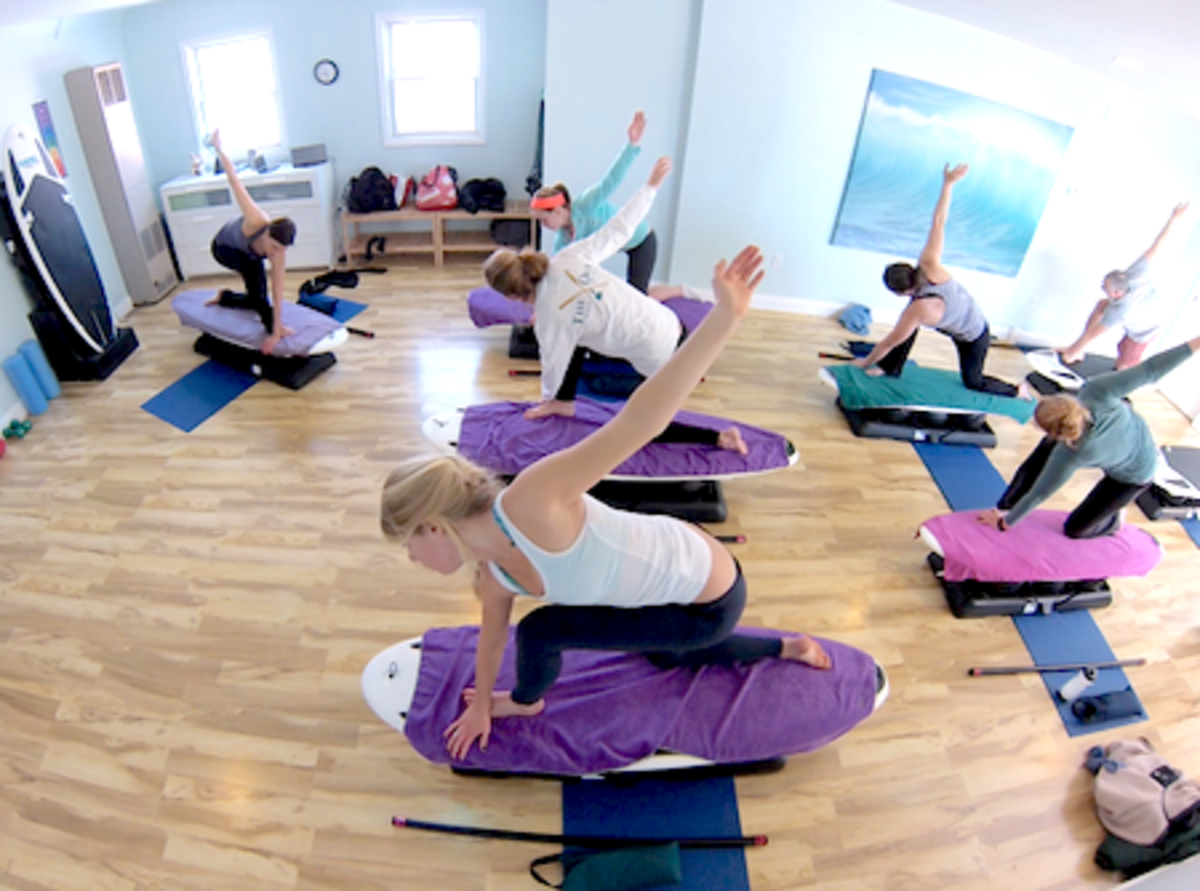 FloorTime Studios OnShore SUP Yoga
Newport, Rhode Island
New England seasons don't exactly allow for SUP year-round, but yogi and Surfset (the surf-inspired workout class) teacher Annette Burke found a way to outlet her passion for SUP yoga by brining her practice to the studio. Burke leads students through a variety of Viniyoga-inspired Hatha flows performed on boards, while focusing on the breath and moving safely and deeply into each pose. Your mind, body and soul will feel rejuvenated after a class with Burke, as her mantra is: Stretch and strengthen the body; relax and quiet the mind; nurture and nourish the soul.
Price: $15/class
floortimestudios.com

City of Lights Fitness
Buffalo, New York
City of Lights Fitness founder Jared Callahan brings his unique style of training to the fitness world with KayakPro SUP Ergometer classes that also utilize custom SUP balance boards with strength training. A PaddleFit-certified instructor, sports performance coach, and personal trainer, Callahan focuses on helping students improve and challenge their core strength, balance, power and endurance in his hybrid training classes. Indoor SUP workouts with Callahan also includes an emphasis on conditioning and paddle technique, with barbell and kettlebell strength training. If you're not into the group class, tryout a solo session—first-timers get a free class, on top of a free consultation.
Price: $60/4 classes
cityoflightsfitness.com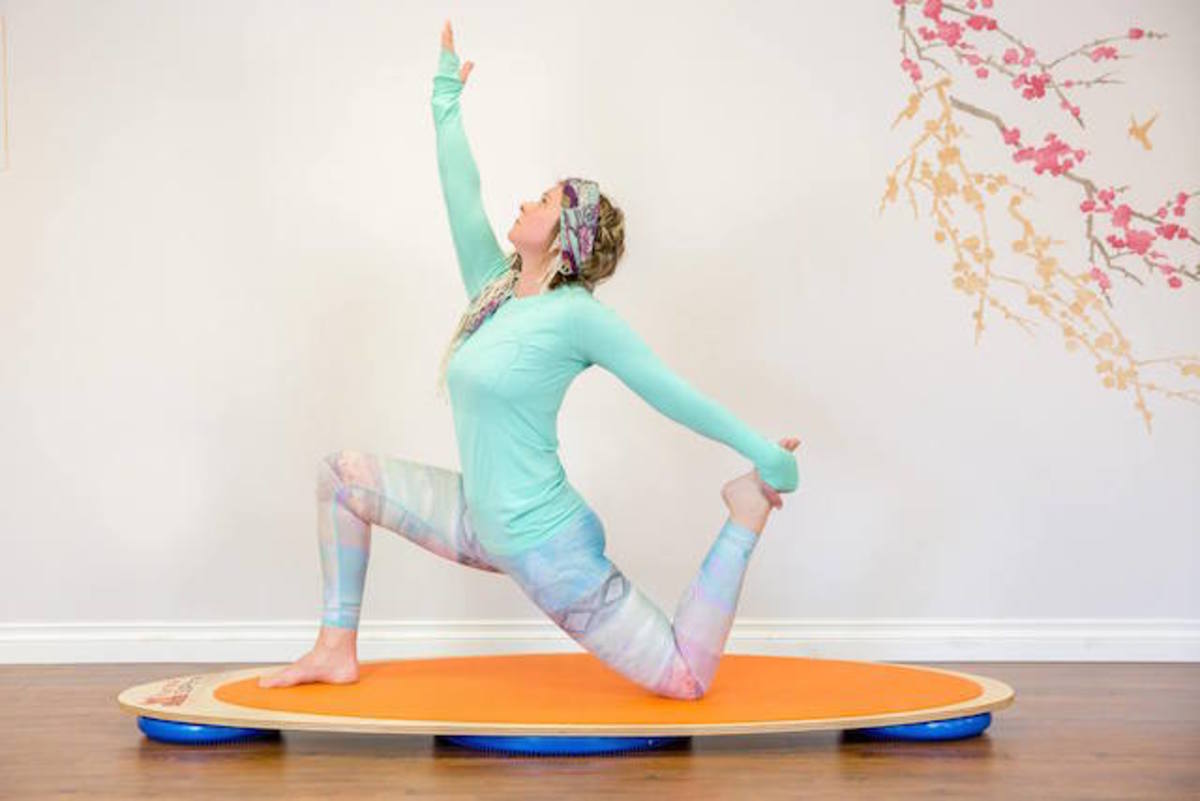 Karma SUPtra
Uxbridge, ON, Canada
With a studio that's designed to emulate the outdoors, you'll be whisked away to your happy SUP place in no time when taking an indoor SUP yoga class at Ontario's Karma SUPtra. Karma SUPtra owner Julie Thayer is a certified Paddle into Fitness and WPA SUP instructor, as well as a certified Yoga Therapist who is passionate about the powers of practicing yoga and SUP, of course. Thayer had oak boards crafted specifically for Karma SUPtra, that sit atop inflated cushions in order to allow students to increase or decrease stability. The special design of the board also ensures that students are properly aligned and nailing every pose like a pro. Classes at Karma SUPtra are an hour long with limited space, so reserve your spot now.
Price: $16+HST
karmasuptra.com

Megan Sety Yoga
Wellington, New Zealand
Get your feet wet—without actually getting wet—by trying an indoor SUP yoga class with Wellington yogi Megan Sety. Classes focus on vinyasa flows with students working out on custom-built boards that provide three levels of stability and difficulty. No experience is necessary and Sety also offers both group and private sessions tailored to you or your groups' needs.
Price: $15/class
megansetyyoga.com
The article was originally published on Standup Paddling
For access to exclusive gear videos, celebrity interviews, and more, subscribe on YouTube!