By Rebecca Parsons
Bikinis have evolved a lot since they were first invented seventy-two years ago. Styles have come and gone, but a rising trend as of late is the cheeky bikini bottom. People seem to either love them, hate them or care less either way. With so much controversy centered around a seemingly small piece of fabric, we decided it was time to address it. So we posed the question to some of the top female athletes in the sport: cheeky-cut bikini bottoms, yay or nay? Here's what they had to say.–RP 
Sonni Hönscheid (Sylt, Germany; 36)
I give a big YAY, as long as you feel comfortable paddling with a cheeky bikini bottom on. I personally love wearing it for surfing and on hot training days.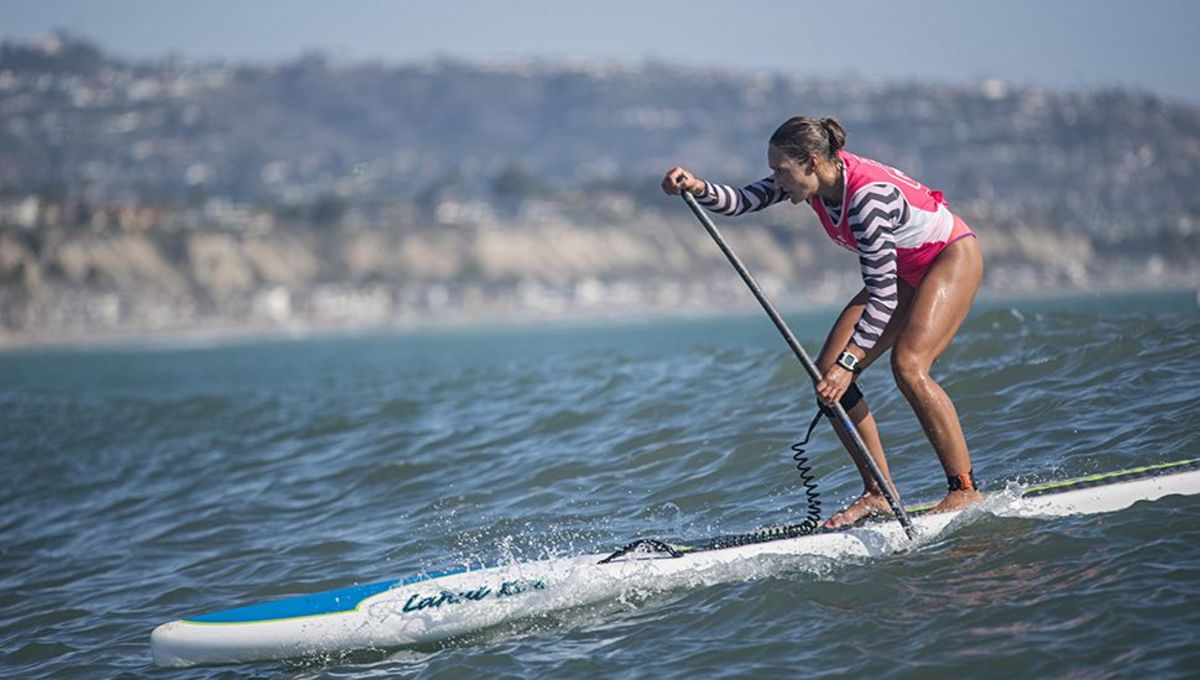 Annabel Anderson (Lake Wanaka, New Zealand; 36)
It's the performance of my glutes underneath the fabric that has always been my greatest asset, not how good they look with a lack of fabric. If you're paddling, be remembered for your performance, not the accidental depth of your butt cleavage when you bend over every stroke.
There's a time and place for a shred of dental floss and it's most suited for a tropical beach with a significant other. Last time I checked, they weren't exactly a piece of high performance athletic apparel. Be remembered for the right reasons girls—your achievements will rank far higher than a long forgotten post on social media and the cringe-worthy comments of others in years to come.
Jade Howson (Laguna Beach, California; 15)
I think that cheeky bottoms are great to an extent. Full coverage bottoms are baggy and can be a burden if you take a fall on some bigger waves because they have much more drag if they are not tight. However, during races it's not the best option. Personally, I do not like looking at someone's butt while drafting. During competitions, I usually wear shorts or semi-cheeky bathing suit bottoms. I don't think it's appropriate to wear thong-cut bathing suit bottoms to competitions, but that's just me. America is a free country so you can do what you want!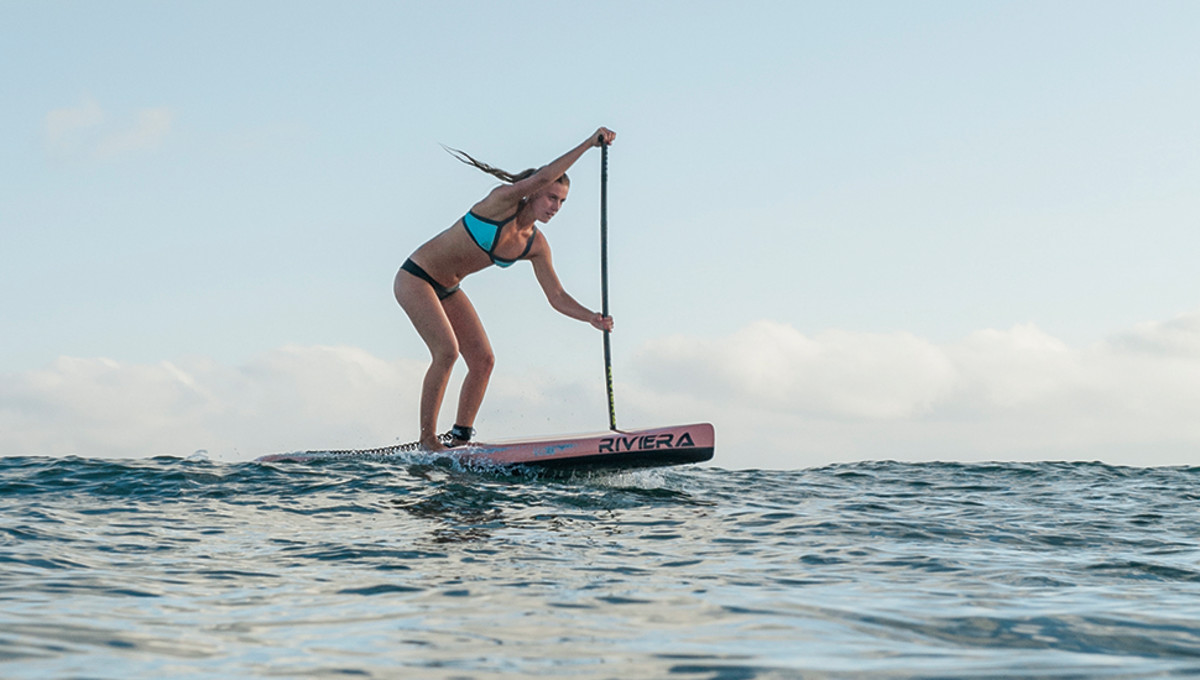 Shae Foudy (Dana Point, California; 19)
I have always been passionate about self love and body appreciation no matter what body type you have, which is why I say heck yes to cheeky cut bikinis! I think that wearing bikinis is totally functional for training or racing, as long as they don't fall off.
As a woman, I want to empower other women to embrace themselves and address that it is powerful to be a kick-ass athlete and be able to rock your bathing suit while competing at the same time!
Terrene Black (Central Coast, New South Wales, Australia; 34)
I'm not keen on full g-string style for racing but a little cheeky butt is cute. I personally wouldn't wear them racing as I don't want to be worrying about flashing my ass to everyone and having to pull it out of my crack. Good on the chicks who are confident enough to pull it off—it adds a bit of flavor and femininity to the sport. But sometimes a full bare ass paddling out in a surf race is a little distracting for spectators on the beach.
Annie Reickert (Pukalani, Maui; 16)
Super cheeky bikinis are not for me. I believe it's up to the individual to wear what she feels good in and if that's a cheeky bikini, that is her choice. When I am in and around the water, I am always engaged in something active. I'm pretty practical and decided a long time ago that the last thing I wanted to do while training or competing was to waste time rearranging my suit. So I go with something that is comfortable and stays put.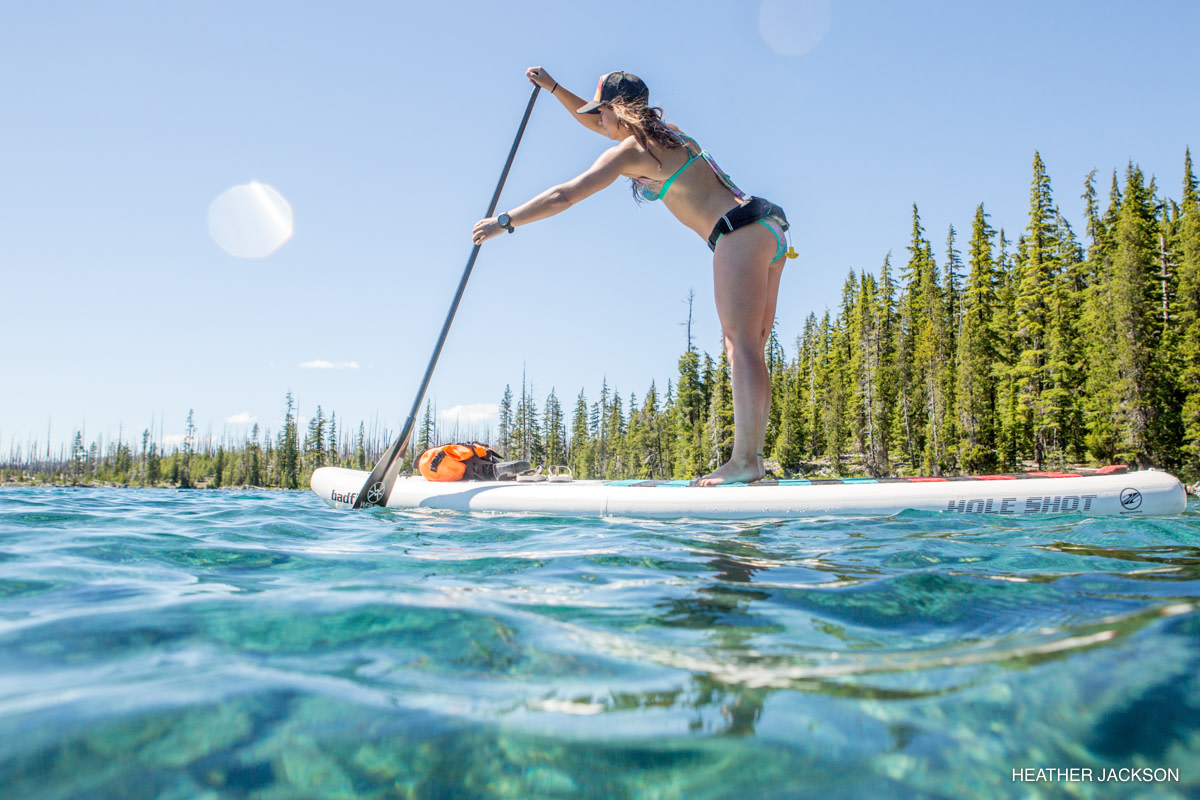 Natali Zollinger (Moab, Utah; 34)
I for one am a huge fan of the bikini. If I could live in one place for the rest of my life, it would be near the ocean, in a bikini, surfing every day. And I am the type of person that, "when in Rome," wear the cheekiest bikini I can find. But that is a different story when it comes to the river.
The river should be respected. It's an unpredictable force of nature. When I race or train, you bet your ass I'm in gear to get the job done. Drysuit/wetsuit, pads, helmet, shoes, leash and accessories with all the bells and whistles.
Aline Adisaka (Ubatubu, São Paulo, Brazil; 26)
I like to wear them but not for competing, just for cruising. I don't feel comfortable wearing them when I am competing because I don't like anything bothering me when I'm in the battle. I like to wear whatever feels totally comfortable.
Related
Gear: A cheeky bikini that is also environmentally-friendly.
Six gift options for the female paddler in your life.
The article was originally published on Standup Paddling
For access to exclusive gear videos, celebrity interviews, and more, subscribe on YouTube!