Words by Rebecca Parsons
New York is home to a long list of historical, must-see sites. The Statue of Liberty, Empire State Building, 9/11 Memorial & Museum, Brooklyn Bridge, Metropolitan Museum of Art, and Wall Street, just to name a few. The only downside of a trip to the Big Apple is navigating the crowds and traffic in order to feast your eyes on all it has to offer. But what if there was a way you could tour the city without having to deal with the crowds?
Cue Manhattan Kayak & SUP.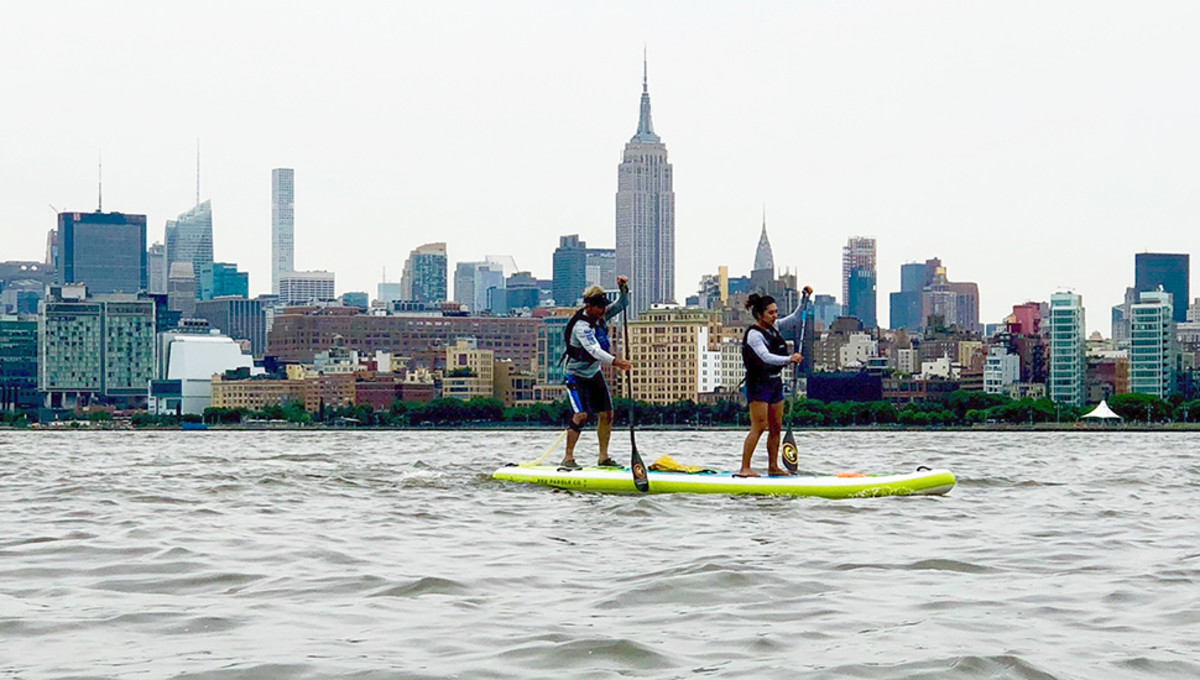 Manhattan Kayak & SUP was born in 1996 and has served as NYC's premier kayak and SUP outfitter ever since. Founder, Eric Stiller grew up on the water, working summers with his dad in a bustling kayak shop. After earning a degree from the University of Colorado, he attempted to circumnavigate Australia by kayak in an effort to satisfy his adventurous spirit. After completing the trip and penning a book about his adventures, Stiller planted his roots in The City of Dreams and opened shop as the first kayak instruction and touring center in NYC.
Fast forward to the early 2000's and Stiller caught a glimpse of SUP via photos of Laird Hamilton in Outside magazine. The sport caught his intrigue and in 2009, standup paddling was added to the agenda.
"NYC's sheer size, scale and history cannot be matched," says Stiller of the urban paradise. "When you add the long range history of the city and its importance in the Revolutionary War and in starting America as we know it, it has a magnificence all its own. There is no more impressive urban paddling on the planet."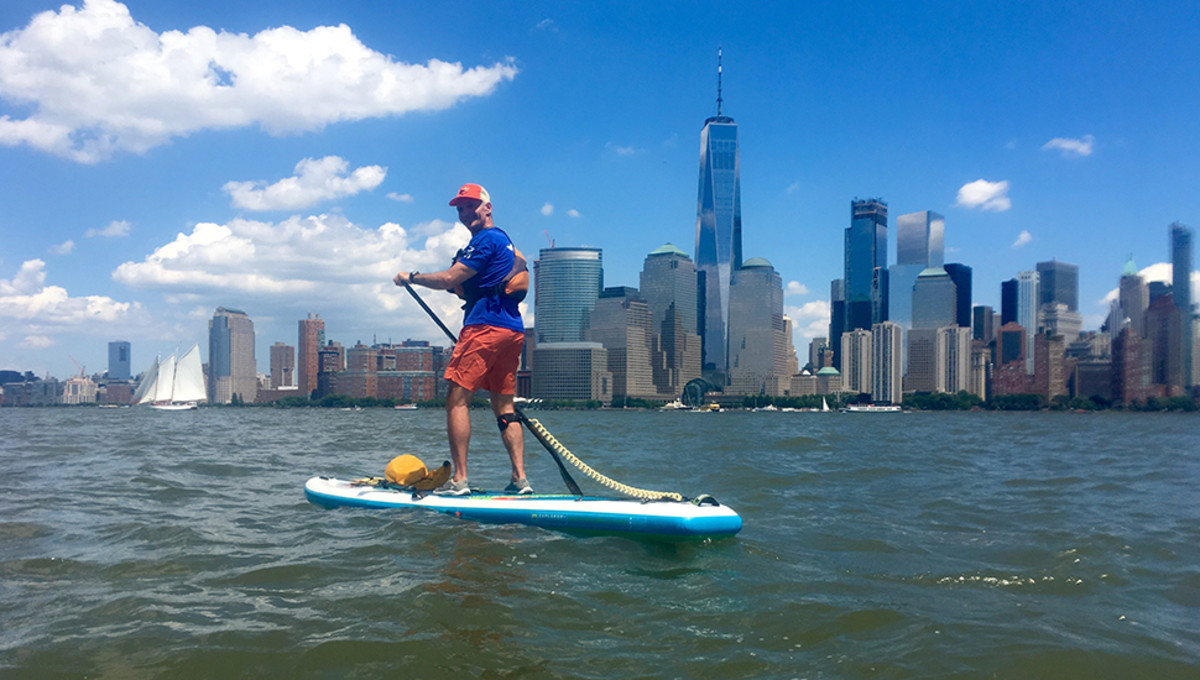 At Manhattan Kayak & SUP, they take full advantage of the beauty and history the city has to offer. Located on Pier 84 on Chelsea Pier overlooking the Hudson, the company offers a number of different tours, suited for paddlers of varying skills and ability levels. Among the most popular tours are their Sushi Dining Tour, Statue of Libery Tour, George Washington Bridge Tour, Verranzo Narrows Bridge/Coney Island Tour, and the Red Hook Brooklyn Dining Tour. On their website is a detailed description of each tour, as well as the ability level required for each.
"Paddling at three or four miles per hour allows an intimacy that other boats can't match and that city walkers would not see," says Stiller of touring the city via SUP. "It is amazing to take 50 strokes out into the river and have so much spaciousness and relative quietness."
Despite its beauty, the Hudson doesn't always offer calm conditions. Stiller compares paddling on the river to trail running as opposed to walking on the sidewalk—it's rewarding but also challenging. To combat the somewhat trying conditions, staff at Manhattan Kayak & SUP are ACA SUP 1+2 certified (or higher) and have logged countless hours on the water. Among the experienced staff members are Julieta Gismondi and Louanne Harris, better known as the Atlantic SUPer Girls – who completed a four-month, 1500-mile SUP expedition last year.
At Manhattan Kayak & SUP, they're all about the experience. The stillness of the river, the background noise of the city and a mountain range of skyscrapers blends together to create a paddling experience unlike anything you've experienced before. While beachfront and wilderness landscapes may be the first thing that come to mind when you think of SUP, it's nice to mix it up with some urban paddling every now and again. Perhaps it's time to add Manhattan to your paddling bucket list.
The article was originally published on Standup Paddling
For access to exclusive gear videos, celebrity interviews, and more, subscribe on YouTube!