If you're traveling this summer and want some quality time with your SUP, tons of companies now offer trips, tours and lessons. There are lots of options out there, from half-day tours to week-long vacations, and we've done the dirty work for you, researching locations and packages to compile this list of SUP-centered trips. —Shari Coble

Costa Rica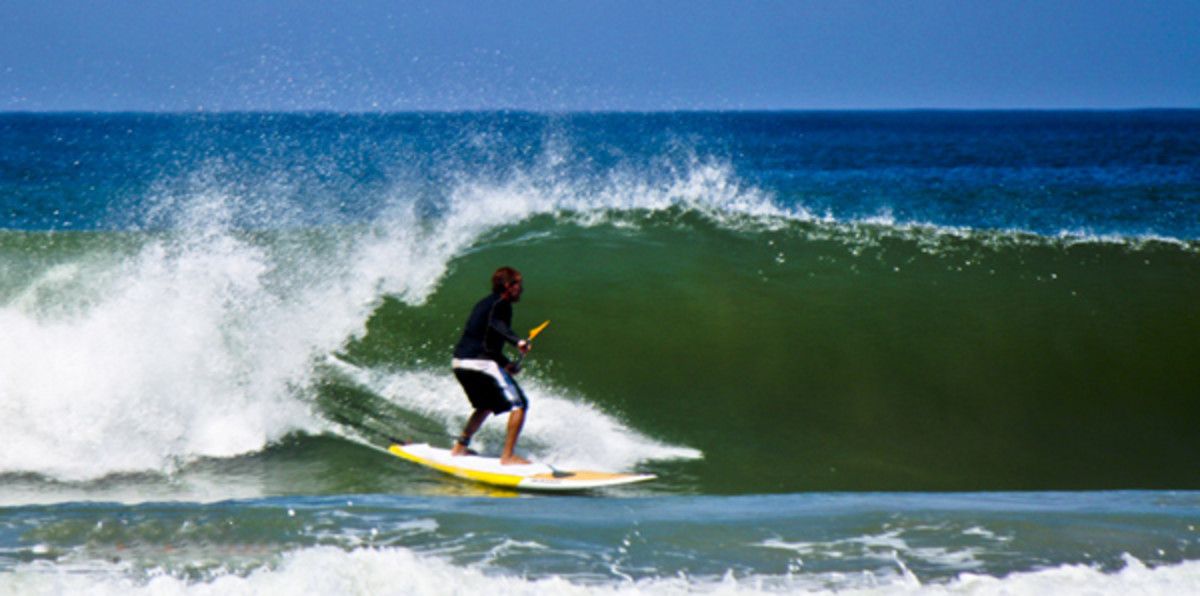 Paddle and get your SUP yoga on in Costa Rica. Get instruction and tips on technique with photo analysis and travel to various beaches to paddlesurf. Other activities to choose from include horseback riding, snorkeling, canopy zip line tours, ATV quad tours and catamaran sunset cruises.
Pricing starts at $1295 for 4 nights/5 days
For more info, contact Costa Rica SUP Adventures: 506.8780.1774, info@costaricasupadventures.com
To visit the website, click here.

Montana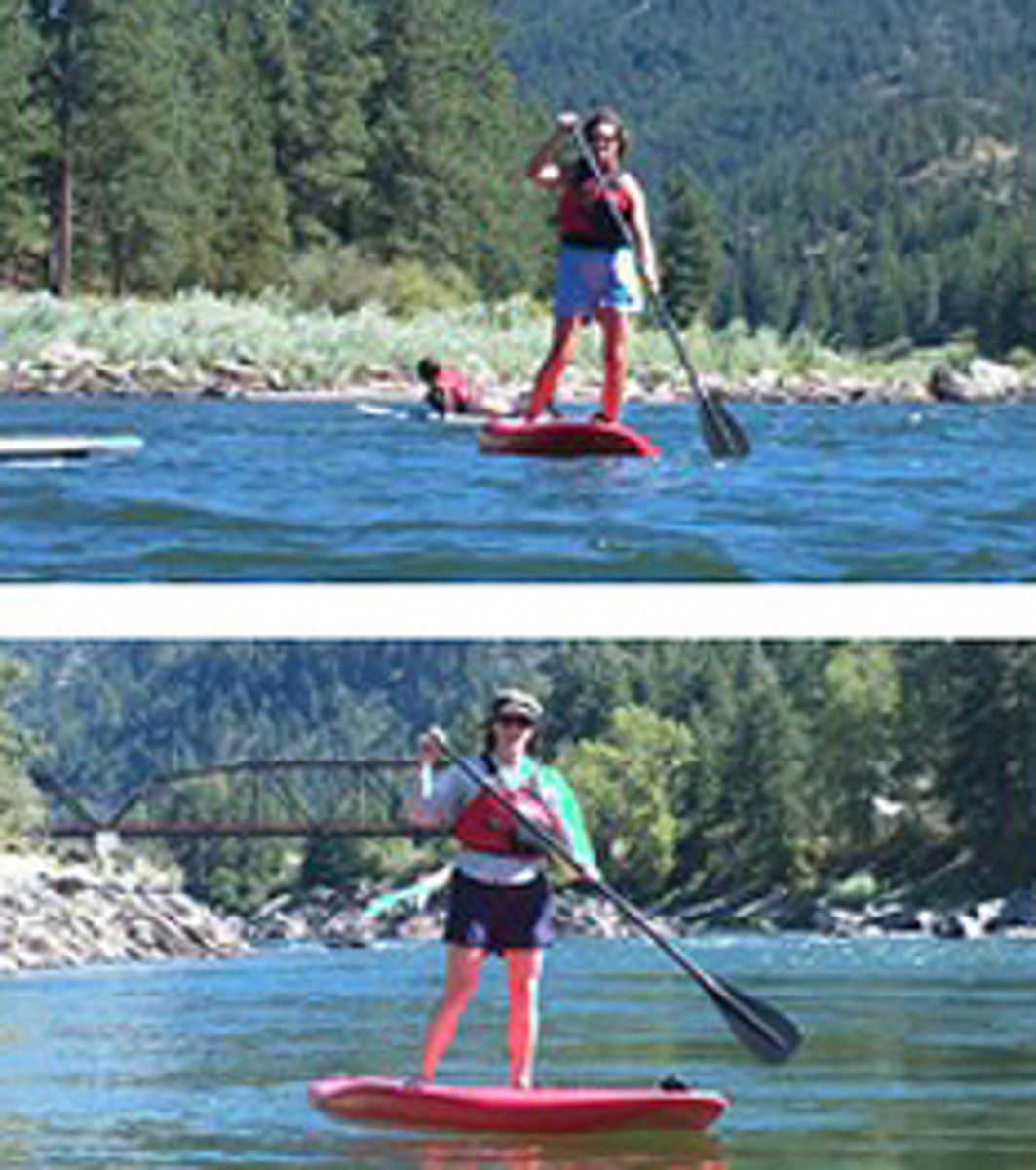 Back in 1995 MRG introduced riverboarding to Montana, offering people an opportunity to experience the river at face-level. Now, Montana River Guides invites you to join them on standup paddleboard trips on scenic sections of the Clark Fork River. You'll review safety, equipment, reading water, self-rescue and paddle technique with your guide before embarking on one of the most unique and challenging ways to run the river.
Half-day trips start at $85 per person.
Contact Montana River Guides: 406.722.7238, rivers@montana.com
To visit the website, click here.

Puerto Rico
Paddlesurf, tour, or try some SUP yoga in Puerto Rico. Stay on the beach every night and paddle every day through forests and mangroves, or paddle the coastline with friends and do some snorkeling. Lessons and tours offered for novice and experienced paddlers.
For more info, contact: 787.424.9898, tanyaesparza@gmail.com
To visit the website, click here.

Maldives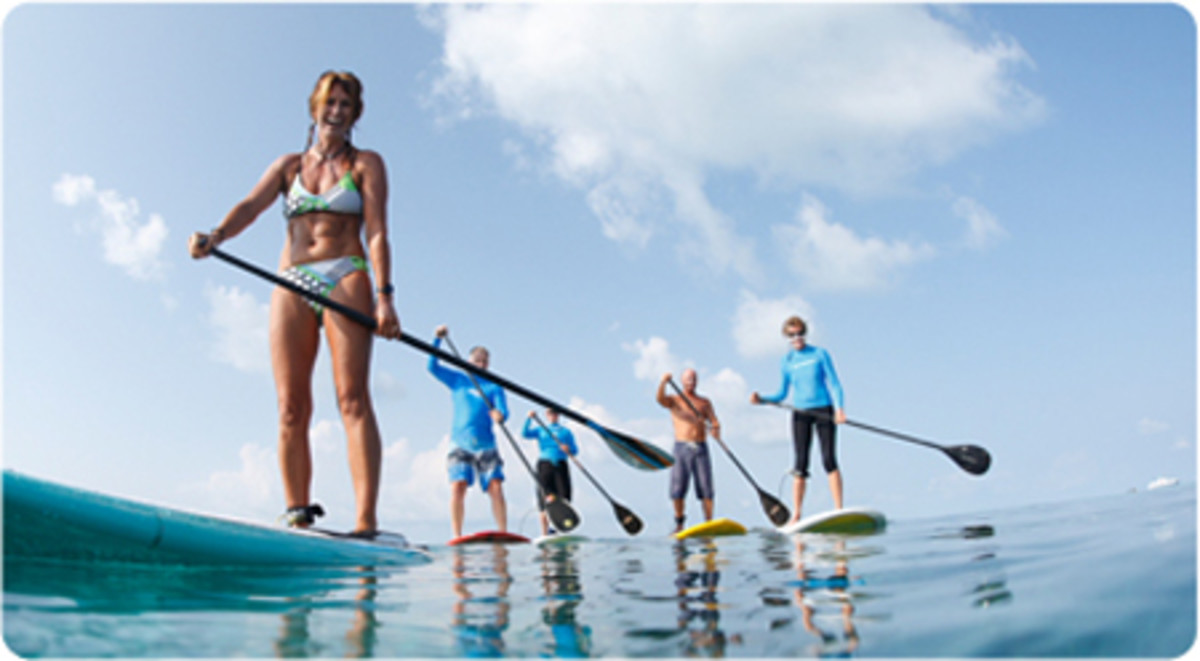 With two qualified guides and a range of equipment, this is a trip you'll want to take with an array of activities including SUP and surf lessons, waterman training (breath improvement, learning to relax under waves etc.), technique and style coaching utilizing video/photo analysis, lessons on surfboard design, fitness or weather analysis. Tropicsurf offers dozens of other activities on their trips including snorkeling, night fishing or trolling, skurfing, beach BBQ's on private deserted islands, local-style curry cooking classes, island sightseeing and cultural presentations, Maldivian language orientation or yoga. Even if the surf isn't great, you can still learn, be challenged, keep active and stay entertained.
Contact TropicSurf for pricing and availability: +61.7.5455.4129, info@tropicsurf.net
To visit the website, click here.

West Virginia
Spend the day paddling the New River Gorge in West Virginia. Paddlers will start in flatwater, learning proper stroke technique and how to read the river before cruising to moving water where groups can surf small waves and eddies. Wildwater Expeditions offers lessons, half- and full-day trips.
Pricing: Day trips: $94-99/person
For more information, contact Wildwater Expeditions: 1.800.WVARAFT (982.7239), wvaraft@wvaraft.com
To visit the website, click here.

Tavarua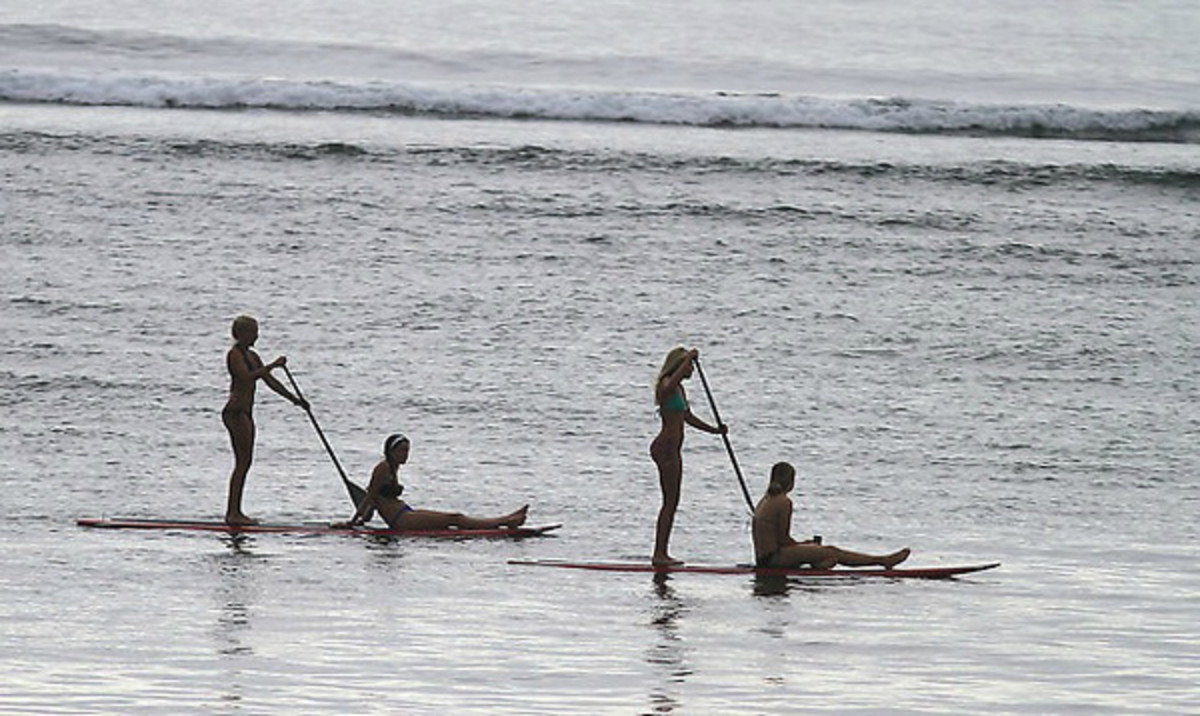 Standup paddlers are finding that Tavarua is the place to visit: to cruise over the crystal clear reefs, to learn to ride waves at Kiddie Land and Swimming Pools, or to try experienced SUP skills in more serious surf at Cloudbreak, Restaurants, Tavarua Rights and Namotu Lefts. Paddlers can spend all day exploring the inner reefs and paddling over the crystal-clear waters, while the more adventurous will ride their first waves at Kiddie Land and then move to the outer reefs.
Week trips start at $3893/per adult (15 yrs. +) for June 7 – October 25, 2012 departures.
Contact Waterways Travel for more info: 888.669.SURF, waterways@waterwaystravel.com
To visit the website, click here.

Kauai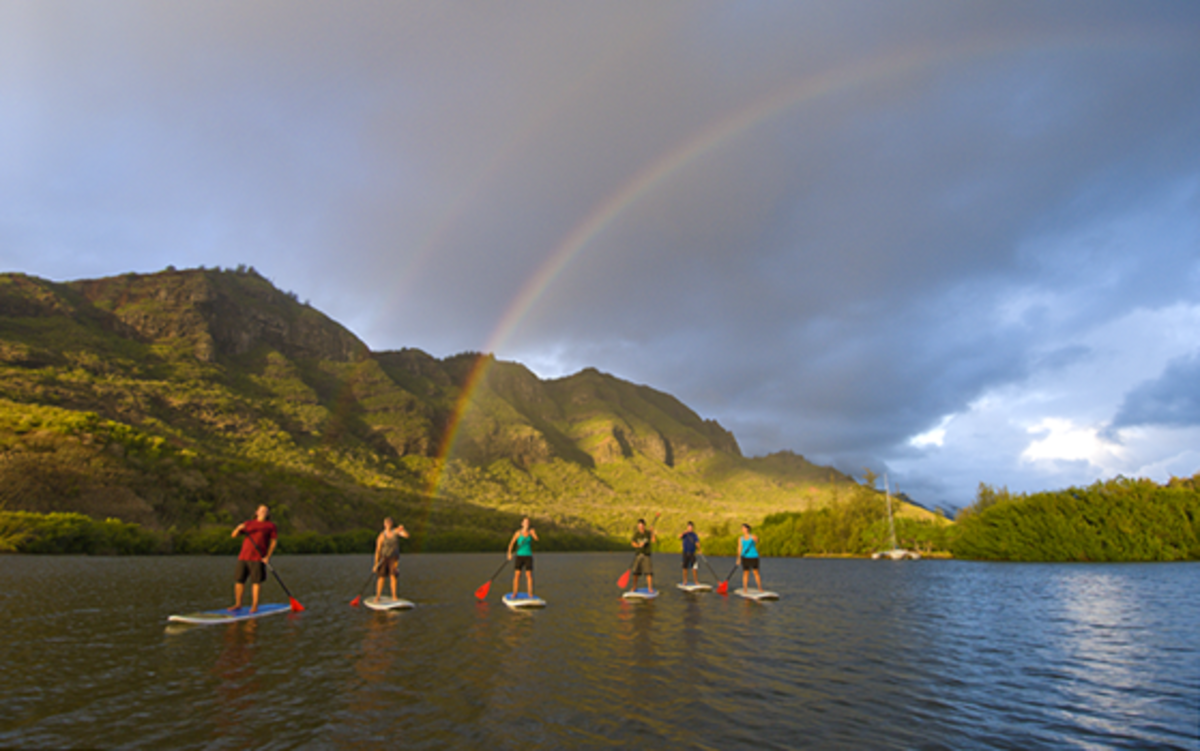 From the company that introduced Zip lining to Kauai comes a brand-new adventure—a calm water river standup paddleboard tour. You'll paddle downwind on a 2-mile river through the Hule'ia National Wildlife Refuge, ringed by the majestic Hau'pu Mountains, then hike to waterfalls, ride a very cool water zip line, enjoy a picnic lunch and get to experience Kauai first-hand.
Pricing: $122 per person plus tax for adults, $92 plus tax for kids 14 years old and under. For more info, contact Outfitters Kauai: 888.742.9887, info@Outfitterskauai.com
To visit the website, click here.

Portugal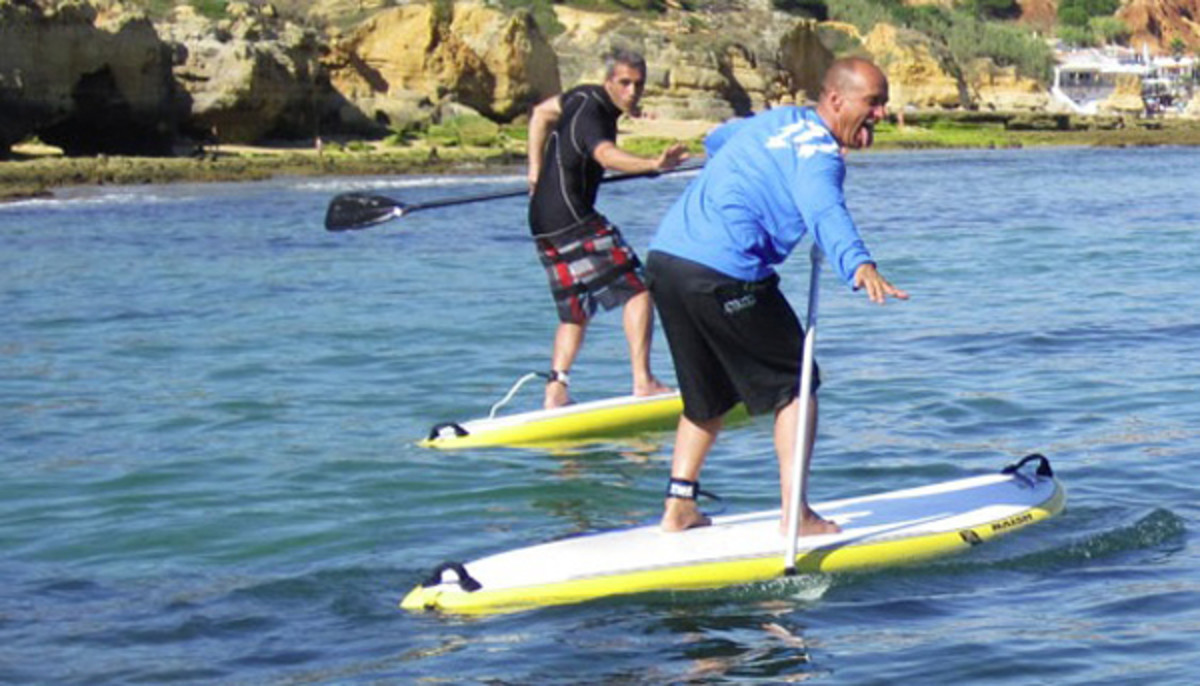 Paddle Algarve, the southwestern tip of Europe with more than 200 kilometers of coastline. Scope out some deserted beaches, paddle up scenic rivers, explore calm lagoons and paddlesurf. Choose from a few classes or cruise and work on technique. Conditions for all levels of paddlers.
Prices start at 70 euros/ 3 hours
For more info and pricing, contact SUP Surfing Algarve: 351.916.126.300 / +351.916.126 .05, sup@southadventures.com.pt
To visit the website, click here.

Galapagos Islands
Enjoy a multi-sport vacation in the unexplored waters of the Galapagos. Kayak, snorkel, and standup paddle with penguins, sea lions, sting rays and more for 10 days of adventure. Other activities include sailing on a catamaran, hiking, day trips to nearby islands, and fishing.
Prices start at $4,090
For more info and availability, contact ROW Adventures: 1.800.451.6034, info@ROWadventures.com
To visit the website, click here.

Alaska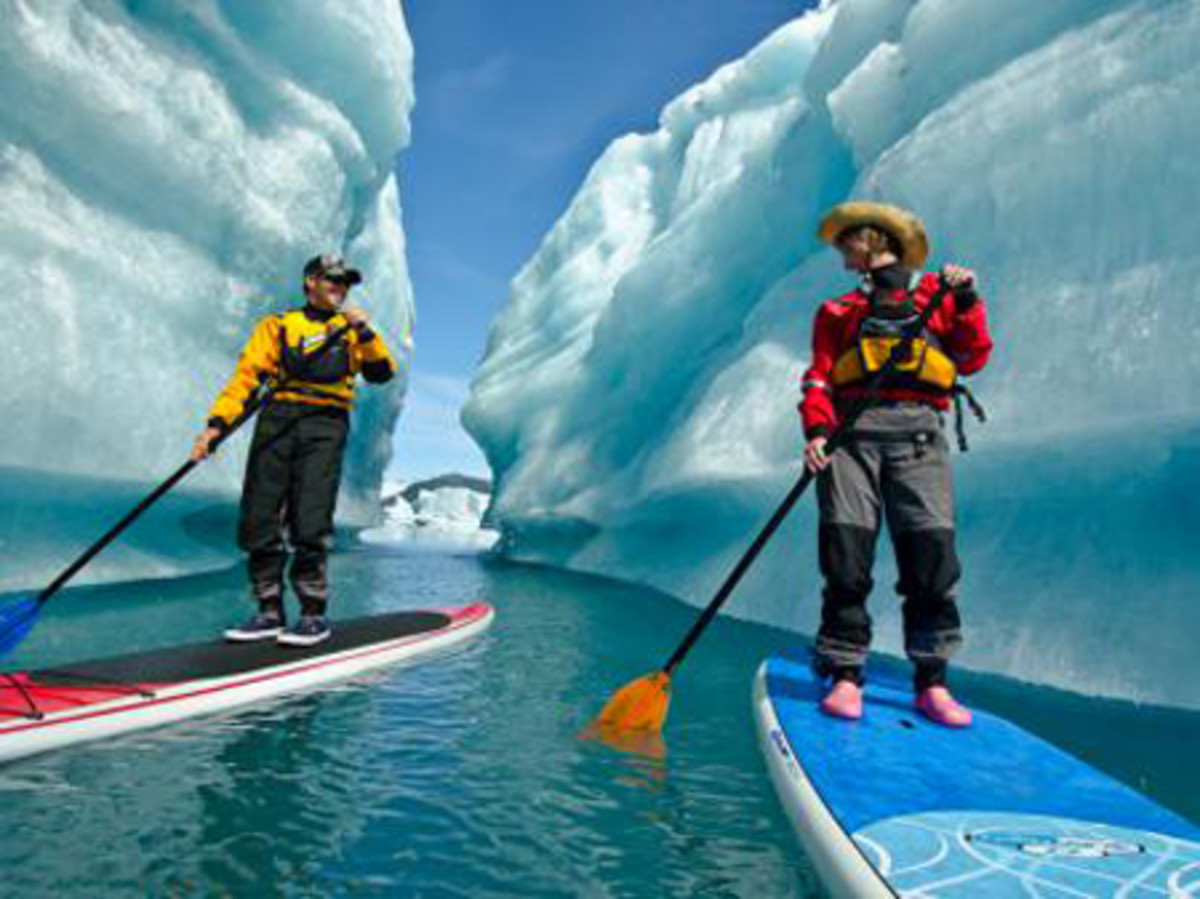 Novice and experienced paddlers and anglers alike will enjoy the well-planned itineraries, delicious camp cuisine and spectacular wilderness destinations. Liquid Adventures caters to small groups, practices Leave-No-Trace ethics and conduct all trips in an ecologically friendly style as groups experience SUP and fishing in Alaska's wilderness.
Contact Liquid Adventures for more information and pricing for single and multi-day trips: info@liquid-adventures.com
To visit the website, click here.

Punta San Carlos, Baja
Cruise down to Baja for an all-inclusive watersports week. Standup paddle, surf, tow-in surf, windsurf, kiteboard and fish. If you start feeling too waterlogged, jump on a mountain bike or go for a hike and explore Baja's desert.
Packages start at $1650
Contact Solo Sports for more information: 949.289.7779, Baja@solosports.net
To visit the website, click here.

The article was originally published on Standup Paddling
For access to exclusive gear videos, celebrity interviews, and more, subscribe on YouTube!