Heather Baus has made waves in the standup scene from Puerto Rico to Hawaii. The Missouri native turned Puerto Rico transplant thrives on SUP, organizing and winning races, holding SUP clinics and going on downwinders with her daughter sailing alongside. If she's not cliff-jumping or home-schooling her kid, Baus is on the water logging more miles. —Shari Coble
Tell us about your athletic background.
I've been a runner almost my entire life and ran my first 10k at 5 years old. My Mom inspired me to start running like she did in the 70's and I've run since. I played softball in the elementary years; volleyball, basketball, and track in junior high, and ran Cross Country and track in high school. During my 20's I was logging very high mileage and those were some of my best running days to date, but I never entered any road races- I just enjoyed logging miles and running in the four seasons that North Carolina offered.
What led you to SUP?
I had injured my neck kite surfing and was looking for an alternative low-impact sport while I healed. Standup paddling came easily, but it wasn't love at first paddle. It wasn't until I treated it like running and realized you could log some decent mileage and do some serious exploring. I really got turned on after my first race and after stepping foot on my first custom race board I'd purchased. I never thought in a million years that I would be where I am today.
Which discipline of SUP do you focus on?
I focus on racing and being fast for both shorter and longer distance races. I love a good downwinder any day, but my favorite style of racing is course racing. Going in and out of the surf, beach face plants and board carnage are the ultimate SUP adrenaline rush! I also love touring and looking for new cliffs to jump off, exploring waters off the beaten path, island crossings, and surfing with my daughter, Savannah; her stoke, laughter and looks while paddling and catching waves together is a priceless time. We also love mixing up sailing and standup paddling; Savannah will often join me on her Optimist and we'll race a 7-mile downwinder into sunset where Dad will be waiting for us at the dock to help load everything up.
How's the SUP scene in Puerto Rico?
The SUP scene in Puerto Rico is impressive. This past weekend we had the Rincon Beach Boys' 4th annual SUP race with over 200 competitors. There are clubs on all sides of the islands promoting standup paddling, racing and touring, including local resorts. A popular destination is paddling at night in our phosphorescent bays, which offers something very different.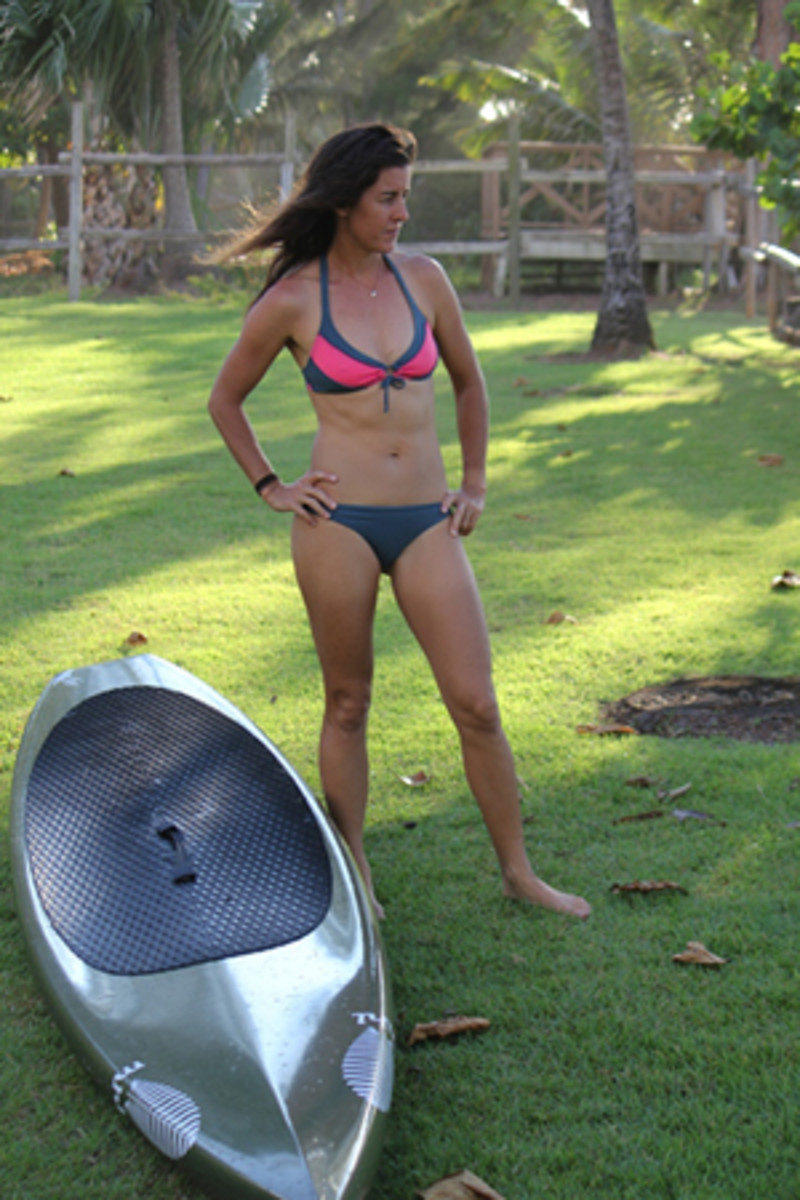 The SUP community is very tight and our local races are always a treat. There are probably as many women paddling as men, but more men are racing. I'm seeing this slowly change, as more and more ladies are entering these races.
PR offers challenging conditions, so I'm really stoked for the gals getting out there.
The PRSF (Puerto Rico Surfing Federation) has embraced standup paddling and the president, Ernie Alvarez, is hosting a yearlong series to determine the PR 2013 SUP team. He's organizing a race to be held almost every month, along with other organizers hosting races, so there is definitely no shortage of races on the island.
We are also seeing some big cash purses. Last year at the Paddle Royal event they offered $15k in prizes and this past weekend the Rincon Beach Boys raffled a new board and offered $10k in prizes. This is really spreading the stoke for locals who can't travel off island to races.
On the north side of PR standup paddlers will share the waves with local kiters and windsurfers, but if you're on the West Coast you'll share the waves with the surfers. There are just a handful of breaks that standup paddlers and surfers clash at, but there are so many breaks that standup paddlers can easily navigate to that aren't as convenient for a surfer to reach. Many a time I've surfed over head-high, glassy waves, sharing only with a handful of standup paddlers and surfers, and everyone is very respectful.
Tell us about the niche you've carved for yourself in the standup world.
I have hosted families and friends in my home for races, given local SUP clinics, and organize our South Coast annual WPA-sanctioned downwind race "Escape from Coffin Island." Last year we had a great stateside turn out by the ladies and we saw a lot of open class ladies graduate to the elite class, which was exciting.
Mostly I try and encourage families and women to get out on the water. I take my daughter to almost all our stateside races where she too races and enjoys seeing and meeting new friends. I rep KIALOA paddles, Hinano and market MHL custom boards (that are manufactured here in PR), as well as promote my personal sponsors to local surf stores. Using great product on and off the water is such a bonus. I'm honored to have a great back bone of sponsors and hope that I'm giving back just as much as they give to me.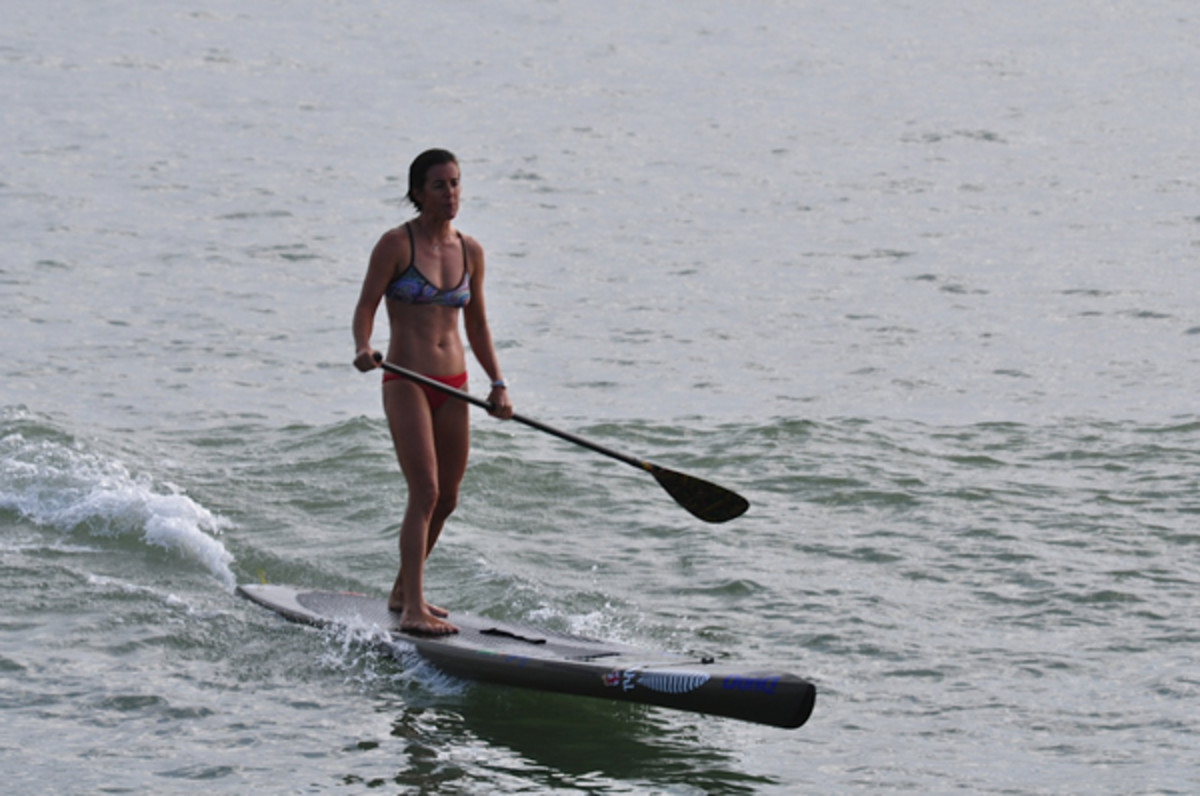 Why do you think SUP has become such a phenomenon?
It's just amazing how many things you can do with a board and paddle, regardless of your ability. It's an amazing way to stay healthy and spend time with friends and family while enjoying the nature that surrounds. Lakes, oceans, bays, rivers- there is something for everyone.
To read about Darian Boyle, click here.
The article was originally published on Standup Paddling
For access to exclusive gear videos, celebrity interviews, and more, subscribe on YouTube!