SUP Women: Jessica Rando
Ontario's Jessica Rando is no newbie to winning in paddle sports. The Canadian is a World Champion Dragon Boat Racer, Canada's Sprint Canoe National Champion and a Pan American Canoe and Kayak Champion. She also competed as a lightweight rower in college, and now competes in SUP while running a paddling business, The Paddle Coach. With her experience as a top competitor across multiple paddle sports, it's no surprise that Rando began to win titles shortly after taking up standup paddling. Here, we get to know one of Canada's top SUP women. —SC
Tell us about your impressive athletic background.
I was active from a young age and participated in everything from swimming and downhill skiing to mountain biking, cross country running and snowboarding. I competed in mountain biking and running in high school, but the serious competitive athletics really started in sprint canoe. I didn't start competing until about 19, which was the year of my first National Championships.
My life for the next nine years was training multiple times a day on a very regimented and structured program. During my journey I had some top-notch coaches, including Olympic Gold Medalist Larry Cain, and trained alongside some very talented and inspiring female athletes.
A major highlight for me was earning a spot to compete at the Pan American Canoe/Kayak Championships, the only international competition for female canoers at the time. Sprint canoe really was the gateway to all other successes I've had in other paddling disciplines, including SUP.
You have an interesting past serving in the Canadian Navy. What made you choose that career path?
I chose this career path for the challenge, learning opportunities, and to serve my country. I loved the physical and mental challenges of Basic Training, and because I became an officer, there's a major leadership component, which benefited me in many areas of my life, including my business. This question actually brings me to one of my other athletic highlights: having the second highest number of consecutive pushups of over 100 recruits, of which over 90 percent were men. One person beat me; we're planning a rematch.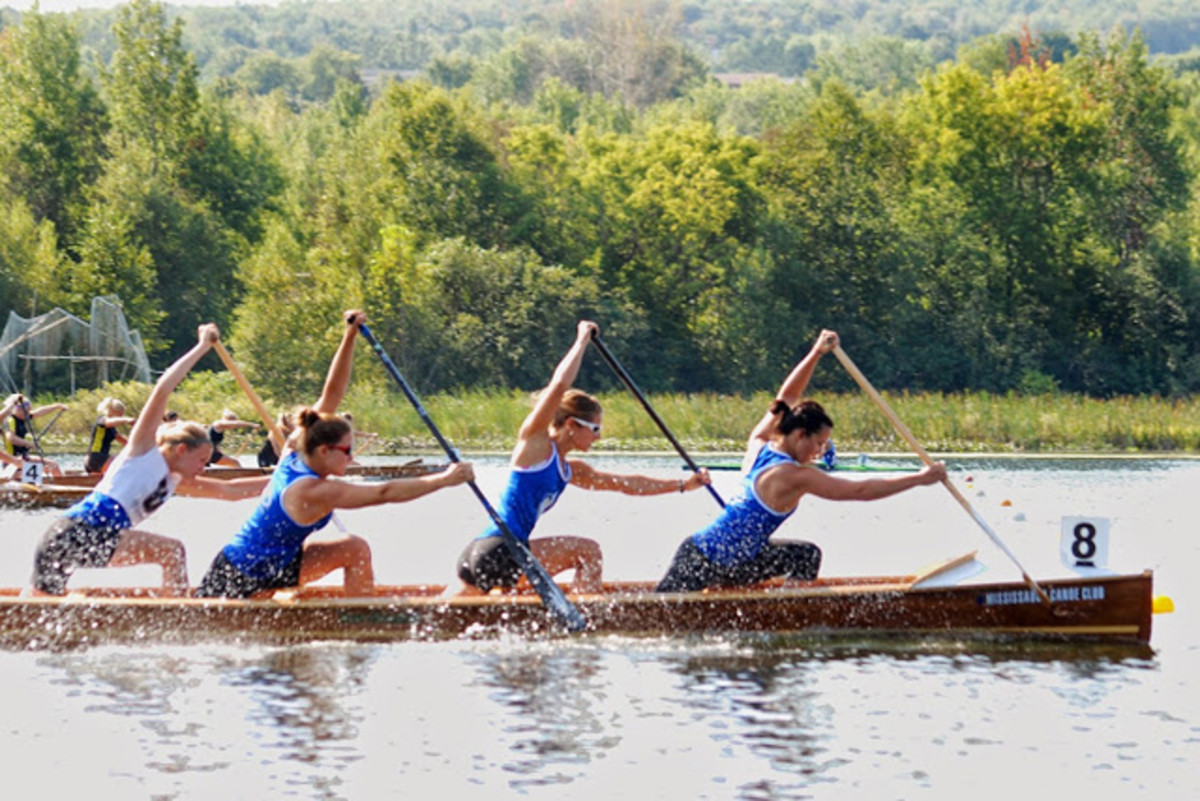 Why'd you transition from canoe and kayak to SUP?
I'd retired from sprint canoe, as I'd accomplished what I wanted to and was interested in trying something new. With outrigger canoe (OC) becoming popular in my area, I decided to train in OC for a while, develop my paddling ability on my offside, and learn to paddle in waves.
While I never competed in OC, I loved that I could venture out into waves and that I needed to learn new skill sets. I loved the challenge and paddling in a variety of water conditions, so when SUP was introduced to me a year later, I fell in love with the near limitless potential of the sport. Downwinding, surfing, whitewater, open ocean—they were all now within reach and I had a ton of learning to do.
Is there much of an SUP scene in Mississauga?
Yes, there's a growing SUP scene in Mississauga, which grows exponentially each year! As a local instructor, I have the opportunity to be a part of this growth firsthand, which is quite amazing. Each year brings more new people to the sport, and some of my past students are now venturing into more challenging aspects of SUP, including whitewater, surfing and downwinding, so the depth of the scene is developing as well.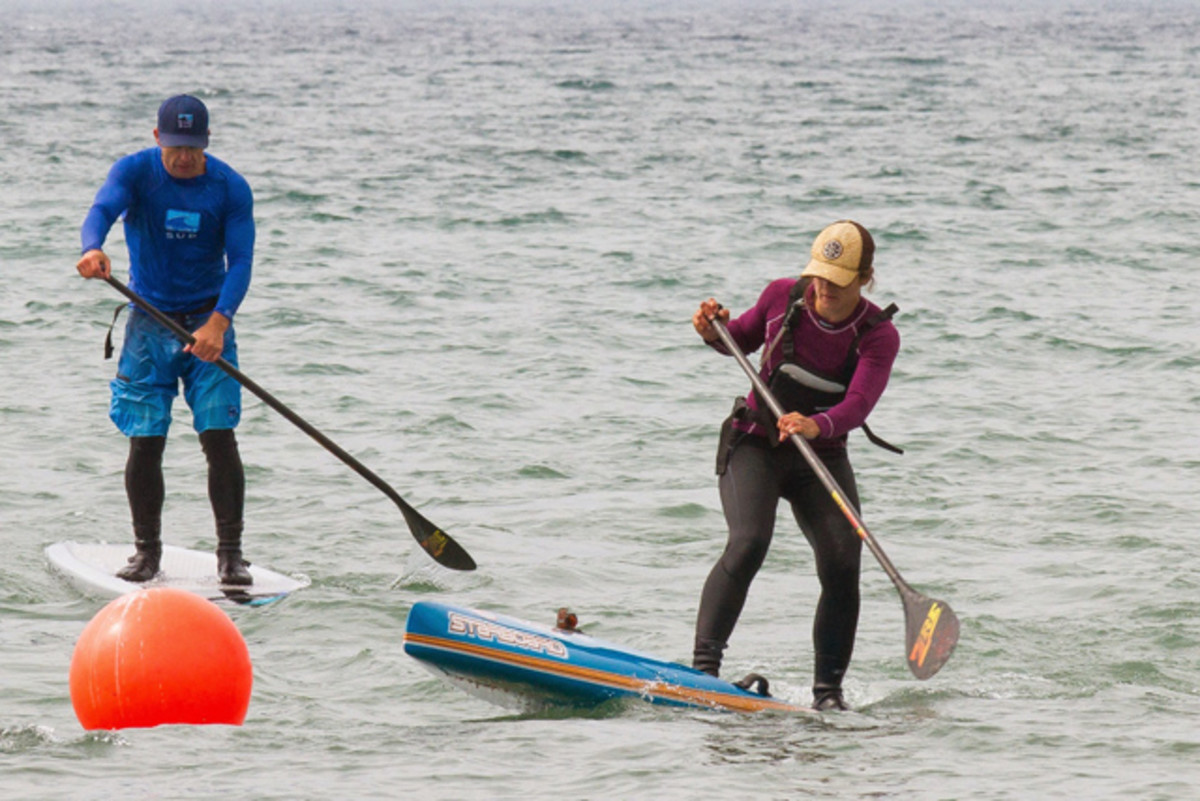 How do you keep up your training during the cold season?
First, I throw on my 4/3 wetsuit, booties, mitts and hood, and take advantage of the best surf on the Great Lakes, which happens during the fall and spring months. I live on the northwest shore of Lake Ontario, with Lake Erie and Lake Huron only a couple hours away, so depending on winds, there are many surf spots within driving distance.
I train in the gym almost daily, working through a proper weight program beginning in mid-September and run year round. Last year we were frozen off the water for three months. I definitely start to miss paddling, but it's a great chance to cross-train and add variety to training, which is great for mental rejuvenation.
In the thick of winter I'll hit the trails for snowboarding or cross-country skiing, which, last year, I was able to do right out my front door (cross-country skiing I mean).
Come April, I run my annual SUP Camp in Florida, so when I'm not coaching, I'm on the water doing my own training. It's an awesome kick-start to the season.
What goals do you have as an SUP racer?
I'm really enjoying river SUP, so I'd like to compete in larger whitewater races next summer, including Payette River Games and Go Pro Mountain Games. I'll do as many races as I'm able to juggle with my business, but my ultimate goal is to gain the experience in Hawaiian waters to compete in the Molokai to Oahu Paddleboard World Championships. I absolutely love downwinding and that's the ultimate downwind challenge.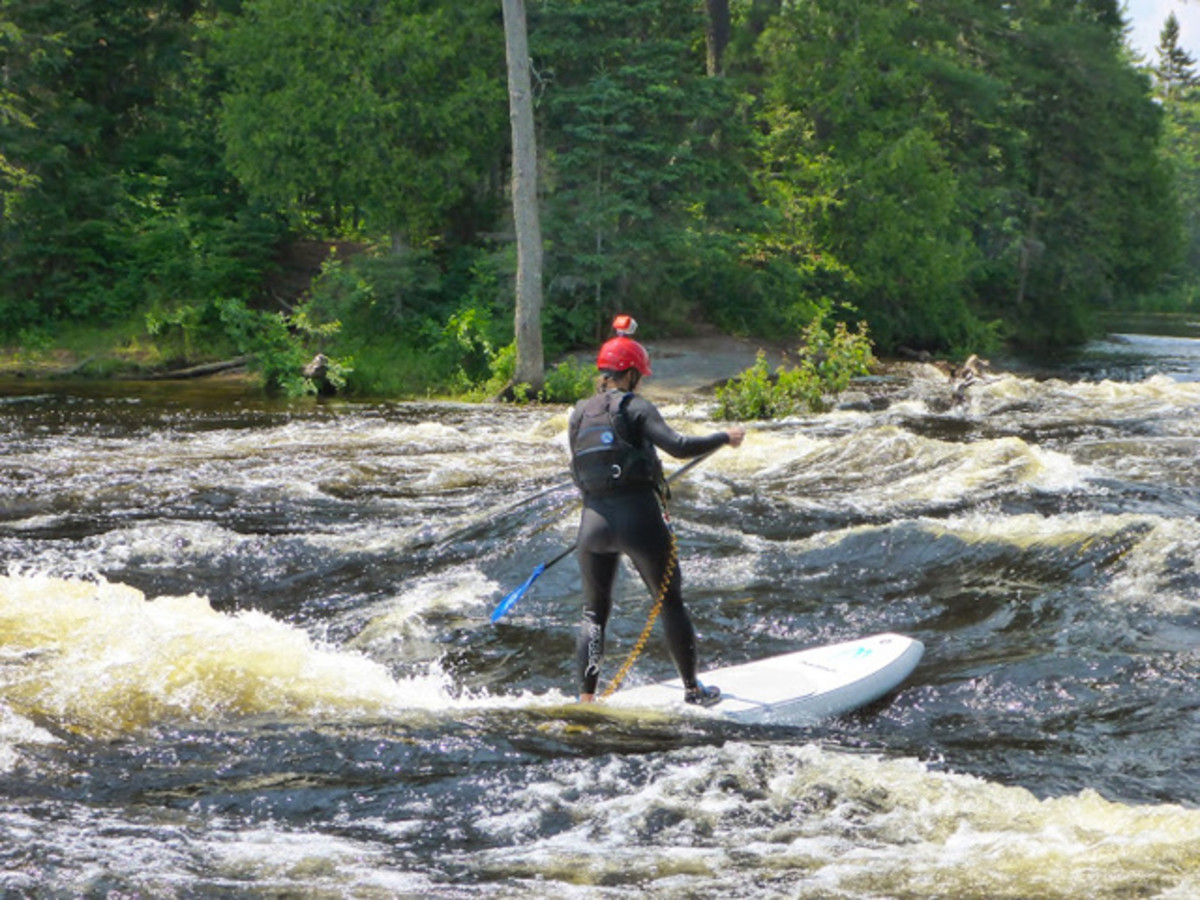 What's it like to see fellow Canadians like Lina Augaitis make it to the top of the sport?
It's absolutely incredible and I certainly feel a sense of national pride, as I'm sure all Canadian SUP athletes do. What she accomplished this season shows that hard work and dedication really do pay off. It's absolutely inspiring. Coming from over 10 years of competitive paddling, I know the time and commitment it takes to achieve that—it's a good sign for the sport if it takes a full-time commitment to make it to the top.
Tell us about your business, The Paddle Coach.
I've owned and operated my business for over seven years, and over those years, SUP's become more of the focus of the business. We offer intro lessons, race-specific coaching to flatwater and whitewater SUP certifications, and stroke clinics to training camps. Recently, I added a personal passion: wilderness expeditions. We take clients on self-supported multi-day SUP trips into the wilds of Ontario.
Give us some insight into your conservation efforts.
I run an annual SUP cleanup on the Credit River, which has been my paddling home for years. We've had great participation and I feel we're impacting not just the aquatic environment, but also others in the community that see us taking action. When I travel upriver to the shorelines we've cleaned, I notice that they're staying clean longer, so hopefully this means we're inspiring people.
Beyond the competitive aspects of SUP, what do you hope to accomplish as a standup paddler?
Aside from travelling for racing, I'd like to explore as many new places by SUP as possible, and help make these places accessible to others, especially within Ontario. Our wilderness is so beautiful and we have an abundance of water within it.
This past summer was a summer of exploration. Jonah Logan, a fellow standup paddler and whitewater enthusiast from North Shore Paddlesurf, and myself took road trips to explore new whitewater spots and runs across Southern Ontario. The Paddle Coach and North Shore also recently partnered for our first River SUP Expedition on the French River. It was a huge success and the first of many expeditions like this.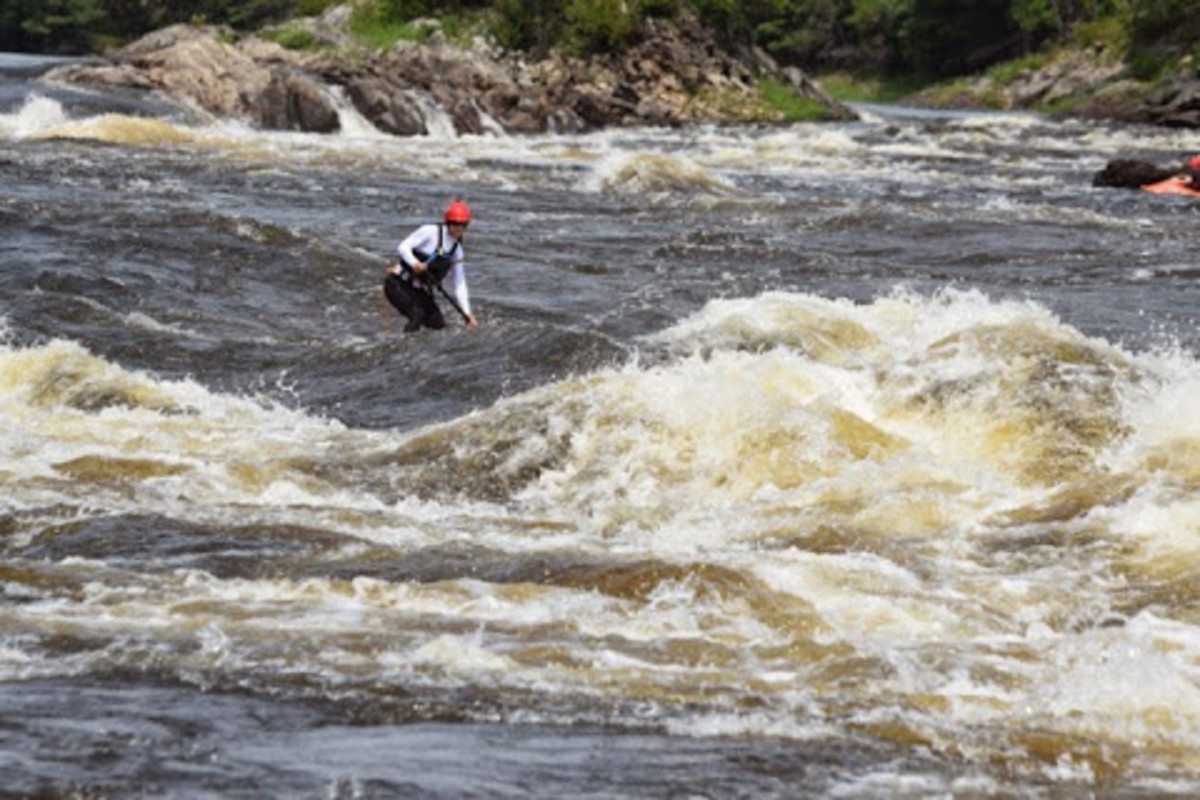 For more information, visit: ThePaddleCoach.com
Click here for more SUP Women.
The article was originally published on Standup Paddling
For access to exclusive gear videos, celebrity interviews, and more, subscribe on YouTube!