In 1998, surf photographer Mike Coots was attacked by a tiger shark while bodyboarding in the waters off the coast of his home on Kauai, forcing doctors to amputate his right leg below the knee.
Which Coots says is the best thing to ever happen to him.
In the nearly two decades since his shark attack, Coots has established a successful career as a surf photographer and become an advocate for oceanic and shark conservation.
Earlier this week, a video of Coots being interviewed by the YouTube channel Great Big Story went viral, as viewers were astonished by how candidly Coots spoke about his injury and how he thinks suffering what is, objectively, a tragic occurrence ended up being the greatest blessing in his life.
RELATED: Shark attack survivor out of coma, says he will never surf again
"I wouldn't change my life for anything," the 36-year-old Coots said in an interview with GrindTV. "The attack has provided me with opportunities in this life I could have never imagined."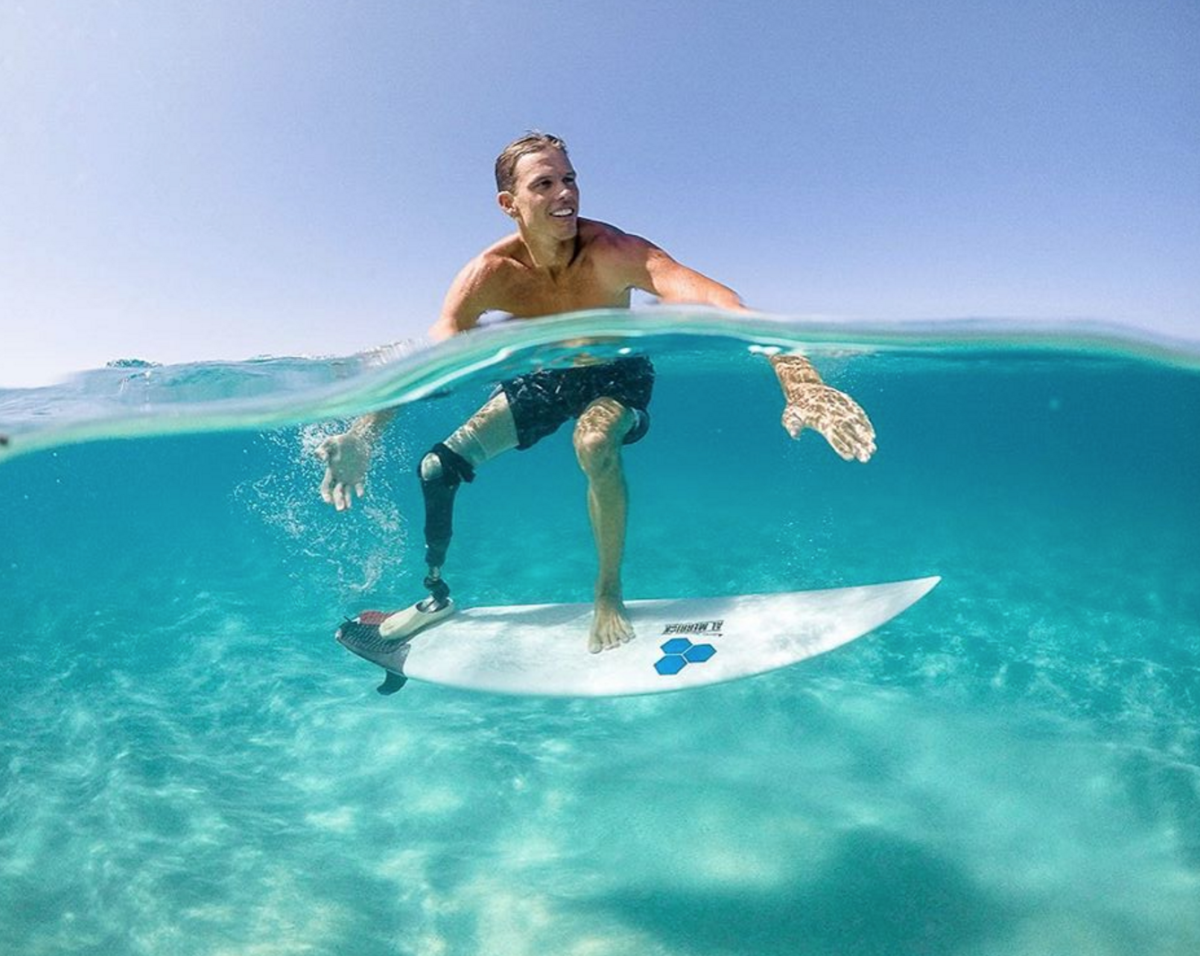 To hear Coots tell it, losing his right leg hasn't hampered his abilities in life, but rather, it has emboldened them.
A dozen years after suffering his shark attack, Coots was contacted by a fellow shark attack survivor in Florida who asked if he would be interested in working with her to advance the national conversation on shark protection and the importance of sharks in the ecosystem.
She showed Coots a brief documentary about the rampant and highly controversial shark finning industry, and the damage that the rapid depletion of shark populations across the world was causing oceanic ecosystems.
"Prior to my injury, honestly, I had no involvement in oceanic conservation," said Coots. "I was a bit clueless about it all. All I knew was that the ocean was important to us in Hawaii — it's everything we have here — and that I loved being in it."
For Coots, who so loves the ocean that he returned to bodyboarding barely one month after having his leg amputated, being confronted with the harsh reality of shark finning was startling.
"It just blew me away," said Coots. "The more I learned the more I wanted to keep helping. And then I started diving with sharks, which just turned into a full-blown addiction, and I realized I needed to do all I could to help."
And so Coots began working to gain the ear of policymakers in Washington to help push forward conservation efforts. Among all the other eco-friendly activists, Coots stood out: He was an amputee and a shark attack survivor.
"It's a conversation starter," said Coots. "I think it has allowed me to get in front of and speak with politicians who would have never given me the time of day without it. And I'm able to bring along some of the world's foremost marine biologists with me when I meet with these policymakers, expert scientists who know far more than I do, who are able to explain just how dire the situation is."
In addition to facilitating discussions with elected officials, his injury has also allowed him to inspire other amputees and shark attack survivors across the globe. All of this, he realizes, would have been impossible had he never had that fateful encounter with the tiger shark 18 years ago.
"Life is short, and if you can do something good and make some amount of change out of what people would assume is a bad thing, then why not?" said Coots. "To this day, if you were to ask me if I would have paddled out that day knowing that I'd come back limbless, I still say I'd go out regardless."
More from GrindTV
How to plan an Australia vacation without breaking the bank
The best (and the worst) ski inventions of 2016
4 creative ways to stay hydrated
For access to exclusive gear videos, celebrity interviews, and more, subscribe on YouTube!