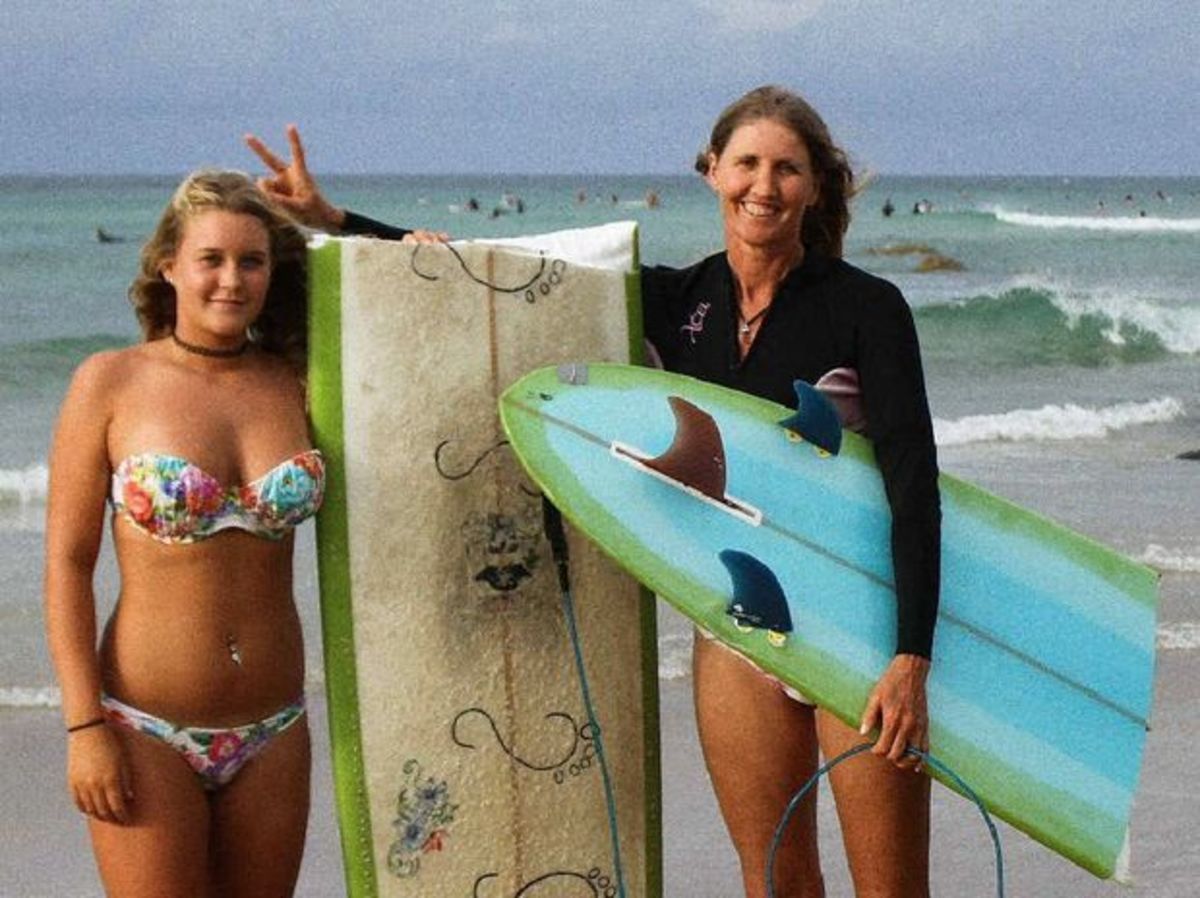 These days in New South Wales, Australia, perhaps it's not wise to paddle with dolphins.
Surfer Dianne Ellis was recently knocked abruptly off her longboard, which was snapped cleanly in two by what she first believed to be a dolphin.
She had been paddling with dolphins in Byron Bay, videotaping the small cetaceans, when there was "an immediate explosion and suddenly I was floundering around in the water with two pieces of board," she told the Daily Examiner.
Ellis' video footage is posted below. The strike on her board occurs at 1:05, but the footage does not reveal a culprit, only a lot of bubbles.
The surfer was helped ashore by a standup paddler, who said he saw a small shark swimming nearby as she was treading water.
After reaching the shore Ellis saw what looked like teeth marks on one of the board's fins, and also noticed that the fins were damaged (look closely at the photo atop this post).
It was then that she realized that she might have survived a shark strike.
But it's impossible to say for sure. However, given the violent nature of the attack, and that great white sharks ambush prey by striking upward, it seems as though Ellis is a very lucky woman.
Great white sharks have been making headlines this month after being witnessed attacking dolphins off New South Wales beaches, primarily a bit farther south, off Newcastle. Newcastle beaches were closed for more than a week because of the presence of large sharks near dolphin pods.
Photos showing dead or injured dolphins have been circulated on the Internet.
Ellis explained that she had ventured pretty far offshore to find the dolphins, and that they scattered and disappeared once she arrived.
"I thought, 'Oh, they don't want to be filmed; they're being a bit antisocial," she told ABC North Coast NSW. "So I paddled back to shore and went to catch a couple of waves, and it wasn't long before they came back in. So I paddled back out so I'd be in their path, and I saw them coming.
"I was filming as they came, then I saw a couple come very quickly under my board, but then something suddenly hit me."
While in the water, she recalled a friend who had been bitten in the leg while surfing, but still thought it could have been a dolphin strike that broke her board.
"I was more worried that I had snapped my daughter's board," she told the Daily Examiner. "She won an Aussie title on it last year."
Undaunted, Ellis vows to keep surfing, explaining that whether it was a shark or dolphin that struck her board, "I have no doubt it didn't want to eat me, [because] it could have while I was in the water."
Last September, a 50-year-old British man was killed by a shark in Byron Bay.
More from GrindTV
Rare, freaky frilled shark caught in fishing net
Rare megamouth shark captured off Japan
Photos show majesty of breaching sharks
For access to exclusive gear videos, celebrity interviews, and more, subscribe on YouTube!