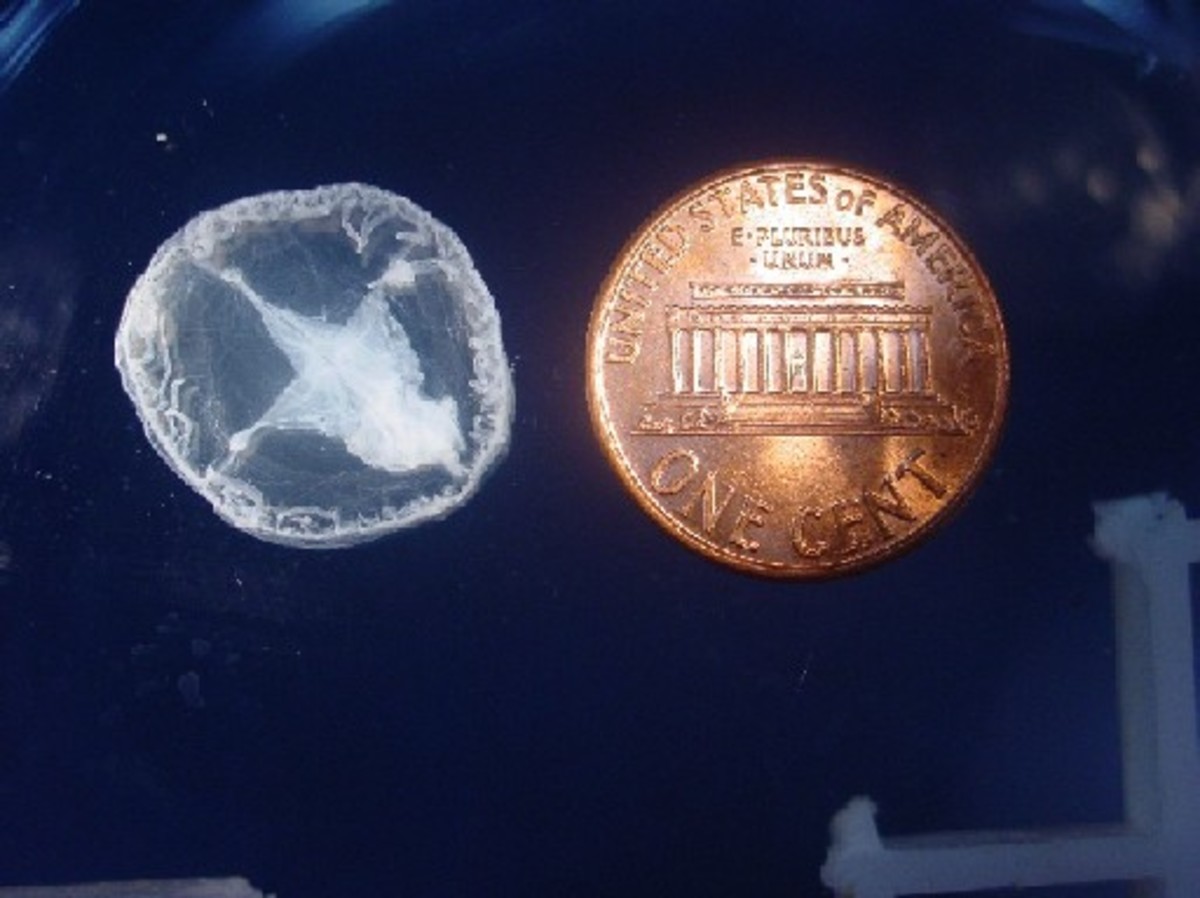 Taylor Kelley was swimming off the family dock on the Lake of the Ozarks on Sunday when something unusual in the water caught her eye.
"At first, I was thinking somebody had, like, littered, and there was plastic in the water," Kelley told KRCG. "And then we noticed that there was a couple, and we were like, well, what is that?"
The living, swimming, translucent creatures many thought only lived in the ocean were freshwater jellyfish. They saw four of them and caught three, later releasing them.
At first, Brian Kelley thought his daughter was playing a prank on him when she showed him.
"I didn't realize there was such a thing as a freshwater jellyfish," Brian Kelley told KRCG.
Well, there is and they're pretty widespread.
Freshwater jellyfish, native to China, are found in 44 states. They are believed to have been introduced in the U.S. via water hyacinth plants in the 1880s, KRCG reported. They are said to be harmless to humans, unlike the saltwater variety.
But Neal Taflinger of Indiana might contest that "fact."
The Indianapolis Star reported Tuesday that Taflinger, an employee of the Star, claims to have been stung by a freshwater jellyfish last month at Peoga Lake.
"More than an hour after I got into the water, the tranquility was shattered by what felt like a bad bee sting on my lower abdomen, about a foot underwater," he told the IndyStar.
Demian Hostetter was with Taflinger that day and also claimed to have gotten stung, saying it "felt like licking a car battery."
One other person in the party was also stung, sending them all scurrying out of the water.
RELATED: Bizarre photos show swimming fish trapped inside jellyfish
Like Brian Kelley, they couldn't believe it when someone discovered the source of the stings.
"I think we all said, in unison, 'Nuh-uh,'" Taflinger said. Then they observed one in a bucket.
"It was about the size of a quarter, translucent, totally a jellyfish," Taflinger said.
A park ranger at Ouabache State Park told the IndyStar that freshwater jellyfish sightings in Indiana are rare with only about five per year.
"The appearance of the jellyfish is described as sporadic and unpredictable," freshwaterjellyfish.org wrote. "Often, jellyfish will appear in a body of water in large numbers even though they were never reported there before. The following year they may be absent and may not reappear until several years later. It is also possible for the jellyfish to appear once and never appear in that body of water again."
Who knew?
More from GrindTV
3 ways to get you smelling better in the backcountry
Why the Zeal Optics Idyllwilds are your new favorite adventure sunnies
6 cheap must-have items for any tropical surf trip
For access to exclusive gear videos, celebrity interviews, and more, subscribe on YouTube!