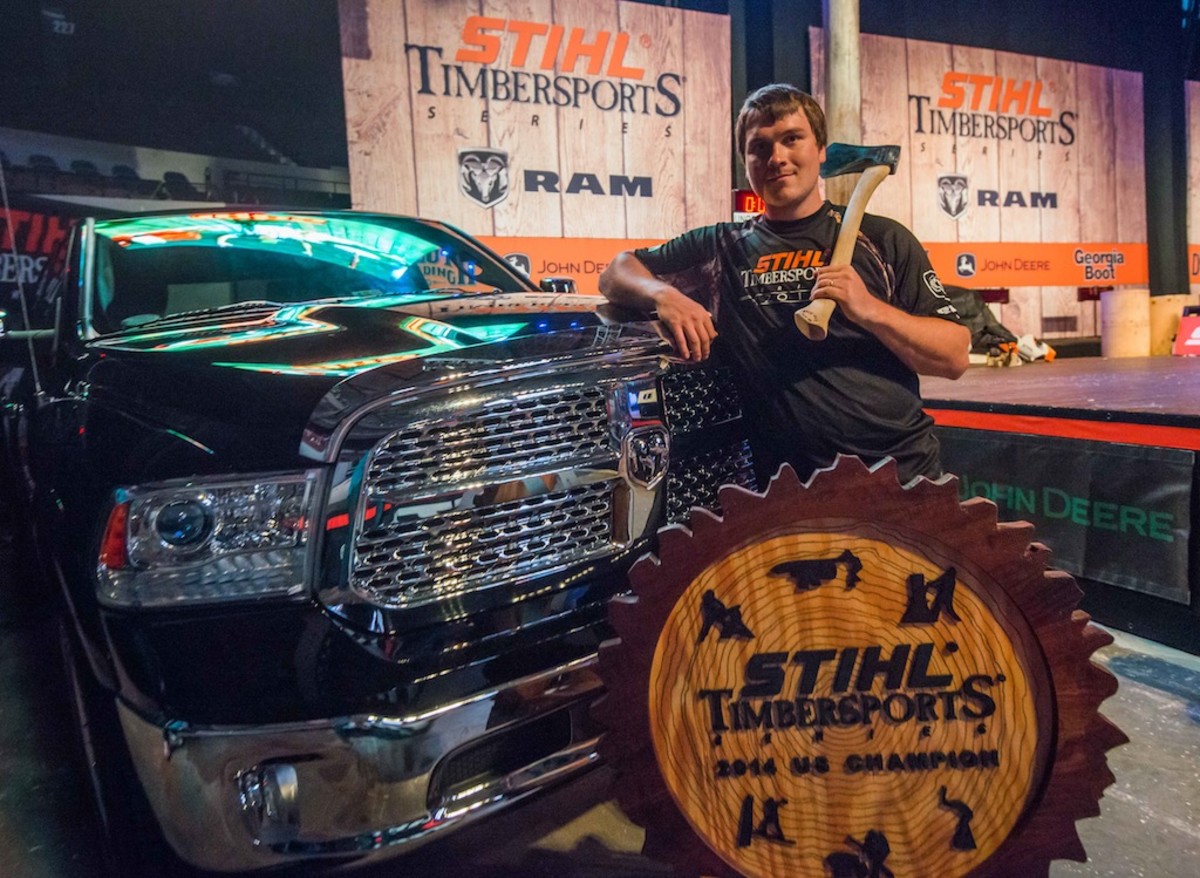 Matt Cogar chops wood for a living. And not for firewood. Earning six figures in prize money every year, the 27-year-old, West Virginia-based lumberjack athlete recently upheld his title as the best American at the 2014 Stihl Timbersports U.S. Pro Championship. He cut against the country's elite 16 timbersports pros in six daring, draining events designed to test sawing, chopping, and axing prowess.
Considered the new face of the niche sport, Cogar was literally born into the sport. His family is filled with timbersports masters, including legendary cousin Arden Cogar. "I really believe I was born to lumberjack. That doesn't necessarily mean that there's a genetic component to excelling at timbersports, but I have a lot of positives going for me that are genetic, like height and musculature," Matt says. "If you're athletic, competitive, and disciplined, you'll be a successful competitor in timbersports."
Besting Mel Lentz, 55, who owns six U.S. titles, the youthful Cogar continues to surprise everyone in a sport traditionally dominated by veteran lumberjacks. We caught up with Matt to learn a little more about training for this underground sport.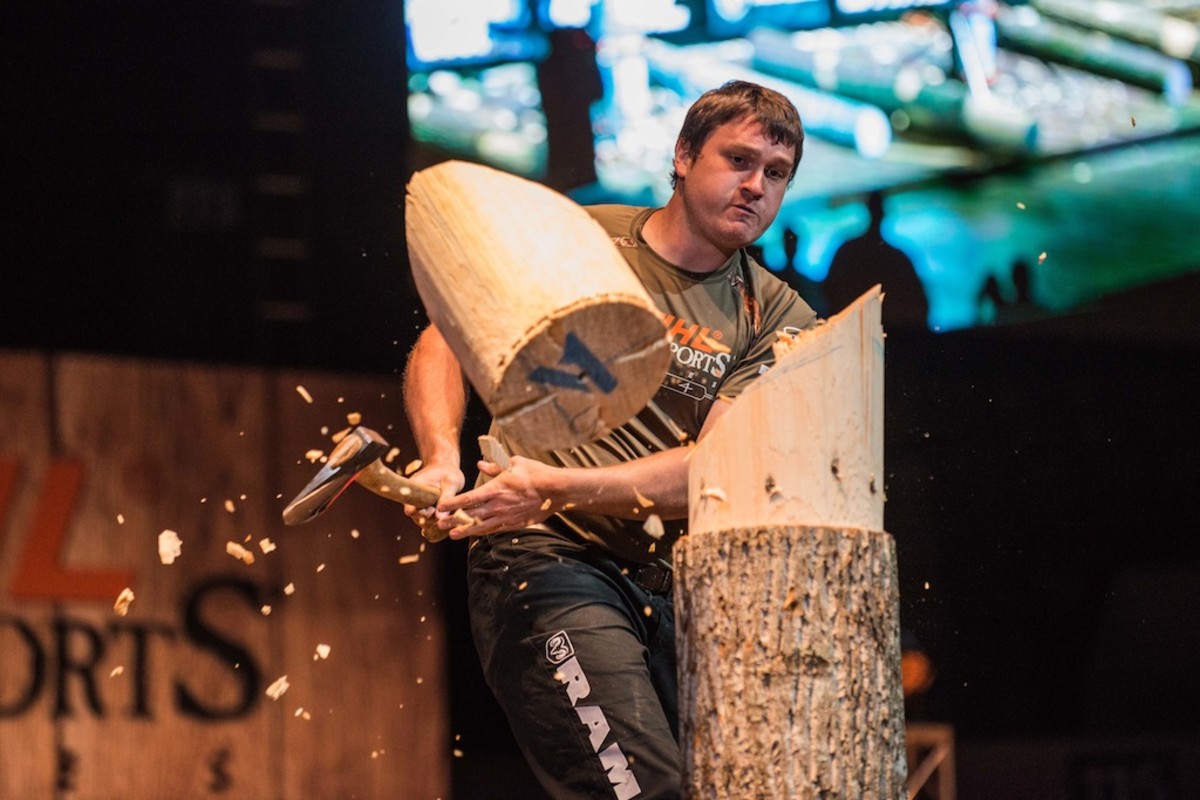 How do you train for a world championship? Take us through a typical week of specific/cross training.
Training for world championships is fairly rigorous. Typical training consists of one day dedicated to any particular event, say a whole day dedicated to the standing block chop and springboard (because they're similar in nature); another day to underhand chopping; and sawing events another day. This allows me to focus on correcting any mistakes that can hinder me from performing at my optimal level in those particular events. Outside of training events, I try to condition my body as much as possible in order to build endurance and reduce the risk of muscle injury.
Do you have a special nutrition plan for your training? What are a few go-to meals/snacks?
I try to get as much protein as possible to help rebuild the muscles that are under a lot of stress. Protein powders. Carb load on event weekends. Definitely fruit on the day of competition—bananas and strawberries are common for me. A big breakfast gives me something to work off of.
What kind of mental stamina and toughness does one need to possess to compete in timbersports?
The mental aspect of competition is intense! Just like sinking a putt for an eagle, you have to be confident you can putt, and you have to be confident you're hitting correctly, running the saws without glitches, especially when a tenth of a second could result in first or third place. To be mentally tough allows you to stay calm and confident while under that extreme pressure. I would say equal parts mental and muscle.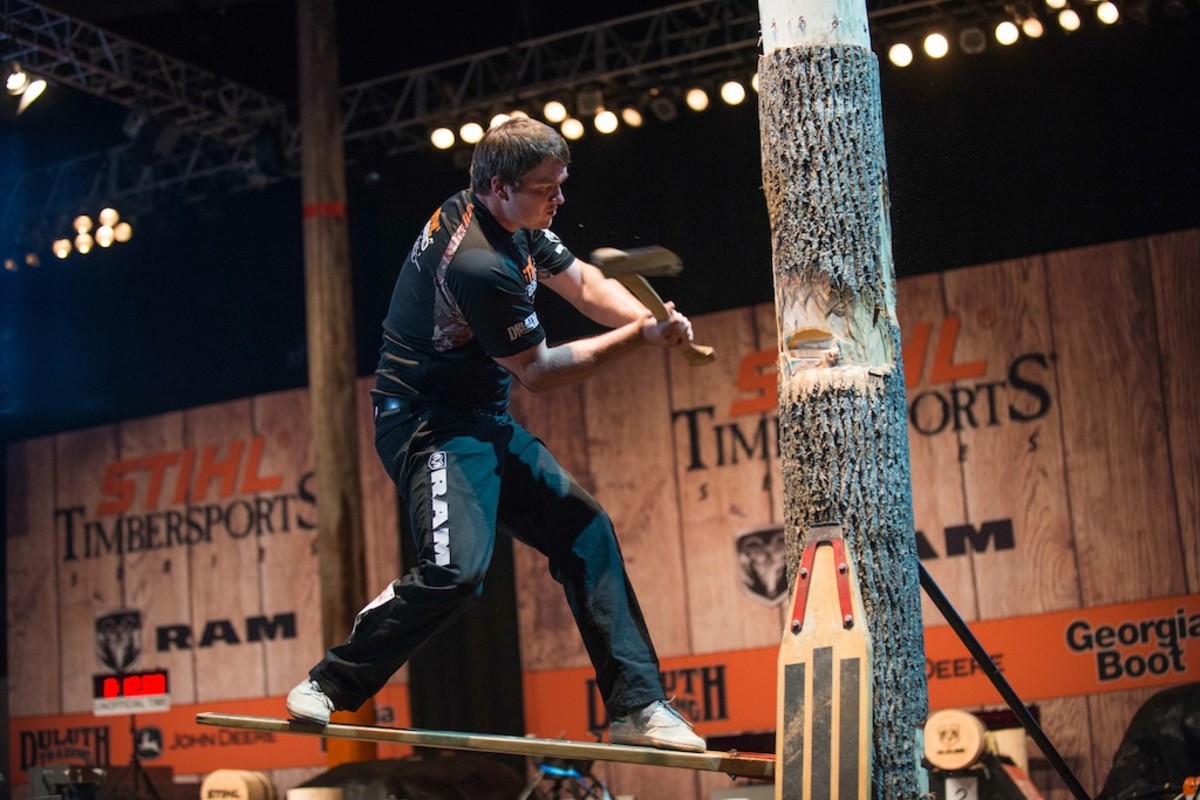 For those who are not born into a family of lumberjacks, how do you suggest they get into the sport?
Get in contact with a lumberjack who can get you involved in training and going to shows. You have to learn good technique for safety, as well as being competent in competition. If you're serious about getting involved, there's usually no lack of help from competitors. Gear is the hardest part of getting involved. The cost of an axe ($550), a cross cut saw ($1,500 to $2,000), and a hotsaw ($6500+) is staggering. Most hotsaws are custom-built from a snowmobile or motorcycle engine. That's the other reason for contacting a fellow competitor, because sometimes they can direct you to gear that's cheaper than the new stuff.
What's the coolest thing competitive lumberjacking has taught you about yourself?
Getting to go places I never thought I'd go, and meeting new people with a passion for the sport. Timbersports has taught me a great deal of patience and discipline. When you put those two things to work, you will accomplish heaps.
What do you do in your free time?
I enjoy the outdoors—hunting, fishing, hiking trails, shooting sports, and relaxing in the backyard. I like going to the cinemas and enjoying different foods.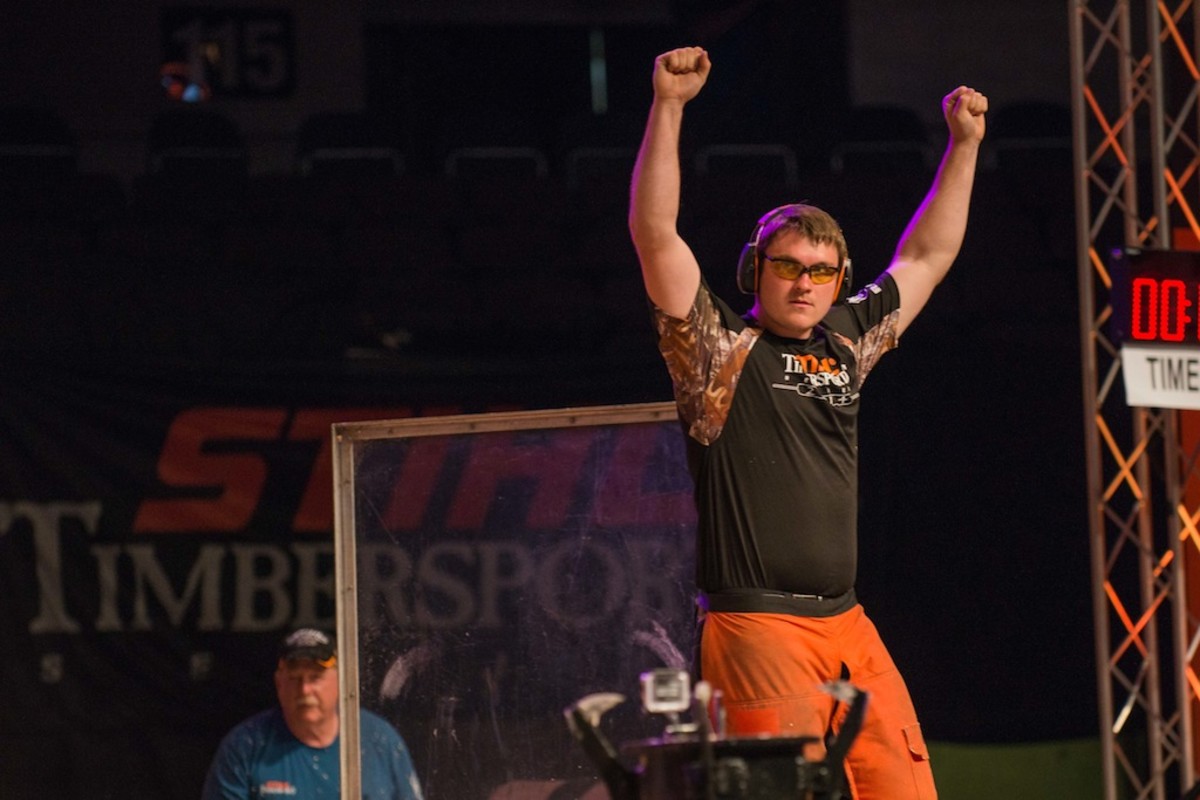 What's your next goal in the timber sports world?
To win the world championships in Austria this fall, maybe continue my U.S. winning streak, and break a few records. There are world titles all around the globe, especially in Australia, which would be considered the "Wimbledon" of woodchopping.
More from GrindTV
Eric Marcotte gives hope to weekend warriors everywhere
Jamie Anderson and Yoga: The secret to her success
For Rob Machado, it's all about the water
For access to exclusive gear videos, celebrity interviews, and more, subscribe on YouTube!