Four Argentine downhill mountain bikers end up in a heap way off the trail after taking a jump that wasn't intended to be a jump. It was actually supposed to be a sharp left-hand turn, but one by one the riders missed the turn, took a flying leap into a massive bush, and ended up on the grass wondering what went wrong.
One of the riders, Sebastian Gomez, posted the mishap on YouTube and called it "Epic Fail Chatel, France, 2013." See why:
As you can see, the riders started off on the Buck Shore Trail with a jump off a wooden ramp then proceeded down a straightaway dirt path that veered to the right onto a wooden bridge or what they apparently thought was another ramp. Instead, at the end was a ramp that took a sharp downward turn to the left. None of the riders recognized the turn, obviously.
First off the "jump" was Juan Cruz, who tried to warn the others. He was first seen on the video standing on the grass shouting toward the trail. Second to crash was Sebastian Gomez, followed in quick succession by the POV cameraman Javier Santiago and then Benjamin Gomez.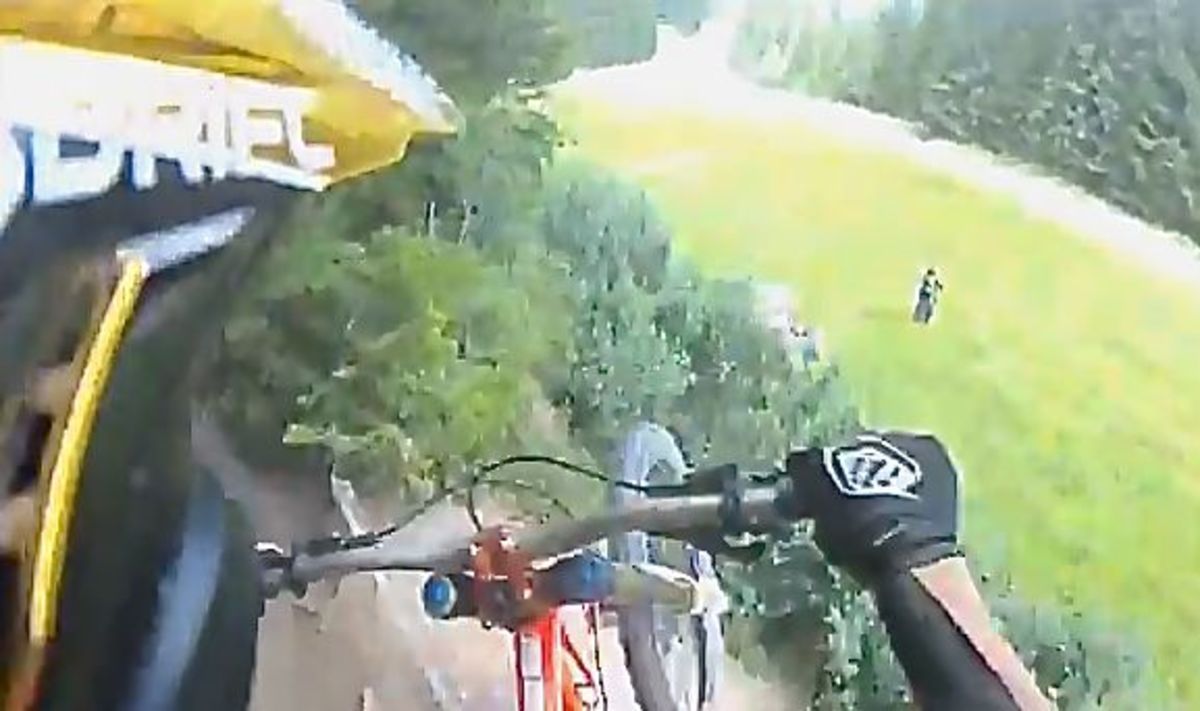 The video is getting plenty of attention on mountain bike websites and Facebook pages, and as you can imagine, many of the critics aren't kind. The No. 1 question being asked is, why didn't they check the trail out first?
Sebastian Gomez addressed the issue in comments, saying, "Yes, we know that is very important to check the track first, we were doing this, but all tracks we rode before were perfect [and] thought it was a jump, the only thing missing to make it perfect. Haha."
In other words, on other tracks they had been riding in France, there were jumps where there were supposed to be jumps.
Other commenters thought the mishap was staged, but the ruined bike shown near the end and the reactions by the riders clearly dispels that notion.
"It was a real accident," Javier Santiago wrote in the comments. "I am the one filming."
Nobody knows the extent of the injuries, if there were any, but they all managed to get up and joke about it afterward.
As epic fails go, definitely epic.
For access to exclusive gear videos, celebrity interviews, and more, subscribe on YouTube!