Talking Fins With Jordy Smith
With more and more surfboards being made with five fin boxes, the sheer number of possible fin configurations is staggering. The choice between riding a quad or thruster is the first conundrum one faces when grabbing a board out of their quiver.
I for one am completely lost.
Case in point: I rigged up my board (with five fin boxes) recently as a quad and surfed Lowers, mostly going left on my frontside. This led to a conversation with former World Champ CJ Hobgood, "Aww man, I'd never ride a quad at Lowers left," he said. "But if I saw that it was mostly rights, I'd definitely ride one," he added.
Huh? I thought quads were junk going backside. You can't go vertical and bottom turns are compromised right? Wrong. According to CJ, a quad makes you surf faster and with more spring than a thruster would on your backside.
Confused yet?
To clear all of this up, we've recruited someone who basically grew up in a shaping bay and during the recent Volcom Fiji Pro, surfed on both quads and thrusters in the same event—Jordy Smith.
TransWorld SURF: Is there a rule of thumb when picking between a quad and thruster?
Jordy Smith: My normal, day-to-day surfing I'll definitely do on a thruster. So when I get onto a quad, it's a totally different feeling. I like 'em in tubes. With a thruster you can get into the wave early and pick your line. But when you have a quad, it allows for you to come from behind the peak and stay on the foamball a little bit more. You watch Kelly or anyone on the World Tour and they're always taking off behind the peak when they ride a quad because it allows them that gain speed really quick.
Quads have a lot of lateral speed, I don't know about high performance surfing on a quad though, especially when you end up backwards or are spinning around and stuff like that. There's too much turbulence on quads. But yeah, in the tube they are really fast and hold a great line. That's kind of how I look at the quad versus thruster thing.
So as far as the advantages of a quad, you'd say great lateral speed and they ride the barrel well.
Yeah and they're really stable and generally won't slide out on you.
What would be the disadvantages of riding a quad?
Your arc when you're turning is a lot longer—you can't turn really tight with 'em. That and it's hard to get really vertical with them, and there are a lot of fins so it doesn't release as easy.
What are the advantages of a thruster?
Well they don't hold in as well in the barrel but when you come out you can do really high performance turns. That might be because we've ridden them for a lot longer and are used to them. But in general you can turn them a lot tighter, release your fins easier, and there's one less fin to cut you if your board flips over!
The disadvantages of a thruster?
I think a thruster will get up to the same speed as a quad, but not right off the takeoff. Off the mark, the quads have a ton more speed, but I'd say they both have the same top end speed.
Interesting. Okay, now I'm going to name a few spots and right off the top of your head tell me whether you'd ride a quad or thruster…. Three-foot Rocky Point lefts with an air wind.
Thruster.
Head high Lower Trestles, mostly rights.
Thruster.
Head high barrels at Keramas.
Hmmm [pauses] Thruster.
Ten-foot Pipeline.
Quad.
Head high Rincon.
Thruster.
Best day ever at J-Bay.
Thruster all day!
All right, you sound like a thruster guy. Thanks for your time and good luck at Lowers.
Yep. Shot bru.
Read about Jordy's signature fin from Futures Fins
For more Jordy Smith photos, videos, and interviews go to his tagged page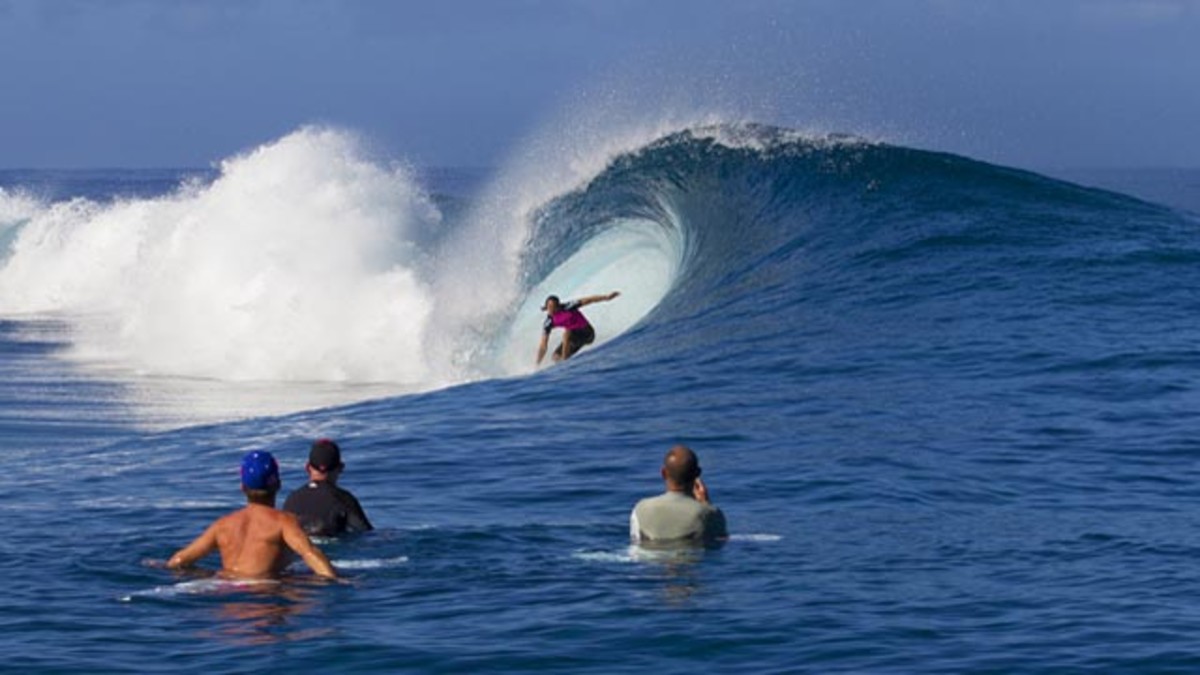 For access to exclusive gear videos, celebrity interviews, and more, subscribe on YouTube!