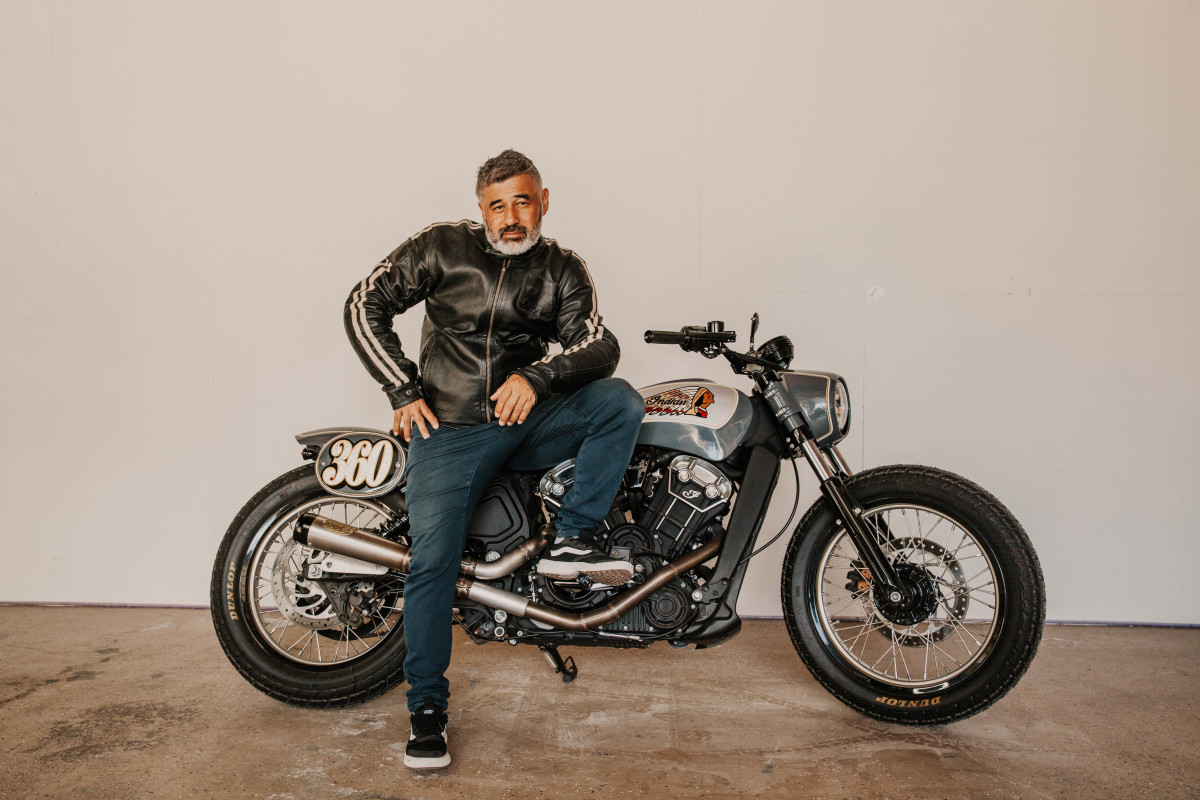 "I used to jump my bicycle when I was a kid, wishing I had a dirt bike or a bike like Evel Knievel's," says Steve Caballero. The Bones Brigade professional skater took inspiration from Knievel's iconic character, and implemented that energy into his own skateboarding career. Caballero would eventually become one of the most recognizable skateboarders of all time. But still, his craving to ride on two wheels like his hero was insatiable.
"As soon as I got into high school, and was making a little money as a professional skateboarder, I bought a Honda MB5 50cc motorcycle," he says.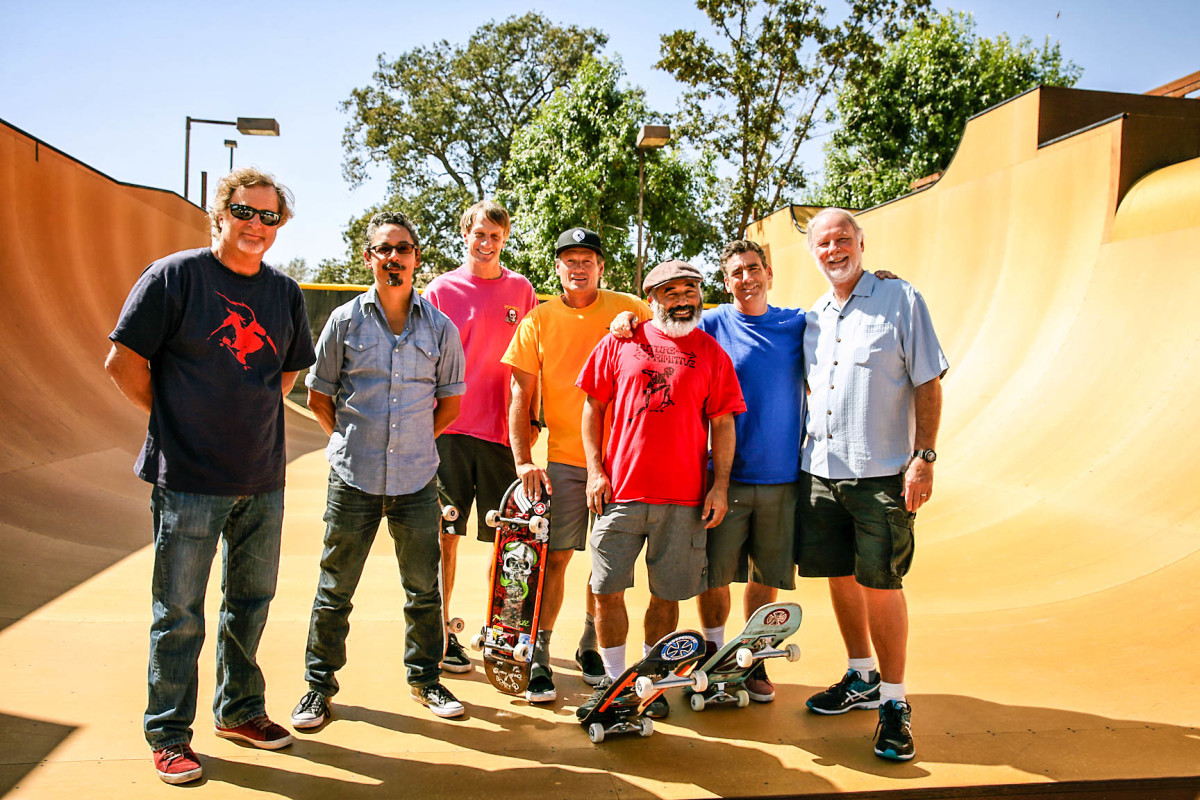 "The Bones Brigade didn't even exist back then," Caballero tells ASN. "Stacey Peralta just caught me at the right time – no distractions and I was young. I knew I was going to be part of skateboarding for a long time. I just never knew it was going to be this long." [Laughs]
Cab's career soared quickly and Powell-Peralta was selling signature Cab Dragon boards faster than they could make them. That's when he ponied up for a 1988 Kawasaki Ninja 250, and then a 1990 CBR 600. Eventually, Caballero took an interest in British motorcycles and restored a BSA 650 Lightning. By 1992, he had a small collection of British bikes including a 850 Norton Commando, a 750 Norton Commando, and a 1950 Aerial Square Four with a sidecar.
Moto-Culture Icon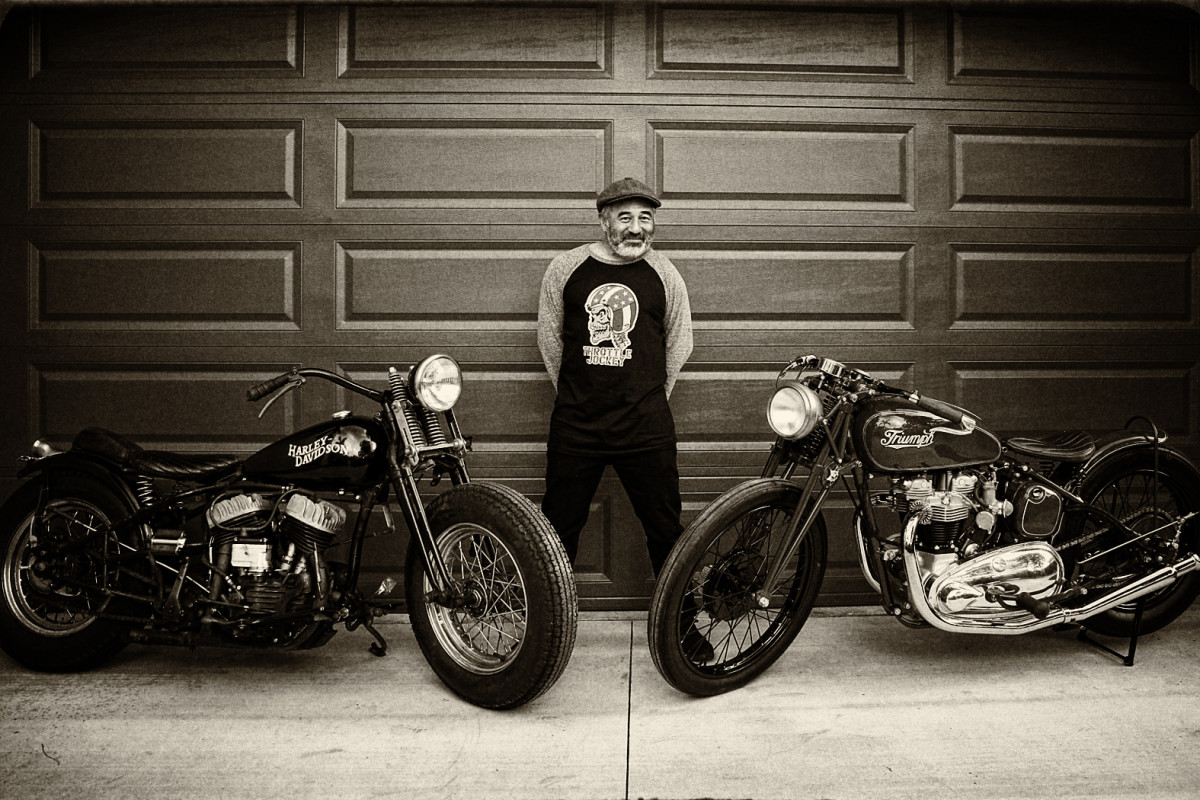 "There's so much crossover between skateboarding and motorcycles," explains Caballero. "I've heard stuff in skateboarding like, 'I cannot believe that you're over 50 and still skating.' And it's cool that the legends in skating – Tony Hawk, [Christian] Hosoi, Mike McGill, Lance Mountain – are still pushing the limits and putting smiles on peoples' faces when we get out there and go for it. In motorcycling, it's very much the same."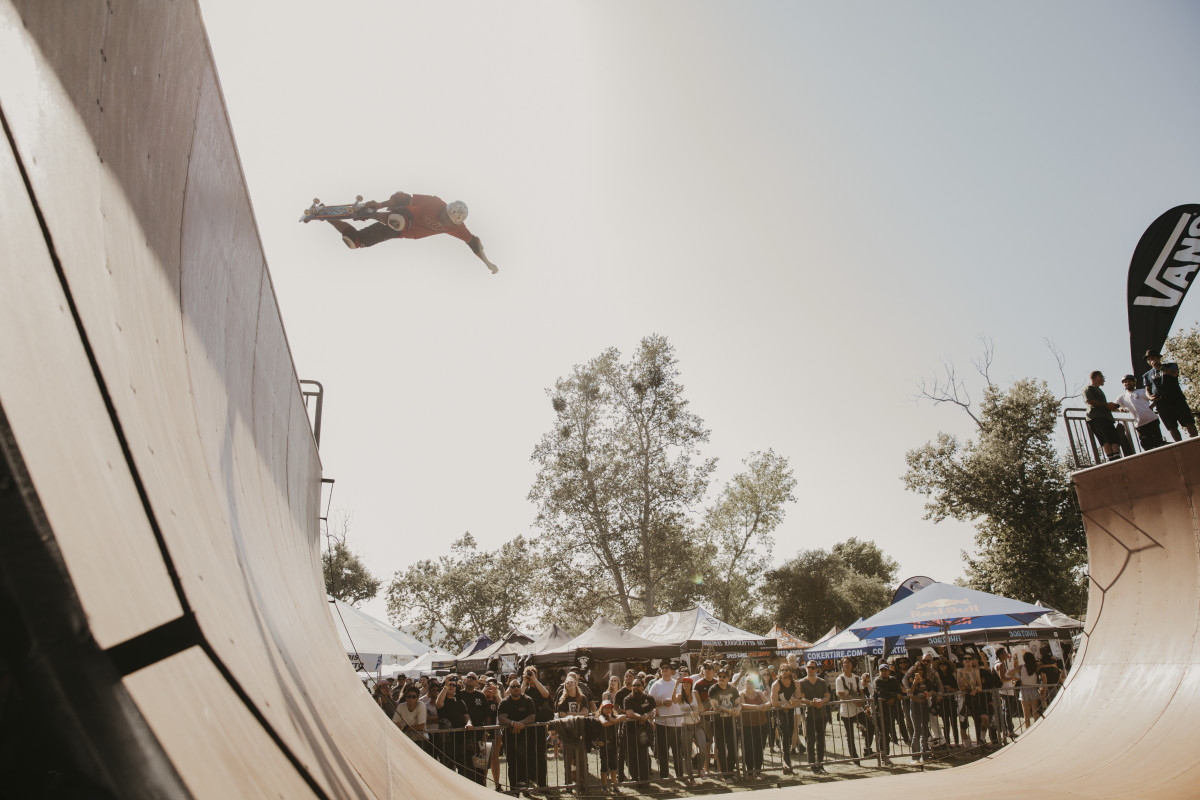 And just like he did with skateboarding, Caballero has fully immersed himself in motorcycle culture. Over the past few years, he's built custom bikes, raced them, and then built even more bikes. In Fall of 2016, Cab's custom build was selected to be shown at the Mooneyes Hot Rod Custom Show in Japan. Since then, he's been invited back.
"I think people see what I do and what I'm into, through social media, and then invite me to attend or participate in their events as well," says Caballero.
Indian Motorcycle Ambassador
Today, Caballero's main street bike is his custom Indian Scout Bobber that he designed with the help of Roland Sands for last year's Brooklyn Invitational in New York.
The two machine-artists reduced the tank size, beefed up the air intake and exhaust, installed mid-controls (among many more parts installed) and then threw on a custom Lamborghini "Grigio Telesto" paint job with Caballero's signature "360" number plate.
"If you look at what motorcycles have become since 1901, when Indian Motorcycle [America's first motorcycle company] first started – they are awesome pieces of machinery, works of art," Caballero tells ASN. "And customizing a motorcycle is just another extension of our creativity as artists. What we can do with motorcycles, just like with skateboarding, is endless."
And while Cab grew up riding street bikes, it wasn't until around 2000 when he got his first dirt bike. He spent five years riding and then hung it up for six years. Then in 2011, influenced by good friend Salman Agah, Caballero got another dirt bike and hasn't stopped riding since. When it comes to dirt bikes, Caballero says, "There's something really cool about being in control, but being out of control at the same time. I'm still learning."
Dirt Bike Rider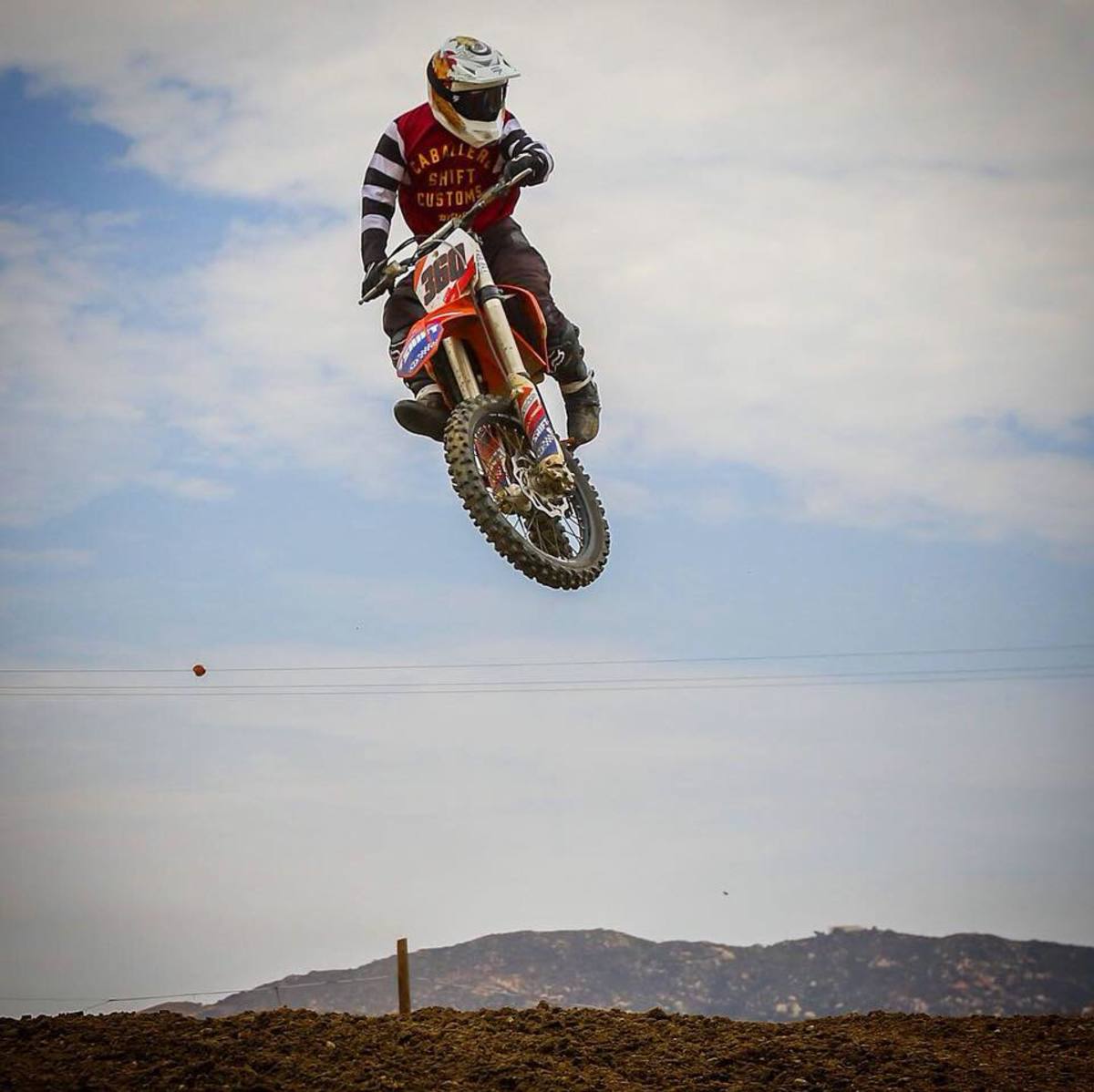 Out in the dirt, you can often find Caballero at the Fox Raceway riding his KTM 350. This month, in celebration of Caballero's passion for skateboarding, art and all things two wheels, ShiftMX launched at SHIFT x Steve Caballero collection that features a signature "Cab Dragon" helmet, racing and culture apparel.
"When people see the dragon [Caballero's signature artwork], they recognize it as a symbol of my skateboarding career," says Caballero. "I was born in the year of the dragon in 1964. The dragon has become an iconic image that I've used in skateboarding since the 80s."
As opportunity has knocked on his door, Caballero has answered. These days, if there's a skate ramp, moto-culture event, art show, or punk rock concert, there's a good chance Caballero is not only there, but he's an active participant.
"All of the opportunities I've had in life, from my participation in custom-culture and motorcycling to art shows and playing in bands – all these opportunities came from my skating," says Caballero.
Two-Wheeled Nobleman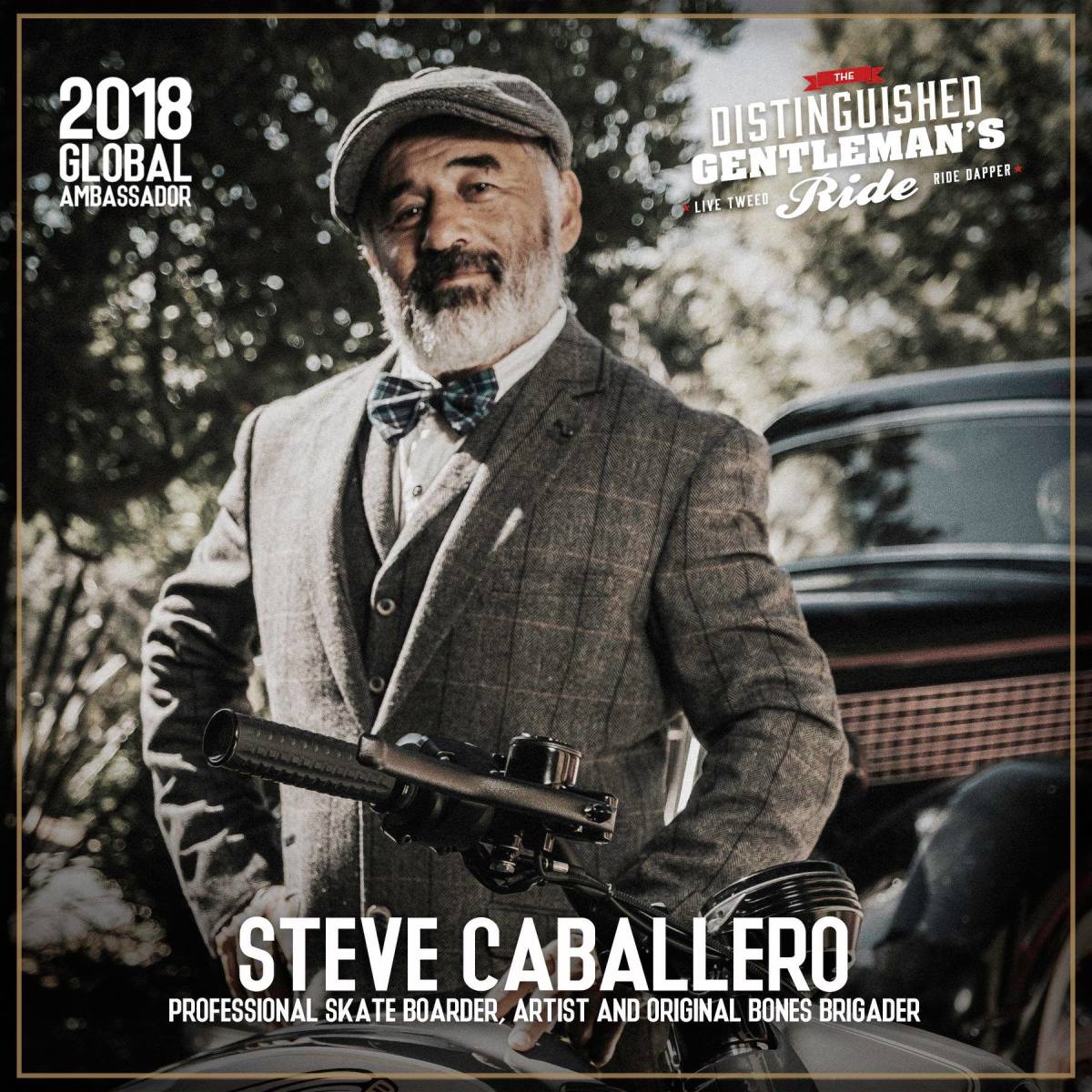 This year, Caballero – almost fortuitously, the Spanish word caballero literally translates to gentleman – has been selected as global ambassador for the Distinguished Gentleman's Ride, where he'll be donning his derby and a new tweed suit to raise support and awareness for the Movember Foundation and men's mental health.
"There are a lot of awesome bikes and dapper dudes, but it's also for a great cause," Caballero tells ASN. "I do a lot of charity benefits in skateboarding and this has been one of my first on a motorcycle."
"There is so much crossover between skateboarding and motorcycles," he continues. "I love the freedom and they are both something that you can do on your own or with friends, no matter where you are."
You can join in and ride with Caballero on Sept. 30, 2018, by registering and taking part in the Orange County Gentleman's Ride.
For access to exclusive gear videos, celebrity interviews, and more, subscribe on YouTube!