This story was originally featured in the June 2011 issue of Canoe & Kayak magazine
FOR C&K'S CANOE TECHNIQUE GURU PAUL MASON, getting on the water to film a series of skills videos with his daughter, Willa, has made for a fond trip down memory lane. Canoeists around the world still remember Paul as the plaid shirt-wearing 14-year-old paddling with his father, the late filmmaker and canoeing icon Bill Mason, in the acclaimed "Path of the Paddle" instructional series, which was produced by the National Film Board of Canada in the 1970s. Now Willa is 14, and in a wonderful bit of serendipity, she has teamed with Paul and videographer Ken Buck (who shot the original "Path of the Paddle" series) to produce a series of canoeing technique videos for C&K. They start this month with the basics, paddling tandem on flatwater (watch canoekayak.com/virtualcoach). "Willa is always keen to go canoeing, and filming is giving us another excuse to go," says Paul, who's based in Quebec. "With the camera rolling we both need to be technically sound and it's great to see her skills improving." – Conor Mihell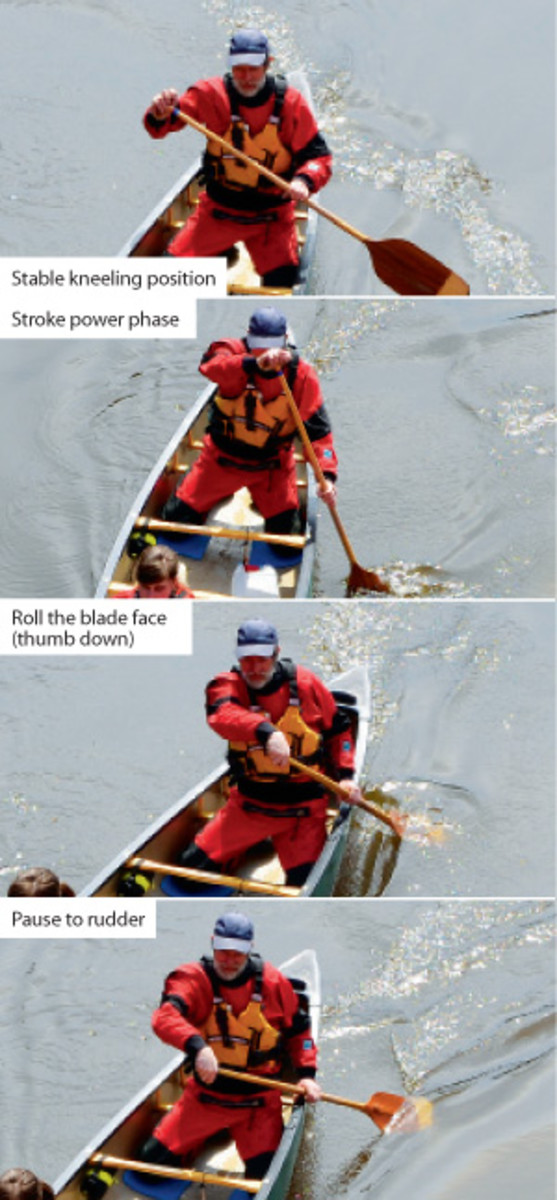 HIT THE WATER. Ensure the canoe is floating before you climb aboard. The stern paddler stabilizes the canoe by holding it between his knees while the bow paddler walks to the bow, holding the gunwales, keeping her weight low and following the centerline of the canoe.
GET ON YOUR KNEES. It's far more stable (and better for your back) to paddle in a kneeling position. Improve comfort by installing peel-and-stick kneepads in your canoe, and brace your backside against the seat.
USE THE J-STROKE. The canoe will naturally veer away from the stern paddler's side. To keep running straight, the stern paddler must add a steering component to his stroke. The J-stroke adds subtle course correction while retaining forward efficiency. To do it, use your upper hand to roll the power face of the paddle blade away from the canoe at the end of each stroke. "The thumb on your upper hand will point down at the end of the stroke when you're doing it right," Paul says. Pause for a moment at the end of the stroke to allow the blade to act as a rudder, and shorten the power phase of the stroke accordingly to match the pace of the bow paddler.
FROM THE BOW. While cruising on flatwater, it's the bow paddler's responsibility to set the pace and maintain an eye for obstructions. "The bow paddler is the canoe's pilot," Paul says. "Their role gets more exciting once we start talking about pivots in an upcoming video."
DIFFERENT STROKES. The "sit and switch," marathon style of paddling eliminates the need for the J-stroke, relying instead on a fast-paced cadence with the bow and stern paddler switching sides every five to eight strokes. This style often involves shorter, bent-shaft paddles and a straight-tracking canoe with minimal rocker. For Paul, using the traditional J-stroke is just plain relaxing. "It harkens back to the older days of leisurely cruising on the lake," he says.


The article was originally published on Canoe & Kayak
For access to exclusive gear videos, celebrity interviews, and more, subscribe on YouTube!