Throwback Thursday: Cloudbreak Super Swell During The 2012 Volcom Fiji Pro
A look back at one of the biggest swells of 2012…
June 8, 2012: Lightning Strikes At The Volcom Fiji Pro
We should have known it was going to be a historic day of surfing when Tavarua Resort was struck by a bolt of lightning this morning. Kaiborg and a few of the Volcom guys were busy setting up a pop-up tent when a flash went off just off the beach. It was followed by the loudest explosion that scared the shit out of everyone on the island. "The flash went off right here," said Kai as he motioned to the beach. "Then the explosion went off and I freaked out. My balls almost came out of my mouth, brah." You know it's serious when a 6'2" 245lb. jiu-jitsu champ is scared shitless.
And that was just the beginning.
As crew made their way out to Cloudbreak, reports of clean up sets clearing the lineup spread like wildfire. Kelly Slater was one of the guys out there early and came in after that, followed by Dave Wassel and his broken-half-surfboard. "I got annihilated like a drunk girl at prom," said the ever-colorful Volcom Fiji Pro commentator. Wassel however, would go on to emerge from one of the biggest barrels of the day later in the afternoon.
With the raging—and still building—swell, contest officials were faced with some major decisions: run the event in huge, treacherous surf, or opt for 6-8 foot Restaurants. After a lot of back and forth banter and questions about how to pull it off, the team eventually decided to run the remaining two heats of round two. The World Tour surfers on the boat were rattled, and rightfully so. "Send out the guinea pigs," copped Kai Otton from the 88-foot luxury yacht that serves as contest headquarters. A tall and lanky goofyfoot who thrives in big, barreling waves, Kai was the standout of the two heats that were run before the contest was called off.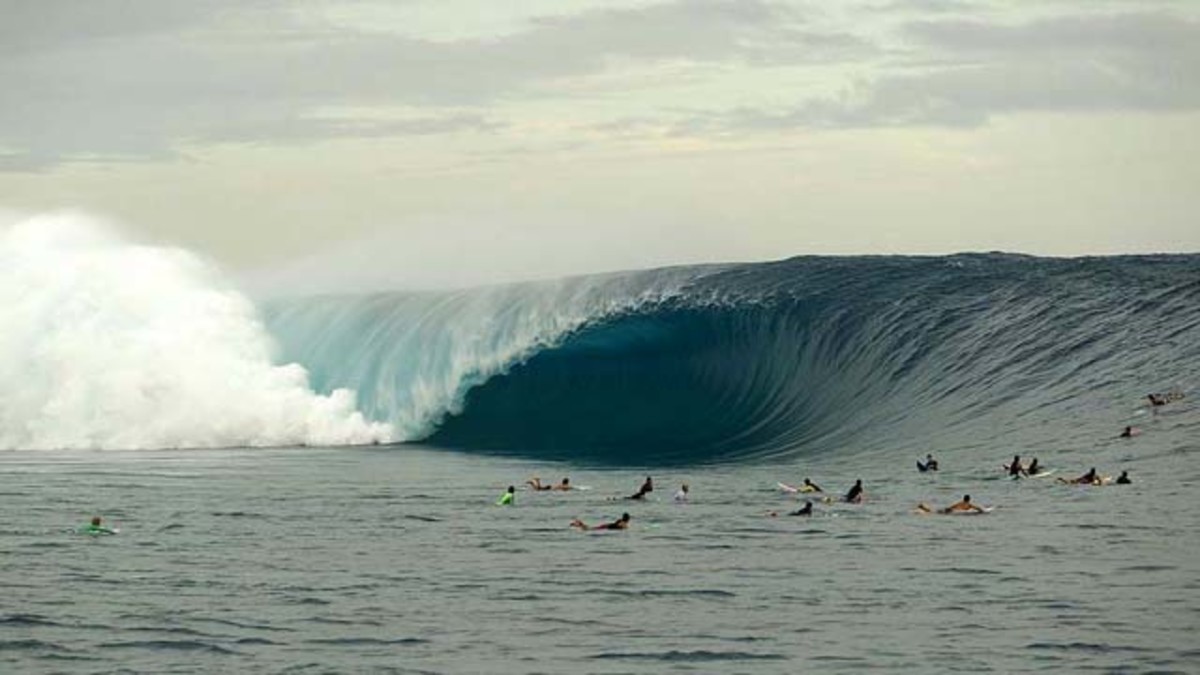 "I felt like I was surfing Sunset Beach out there" said Bede Durbidge after surviving the first heat of the day. "It was that f—ked," quipped his opponent Adam Melling after getting mercilessly pounded while caught inside. "You can't see it from here (the media boat in the channel) but there's a chop in the face like this big," said Bede as held his hand at his knee. "I reckon my heart rate never dropped below 120. I thought we were gonna get caught inside by a clean up set the whole time!" he added.
Raoni Monteiro copped the worst beating of the morning after pulling into the grinding inside section on a solid ten-footer. "That was a nugget, huh?" he asked as he grimaced in pain with a knee injury.
After those two heats, it was time for a freesurf session along the lines of the now famous "Code Red" session at Teahupo'o last August during the Billabong Pro Tahiti. In fact, the whole day had the same energy and adrenaline as the historic tow session—except guys were paddling into the bombs as opposed to being whipped in by a PWC.
And while some anonymous idiots on Twitter can call the World Tour surfers pussies for not throwing themselves over the ledge, the fact is that a lot of them were out there; Parko, Fanning, John John, Yadin Nicol, Ace Buchan, Pat Gudauskas, CJ and Damien Hobgood, and Mitch Coleborn joined the gnarliest big wave riders in the world in what can only be called a historical day of surfing.
"Barriers were beyond broken, I'm pretty sure everyone got the wave of their life out there today. That's a heavy quote but I'm sure it went down. Some of the unridden ones were beyond heavy!" said a beaming Dane Gudauskas after making it back to Tavarua at the end of the day.
It wasn't all fun and games though and the Water Patrol guys were lifesavers today. "Guys were coming up from wipeouts and had no idea where they were or what was going on," recalled Kaiborg. "I just told them 'You'll see. You'll see…' It was the day of all days."
As I write this it's getting dark and everyone's standing around recounting the day with eyes bulging out of their skulls. Beers are being cracked, photographers are downloading what's sure to be covers and two-page spreads galore, and everyone's thanking their lucky stars that there were no serious injuries. Big thanks to Volcom for keeping the live feed up while all the action was going down, and big shakas to Uncle Toad's Media Group who literally risked life and limb to broadcast the action
The 2013 Volcom Fiji Pro kicks off June 2, let's hope for more supersized Cloudbreak! Click through to the next page for a bunch of videos from the day…
For access to exclusive gear videos, celebrity interviews, and more, subscribe on YouTube!