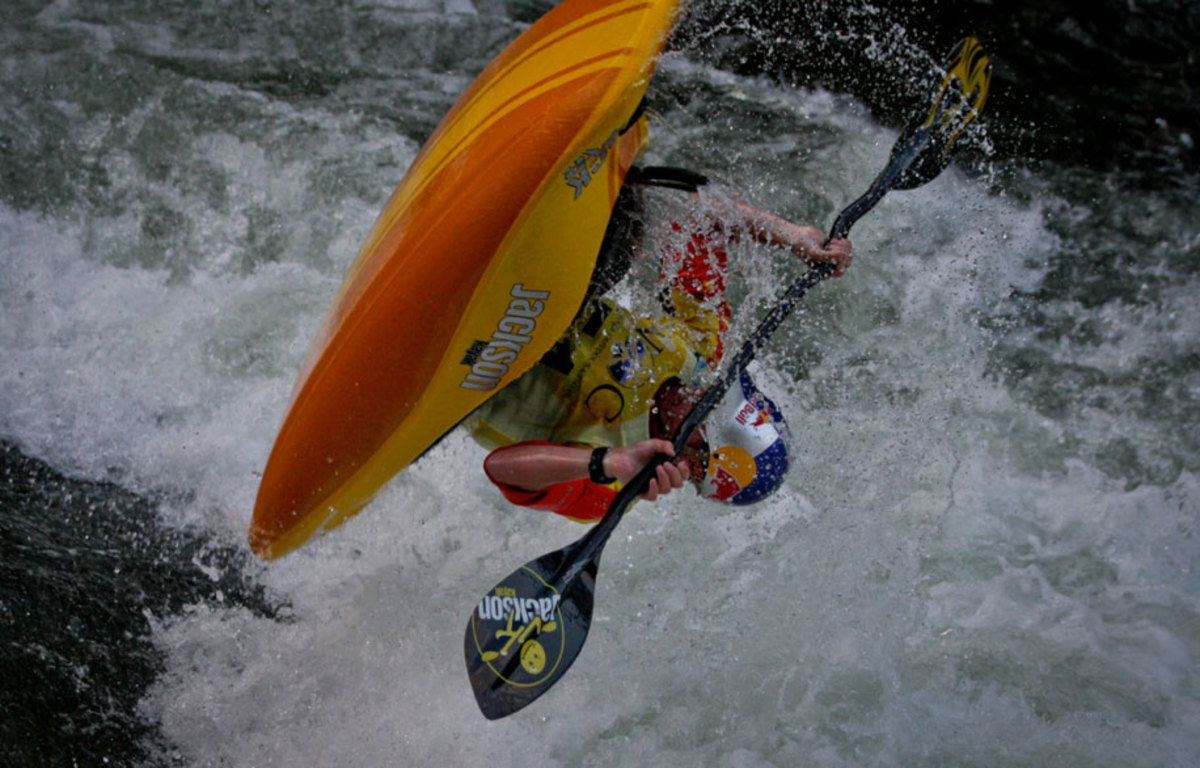 This story originally appeared in Canoe & Kayak magazine.
Call it home field advantage, or maybe just good ol' American spirit. Call it whatever you want, but the U.S. athletes absolutely dominated the 2013 ICF Canoe Freestyle World Championship events throughout last week leading up to Sunday's finals on North Carolina's Nantahala River. The U.S. won six out of the eight events at worlds, taking the podium in every event but women's squirt.
The men's K-1 final provided a fitting finale to the championship weekend, with a nail-biting showdown between the lone U.S. contender, Dane Jackson, and defending world champ Peter Csonka of Slovakia. In the end, Jackson's big-air moves trumped Csonka's stacked combos by just seven points. Jackson landed some of the highest loops of the competition, scoring a two-ride total of 1,240 points to the Slovak's 1,233. Jackson is the first athlete to compete in the all four senior men's divisions (K-1, C-1, OC-1, and squirt), a gluttonous competition schedule Jackson had completed as a junior in the 2011 worlds. This time around, Jackson finished on the podium in all four events, with bronze in C-1, silver in OC-1 and Squirt, and gold in K-1.
In the women's K-1, Great Britain's Claire O'Hara defended her 2011 championship title with a 708-point ride, and added a second gold medal in the squirt competition for good measure. On the K-1 podium, she popped a champagne bottle shaken by the other medalists, Japan's Hitomi Takaku, who finished second with 650 points, and bronze medalist Adriene Levknecht of the U.S., who finished third with 326 points.
Meanwhile, the Junior men's and women's classes were all red, white, and blue, showcasing the U.S.'s rising stars of freestyle. Rowan Stuart, a Nantahala local, had already won the crowd's heart early on with her 340-point debut ride on Wednesday. She then took home the gold with 423 points, beating out Spain's Nuria Fontane by a mere 43 points. "The competition from these other women is incredible," Stuart said, giving special credit to Ukrainian paddler Jacqueline Droujto, who filled the necessary final spot to complete the Junior women's division. "Without her, this competition wouldn't have been possible."
"It was terrifying," said Droujto, having never paddled prior to the competition. "But I'm happy I could do something for the others who trained hard for this event."
The K-1 Junior men were hitting rides during finals that would have earned them the top five spots in K-1 men's division. U.S. athlete Hunter Katich took gold with a 1,200-point ride on the strength of his stellar big-air moves, followed by young Frenchman Thomas Richard at 1,006, and American Alex Voorhees in third with 953 points.
Americans swept the podium in OC-1 and C-1, with Jordan Poffenberger earning gold in both canoe disciplines. His loops and McNasties rivaled those of the world's best kayakers. "I love all kinds of whitewater, but I think I put most of my energy into freestyle, so it's amazing to come away from Worlds with two gold medals," said Poffenberger, who also competes in extreme whitewater races.
Poffenberger's OC-1 victory followed American Clay Wright's squirt-boat win earlier in the morning with a score of 1,340 points. "Pretty stoked to beat Dane and Claire in anything these days!" Wright said.
The event, which included 200 athletes from 30 countries, ended with a festive ceremony in proper Southeastern style with late night bluegrass—and many happy Americans wearing medals around their necks.
CLICK HERE for full results.
For more photos from the championships, click here.
The article was originally published on Canoe & Kayak
For access to exclusive gear videos, celebrity interviews, and more, subscribe on YouTube!